Adrianza impresses after offseason surgery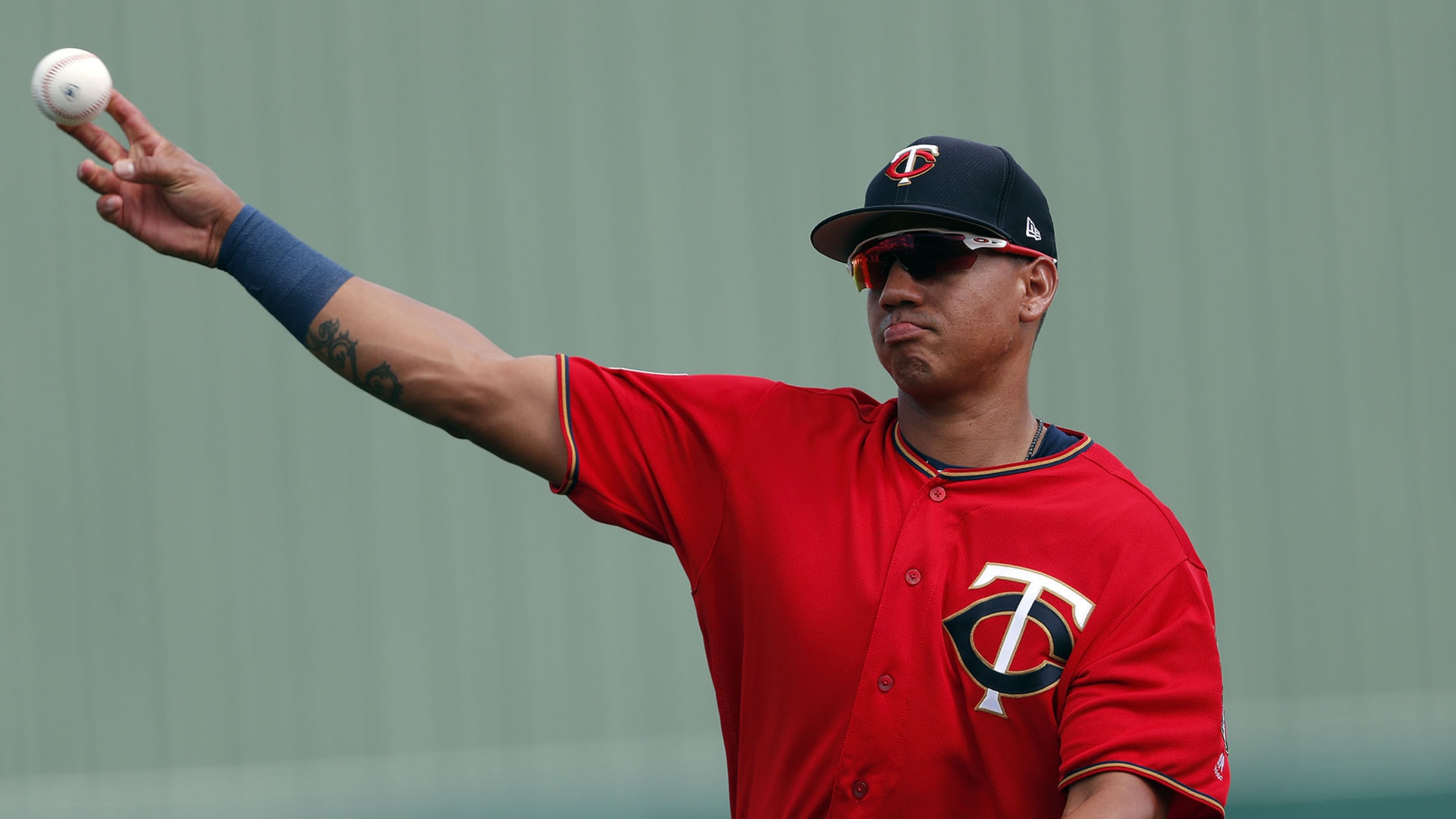 FORT MYERS, Fla. -- You certainly wouldn't be able to tell by watching Ehire Adrianza's performance this spring, but early this past offseason, he says he wasn't even allowed to move his left arm for two months following October surgery to repair the torn labrum in his shoulder. "Sleep was
FORT MYERS, Fla. -- You certainly wouldn't be able to tell by watching Ehire Adrianza's performance this spring, but early this past offseason, he says he wasn't even allowed to move his left arm for two months following October surgery to repair the torn labrum in his shoulder.
"Sleep was the worst," Adrianza said. "I had to sleep pretty much sitting down. It was pretty tough for the first two months. I was pretty beat mentally."
With plenty of help from his parents, who took Adrianza to his daily rehab appointments as he recovered at home in Miami alongside his wife and daughter, the 29-year-old switch-hitting infielder emerged from a difficult offseason ahead of the initial recovery timeline. Though he wasn't hitting right-handed in games early this spring, he says his swing is now at 100 percent -- and showed it off with homers from both sides of the plate last Friday against the Orioles.
"They told me it was six months of recovery," Adrianza said. "So pretty much, I wasn't going to be ready for the start of the season. But right now, I am. I'm very happy for it. I'm looking forward to having a good season."
Adrianza said he was playing through a significant amount of pain last September, and his doctors were shocked when they found out that he had played through a torn labrum. Following the surgery, his left arm was immobilized in a sling until December, when he was allowed to introduce limited motion to the area. He said he had worked on his muscle strength for the last three years, and having to focus an offseason on recovery was difficult in light of that.
But he's looked fully healed this spring, as he has faced stiff competition in a battle for a bench spot on the Twins' 25-man roster. Adrianza has a leg up because he's out of Minor League options, but Ronald Torreyes, Tyler Austin, Willians Astudillo, Adam Rosales, Jake Cave and Michael Reed have all had solid spring campaigns as well.
Minnesota's offseason signing of the multi-positional Marwin Gonzalez jeopardized Adrianza's claim to a utility infield role, but Miguel Sano being sidelined until May with a laceration to his right heel area could have opened the door again for Adrianza.
Adrianza knows that, ultimately, the decision is out of his control, but he has done his best to leave little to chance. He's second only to Byron Buxton among Twins regulars with a .406 average this spring (13-for-32) with three homers, three doubles, a triple and only two strikeouts in 12 games.
"I'm very confident that with the job that I did last year, and with the way that I'm hitting right now, I'm very comfortable about my roster spot," Adrianza said. "I'm not saying that I'm on the roster, but I'm pretty confident. I can't control that situation, and I can't control what they're going to do, but I'm feeling pretty positive about my situation right now."
"He's getting there and putting good swings on the ball. He's come back nicely," Twins manager Rocco Baldelli said on Friday. "Adrianza looked good, and he also looked good on the other side of the bag playing second base, moving around and making some nice plays ... He looks comfortable over there."
Adrianza, who can play all around the infield and in some outfield spots, played in a career-high 114 games last season, hitting .251/.301/.379 with six homers. Following Jorge Polanco's suspension and Sano's September leg injury, he got regular playing time at shortstop and third base.
Because he's out of options, Adrianza would be exposed to waivers if he doesn't make the Opening Day roster. He's hoping he doesn't need to take that chance.
"For sure, man, I want to stay here forever," Adrianza said. "Since I got here, they've treated me like I've been here forever. The most important thing for me here is that they gave me an opportunity to play the first year, and last year I played pretty much every day. I'm pretty thankful for that.