'Electric stuff': Alcala making strides in bigs
MINNEAPOLIS -- Last September, Jorge Alcala was caught off guard when the Twins phoned him in mid-September, long after the initial wave of roster expansion, offering the young right-hander a spot on the Major League roster. He hadn't expected the call -- not after he'd transitioned from a relief role
MINNEAPOLIS -- Last September, Jorge Alcala was caught off guard when the Twins phoned him in mid-September, long after the initial wave of roster expansion, offering the young right-hander a spot on the Major League roster. He hadn't expected the call -- not after he'd transitioned from a relief role so recently, and not after he'd been passed over when Brusdar Graterol got the call earlier in the month.
Alcala largely went under the radar as he made two scoreless appearances in September, mostly due to all the hype around Graterol, who was the club's No. 3 prospect at the time and made the Twins' playoff roster before he was traded to the Dodgers during the offseason.
Graterol was expected to be the young fireballer in the 2020 Minnesota bullpen. Instead, nearly a year later, Alcala has started to carve out that niche for himself. At no point was that more clear than Tuesday night in the Twins' wild 4-3 win over the Brewers. Alcala threw the final two innings and escaped a first-and-third, no-out jam in the 12th inning to earn his first career win.
"We challenged Jorge in the offseason to make a few changes to his delivery, and obviously, to his credit, it's easy for us to come up with a plan and make suggestions and show them how they can get better," Twins pitching coach Wes Johnson said. "It's obviously a big credit to the player when they go out and do that, and that's what you're seeing."
Alcala isn't going to touch triple digits on the radar gun, but he has plenty of strength to blow away hitters, partly due to changes in his mechanics and his continued work with his personal trainer in the Dominican Republic during the COVID-19 hiatus following Spring Training. His fastball is up from an average of 94 mph last season to 97 this year, and his slider -- his real calling card -- averages a crisp 88.6 mph.
He now ranks in the top 20 in the Majors in both average fastball velocity and average slider velocity.
"I think a very straightforward part of what he can do is the stuff really stands out," manager Rocco Baldelli said. "The velocity really stands out. He has electric stuff coming out of his hand. Anyone watching a baseball game or anyone that can read a scoreboard can see the velocity. That's just part of the story, though, I think, with him. I see him as a young guy who's taking very large strides on the field, in the clubhouse and in his preparation."
Before Tuesday, Alcala hadn't pitched in any high-leverage situations since he was called up from the Twins' alternate training site on Aug. 1. That was no surprise. Johnson and Baldelli tend to lean in that direction to feel out their young pitchers.
The 25-year-old right-hander has continued to show that he's not in over his head one bit, with a 2.00 ERA and nine strikeouts in nine innings.
Alcala let loose a primal scream as he pounded his chest and strode off the mound after he struck out Luis Urías in the 12th inning Tuesday to wiggle out of trouble with a pair of runners in scoring position.
"He was going to be a guy that was going to be asked to get some big outs for us during the season, and he kind of rode that confidence in, and you could just see it coming out of him when he's on the mound," catcher Alex Avila said.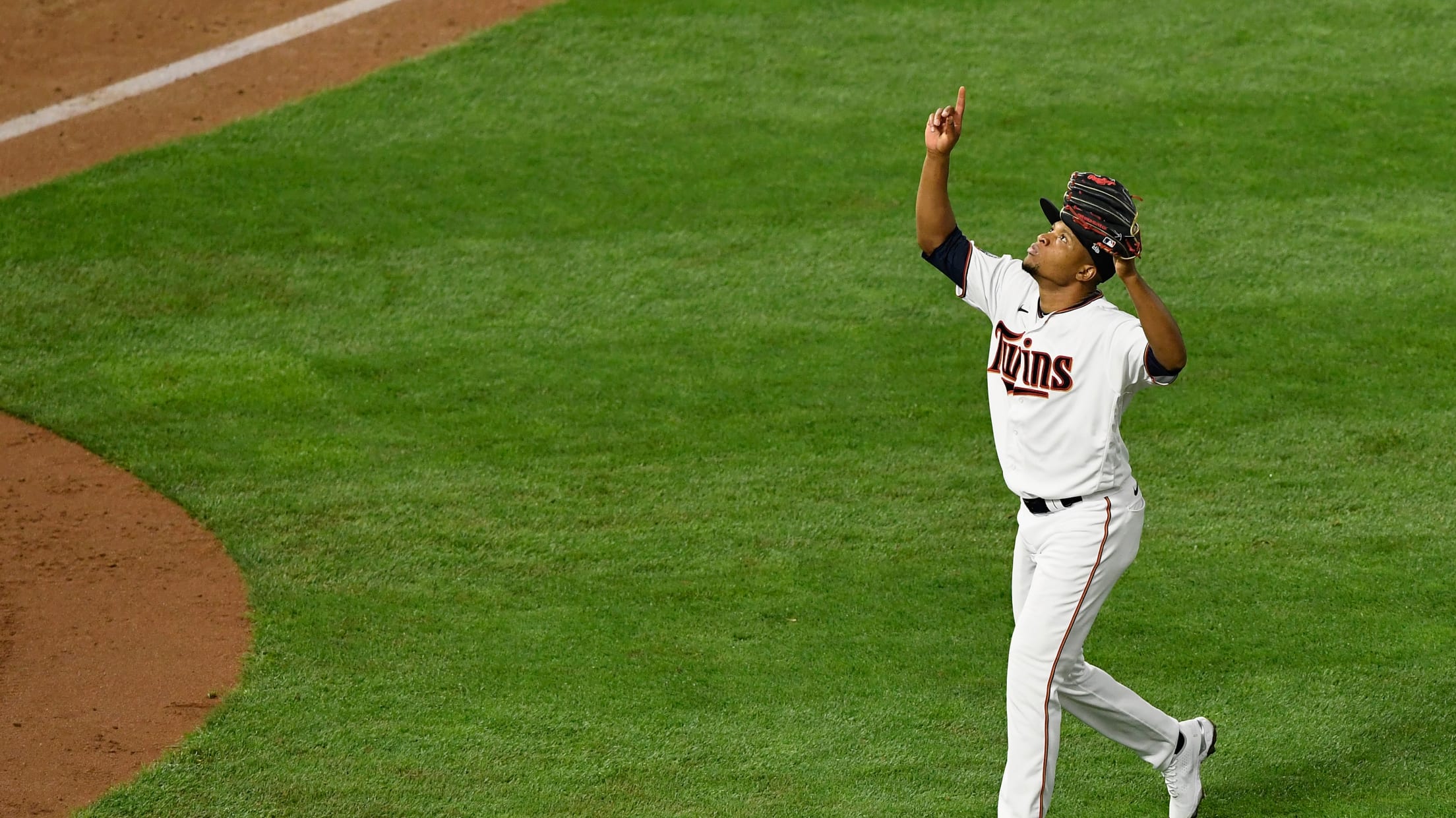 His cameo last September, unremarkable as it was, helped break the seal. Now, the organization's No. 26 prospect is noticeably more confident -- and just here to do his job.
"Those two games were really important for my career overall, in the sense that it opened my eyes to what the Major League level is and how I needed to prepare to be able to stay up here," Alcala said. "Those two games motivated me to go back in the offseason and prepare for this season. This season's obviously different than we expected, but I still prepared the same and I'm up here now, so I'm just trying to do my job."
Said Baldelli: "I bet part of it was that confidence you get from getting to the big leagues, from understanding that he can compete at this level and not just tread water, but also be really good at what you do. But it really came to life with him, once we kind of were here in Summer Camp, but then again getting in these games and showing himself that he can do it, because he really can."
The Twins acquired Alcala from the Astros in the July 2018 trade that sent Ryan Pressly to Houston. They accelerated Alcala's development last summer by moving him to the bullpen alongside Graterol as the pair progressed to Triple-A and the Majors together.
Considering the crowded nature of the Twins' starting rotation that has kept both No. 5 prospect Jhoan Duran and No. 24 prospect Dakota Chalmers at the alternate training site, that transition likely gave Alcala the opportunity to make an impact on this year's team. Now that he's here, he's absorbing all of these new experiences with newfound confidence and drawing help from the likes of Marwin Gonzalez, Nelson Cruz and LaTroy Hawkins in an effort to stay.
"I think one of the key points for me is just the support I'm getting from our manager, our coaches, and my teammates," Alcala said. "I'm new here, so I'm learning a lot of different things at the same time. I'm just trying to concentrate on one pitch at a time, one hitter at a time. ... Just making the adjustments I have to make to be able to stay up here and help my team."