Service-minded Cruz up for prestigious Ali award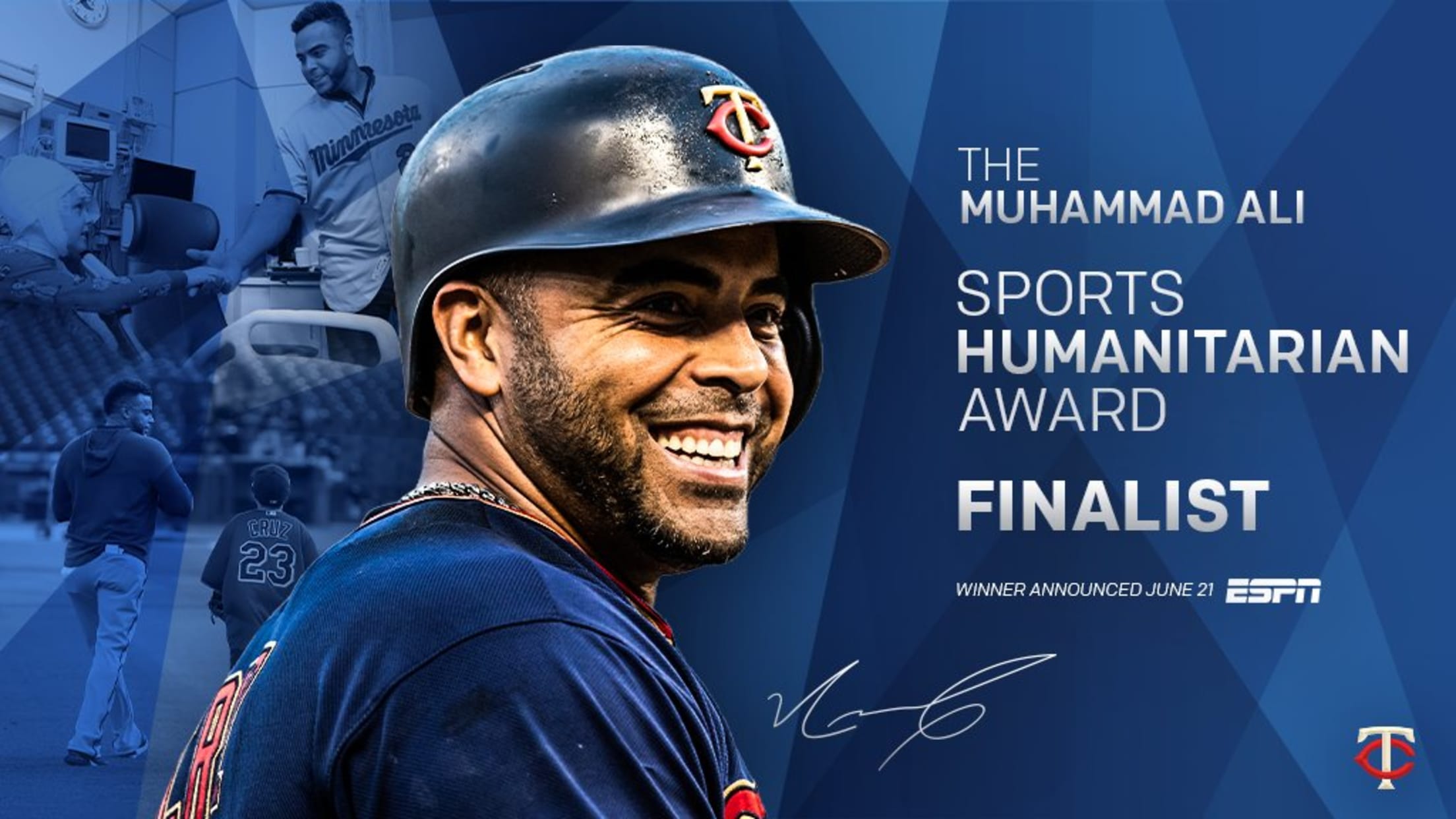 MINNEAPOLIS -- Nelson Cruz's community service efforts have always far transcended baseball, and they're now getting recognition from the greater sports world. On Wednesday, Cruz was named a finalist for the 2020 Muhammad Ali Sports Humanitarian Award by ESPN in honor of the extensive charitable work he has done around
MINNEAPOLIS -- Nelson Cruz's community service efforts have always far transcended baseball, and they're now getting recognition from the greater sports world.
On Wednesday, Cruz was named a finalist for the 2020 Muhammad Ali Sports Humanitarian Award by ESPN in honor of the extensive charitable work he has done around his home country of the Dominican Republic in conjunction with the Boomstick23 Foundation, his nonprofit dedicated to empowering young people throughout the communities around him. The winner of the award will be named on the ESPYs show scheduled for June 21.
"To be recognized by ESPN, the ESPYs and especially Muhammad Ali is an honor and is something that makes me and my family proud," Cruz said. "It reinforces and makes you try to do more than what you're already doing. It's just a blessing. Exciting day for me."
Cruz is joined as a finalist by fellow local athlete Maya Moore of the WNBA's Minnesota Lynx, as well as Kevin Love of the NBA's Cleveland Cavaliers, brothers Devin and Jason McCourty of the NFL's New England Patriots and Titus O'Neill of the WWE. All finalists will receive a $25,000 grant from ESPN to direct to their charities, while the eventual winner's charity will be awarded $100,000 to aid their efforts.
Grateful https://t.co/luwQ64wLC5

— Nelson Cruz (@ncboomstick23) May 20, 2020
Previous winners of the award have included retired NFL player Chris Long, NBA stars Kevin Durant and Chris Paul, Tamika Catchings of the WNBA and Mark Giordano of the NHL.
"The Muhammad Ali Sports Humanitarian Award is given to an athlete whose continuous, demonstrated leadership has created a measured positive impact on their community through sports," according to the award's description on ESPN. "The candidate must embrace the core principles that Muhammad Ali embodied so well, including confidence, conviction, dedication, giving and respect."
The efforts of the 39-year-old Cruz are evident all over his hometown of Las Matas de Santa Cruz, in the northwestern part of the Dominican Republic. According to the release, Cruz has provided a fire engine and an ambulance to the town to increase access to the hospital an hour away, built a new police station and donated a motorcycle, brings optometrists and dentists to the local clinic and purchases wheelchairs, crutches, walkers and canes for elderly and disabled residents.
He also began the "Healing Venezuela" initiative, which helps 2,000 Venezuelan newborns receive nourishment in their first year of life.
Through the Boomstick23 Foundation, established in 2016, Cruz focuses on sports and education around Las Matas de Santa Cruz with the goal of providing professional avenues outside sports for young athletes who might need such educational support. He is working to establish an educational center in his hometown and hopes to expand his reach around the Dominican Republic in the years to come.
"It's definitely something that means a lot to me, my family and my foundation," Cruz said. "I think over the years, we're working just to make a positive impact. We've been going over that and helping, in that case, my community, with whatever the needs might be. Through the years, I've been working and never thought to be recognized. But definitely, it's something that makes you work harder and do more."
Cruz also hasn't let the pandemic get in the way of his contributions to the community. He said Wednesday that he is part of a group of 60-70 Dominican baseball players -- active and retired -- who are working together to collect money that will go toward food and equipment for hospitals. He and his drivers have also been working to provide food for members of his community.
"That is one of the reasons why I think it is so humbling for me and my family to see the smiles on people, going to houses and them telling you their prayers had been answered because they had been praying to get some food," Cruz said. "Imagine how enjoyable and happy you feel to be able to provide people with what's most important: food. It doesn't get any better than that."
Cruz was previously recognized for his efforts by the Twins with the 2019 Carl R. Pohlad Award for Community Service. He was also the Seattle Mariners' nominee for the 2018 Roberto Clemente Award, which recognizes the player in baseball who best represents the game of baseball through his character and contributions on and off the field.