Eyeing rotation spot, Milone has solid outing
Despite allowing homer to Stanton, lefty delivers steady 6 innings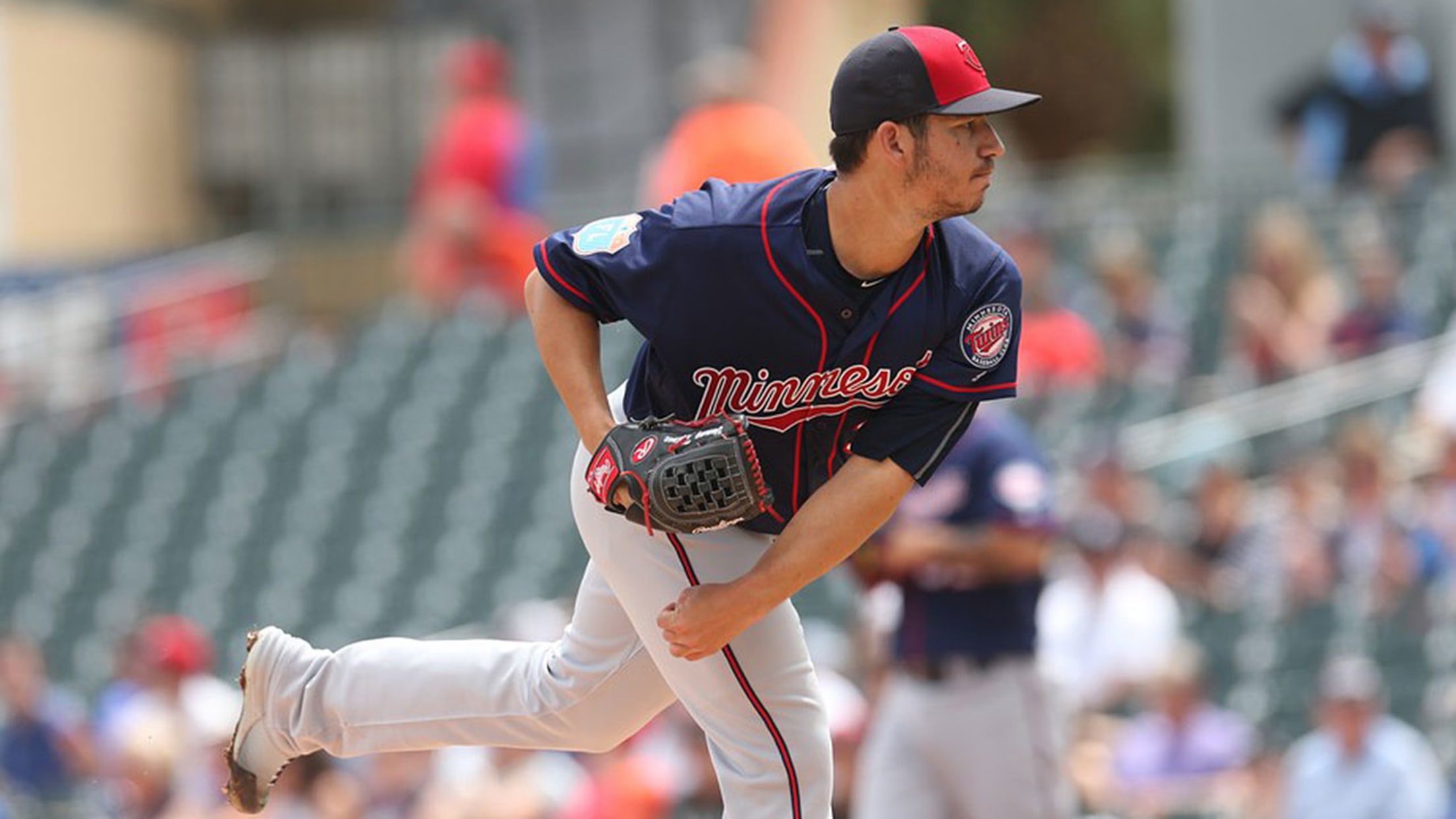 Tommy Milone allowed two runs on six hits in six innings Thursday. (Denis Bancroft)
JUPITER, Fla. -- Tommy Milone was only one out away from completing a six-inning shutout Thursday when he quickly found out how hard and far Marlins slugger Giancarlo Stanton can hit a baseball. Milone understandably was somewhat in awe, something a Stanton rocket shot does to many pitchers who witness
JUPITER, Fla. -- Tommy Milone was only one out away from completing a six-inning shutout Thursday when he quickly found out how hard and far Marlins slugger Giancarlo Stanton can hit a baseball. Milone understandably was somewhat in awe, something a Stanton rocket shot does to many pitchers who witness one of them.
Stanton deposited a two-out first pitch from Milone well over the Marlins' clubhouse behind left field at Roger Dean Stadium in the sixth inning of the Twins' 8-4 win. It was the sixth and final hit that Milone allowed in what was an otherwise solid outing for the Twins left-hander.

"Obviously, you know how big and strong he is, but to actually see it in person is pretty impressive," Milone said of Stanton's two-run blast that gave the Marlins a 2-1 lead. "It's not ideal to be the pitcher that gives it up. At that point, you just got to sit and watch it and admire the kind of strength he has."
Stanton's home run, his second this spring, did not diminish the otherwise steady outing that Milone delivered in his fourth official start this spring after he threw a 75-pitch simulated game last Saturday in Fort Myers, Fla. Milone gave up only the two runs produced by Stanton's bat and issued only one walk, throwing 71 pitches, 50 of which were strikes. His ERA this spring is now 2.40.
"Even after the home run, I'm still pretty satisfied with the outing as a whole," Milone said. "Biggest thing for me is just being able to command the fastball and keep them off-balance, and I feel like I was able to do that today."
Twins manager Paul Molitor had similar postgame comments about Milone that he had the last time the lefty was on the mound.
"He kind of continued what he's been doing all spring," Molitor said. "Spotting his pitches. Kind of cruised there in the sixth, they got a baserunner and Mr. Stanton got a hold of a first pitch there. But he had a good day. He was efficient, nice variety mixing all his pitches in. He's unpredictable. Two-seamer, cutter, curveball, change, left, right, it doesn't matter, he uses them all."
Milone is competing for one of the final two spots in the starting rotation along with Ricky Nolasco and Tyler Duffey. Milone's performance in his four Grapefruit League starts this spring would seem to give him solid footing to make the rotation, but Molitor remains non-committal.
"It's a little delicate how this thing is going to play out," Molitor said. "We have three people involved there, and there's been a lot of good things."
Milone said that all he can do is let his work speak for itself.
"I just forget about it," Milone said of the ongoing competition for the final two rotation spots. "When you step between the lines, you've got a job to do, and nothing else matters. You've got to get outs, and in order to do that, you've got to keep your mind right. So thinking about that kind of stuff while you're out there isn't going to help you any."
Worth noting
• Oswaldo Arcia, who is battling for a roster spot in the outfield, had struggled at the plate before hitting two home runs Thursday and driving in three runs, raising his batting average this spring to .222.
"It was probably good timing for him to step up and have a good day," Molitor said of Arcia.
Steve Dorsey is a contributor to MLB.com.