Nolasco could have rotation edge over Duffey
Twins expect to announce fifth starter Tuesday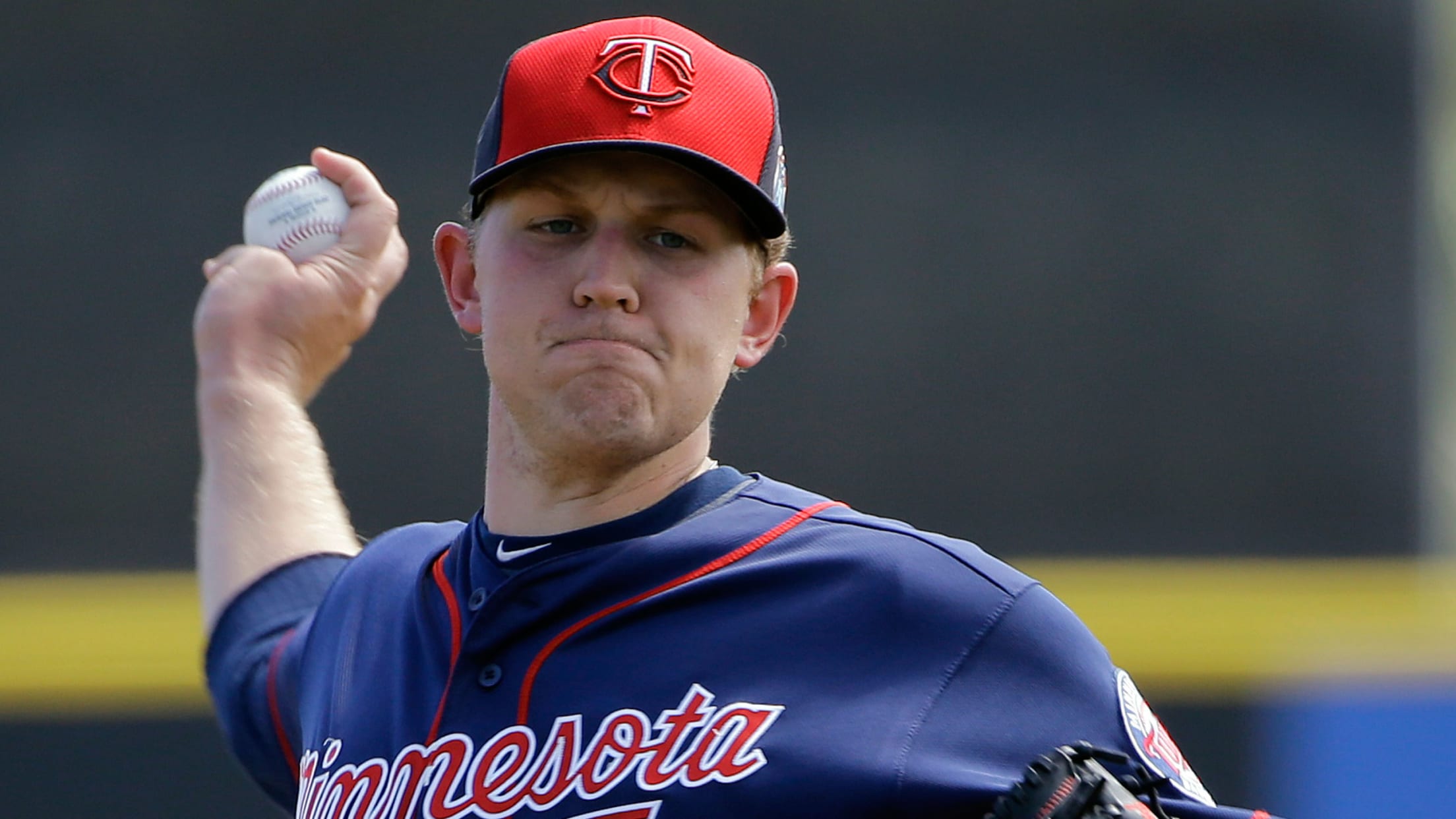 Tyler Duffey gave up four runs in four innings on Monday. (AP)
BRADENTON, Fla. -- Tyler Duffey didn't help his cause in his bid to win the Twins' fifth-starter competition, as the right-hander struggled through four innings against the Pirates in the Twins' 6-4 win on Monday.Duffey, who is competing with Ricky Nolasco for the final rotation spot, gave up four runs
BRADENTON, Fla. -- Tyler Duffey didn't help his cause in his bid to win the Twins' fifth-starter competition, as the right-hander struggled through four innings against the Pirates in the Twins' 6-4 win on Monday.
Duffey, who is competing with Ricky Nolasco for the final rotation spot, gave up four runs on four hits and three walks with two strikeouts. Duffey now has a 7.30 ERA in four Grapefruit League starts. Nolasco also pitched on Monday, giving up three runs (two earned) on five hits with five strikeouts in five innings against Baltimore's Class A affiliate.
Nolasco, who has a 4.05 ERA in four Grapefruit League outings and is owed $25 million over the next two years, figures to have the edge to be the club's No. 5 starter. But the Twins are going to discuss their options on Monday, and they are expected to announce the winner of the rotation battle on Tuesday. Pitching coach Neil Allen watched Nolasco's performance, and manager Paul Molitor said he planned on talking with him and general manager Terry Ryan on the bus ride back to Fort Myers.
"I got the numbers on Ricky, but I haven't talked to anyone about it yet," Molitor said. "So I'll talk to Neil and Terry, and we'll try to have something settled here."
Duffey, who went 5-1 with a 3.10 ERA in 10 starts as a rookie last year, was penciled into the rotation, as Molitor said early in camp it would take something "fairly significant" for him not be there. Duffey has been working on a changeup this spring, but has struggled enough that the Twins could ask him to work on that third pitch at Triple-A Rochester before he rejoins the rotation. Duffey said he's on board with whatever the Twins decide.
"Whatever happens, it's for the best. It's going to be best for everybody," Duffy said. "I haven't done myself any favors. I know that much. But whatever happens, I just have to go out there and do my job and pitch. It's out of my hands."
If Nolasco wins the fifth-starter job, it would send Duffey to Triple-A, while if Duffey is in the rotation, Nolasco would head to the bullpen. The Twins essentially have two or three open spots in their bullpen, depending on how it shakes out. Lefty Fernando Abad and Ryan Pressly appear to be the two frontrunners, and if Nolasco ends up in the rotation, the final spot in the 'pen is down to lefty Ryan O'Rourke, right-hander Michael Tonkin and non-roster invitees Logan Darnell and Brandon Kintzler.
Tonkin is out of Minor League options, which could give him a slight advantage, but he hasn't pitched well. O'Rourke, who is on the 40-man roster, could make it over Tonkin to give the club an extra lefty in its bullpen along with lefty closer Glen Perkins and likely Abad.
"We're in good shape," Ryan said. "I think we've got a fair grasp on where we're at."