Pitchers can't find relief in series finale
Twins unable to contain Astros in three-game set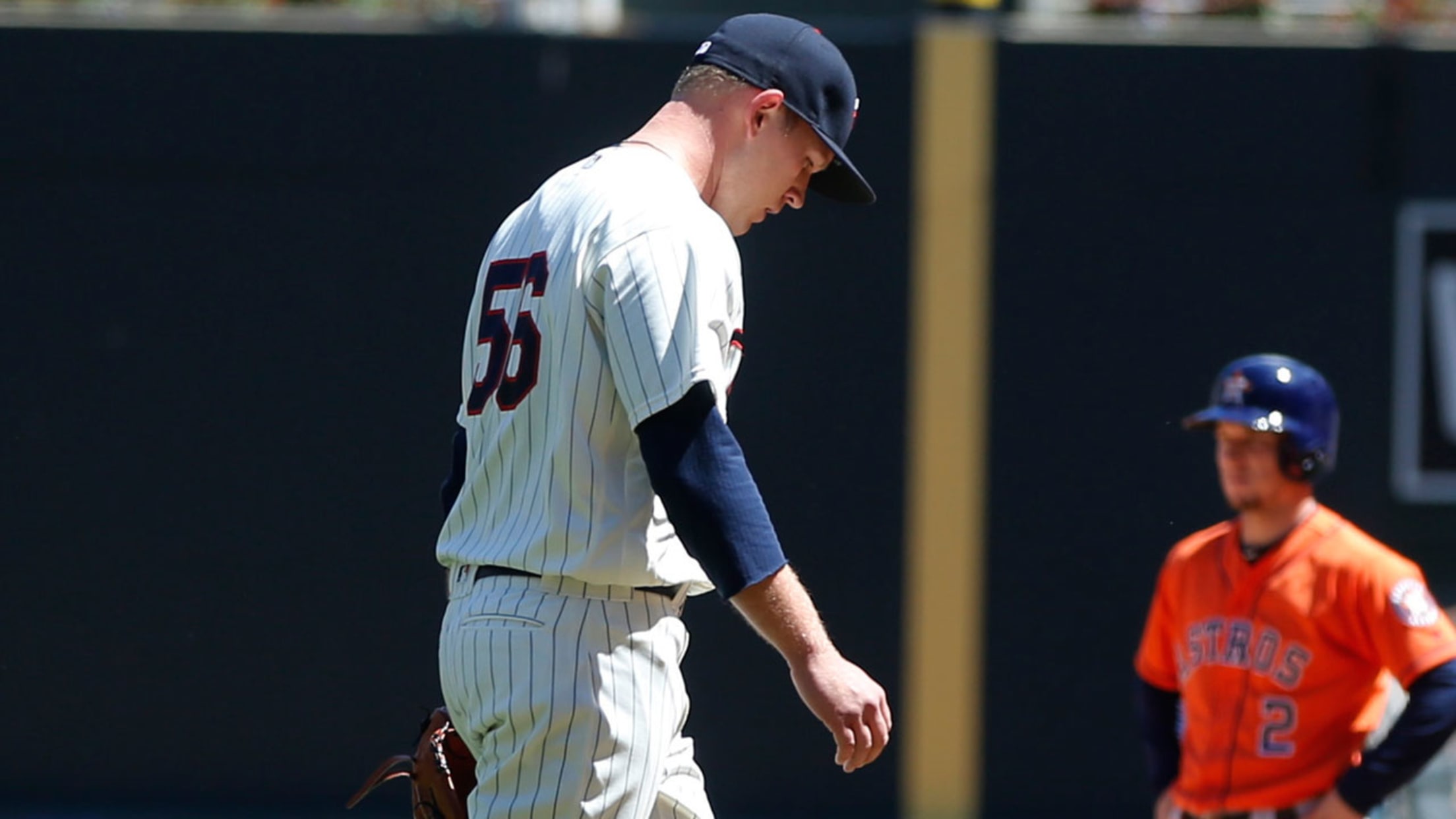 Twins reliever Tyler Duffey gave up four runs without recording an out in Wednesday's loss. (AP)
MINNEAPOLIS -- The Twins certainly aren't disappointed about seeing the Astros leave Target Field."It's a tough one," left-hander Hector Santiago said following a 17-6 loss on Wednesday afternoon. "But we're happy these guys are getting out of here and going somewhere else. We've been playing good on the road so
MINNEAPOLIS -- The Twins certainly aren't disappointed about seeing the Astros leave Target Field.
"It's a tough one," left-hander Hector Santiago said following a 17-6 loss on Wednesday afternoon. "But we're happy these guys are getting out of here and going somewhere else. We've been playing good on the road so we're excited about this road trip [starting on Thursday against the Angels]."
Santiago tried to go as deep as possible to capture the finale of a three-game set against the team with a Major League-best 38-16 record, in addition to relieving some stress from a taxed bullpen. However, when he turned it over to the 'pen in the seventh, things took a turn for the worse.
Trailing 6-5, Thomas Pressly, who was optioned to Triple-A Rochester following the loss, served up a mammoth homer to George Springer. The ball traveled 473 feet from the plate, which was the furthest projected distance by a Houston batter in the Statcast™ era.
The Astros clubbed a season-high six homers, including three against the relief corps. Pressly was charged with two runs and didn't record an out before handing the ball over to Tyler Duffey, who gave up four runs without recording an out. Jason Wheeler allowed three runs and then was designated for assignment after the game.
It was evident during this series that the Twins were still dealing with some ramifications from the 15-inning marathon on Sunday. The bullpen surrendered 28 runs on 29 hits in just nine innings, with 10 walks and only three strikeouts, against the Astros.
The Twins' bullpen woes were magnified in Monday's eighth-inning meltdown, but it has plagued the club during a four-game skid. Entering Wednesday, Minnesota relievers owned a 4.15 ERA, which ranked 18th in Major League Baseball. The Twins now rank dead last with a 5.33 ERA.
"Right or wrong, I feel like we were on the opposite end of what happened in Baltimore," manager Paul Molitor said. "You could say [the Astros] got us at the right time, coming off a long game and all that. The reality is, they are a hot team that is playing loose."
And yet, this is a Twins club that consistently sat on top of the American League Central for a good portion of May due to a 14-5 road record. For comparison, they are 12-18 at home, including a recent 1-5 homestand.
Which is why, after the roughest stretch to date, players are looking forward to a 10-game road slate, which includes meetings with the Mike Trout-less Angels, in addition to underachieving clubs such as the Mariners and Giants.
"It's a disappointing series, we got embarrassed in a few ways this series," James Dozier said. "We got to go on the road, and hopefully do a little bit of damage on the road."
Shane Jackson is a reporter for MLB.com based in Minneapolis.