Inbox: What arms will Twins pursue in FA?
Arraez's glove still catching up; Cron could be non-tender candidate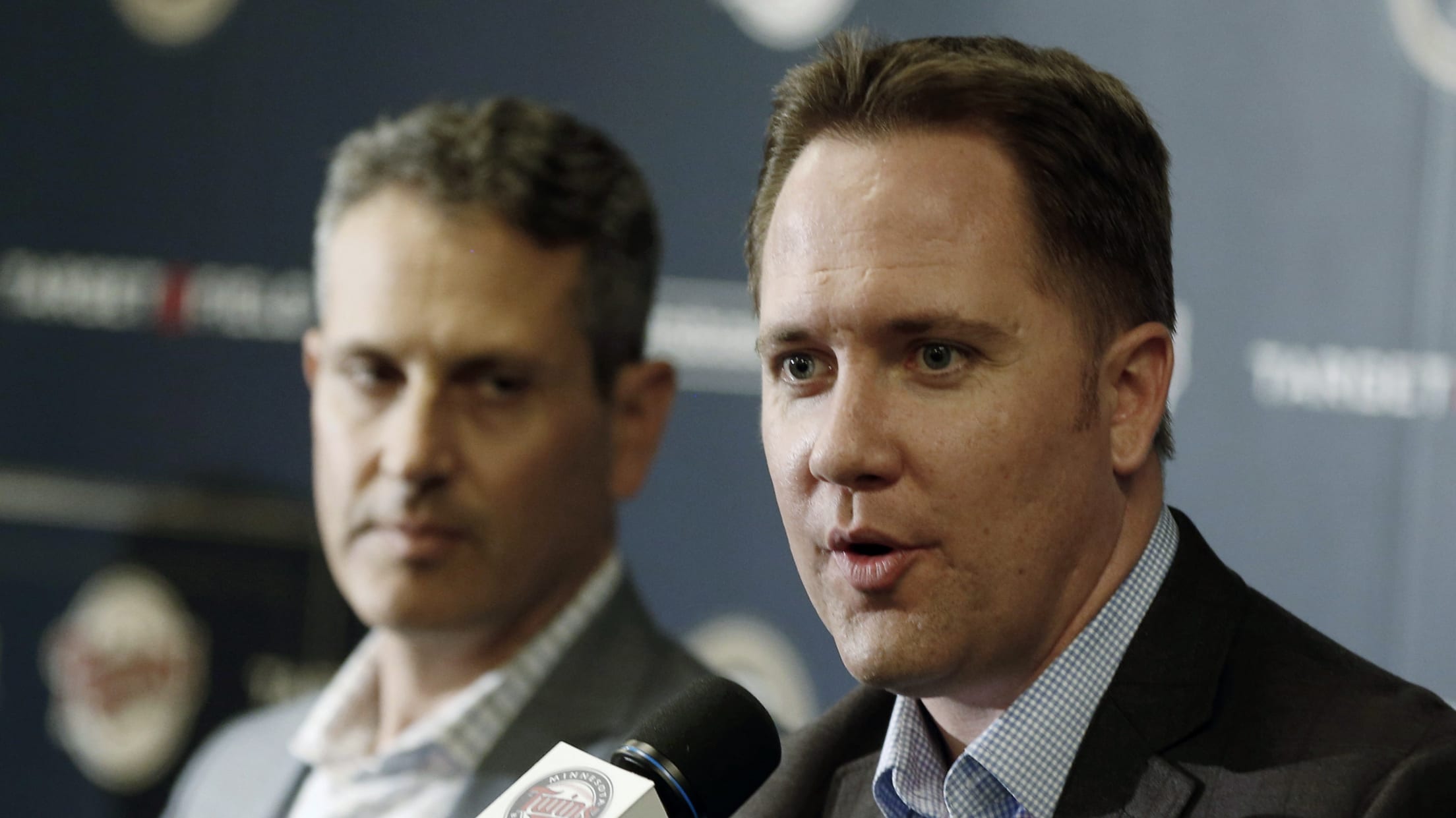 MINNEAPOLIS -- The Winter Meetings are still a few weeks away, but two significant free agents have already found their homes for the coming years, as reliever Will Smith inked a three-year deal with the Braves and catcher Yasmani Grandal is set as a member of the White Sox for
MINNEAPOLIS -- The Winter Meetings are still a few weeks away, but two significant free agents have already found their homes for the coming years, as reliever Will Smith inked a three-year deal with the Braves and catcher Yasmani Grandal is set as a member of the White Sox for the next four seasons.
The Twins filled one of their open rotation slots when Jake Odorizzi accepted the one-year, $17.8 million qualifying offer, but their work is far from done. That's why this week's Twins Inbox examines some of Minnesota's pitching and catching needs before diving into other topics like a potential non-tender decision and Luis Arraez's defensive future.
Do you believe the Twins will sign 2 starting pitchers like Hamels and Bumgarner, a single starting pitcher in terms of Bumgarner and bullpen help, or focus more on bullpen help and trust their younger starters?

— Karter Kudrna (@KarterKudrna33) November 22, 2019
Will the Twins get any big piece arms for the bullpen or will they only focus on the starting staff?

— Card Central (@central_card) November 21, 2019
The rotation remains the biggest area of need for the Twins, and with only José Berríos and Odorizzi locked into spots for the time being, adding two more starting pitchers would help the Twins in that they wouldn't need to rely on their younger, less proven starters for two rotation spots or more, given injury considerations throughout any season.
The lineup is ready to win now, and as good as Randy Dobnak and Devin Smeltzer were in limited action last season, taking a firm chance on those younger arms could add some risk to the Twins' ability to take full advantage of that offense, though they would still serve as strong depth options. With an estimated payroll commitment of around $91 million for now, including arbitration projections, the Twins do have flexibility to do some spending for proven options.
• The latest free agency and trade rumors
After a strong consolidation in the second half, the Twins' bullpen appears to have a strong core in place for 2020 featuring Taylor Rogers, Tyler Duffey, Trevor May and Zack Littell. Even with Cody Stashak ostensibly in the mix, there is room to add in the bullpen, but president of baseball operations Derek Falvey and general manager Thad Levine haven't really shown the willingness so far to make a longer-term commitment like the three-year deal the Braves recently gave Smith. And the Twins still did field a solid relief corps down the stretch in '19 without a splashy offseason move.
• 2019-20 free agents, position by position
Given the volatility of even top free-agent relievers (see Kelvin Herrera, David Robertson, Jeurys Familia and others from last offseason's market) and their relatively limited workload, there's still plenty of value in finding high-upside relievers or those with less "star power" on shorter deals. With that in mind, locking down solid starting pitching is more important in my mind -- and there's never a shortage of available relievers at the July 31 Trade Deadline, when it's often easier to tell which relievers actually have their good stuff in any given season.
Are the twins figuring to make an offer to Castro, utilising Astudillo or are they entertaining the possibility of shopping around for a new plate partner for Garver? With Grandal off the market how does the catcher crop look?

— Nerrida Poke (@the_neds) November 22, 2019
Mitch Garver is a lock to start at catcher in 2020, but given how aggressively Twins manager Rocco Baldelli split time behind the plate last season, with an eye towards rest and recovery, the vacant backup catcher position should be a fairly significant role in Minnesota.
Willians Astudillo can certainly catch, but he only posted a .678 OPS last season, and the postseason-hopeful Twins would likely benefit from a more experienced veteran to aid in Garver's continued development and help steer the pitching staff through the season. Jason Castro would certainly qualify, though he could seek a starting role elsewhere after posting a .767 OPS and 13 homers in limited action. With Grandal off the market, the next tier of free-agent catchers includes Castro, Robinson Chirinos, Alex Avila, Yan Gomes, Stephen Vogt, Welington Castillo and Martín Maldonado.
When do the Twins have to make a decision on Cron. What do you think their decision will be

— Nate Gunderson (@ngunder2) November 22, 2019
The deadline for teams to tender contracts to their arbitration-eligible players is Dec. 2. While the Twins are in a fairly clear position to offer contracts to most of those players, including Eddie Rosario, Miguel Sanó, Berríos, Rogers, Byron Buxton, May, Ehire Adrianza and Duffey, they might be in a less clear situation when it comes to C.J. Cron.
Cron played through pain in his right thumb throughout the second half and only hit eight of his 25 homers following the All-Star break. He underwent a debridement surgery on the thumb following the season. According to MLB Trade Rumors, Cron is projected to earn $7.7 million in arbitration, which could be a steep price tag after the surgery and a 1.4 WAR season at first base, according to Baseball-Reference. That said, Cron's proven power at first base and solid glove were assets in the first half, and the sides could also agree on a potentially cheaper deal before Dec. 2 to avoid arbitration.
Does Arreaz have as a super utility player much like Marwin Gonzalez or as the everyday 2nd baseman?

— Nathan Holan (@NateHolan) November 22, 2019
Arraez's bat and eye at the plate should make him a solid contributor on offense in 2020, but his defense is still catching up to his hitting, and it likely wouldn't make sense to move him around too aggressively in the field for now while more skilled, versatile defenders like Adrianza and Marwin Gonzalez remain on the roster.
Arraez did log time at second base, shortstop, third base and left field in 2019, but he showed growing pains as he learned outfield on the fly out of necessity due to injuries. And both by the eye test and advanced metrics, he wasn't a great defender at second, his primary position, where he logged a minus-5 Ultimate Zone Rating, second worst in the American League (min. 300 innings), and minus-8 Defensive Runs Saved (tied for third worst).
Arraez spent the vast majority of his Minor League career at second, and getting more consistent reps there in '20 should help his defensive progress and instincts as he presumably inherits the Twins' starting job at the position without a clear competitor for a significant share of the playing time.
Which prospect will be on the opening day roster if any?

— Parker Wendland (@WendlandParker) November 21, 2019
It's much too early to tell for now, but looking way ahead, the back of the starting rotation and bullpen or a more versatile position player slot could be areas in which a prospect could make a more immediate impact, especially with active rosters set to expand to 26 players. On the pitching side, that likely encompasses players that already got a taste of the Majors last season, like Smeltzer, Dobnak or Lewis Thorpe (the club's No. 11 prospect) Among position players, Luke Raley has experience at all three outfield positions and at first base.