Duffey recalled, Vasquez sent down by Twins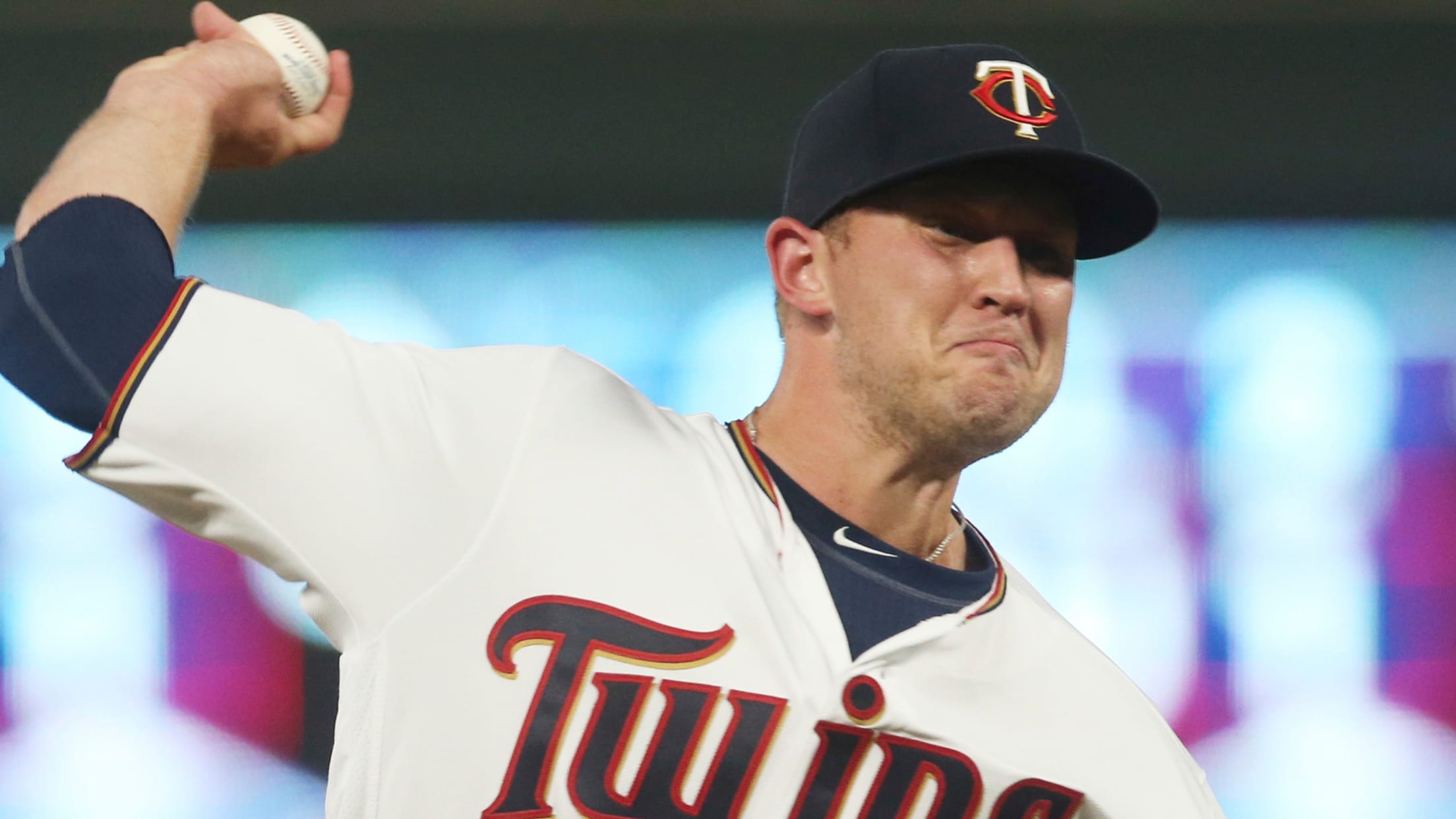 MINNEAPOLIS -- As part of the Twins' search for more reliable bullpen depth at the front end of a grueling stretch of their schedule, Tyler Duffey was recalled from Triple-A Rochester prior to Tuesday night's game against the Blue Jays. In a corresponding move, left-hander Andrew Vasquez was optioned to
MINNEAPOLIS -- As part of the Twins' search for more reliable bullpen depth at the front end of a grueling stretch of their schedule, Tyler Duffey was recalled from Triple-A Rochester prior to Tuesday night's game against the Blue Jays. In a corresponding move, left-hander Andrew Vasquez was optioned to Rochester.
Duffey allowed one run on two hits in six innings for Rochester this season, striking out 11 and walking three. The 28-year-old right-hander struck out five in two innings in his most recent outing for the Red Wings on Friday.
"I think for Tyler, I think this is a really good thing and the right time to get him up here," manager Rocco Baldelli said. "I think he's coming up here on a relative high note and I think he's feeling pretty good about what he's doing."
Though Duffey has a career 5.46 ERA across 111 appearances in the Major Leagues and allowed six homers in 25 innings last season, he started to work more aggressively this spring on changing the usage of his repertoire, and he was encouraged by his continued progress in the Minors.
"I think what I had to work on in Spring Training was really starting to come in sync for me as far as the fastball usage and the timing of pitches," Duffey said.
Duffey had relied on his sinker in the past and tried to work down in the zone, but after deeper discussions with the Twins' pitching braintrust, Duffey said he has largely eliminated the use of his sinker and now focuses more on throwing his four-seam fastball up in the zone to better "tunnel" out of his hand with his curveball to make the pitches less distinguishable upon their release.
Duffey said he hasn't changed much about his curveball, which he has relied on at least 33.8 percent of the time in each of his four seasons in the Majors, but hopes that his changed fastball usage will make his offspeed offerings more effective.
"You watch all these guys throw, you throw a high fastball, and then you don't know if you're getting a fastball again or a changeup playing one way, or a curveball playing another," Duffey said.
"I watch [former Twins reliever] Ryan Pressly and do whatever it is he does," Duffey joked.
With that in mind, Duffey said that he has a better grasp of how to most effectively use the pitches in his arsenal and has improved with reading swings and hitters as well. Though he struggled with his command in spring as he adjusted to the new pitch usage, he believes that he can improve his strikeout numbers after posting a career-worst 6.8 strikeouts per nine innings last season.
"If you're not striking people out, it's hard to stay here," Duffey said. "I think that's why, coming into spring, I had to do what I did and to this point, it's worked well, and hopefully I can keep that rolling."
This will mark the eighth time Duffey has been recalled to the Majors since he first debuted and was optioned back to the Minors in August 2015. With the Twins sorely in need of bullpen depth as they embark on a challenging stretch of their schedule, Duffey hopes that his improvements will finally help him find some stability with Minnesota.
"I've obviously put up some pretty decent numbers in the first couple of outings," Duffey said. "Hopefully that continues and I can just stay here instead of making this trip back and forth."