Astudillo -- and his mom -- take the field
Roster moves leave Twins with a dozen pitchers; Kepler salutes mother
MINNEAPOLIS -- Target Field was finally reunited with La Tortuga on Sunday when Willians Astudillo was reinstated from the 10-day injured list and hit leadoff in Minnesota's 5-3 loss to the Tigers. Twins Territory was also introduced to the fan favorite's mother, Ana Mercedes, who was invited to throw out
MINNEAPOLIS -- Target Field was finally reunited with La Tortuga on Sunday when
Willians Astudillo was reinstated from the 10-day injured list and hit leadoff in Minnesota's 5-3 loss to the Tigers.
Twins Territory was also introduced to the fan favorite's mother, Ana Mercedes, who was invited to throw out the ceremonial first pitch to her son as part of the Twins' celebration of Mother's Day. She made a strong throw to her son before the pair embraced on the field as a slideshow of photos of Twins players with their mothers began on the video board.
"We already practiced in the parking lot in my apartment," Astudillo said through an interpreter before the game.
Mama Tortuga to La Tortuga: A Mother's Day first pitch#MNTwins pic.twitter.com/vjPujU2msq

— Do-Hyoung Park (@dohyoungpark) May 12, 2019
Astudillo said that his parents, who live in Venezuela, have stayed with him in the United States since Spring Training. Unable to watch him play in the Major Leagues last season, they have been able to follow his big league journey this year, though they will soon return to Venezuela before rejoining their son during the middle of the season.
"She's my best friend," Astudillo said. "She's my foundation along with my dad and the way they raised me. I'm a firm believer that I'm here today because of those two, especially her. She supports me a lot. Like I said before, she supports me a lot, she's my best friend, so I'm happy for this day."
Astudillo was activated on Sunday following a two-week-long stint on the injured list with a left hamstring strain that was sustained in an April 27 game against the Orioles as he sprinted home to score on a sacrifice fly. He was hitting .327/.340/.531 with two homers and four doubles before his injury.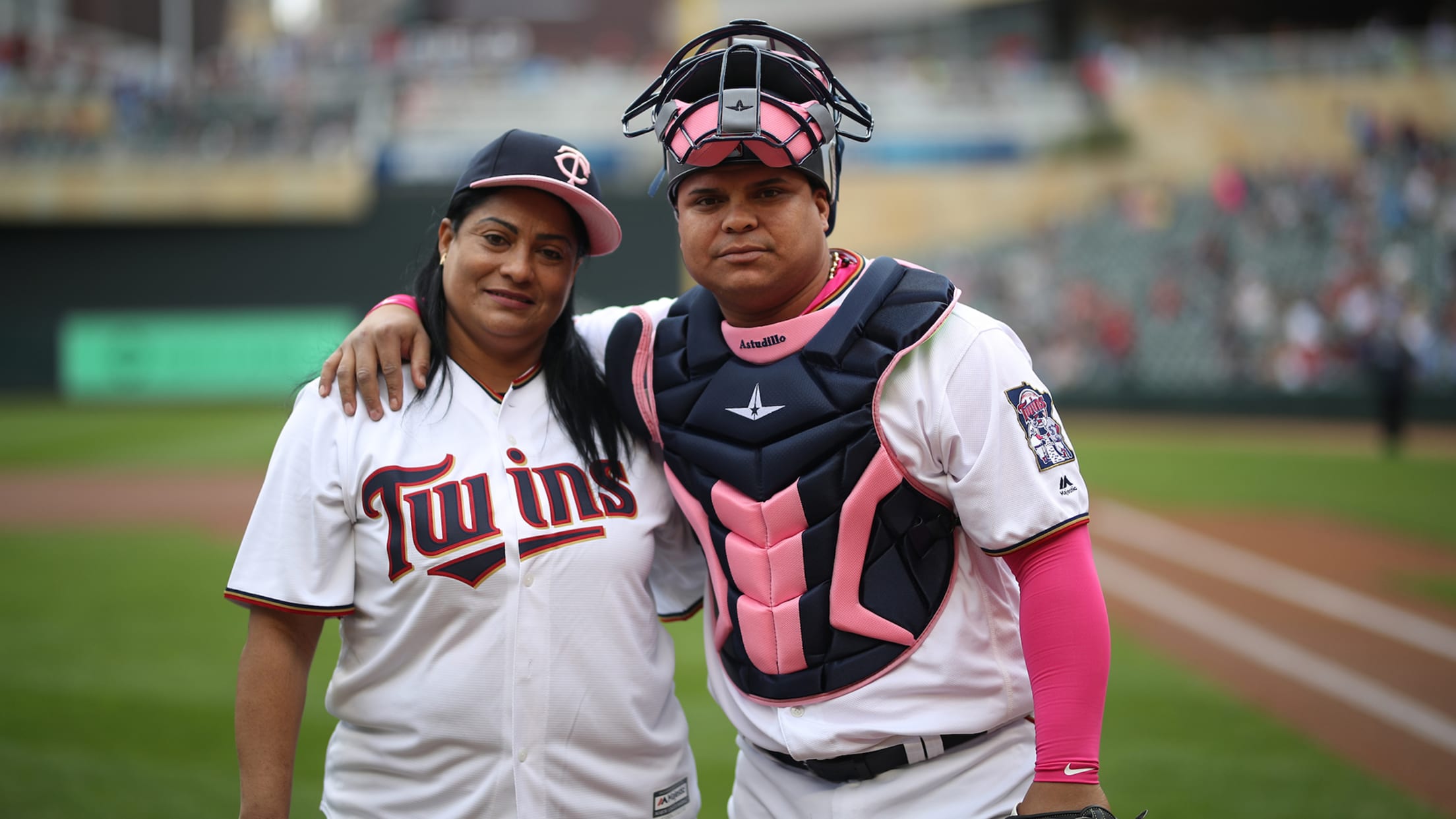 He had traveled with the team on its recent road trip through New York and Toronto to continue his recovery before he was activated on Sunday to give a break to both Mitch Garver and Jason Castro, who each caught a game in the Twins' Saturday doubleheader.
"Just, obviously, focusing on my hamstring and getting stronger with my foundation, like my legs, just getting my legs stronger," Astudillo said. "That was the main key of the rehab process, and here we are today. Everything is going well, and I'm just ready to play baseball."
Romero, Stewart optioned as Twins trim pitching staff to 12
To make room for Astudillo on the 25-man roster, Fernando Romero was optioned to Triple-A Rochester. Kohl Stewart was also optioned to Rochester following six effective innings in Saturday night's 8-3 win over Detroit to clear a spot for Sunday starter Martin Perez, who had been placed on the paternity list as he attended the birth of his newborn son, Martin, on Friday.
Romero was recalled from Rochester on April 24 and allowed two earned runs in six innings across six appearances, with eight strikeouts and three walks in that span. He allowed runners to reach base in five of those six outings, though he did not yield a run in his last five games.
Manager Rocco Baldelli said on Sunday that they wanted to give Romero more regular in-game opportunities to continue his adjustment to pitching in a relief role. Romero, who had been a starter throughout his Minor League career, had been moved to the bullpen during Spring Training.
"I think his comfort coming out of the 'pen is improving," Baldelli said. "I think he feels a lot better about what he's doing and what he's being asked to do and how he's going to accomplish what he wants to do when he gets on the mound.
"As a young player who is still proving himself and still learning, getting to Rochester and getting work in and getting into a routine -- these routines matter for a lot of our pitchers. It's hard to get into a routine when you're not getting that action in the game."
The Twins were comfortable moving back down to a 12-man pitching staff in part due to the marked consistency of their starters over the last month. The last time a Twins starter did not complete five innings was nearly a month ago, on April 18. Though the Twins have played 16 games in 16 days, a reliever has only been called upon to pitch on back-to-back days four times in that span.
"We've had a little bit of a luxury where our starters have thrown exceptionally well," Baldelli said. "Our bullpen's been pretty well rested. We have the ability to use those guys as we see fit because of that so, yeah, it gives you a little bit of a cushion where it's a long year and we kind of play it out, look at the schedule and see how everything fits."
Right-hander Tyler Duffey, who served as the 26th man in the doubleheader, was also returned to Triple-A.
Roster Moves: #MNTwins reinstate Pérez and Astudillo, option Romero & Stewart, return Duffey. pic.twitter.com/rJuH5PAp5H

— Minnesota Twins (@Twins) May 12, 2019
Kepler discusses influence of mother Kathy
When Max Kepler was signed by the Twins and moved from Germany to Fort Myers, Fla., at age 17, his mother, Kathy, came across the Atlantic with him and remained in the United States until the young outfielder graduated from South Fort Myers High School. Kathy Kepler, a former ballet dancer, cooked and cleaned for Max and drove him around while he completed his studies and adjusted to life in the United States.
"She sacrificed plenty of time where she could be doing other things to bring me to soccer practice, baseball practice, to go out of her way to make time for her children, which I think every mother should do," Max Kepler said. "I owe her big time."
Kathy Kepler lives in Germany again but tries to fly to the United States once or twice a year.
"I wish they were closer," Max Kepler said. "I've been out of the house since I was 14, so I'm used to it. But parents are a big necessity in the upbringing of young people."