Prospects we'd like to see in '20 Futures Game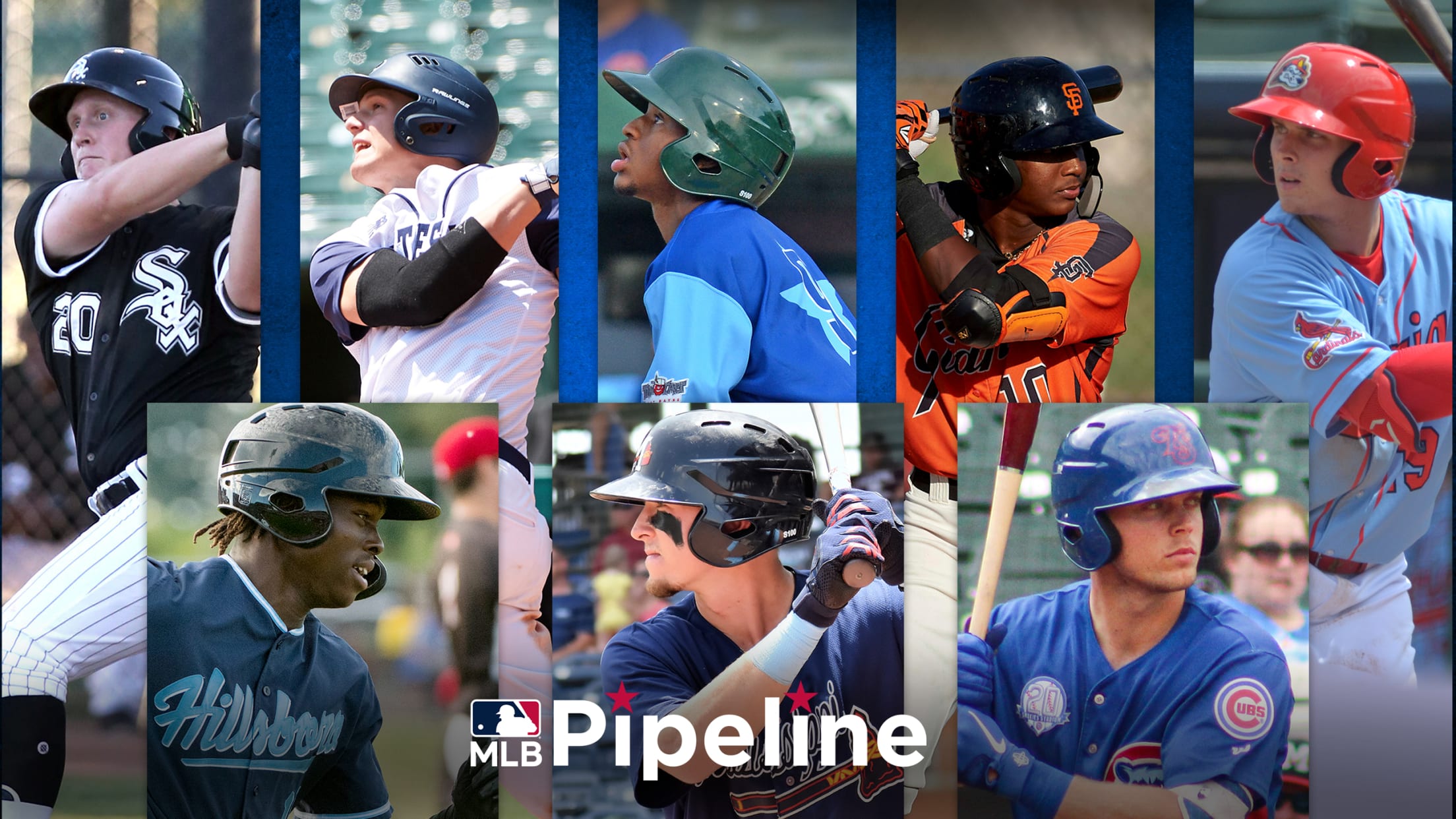 Many of the top prospects in baseball showcased their talent last Sunday in the 21st annual SiriusXM All-Star Futures Game, which saw the American and National League squads play to a 2-2 tie in eight innings. While it proved a pitching-dominated event, those who tuned in were offered a glimpse
Many of the top prospects in baseball showcased their talent last Sunday in the 21st annual SiriusXM All-Star Futures Game, which saw the American and National League squads play to a 2-2 tie in eight innings.
While it proved a pitching-dominated event, those who tuned in were offered a glimpse of baseball's next wave of stars in a game that featured 36 players from MLB Pipeline's Top 100 Prospects list, including four of the top five overall prospects.
But with so many of those prospects poised to reach the Major Leagues in the next year, there will inevitably be a whole new batch of elite prospects on display in the 2020 Futures Game.
Here is one candidate from each team:
AMERICAN LEAGUE EAST
Blue Jays: Jordan Groshans, SS/3B (TOR No. 3, MLB No. 84)
Groshans might have been selected for this year's Future Game if not for a foot injury that's had him sidelined since May 14. Before landing on the shelf, the 2018 No. 12 overall Draft pick produced a .337/.427/.482 slash line over 23 games at Class A Lansing while showcasing pure hitting ability that has evaluators inside and outside of the organization bullish on his future.
Orioles: Adley Rutschman, C (2019 Draft)
The No. 1 overall pick from this year's Draft signed for $8.1 million on June 24 and is ticketed for the Gulf Coast League to start his career. He won't be there long, though, as Rutschman is one of the best Draft prospects in history, with a collection of outstanding tools on both sides of the ball that should enable him to soar through the Minors. But a stop off at the 2020 Futures Game seems like a given for the highly-touted switch-hitting catcher, who surely will be at the top of everyone's wish list for the event.
Rays: Matthew Liberatore, LHP (TB No. 4, MLB No. 46)
While the Rays have a long list of potential 2020 Futures Game position players, including 18-year-old phenom Wander Franco, they also have a deep crop of young arms that are opening eyes this year in full-season ball. Liberatore, a 2018 first-round pick, is one of them, as the projectable lefty sports a 1.55 ERA with 53 strikeouts in 52 1/3 innings while holding hitters to a .176 average and zero home runs in the Midwest League.
Red Sox: Triston Casas, 1B (BOS No. 1)
One of the best power hitters in the 2018 Draft, Casas went 26th overall but missed most of his pro debut after he tore a ligament in his right thumb. He's making up for lost time by batting .261/.344/.514 as one of the youngest regulars (age 19) in the low Class A South Atlantic League, where he ranks second in homers (15) and RBI (60).
Yankees: Luis Gil, RHP (NYY No. 13)
Since the Yankees picked him up from the Twins in exchange for Jake Cave in March 2018, Gil has emerged as one of the best pitching prospects in New York's system. He can reach triple digits with his fastball and backs it up with a power curveball that features high spin rates.
AMERICAN LEAGUE CENTRAL
Indians: Tyler Freeman, SS (CLE No. 3, MLB No. 86)
In an Indians system loaded with sweet-swinging middle infielders, Freeman stands out the most. He won the short-season New York-Penn League batting title last summer with a .352 average and he's hitting .310/.394/.432 between two Class A stops in his full-season debut this year.
Royals: Bobby Witt Jr., SS (2019 Draft)
The No. 2 overall pick in this year's Draft is just getting his pro career started now, with a handful of Rookie-level Arizona League at-bats under his belt. And will likely have more than one opportunity to go to the Futures Game. But who wouldn't want to see his tools at shortstop and at the plate repeatedly on this stage before he gets to Kansas City?
Tigers: Parker Meadows, OF (DET No. 8)
The Tigers selected Austin Meadows' younger brother in the second round of the 2018 Draft, and he's spent his entire first full season in full-season ball, showing an intriguing blend of power and speed in the Midwest League. That the 6-foot-5, 205-pounder has a chance to stick in center field only enhances his profile.
Twins: Brusdar Graterol, OF (MIN No. 3, MLB No. 50)
Graterol might have been a Futures Gamer this year if he hadn't landed on the injured list (shoulder impingement) in late May. With a fastball that touches triple-digits and a killer slider when healthy, he would be the perfect arm to bring in for an inning and cause a buzz with his strikeout stuff.
White Sox: Andrew Vaughn, 1B (2019 Draft)
Vaughn went No. 3 overall in June and signed for $7,221,200, a record for the White Sox and for a corner bat. That's because he was viewed as the best all-around hitter available, one capable of batting .300 with 30 homers and a healthy amount of walks on an annual basis.
AMERICAN LEAGUE WEST
A's: Lazaro Armenteros, OF (OAK No. 4)
The raw tools that made the A's sign him for $3 million in July 2016 are all still there, showing off his power-speed combination this year in the California League (13 homers, 12 steals). He will need to refine his approach (155 K's in 310 ABs) as he moves up the ladder, but could be a lot of fun to watch in a Futures uniform.
Angels: Brandon Marsh, OF (LAA No. 2)
Toolsy outfielder Jo Adell has gone to the last two Futures Game, so it's time to make way for … another toolsy outfielder. The 21-year-old is more than holding his own in Double-A, with power yet to come. He has the chance to be an exciting five-tool player who can show it off in Los Angeles next July.
Astros: Seth Beer, 1B/OF (HOU No. 8)
Though he mashed for three years at Clemson, Beer lasted 28 picks in the 2018 Draft because of concerns about his lack of athleticism or success with wood bats. He's dispelling the latter concern by hitting .320/.412/.562 with 19 homers between high Class A and Double-A in his first full pro season.
Mariners: Julio Rodriguez, OF (SEA No. 6)
Just 18, the July 2017 signee is showing he belongs in the South Atlantic League with a .284/.368/.433 line over 134 at-bats after missing almost two months with a hand fracture. By this time next year, he could be one of the most feared hitting prospects in the Minors.
Rangers: Josh Jung, 3B, Rangers (2019 Draft)
One of the best offensive players in the 2019 Draft, where he went eighth overall, Jung is equipped to rush to the big leagues. He has a mature approach, lets his power come naturally and controls the strike zone, so he should hit his way to Dodger Stadium next summer.
NATIONAL LEAGUE EAST
Braves: Drew Waters, OF (ATL No. 4, MLB No. 44)
Probably the player we would've liked to see the most at this Futures Game, Waters should have another crack at it next year based on his age and the outfield depth in the Braves system. Just 20, he's tearing up the Double-A Southern League with a .334/.377/.515 line to go along with 11 steals.
Marlins: JJ Bleday, OF (2019 Draft)
Bleday began June by going fourth overall in the Draft -- Ken Griffey Jr. told him not to let anyone change his swing during the MLB Network broadcast -- and ended it as a College World Series champion and the NCAA Division I leader in home runs (27). His pure hitting ability is as impressive as his power, so he should have little trouble adjusting to pro ball.
Mets: Ronny Mauricio, SS (NYM No. 2, MLB No. 82)
The next high-profile Mets prospect has been a standout in his first full season, as he's shown a knack for making hard contact while also flashing some power potential en route to a .276/.314/.373 battling line as an 18-year-old in the South Atlantic League. He's exactly the type of player baseball fans will want to see in the 2020 Futures Game.
Phillies: Spencer Howard, RHP (PHI No. 5)
Howard's another player who could've been in play for this year's National League roster if it weren't for an injury (shoulder). He missed nearly two months, but is back in the Florida State League with his bat-missing stuff (45 K's in 29 1/3 IP total this season), a four-pitch mix that gets him strikeouts and ground-ball outs.
Nationals: Mason Denaburg, RHP (RHP, No. 3)
Denaburg only recently began his career and has made all of three starts in the Gulf Coast League, but the 19-year-old right-hander -- Washington's first-round pick (No. 27 overall) from the 2018 Draft -- is the type of high-ceiling pitching prospect that fans want to see in a Futures Game.
NATIONAL LEAGUE CENTRAL
Brewers: Brice Turang, SS/2B (MIL No. 2, MLB No. 91)
The 2018 first-rounder has proved one of the more advanced prep players from his class in his first full season, which has already featured him getting promoted to Class A Advanced Carolina after a .287/.384/.376, 19 XBH, 21-steal showing over 82 games in the Midwest League.
Cubs: Nico Hoerner, SS (CHC No. 1, MLB No. 52)
Only mild injuries have slowed Hoerner since he went 24th overall in the 2018 Draft, as he has batted .312/.398/.567 with 18 extra-base hits and eight steals in 43 games while racing to Double-A. The Cubs knew he had pure hitting ability but he has surprised them with his power.
Cardinals: Nolan Gorman, 3B (STL No. 1, MLB No. 30)
After going 0-for-1 with a strikeout in this year's event, Gorman, who is one of the more revered young sluggers in the Minors, should get another crack at it next year. Though he's cooled off after a red-hot start, the 19-year-old third baseman has still put together a solid first full season (11 HR, .754 OPS) and was promoted from Class A Peoria to Class A Advanced Palm Beach in late June.
Pirates: Oneil Cruz, SS (PIT No. 4, MLB No. 78)
Who wouldn't want to see this 6-foot-6 shortstop in action on a big stage? He's one of the most fascinating prospects in baseball, one with a ton of raw power and who still is getting it done at his premium position.
Reds: Nick Lodolo, LHP (2019 Draft)
The first pitcher taken in the 2019 Draft, at No. 7 overall, Lodolo won't pitch a ton this summer after a long college season at TCU (though he has tossed 6 2/3 scoreless innings in the Pioneer League). But as an advanced college-lefty, he could start moving quickly through the Reds' system in 2020, so it might be the only year to get him on a Futures Game roster.
NATIONAL LEAGUE WEST
D-backs: Kristian Robinson, OF (ARI No. 5)
Robinson, who signed for $2.5 million out of the Bahamas in July 2017, has one of the highest ceilings among players below full-season ball. At 6-foot-3, 190 pounds, he's already a physical specimen and has plenty of projection remaining, while his pure tools point to a future as a power-hitting center fielder who can also hit for average. He's off to a great start in 2019, hitting .311/.382/.587 with five homers and steals apiece in the Class A Short Season Northwest League.
Dodgers: Josiah Gray, RHP (LAD No. 17)
The Dodgers not only opened roster spots and saved money when they shipped Yasiel Puig, Alex Wood, Matt Kemp and Kyle Farmer to the Reds last December, but they also grabbed a pair of quality prospects and potential 2020 Futures Gamers in Gray and shortstop Jeter Downs. A former shortstop himself, Gray throws a fastball that reaches 97 mph, flashes a plus slider and has made impressive strides with his command this year.
Giants: Marco Luciano, SS (SF No. 3)
The most electrifying international prospect the Giants have had in years, Luciano signed for $2.6 million out of the Dominican last summer. The best all-around hitter in last year's international class, he has homered seven times in his first 18 pro games and is raking at a .356/.447/.753 clip in the Rookie-level Arizona League.
Padres: Xavier Edwards, 2B/SS (SD No. 8, MLB No. 89)
Edwards has already been promoted in his first full season, as he received a bump up to the California League after batting .336/.392/.414 with 103 hits and 20 steals over 77 games with Class A Fort Wayne. The 19-year-old has prototypical top-of-the-lineup tools as an advanced switch-hitter with strong on-base skills and plus-plus speed that enables him to impact games on the bases.
Rockies: Grant Lavigne, 1B (COL No. 5)
While it's been a bit surprising to see the Rockies' 2018 draftee dominating in Class A Advanced Asheville, there's still every confidence he's going to figure it out. He has been swinging it a bit better of late and his feel to hit along with his raw power make him an excellent choice for the middle of the NL lineup in '20.