Hahn on Cease: 'He's getting closer' to Majors
Burger suffers bruised heel; White Sox praise Big Papi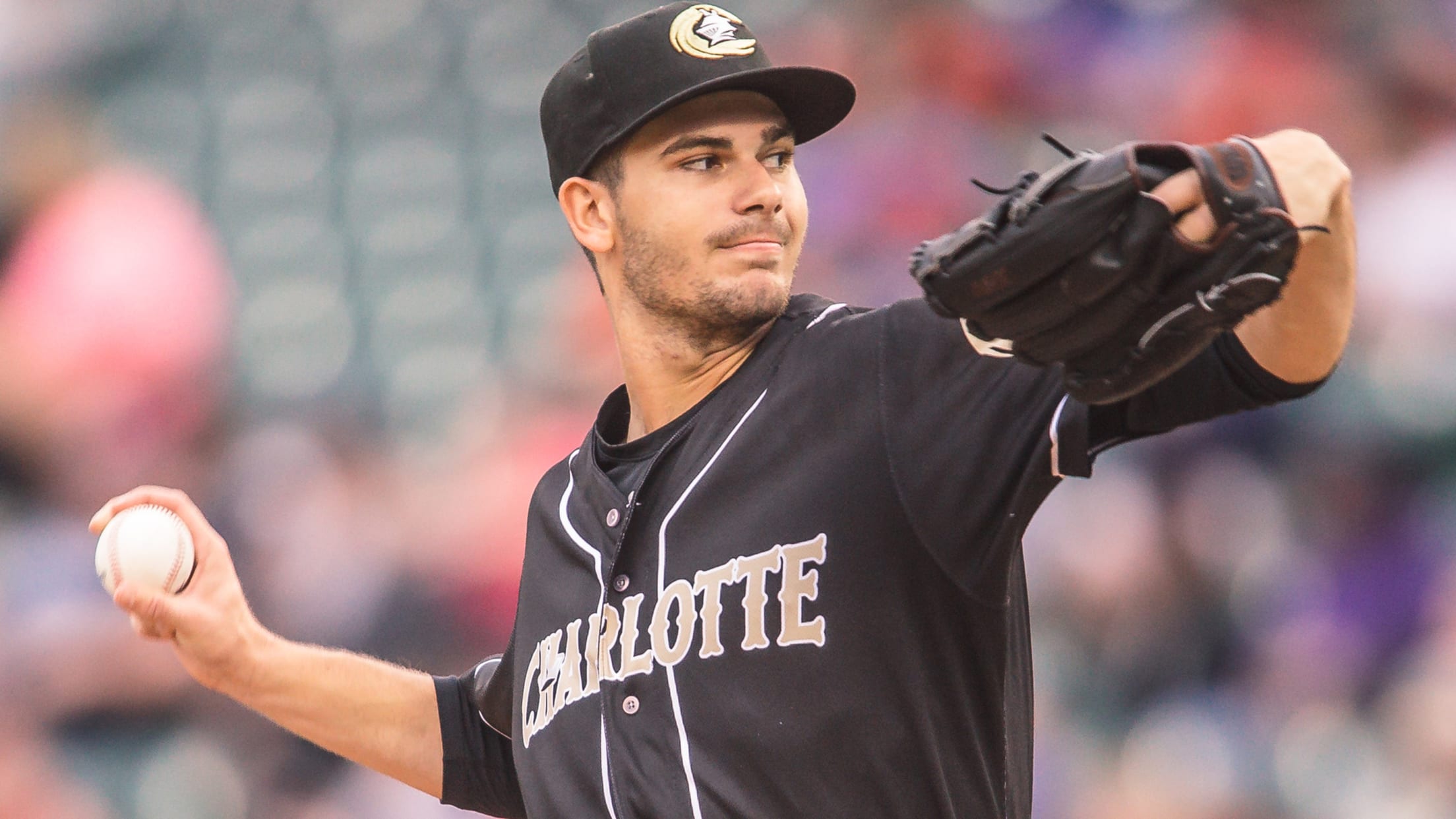 CHICAGO -- Dylan Cease was not called up to start Monday against the Nationals, and the right-hander probably won't join the team in the next couple of weeks. General manager Rick Hahn reiterated no Major League need or injury at the higher level will dictate a White Sox prospect being
CHICAGO -- Dylan Cease was not called up to start Monday against the Nationals, and the right-hander probably won't join the team in the next couple of weeks.
General manager Rick Hahn reiterated no Major League need or injury at the higher level will dictate a White Sox prospect being rushed. But a promotion for the 23-year-old, who is the No. 19 prospect in all of baseball and No. 3 in the White Sox system per MLB Pipeline, also might not be far off.
"He's getting closer," Hahn said. "He's going to come here because it's the next step in his development and we feel like he's put himself in the position to succeed, not just survive.
"We're getting closer. But in terms of delineating [Nos.] 1, 2 and 3 that he needs to improve on, going to keep those things internal. I prefer not to have the other 29 teams in baseball know that for when he does make his debut."
Cease allowed four runs on two hits and three walks without a strikeout over two-thirds of an inning during an abbreviated start on Sunday for Triple-A Charlotte, but Hahn pointed to that outing as part of the learning experience for Cease, who has a 4.10 ERA with 59 strikeouts over 52 2/3 innings this season.
"Frankly, it's actually a really good developmental day for Dylan Cease," Hahn said. "He learned a lot about what he needs to do in those situations, and he's a smart enough kid that he's going to learn from it.
"These aren't finished products. You read a stat line, you see what they've been doing. A lot more goes into it than just that. But he's a good one and he's getting close."
Burger update
Jake Burger, the No. 12 White Sox prospect and the team's top pick in the 2017 Draft, suffered a bruised left heel as part of his injury rehab in Arizona. Burger missed the entire '18 campaign and is yet to play this year suffering a pair of ruptured left Achilles.
"We were hoping by roughly around now to have him reporting to an affiliate," Hahn said. "That's obviously slowed down now due to the heel bruise. Nothing that he won't recover from here in the not too distant future and get him back on track, hopefully, toward joining an affiliate in the not too distant future."
It could take anywhere from a week to 10 days for Burger to show his heel injury to be asymptomatic.
Fry lands on injured list
Left-handed reliever Jace Fry was put on the injured list Monday, retroactive to June 8, with left shoulder soreness, while outfielder Nicky Delmonico was released.
Hahn does not expect Fry's shoulder fatigue to keep him sidelined very long.
"After some treatment, a few days off, we're very optimistic that this is minor and that we'll hopefully be able to activate him right when his 10 days are up, if not soon thereafter," Hahn said. "Not too dissimilar from what Dylan Covey's been dealing with, some inflammation in the shoulder. With treatment, we feel he'll be able to be activated soon after his 10 days are up, depending on where we are in the rotation at that time.
"Obviously, we've been hit fairly hard, especially on the pitching side, over the last few weeks. I think this is a little bit a byproduct, perhaps, of the schedule over the last five, six weeks. Having 37 games in 38 days certainly took a toll, and guys are fatigued. But knock on wood, we hope to keep, in these two instances, to a minimum."
White Sox heap praise on Big Papi
Numerous White Sox players showed their support and love for David Ortiz, as the legendary Big Papi was shot on Sunday night in a club in Santo Domingo.
"All he does is good for the Dominican," left fielder and fellow Dominican countryman Eloy Jimenez said. "He is a great person."
"If he's not the best human being in baseball, he's one of them," White Sox first baseman Jose Abreu said through translator Billy Russo.
"There's not a lot of players like him," starter Ivan Nova said. "It's the person that he is, what he gives back to the community, to the country in the D.R. For all the kids growing up right now they look up to Big Papi as a figure, not just the baseball player, but a great human being."