Eloy eyes impact like another Chicago athlete
White Sox rookie, Bears QB Trubisky are cornerstone of each franchise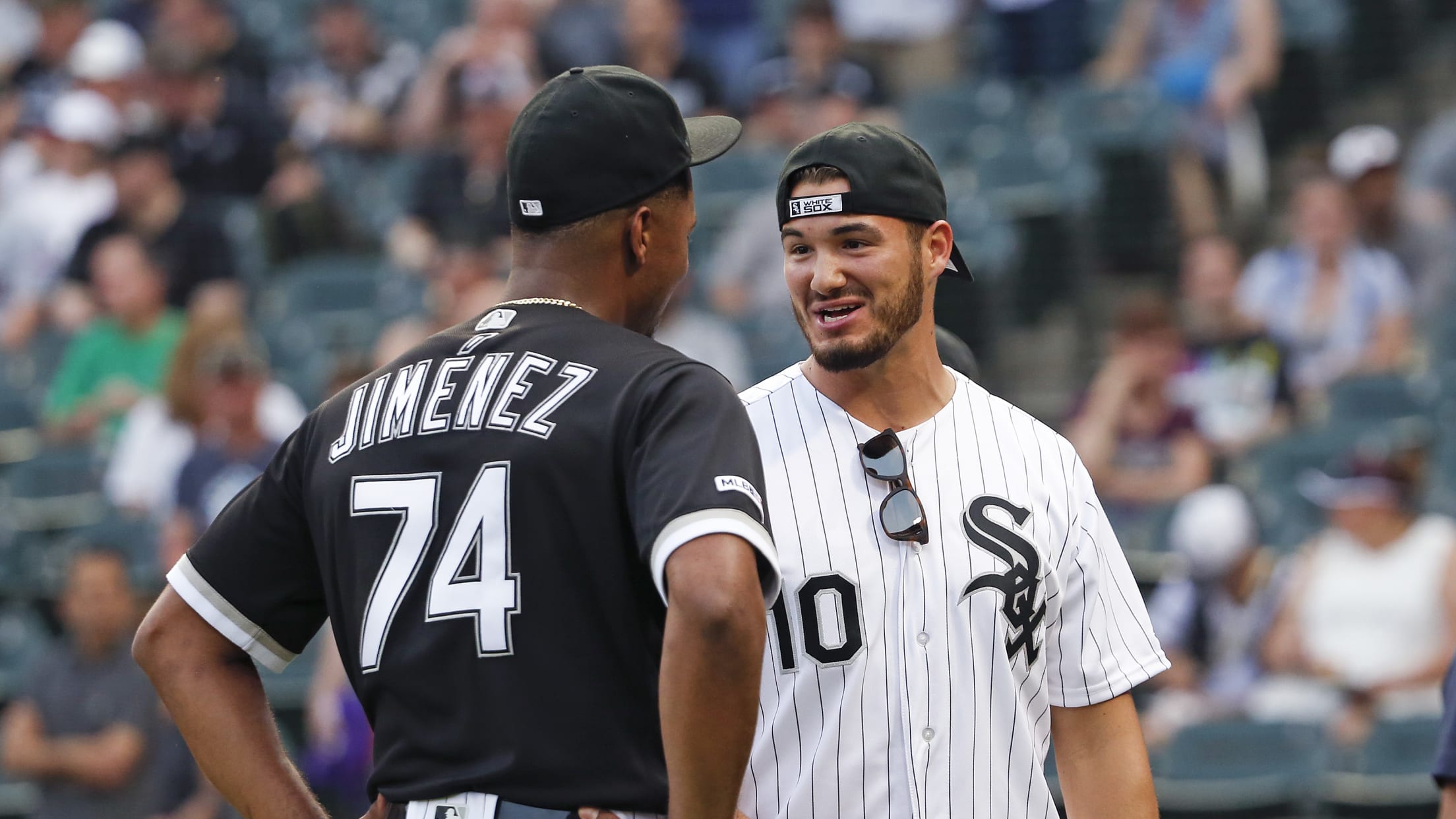 CHICAGO -- Don't be surprised if the image of Eloy Jimenez pops up some time in October or November when television cameras pan the stands at a Chicago Bears game. At the very least, the White Sox left fielder and native of the Dominican Republic will take a greater interest
CHICAGO -- Don't be surprised if the image of Eloy Jimenez pops up some time in October or November when television cameras pan the stands at a Chicago Bears game.
At the very least, the White Sox left fielder and native of the Dominican Republic will take a greater interest in football based on his friendship with Bears quarterback Mitchell Trubisky. The two got to know each other during February workouts at the IMG Academy in Bradenton, Fla.
my boy in the house @Mtrubisky10 https://t.co/z3b6S3306P

— Eloy jimenez (@Lamantha21) June 1, 2019
"He's a really cool guy, a really humble guy," said Jimenez of Trubisky. "That's one of the reasons I like him. He's one of the best football players, and he is just humble. I hope he's successful in his job for a long time."
Jimenez and Trubisky actually have quite a bit in common.
Both are top young talents who stand at the center of their respective team's push for a championship. Both are energetic and outgoing, seemingly enjoying life as well as every minute of their athletic passion. Both should be front and center for many years to come atop Chicago's sports landscape.
Trubisky already is there, guiding the Bears to a playoff berth last season. He threw 24 touchdowns against 12 interceptions, a major step forward after enduring a few lumps during his rookie season. Jimenez is dealing with that same dynamic as a rookie, although his 462-foot blast and complete performance in a 7-5 victory over the Nationals on Tuesday at Guaranteed Rate Field indicate positive changes are coming fast.
"He's 22 years old. He's a rookie," said White Sox general manager Rick Hahn of Jimenez. "The league is treating him like a five-time All-Star in terms of how they are pitching to him. You are going to see gradual improvement from him over the course of the summer. In the next couple of years, you are going to see growth by leaps and bounds from him."
Tuesday's blast from Jimenez marked his first at home among the nine he has hit. He was asked about that home long-ball drought prior to Monday's series opener but laughed and declined to talk about the matter, saying one day it's going to come. Maybe he meant one day later.
As Hahn pointed out, Jimenez's advanced offense reputation preceded him in terms of the way he's being approached. The opposition has thrown him 51.3 percent non-fastballs, according to Statcast, ranking second highest in Major League Baseball with a minimum of 500 total pitches seen.
His batting average checks in at .197 for those pitches, with a .316 slugging percentage and two home runs. Jimenez's chase rate is 32.2 percent, which is 56th-highest of 247 batters to see at least 300 out-of-zone pitches, with the Major League average being 28.2 percent
But it's obvious Jimenez is improving and swinging more at his pitch. Since May 29, he has a slash line of .326/.370/.997 with three home runs, four doubles, eight RBIs and 11 strikeouts. That stretch was punctuated by his 471-foot home run Sunday in Kansas City and then Tuesday's clout, which isn't quite a six-touchdown effort as produced against Tampa Bay by his friend Trubisky, but it's another step toward stardom.
"I've been getting good at-bats, and you see what happens," Jimenez said. "That's what I started to do. Not think about hits or homers. It's just get a good pitch to hit and take a hack."
"Maybe he's trying to show everybody what he's about, but I think he's just settling in," manager Rick Renteria said. "Just in general I feel his improvement across the board, at the plate and in the field is starting to show a little bit."