Five questions the White Sox face in offseason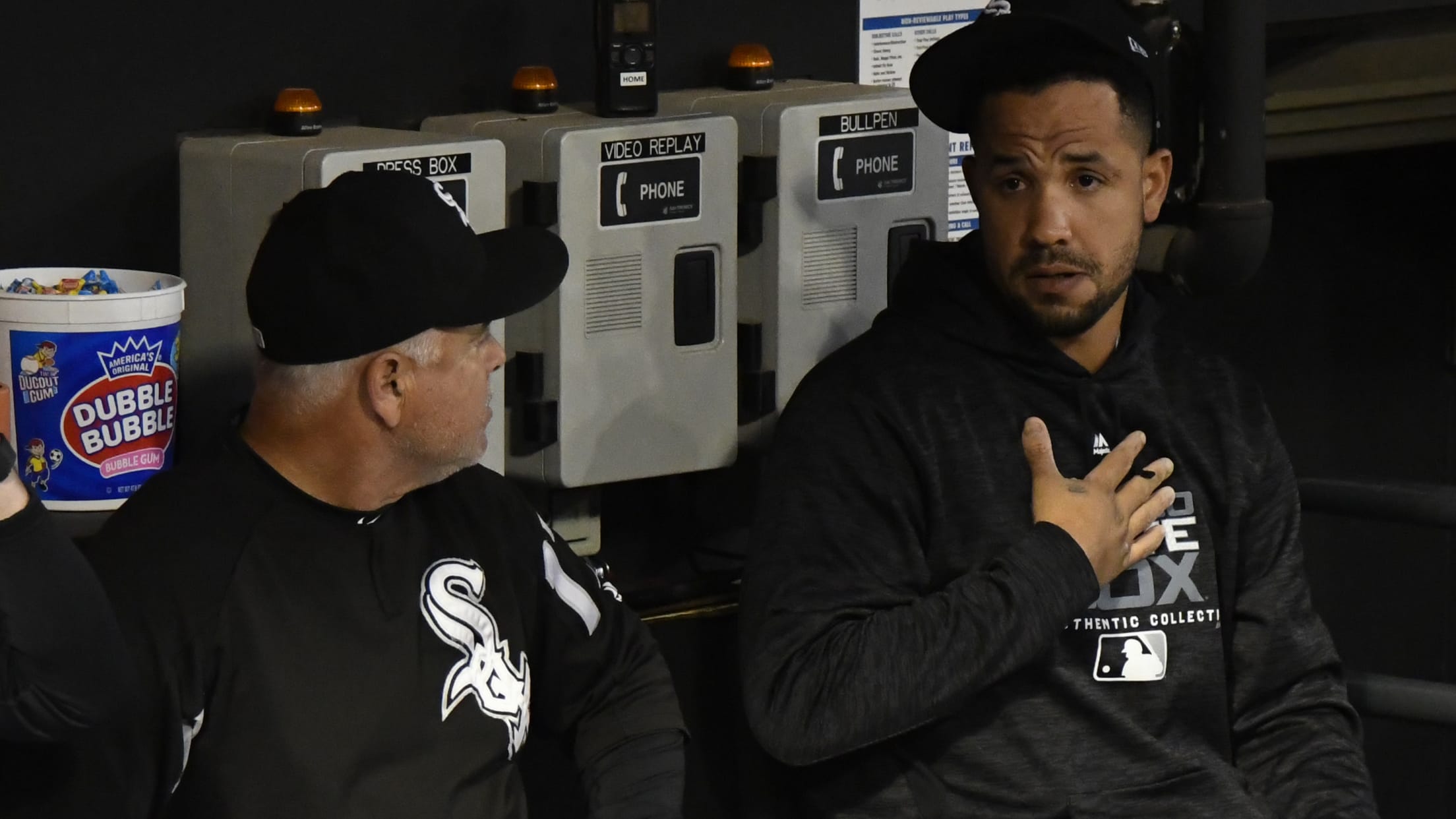 Chicago White Sox manager Rick Renteria, left, and first baseman Jose Abreu, right, talk in the dugout before the team's game against the Cleveland Indians in Chicago on Wednesday, Sept.26, 2018. (AP Photo/Matt Marton) (Matt Marton/AP)
MINNEAPOLIS -- White Sox manager Rick Renteria summed up Year 2 of the White Sox rebuild prior to Sunday's season finale at Target Field."It's been a lot of ups, a lot of downs," Renteria said. "Probably more downs than ups, but some moments of clarity for some of the things
MINNEAPOLIS -- White Sox manager Rick Renteria summed up Year 2 of the White Sox rebuild prior to Sunday's season finale at Target Field.
"It's been a lot of ups, a lot of downs," Renteria said. "Probably more downs than ups, but some moments of clarity for some of the things we see for some of the guys we have that we believe will be impactful for us moving forward."
There figures to be more of the same for the White Sox in '19, coming with important moves and decisions to be made. Here's a look at five questions facing the team.
Who will "pitch" in?
General manager Rick Hahn made clear pitching pursuits would be an offseason priority during his end of season interview last Wednesday. Hahn discussed overall pitching additions, including adding relief options to supplement a young group of arms getting a chance to work in high leverage situations during the final two months of the 2018 season.
Reynaldo Lopez, Lucas Giolito and Carlos Rodon appear set for the 2019 rotation. Dylan Cease, the Minor League Pitcher of the Year for 2018 per MLB Pipeline, should make his big-league debut sometime later in '19 if his development continues down the same accelerated path as '18. Dylan Covey, who pitched well in the season finale against the Twins, remains an option although he seems more likely destined for the bullpen or a swing role.
Michael Kopech, the team's No. 1 pitching prospect, suffered a significant tear in his ulnar collateral ligament and had Tommy John surgery. Look for the White Sox to add three or four pitchers, although it will be interesting to see the sort of commitment made through free agency and trade.
Do Jose Abreu or Avisail Garcia stay or go?
If it seems as though this question was asked last offseason, well, it probably was. The White Sox now have one year of contractual control over Abreu, who turns 32 in January, and Garcia, who is 27. They are coming off injury-shortened seasons, with Abreu dealing with surgery to relieve pain caused by testicular torsion and a right hip infection, and Garcia bothered by right knee pain from the start of the season. Abreu is considered the team leader, a mentor to young players, while also a presence in the middle of the order, while Garcia is just one year removed from his breakout All-Star campaign and set a personal single-season mark for home runs in 2018 with 19.
Contract extensions could be discussed, or the White Sox could look to move one or both. With the plethora of outfield prospects on the horizon, Garcia could even be a non-tender candidate, but the White Sox are aware of his production level when on his game. As Hahn mentioned recently, the decision ultimately doesn't have to made until next offseason.
Will there be new big men on campus?
As part of the ongoing rebuild process, the White Sox have put themselves in phenomenal position financially to make impact moves over the next few seasons. It just so happens elite players such as infielder Manny Machado and outfielder Bryce Harper will be available via free agency this offseason.
Hahn certainly did not mention any player by name during his end-of-season interview session, but he said that some of the finishing moves for this rebuild will have to come from outside. The White Sox aren't at that finishing stage, but Hahn said the team needs to be opportunistic in the market even if it's not time to add those big pieces.
It's closing time: Who's here?
Zack Burdi, the potential closer of the future, will be practicing his craft during the Arizona Fall League as he continues on the road back from his Tommy John surgery in 2017. He won't be a part of the initial consideration for closer, but pitchers such as Ian Hamilton and Nate Jones could be. Hamilton spoke recently about loving that late-inning role, and the team has a '19 option at $4.65 million on Jones with a $1.25 million buyout. But as Hahn mentioned last week, the team could go into the market to fill this role or at least provide late-inning help.
Talk has been centered on the White Sox being competitive in 2019, although "contending" has not been used. It could be too early to add a closer addition from outside the club.
Could prospects be traded?
Acquiring Christian Yelich for four prospects, including highly touted Lewis Brinson, worked out well for the Brewers. Granted, the Brewers were ahead of the White Sox rebuild, but Chicago has amassed a core group of young prospects which they could use to make a similar move or trade prospects for other top young prospects. In Year 3 of the rebuild, the White Sox will continue assessing what they have and where they have voids to fill.