Hard-throwing Jones 'not ready to call it quits'
Moncada day to day after exiting Monday; Burr hopes to play catch soon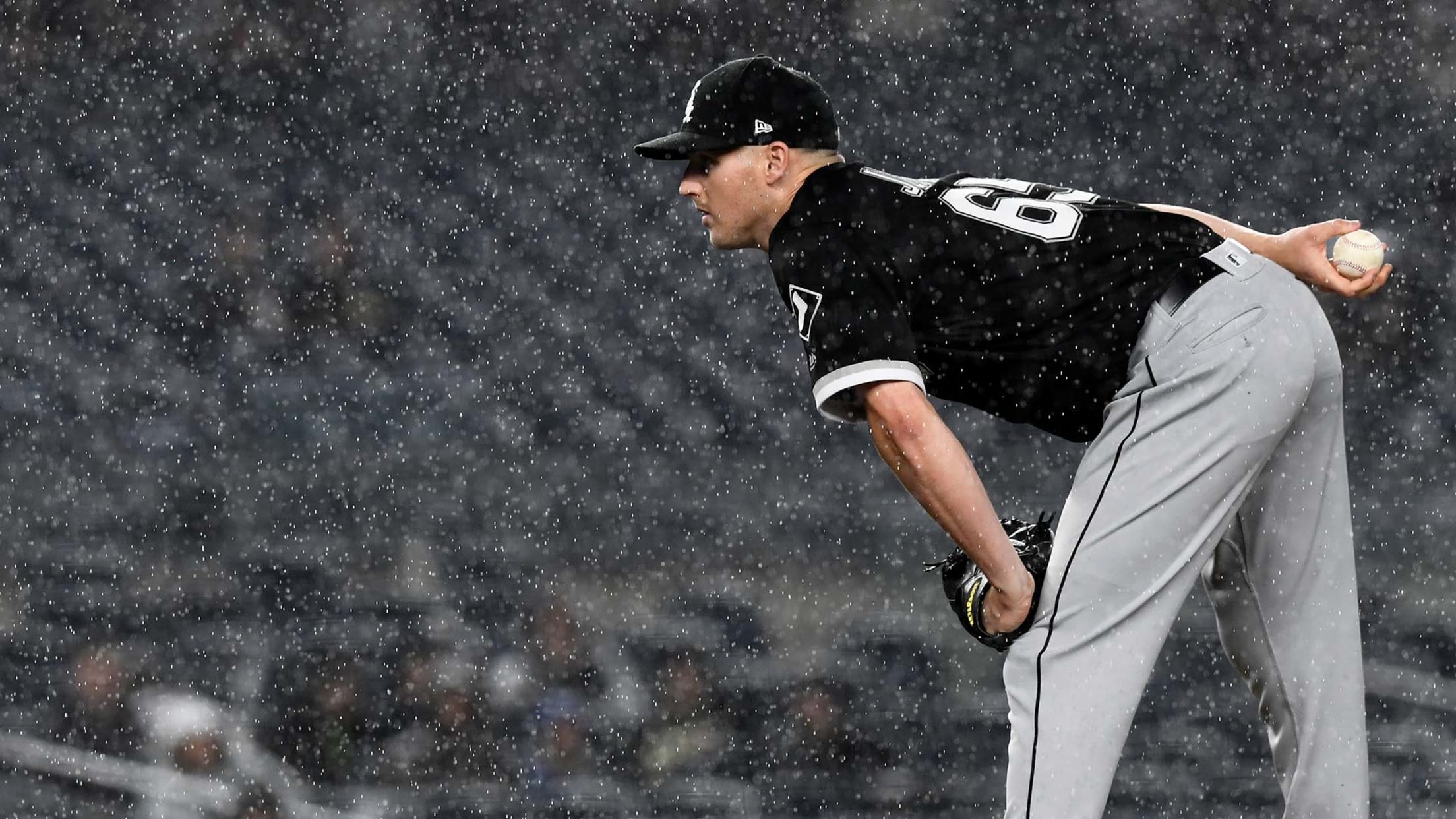 CHICAGO -- Nate Jones has thrown the last pitch of his 2019 season for the White Sox, having undergone surgery on May 13 to fix a tear in his flexor mass in his right forearm. But even with four surgeries performed on him since 2014, the hard-throwing 33-year-old does not
CHICAGO -- Nate Jones has thrown the last pitch of his 2019 season for the White Sox, having undergone surgery on May 13 to fix a tear in his flexor mass in his right forearm.
But even with four surgeries performed on him since 2014, the hard-throwing 33-year-old does not believe the last pitch of his Major League career has been thrown.
"No, no, no. That's the whole reason we went down this path with the surgery, to go ahead and get in there and get it fixed," said Jones, before continuing his injury rehab work Tuesday at Guaranteed Rate Field. "When I'm out here and I'm healthy, I'm getting guys out.
"That's the name of the game. I feel strong. I feel good with where I'm at, and I'm not ready to call it quits yet."
Jones has the longest White Sox tenure of anyone on the Major League roster. He also has a 3.12 ERA over 284 games covering parts of eight seasons, with 318 strikeouts over 291 1/3 innings.
So, his good-when-healthy theory certainly has the numbers to back it up. Jones arrived in Glendale with his family at the start of the new year to put in extra work aimed at easing him into the new season. That plan worked until Jones felt discomfort two or three outings before his last appearance on April 26.
"Obviously every year, especially the last couple of years it happened, it's frustrating," Jones said. "But the bright side is, every time it has happened, I've always come back.
"It's not fun by any means to go through rehab again. Hopefully we got that flexor fixed up, cleaned up, ready to go. And that's it. They have pretty much fixed everything else."
While Jones is sure a comeback is in his future, he doesn't know if that comeback will be with the White Sox. The team holds options on him for 2020 and '21, but a non-roster invite could be more likely with his recent injury history.
"I'm here now," Jones said. "I'm going to continue to do my rehab and get stronger, and whatever happens next year will happen."
Moncada out of action
Third baseman Yoán Moncada left after six innings during Monday's loss with what is now being described as a mid-lat/back strain. He did not start Tuesday and will be re-evaluated Thursday following Wednesday's off-day.
"He's day to day. He's doing better today," White Sox manager Rick Renteria said. "It's considered light. We took him off the field yesterday, he was having some spasming in there. But fortunately, we don't see it as being something big or significant."
Moncada first felt the pain on a swing early in Monday's game, but he added it became more heightened as the game progressed.
Burr plays waiting game
Ryan Burr has been sidelined since May 24 due to a right elbow capsule strain. But the current plan is to continue with the rehab work.
"Keep doing plyometric work for this week and then hopefully start playing catch within a week, as of right now," Burr said. "You have to stay on top of any pain management. Making sure if I feel something, I have to say something.
"At the end of the day, it hurts both the team and me if I come back too early. I don't want to put anybody in a bad situation. I don't want to put myself in a bad situation. So, it's [a] tough spot to be in. Make the most of it."
Burr added there's a little bit of pain when he throws, primarily a very strong pull that existed in his elbow he never felt before.
He said it
"We can't do nothing about the past now. Just move forward and work hard and get back." -- Jones on dealing with his latest injury, and eventual surgery.