Madrigal getting reps at shortstop at instructs
No. 4 overall pick among prospects impressing in Arizona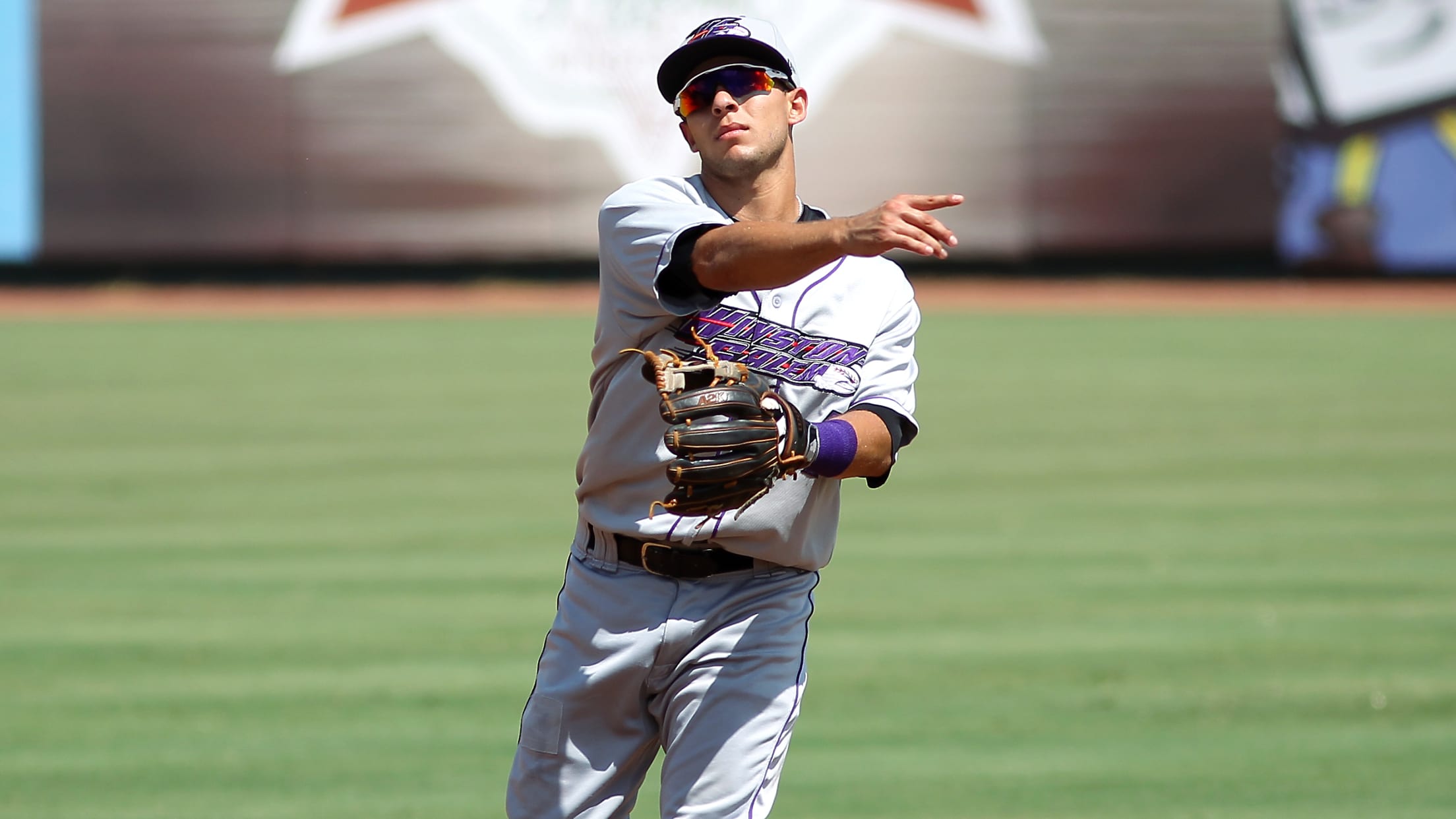 (Ben Sandstrom)
When the White Sox selected Nick Madrigal with the No. 4 overall pick in June, they had every intention of giving the Oregon State second baseman every chance to show that he could play shortstop. They still do. But that opportunity never materialized during his pro debut, when he played
When the White Sox selected Nick Madrigal with the No. 4 overall pick in June, they had every intention of giving the Oregon State second baseman every chance to show that he could play shortstop. They still do. But that opportunity never materialized during his pro debut, when he played 39 games at second base and just one at short.
Instructional league is a perfect setting for giving players exposure to multiple positions, and Madrigal concentrated on playing shortstop in Chicago's program, which opened Sept. 20 and will run through Oct. 17 at its training base in Glendale, Ariz. The White Sox sent Madrigal home 10 days early -- by design, because he had a grueling year that included a broken left wrist and a College World Series championship with the Beavers -- and farm director Chris Getz said the organization was pleased with what it saw.
"We got a lengthier look at him at shortstop, and he was impressive," Getz said. "He'll play some more shortstop next year. He's a pure plus defender at second base. He can be a Gold Glover there. Now we know he can play shortstop based on what we saw during instructional league, and that makes him even more valuable.
"He has good hands, he has good feet, and he has enough arm. He can be at least an average shortstop, maybe a little better than that."
Madrigal played some shortstop early in his career at Oregon State before settling at second base in deference to Cadyn Grenier, arguably the best defensive shortstop in the 2018 college class and a supplemental first-round choice by the Orioles. Getz said that because Madrigal had such a draining final college season, the White Sox decided not to have him worry about trying a new position while also acclimating to pro ball and getting pushed to Class A Advanced Winston-Salem.
Regardless of where he winds up defensively, there's little question that Madrigal will hit. The consensus best pure hitter in the 2018 Draft class, he repeatedly barrels the ball from the right side of the plate. After batting .361 with a minuscule 5 percent strikeout rate in three years with the Beavers, he hit .303 with a 3 percent whiff rate in his pro debut.
Madrigal also offers plus speed and good instincts on the bases. He makes contact so easily that he'll have to develop more patience to draw a healthy amount of walks, though the main concern about him offensively is how much pop he'll generate. He won't be a slugger at 5-foot-7 and 165 pounds, but he has a quick bat and gap power that didn't translate in his debut, during which he slugged .348.
Besides Madrigal, the White Sox also landed two other college players who entered 2018 with first-round aspirations. Oklahoma outfielder Steele Walker, who signed for a well over-slot $2 million in the second round, might have been the second-best pure hitter in college baseball behind Madrigal. Konnor Pilkington, who became the system's best lefty pitching prospect when he turned pro as a third-rounder, has the makings of a solid three-pitch repertoire and a durable frame.
While neither Walker (.209/.271/.342 in 44 games) nor Pilkington (7.07 ERA in 14 innings) had a banner pro debut, Chicago doesn't think any radical changes are in order. The White Sox love Walker's left-handed swing, approach and makeup, and he has spent instructional league trying to regain his rhythm at the plate. Pilkington, who already has an advanced changeup, has focused on adding life to his low-90s fastball and sharpening his curveball.
A couple of later-round selections have stood out in Glendale. Outfielder Cabera Weaver, a seventh-rounder from South Gwinnett High School in Georgia, has impressed with his quick-twitch athleticism, speed and strength. Michigan prep third baseman Bryce Bush, who turned down a Vanderbilt scholarship to sign for an above-slot $290,000 in the 33rd round, has continued to rake after hitting .309/.396/.453 in his debut.
"Bush definitely has strength, and he has a good approach for a young kid," Getz said. "He's been working on playing third base, with his footwork and the accuracy of his throws to first base. He has looked good."