Anderson honors Jackie with screening of '42'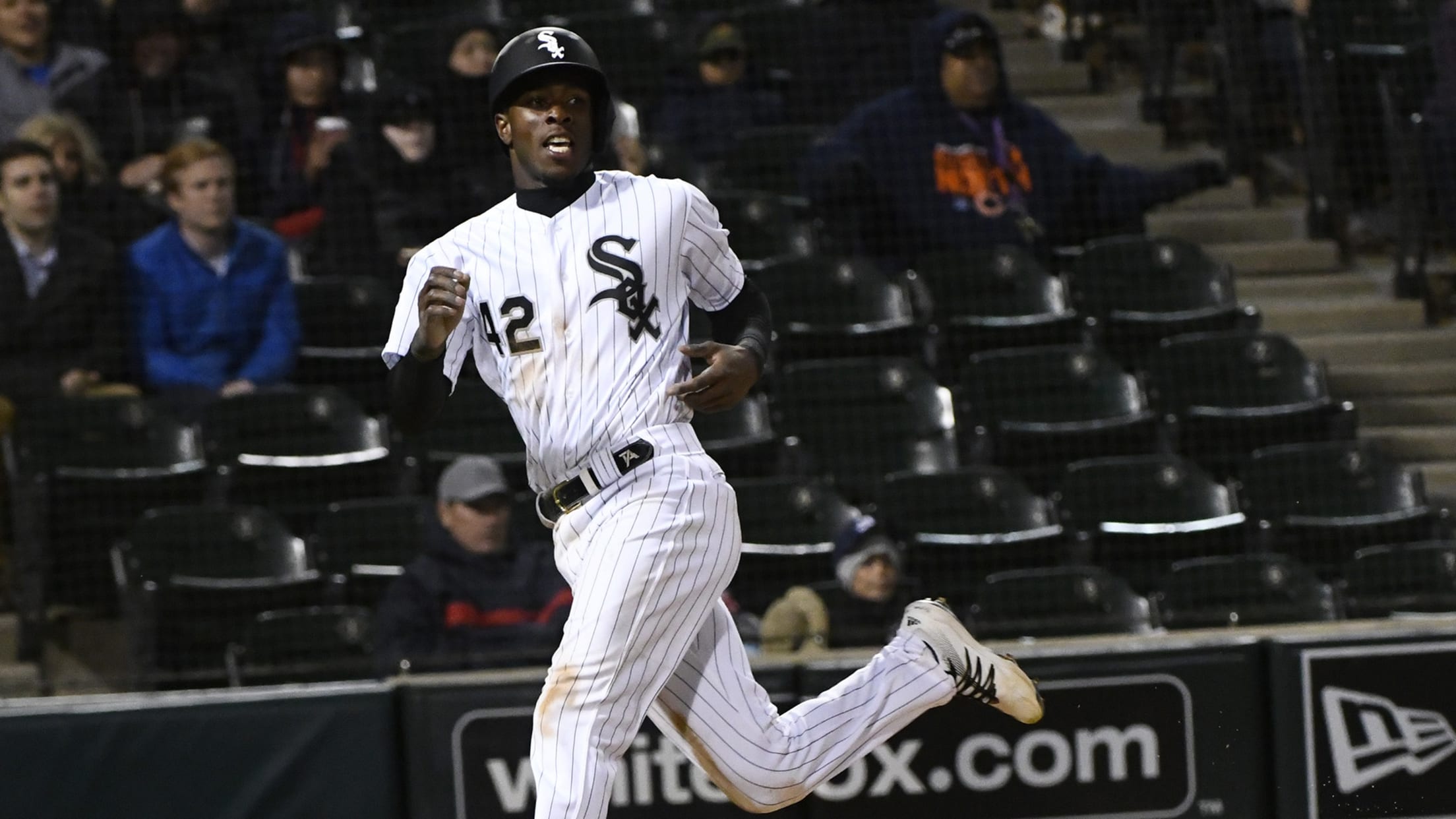 CHICAGO -- White Sox shortstop Tim Anderson admits to not being a huge baseball fan growing up. So, his knowledge of the great Jackie Robinson wasn't as thorough as it is now. "I think the more I got into the game and under the White Sox umbrella, I started paying
CHICAGO -- White Sox shortstop Tim Anderson admits to not being a huge baseball fan growing up. So, his knowledge of the great Jackie Robinson wasn't as thorough as it is now.
"I think the more I got into the game and under the White Sox umbrella, I started paying a lot more attention to it," Anderson said before logging three hits in Monday night's 5-4 win over the Royals at Guaranteed Rate Field. "It's great to know the history and exactly what he went through to pave the way.
"He was a leader. He didn't say much. He just went out and did his job. And that's kind of how I go about my business, and try to leave a huge impact on the game and be a game-changer."
Anderson honored the Hall-of-Famer on Jackie Robinson Day by holding a private screening of the movie "42" on Monday morning for local students from the White Sox Amateur City Elite (ACE) program and Youth Guidance, as well as students who participated in the fourth annual Jackie Robinson Video Contest. First-base coach Daryl Boston, hitting coach Todd Steverson and radio analyst Darrin Jackson also were in attendance.
The White Sox also put on their Twitter account a moving letter from Anderson to Robinson, entitled "Dear Jackie, how can we thank you?" Anderson has been active in the ACE program and took a group of young players to the Negro Leagues Baseball Museum in Kansas City last year.
Dear Jackie,
How can we thank you? #Jackie42 pic.twitter.com/Lk3s74SdBA

— Chicago White Sox (@whitesox) April 15, 2019
"Being the only African American on the South Side [on the White Sox], I definitely try to leave a huge impact because most of the kids on the South Side are black," Anderson said. "The White Sox do a great job at following my vision and being a part of their vision. And I'm open to doing things like that because that's great."
Hansen, Burdi updates
Alec Hansen, ranked as the White Sox No. 15 prospect by MLB Pipeline, has worked three games in relief for Class A Advanced Winston-Salem coming off of an injury-plagued 2018 season where he finished 0-5 with a 6.31 ERA over 14 starts between the Dash and Double-A Birmingham, including 55 strikeouts and 59 walks. Those struggles followed a 2017 season where the right-hander topped the Minor Leagues with 191 strikeouts over 26 starts and the White Sox hope to get him back to elite starting form.
"We figured the best approach with him was to get some short stints as a reliever. He has responded well. We'll get him some multiple-inning outings and just kind of progress from there," White Sox director of player development Chris Getz said. 'There are plenty of indicators the stuff is back.
"Certainly, velocity but other things as well. Last outing there were some strikeouts with some walks. We want to continue to improve the command, but in terms of the raw ability in comparison to what we saw last year, we feel like he's in a much better place."
Zack Burdi, considered by some as a future White Sox closing option and the club's No. 16 prospect, pitched in extended spring a few days ago. He is close to joining an affiliate after working through a lat strain.
"He's healthy. He seems to be in a really good spot. He's confident and the stuff is there. It's just a matter of seeing how he fits," Getz said. "It was not related to the Tommy John surgery or the rehab. It was just a lat, which seems to be popping up more and more these days with the type of throwers and programs that are going on."
Jay progressing
Outfielder Jon Jay, who has not played this season due to soreness in the right groin/hip area, played catch on Monday and possibly was going to hit off of a tee.
They said it
"That's for you guys, not me." -- Anderson, on not paying attention to leading the Majors with a .453 average