3 White Sox among AL leaders in ASG voting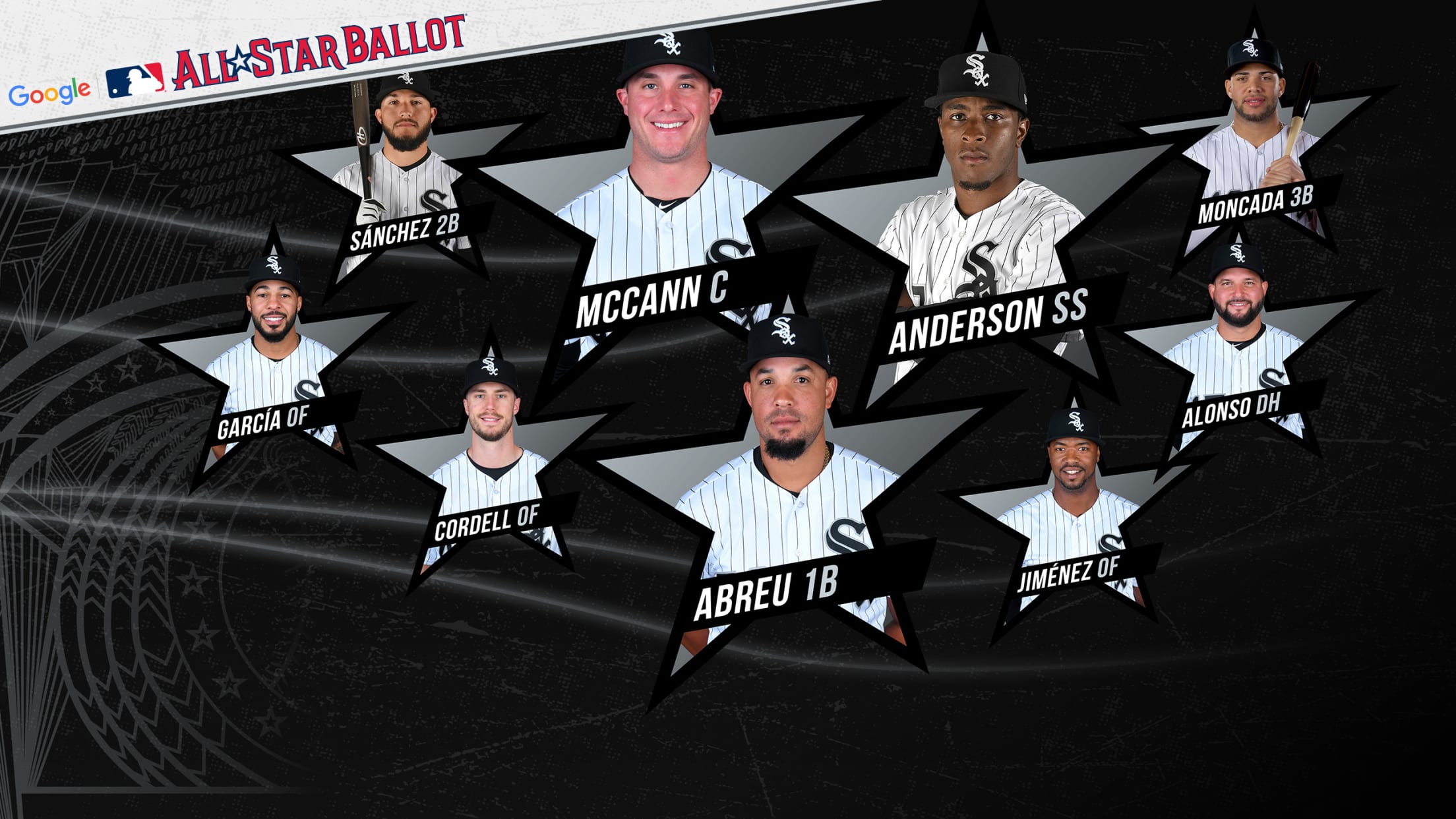 Read our FAQ on this year's revamped balloting format, which includes two phases of fan voting to determine the All-Star starters, and the ability to vote through Google Search. CHICAGO -- White Sox general manager Rick Hahn admits to being a little biased when it comes to American League All-Star
Read our FAQ on this year's revamped balloting format, which includes two phases of fan voting to determine the All-Star starters, and the ability to vote through Google Search.
CHICAGO -- White Sox general manager Rick Hahn admits to being a little biased when it comes to American League All-Star voting.
• VOTE NOW: Google MLB All-Star Ballot
So even with James McCann sitting second at catcher in the first round of results released Monday, José Abreu checking in at third at first base and Tim Anderson ranking fourth at shortstop, Hahn expected better.
"Right now, Tim is fourth for shortstops. I'm biased. I think he should be higher on that list," Hahn said. "[Yoan] Moncada [eighth among third baseman] should be much higher on the list then he is.
"I don't know how much notice other people necessarily are taking, but I do see All-Star caliber seasons out of young players that we drafted and developed like Tim Anderson, or we traded for like Moncada and [Lucas] Giolito, or even free agents we signed like James McCann. That's all positive signs for this process moving forward."
Fans may vote in "The Primary" at MLB.com and all 30 club sites, the MLB At Bat and MLB Ballpark apps up to five times in any 24-hour period. Fans in the US and Canada can also vote on Google Search for every position, or up to 17 unique players per day, by searching "MLB Vote" or the names of their favorite players. Primary voting ends at 3 p.m. CT on Friday, June 21.
The top three vote-getters at each position (including nine outfielders) per league will move on to "The Starters Election," which begins at 11 a.m. CT on Wednesday, June 26. The votes will reset for a 28-hour voting window that ends at 3 p.m. CT on Thursday, June 27. Starters for the 2019 Midsummer Classic will be unveiled on ESPN that night at 6 CT. The pitchers and reserves will be announced on Sunday, June 30, at 4:30 p.m. CT.
Then on Tuesday, July 9, during the 2019 All-Star Game presented by Mastercard, fans may visit MLB.com and the 30 club sites to submit their choices for the Ted Williams Most Valuable Player Award presented by Chevrolet.
The 90th Midsummer Classic, at Progressive Field in Cleveland, will be televised nationally by FOX Sports; in Canada by Rogers Sportsnet and RDS; and worldwide by partners in more than 180 countries. FOX Deportes will provide Spanish-language coverage in the United States, while ESPN Radio and ESPN Radio Deportes will provide exclusive national radio coverage. MLB Network, MLB.com and SiriusXM also will provide comprehensive All-Star Week coverage. For more information about MLB All-Star Week and to purchase tickets, please visit AllStarGame.com and follow @MLB and @AllStarGame on social media.
In Monday's results, McCann's 289,475 votes trail only the Yankees' Gary Sanchez and his 737,107. Minnesota's Jason Castro (199,497) and Houston's Robinson Chirinos (197,976) rank third and fourth, respectively.
McCann has been a revelation this season for the White Sox, with a .325 average and .854 OPS entering Monday night's game against the Nationals and his intense preparation with each pitcher he handles.
"He knows his stuff," Anderson said. "He's been doing nothing but great things since he got over here."
"James has been great for us," Hahn said. "He's been tremendous not just in terms of what you've seen offensively, but what he's done for our pitchers and shepherding them through games, the growth of some of our young pitchers, as well as the role he's played in the clubhouse."
The Yankees' Luke Voit leads at first base with 393,356 votes, followed by Minnesota's C.J. Cron (302,586), Abreu (286,145) and Cleveland's Carlos Santana (250,615). The Twins' Jorge Polanco tops the voting at shortstop with 395,210, edging ahead of Houston's Carlos Correa (329,421), New York's Gleyber Torres (322,958), Anderson (281,862), Boston's Xander Bogaerts (220,317) and Cleveland's Francisco Lindor (175,868).
"We'll see what the results are," Anderson said. "I only can control what I can control, keep going and keep having fun."