Olympian skating through White Sox system
Prospect Alvarez won silver medal for US short-track team in Sochi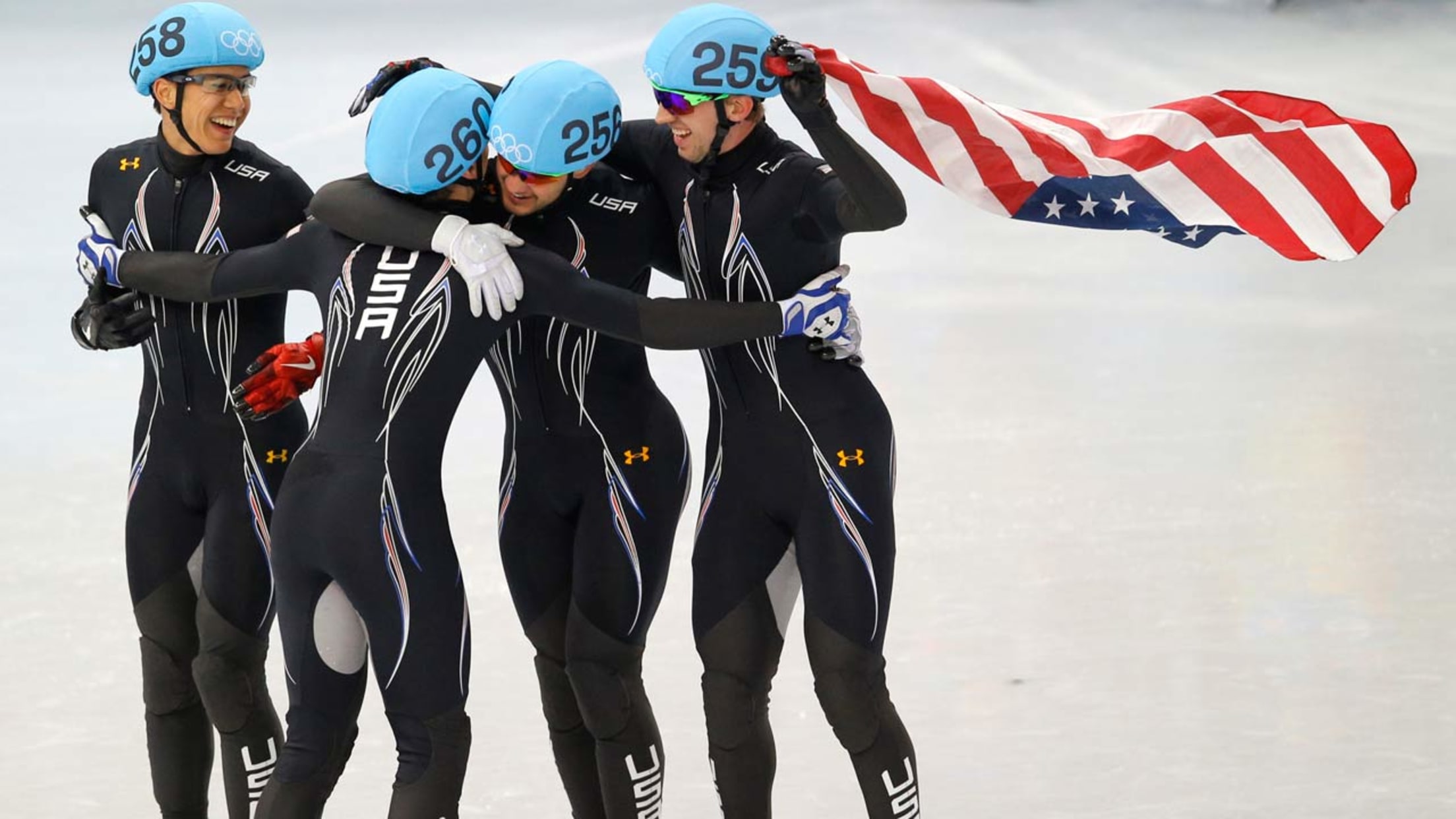 Eddy Alvarez, second from right, celebrates with teammates J.R. Celski, Jordan Malone and Chris Creveling. (AP)
Eddy the Jet is on the move again, and his timing is impeccable.As the Summer Olympic Games are conducted amid pomp and circumstance in Brazil, the baseball season has hit its dog days. Teams that have fallen out of contention search for positives where they can find them, and for
Eddy the Jet is on the move again, and his timing is impeccable.
As the Summer Olympic Games are conducted amid pomp and circumstance in Brazil, the baseball season has hit its dog days. Teams that have fallen out of contention search for positives where they can find them, and for the White Sox, one of the bright lights is an infielder who is flying through their system with Olympic speed.
That's Eddy Alvarez, and moving fast is nothing new to him. He's a former Olympic speed skater.
Alvarez was on the medal podium the last time the world's best gathered under the Olympic flame. He was a part of the United States' short-track speed-skating relay team, which earned a silver medal in the 2014 Sochi Games.
Alvarez, a Cuban-American with roots in Miami, turned his full attention to baseball after Sochi. And on Wednesday, he was promoted from Double-A Birmingham to Triple-A Charlotte, only one rung from a call to the Major Leagues.
Former Olympian Eddy Alvarez goes 5-for-5 Monday, promoted to Triple-A today. #WhiteSox https://t.co/0axnhbNFE5 https://t.co/Z0Qw1qvbIQ

— Minor League Baseball (@MiLB) August 17, 2016
Alvarez is a good bet to get to Chicago, too, probably not in September but at some point in 2017.
Sort of sounds like a Disney movie, doesn't it?
"He's making us look good,'' White Sox assistant general manager Buddy Bell said on Wednesday. "But he fooled us, too. He's better than any of us thought.''
Alvarez had played only one season of baseball in five years, but former White Sox pitcher Carlos Castillo, a family friend from Miami, got him a tryout with the Sox after the '14 Olympics. The White Sox needed Minor League depth, so they signed him after he impressed coach Mike Gellinger in a tryout, and he wound up batting .346 between Rookie ball and Class A Kannapolis.
It wasn't a fluke. Alvarez has gone on to become one of the best stories in the Minor Leagues, hitting .292 with a .387 on-base percentage and an .803 OPS in 272 games while playing shortstop in the White Sox system.
"He works as hard as anybody,'' Bell said. "He's not in awe of anything he comes across in baseball, which you shouldn't be. And he's got a great mind for baseball. People forget he was pretty good when he stopped playing [to skate]. He's a hell of an athlete, a really good athlete. His feet are always under him.''
Alvarez, 26, combined skating with baseball growing up. His older brother, Nick, was drafted by the Dodgers out of Miami Gardens' St. Thomas University in Florida and spent seven years as a Minor League outfielder, reaching Triple-A. Eddy played seriously enough to have a scholarship offer to St. Thomas out of high school, but he chose to pursue his Olympic dream.
Alvarez was already known as Eddy the Jet when he was an 11-year-old and he won the so-called triple crown -- national age titles in inline speed skating, long-track speed skating and short-track speed skating.
After being unable to grab a spot on the U.S. team for the 2010 Winter Games in Vancouver, Alvarez decided to take a year off from skating. He walked onto the baseball team at Salt Lake Community College and wound up as the starting shortstop, but after that 2011 season, he returned to skating.
That was the only baseball Alvarez had played since graduating from Christopher Columbus High School. But he always planned to return once he got skating out of his system.
"I had two dreams, and had the potential to make those dreams come true,'' Alvarez told MLB.com last March. "It was tough, but it really taught me work ethic, playing two sports. To get that medal was so satisfying. I want to encourage young athletes to accomplish their dreams.''
Alvarez underwent surgery to repair torn patellar tendons in both knees in 2012, which could have ended his Olympic dream. His baseball dreams seemed to be dimming early this season, but he struck back against Southern League pitchers, who dominated him in the spring.
After hitting .145 in April, Alvarez was still below .200 as late as June 9. He's hit .321 since then, raising his average to .263.
Alvarez was leading the Birmingham Barons with 62 RBIs, more directly attributed to a .300 batting average with runners in scoring position than his six home runs.
The White Sox have been impressed with Alvarez's dedication and discipline since he arrived. He told MLB.com that the pace of baseball was "almost easy'' after Olympic workouts that were typically "six to eight hours per day, six days per week, 11 months of the year."
Bell says it will be fun to watch Alvarez at the Triple-A level and then, from all of the indications he's given so far, the American League. He's going to play some second base at Charlotte as the White Sox weigh how he'd fit in an infield with Tim Anderson.
Look for Alvarez in Major League camp next spring.
"I really want to see how he stacks up against the most advanced players,'' Bell said. "He always seems to rise to the occasion, seems to figure it out.''
There's something else, too.
"He's a winner,'' Bell said.
A team can never have enough of those.
Phil Rogers is a national columnist for MLB.com.