Adolfo 'grew up,' hit his stride in 2017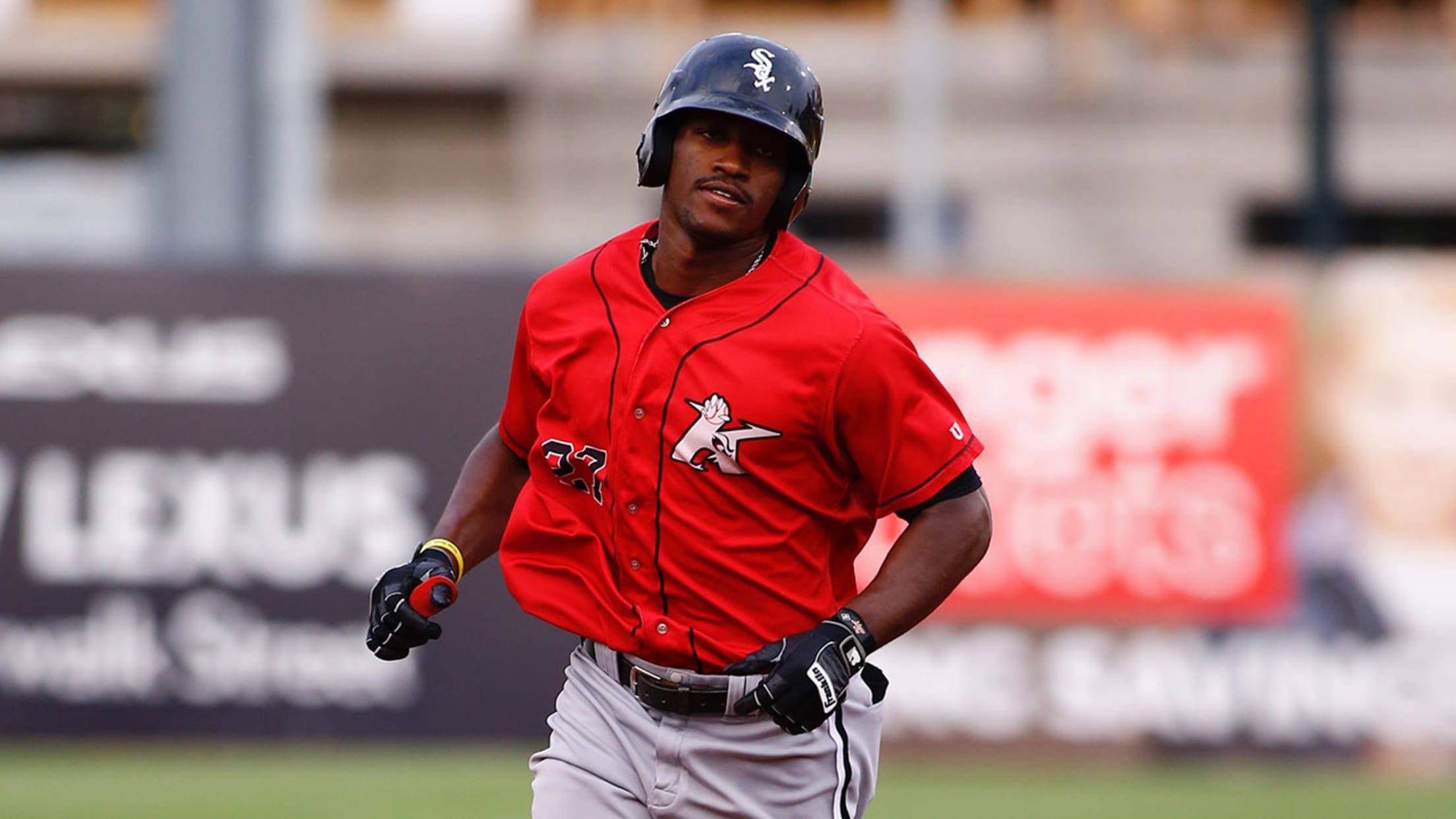 Prospect Micker Adolfo hit .264 with 16 homers, 28 doubles and 64 RBIs for Class A Kannapolis in 2017. (MiLB)
GLENDALE, Ariz. -- Standing in the hallway of the White Sox complex at Camelback Ranch and talking with a few reporters and a team media relations representative, Micker Adolfo points to one of the bold, almost majestic pictures hanging on the wall.It's a moment captured during one of the two
GLENDALE, Ariz. -- Standing in the hallway of the White Sox complex at Camelback Ranch and talking with a few reporters and a team media relations representative, Micker Adolfo points to one of the bold, almost majestic pictures hanging on the wall.
It's a moment captured during one of the two games played at U.S. Cellular Field from the 2005 World Series, won by the White Sox over the Astros in a four-game sweep.
"That's where I want to be," said Adolfo with a smile.
The No. 14-ranked White Sox prospect per MLBPipeline.com didn't specify whether he was referring to playing at Guaranteed Rate Field or taking part in a World Series. Adolfo very well might have meant both.
Steps were taken toward that goal during the 2017 season by the 21-year-old outfielder. Adolfo hit .264 with 16 homers, 28 doubles and 64 RBIs for Class A Kannapolis, marking career highs in all four categories, as well as the 112 games played and 424 at-bats.
His season came to an end on Aug. 22, upon suffering a fracture in the knuckle of his left pinky from what he described as a freak accident after bumping his hand. The cast has come off the injured area, and while he worked primarily on range-of-motion activities during instructional league action in Arizona, Adolfo should be hitting in two weeks.
Work continues for the sturdy outfielder during November instructional league action at the organization's Dominican academy. Adolfo will be playing there alongside Luis Robert, MLBPipeline.com's No. 22 prospect overall.
"I have a much better approach now than I did three years ago," Adolfo said. "That's a credit to a lot of the coaches here in the organization. Just keeping me centered and balanced. Teaching me the kind of hitter I am, watching the videos and stuff.
"Before I had that quick-hitch problem with my hip, and I sort of eliminated that, and that has really helped me to have progress this year. I didn't get so wrapped up in the results. I just followed the process.
"Health-wise, too," Adolfo said. "I was able to play every day for the most part."
As a "power type of guy," Adolfo understands strikeouts will come. He finished with 149 K's this season against 31 walks. But his next goal centers on pitch selection, limiting the swings and misses and getting on base more.
"He grew up a little bit," White Sox director of Minor League instruction Kirk Champion said. "Before, when he had a few holes in his swing, it might take him a week to get out of that and now sometimes it takes an at-bat. He's closed the gap on being able to understand himself. The nights I saw him play he was really the guy we had hoped he was gonna be."
One disappointment for Adolfo was missing the Kannapolis playoffs due to the pinky injury. But he knows he will be back there someday.
"It was so frustrating, but that's something that happens and you put it in the past," Adolfo said. "I know I will be on many more championship teams in the future."
Adolfo didn't specify Minor League or White Sox championships. He might mean both.