Judge 'doing really well'; Betances, Bird progress
NEW YORK -- The updates on Aaron Judge's recovery from a left oblique strain continue to be encouraging, and now the Yankees slugger is preparing to increase his workload at the team's Tampa, Fla. complex on Monday. "He's doing really well," manager Aaron Boone said before Sunday's game against the
NEW YORK -- The updates on Aaron Judge's recovery from a left oblique strain continue to be encouraging, and now the Yankees slugger is preparing to increase his workload at the team's Tampa, Fla. complex on Monday.
"He's doing really well," manager Aaron Boone said before Sunday's game against the Red Sox. "He hit a little bit, I know, in the cage today. They can start ramping up things down there a little bit. He's doing really well. I don't necessarily have a timeline for you, but it's going good."
Judge has not played in a game since April 20 and spent part of Sunday afternoon taking fly balls alongside Clint Frazier. He will be joined at the Yankees' spring home by Dellin Betances (right rotator cuff impingement) and Greg Bird (left plantar fasciitis), both of whom are seeing progress as they aim to return to action.
Betances threw a bullpen session Sunday at Yankee Stadium and is expected to face hitters this week with hopes of rejoining the bullpen this month, having been sidelined during Spring Training.
"He's getting close to that point," Boone said.
Bird said he has been hitting off a tee, throwing and running on an anti-gravity treadmill. He has not played since April 13 and said his next step will be running outside, which could happen this week.
"It's been slow, but we've been progressing," Bird said. "It's just been slower than I obviously would have liked. It's coming, it's just been slow."
The trio of rehabbing Bombers will get a fresh look at Giancarlo Stanton (left calf strain), whom Boone said has been running outdoors, performing defensive drills and hitting. Also affected at various times by a left biceps strain and a left shoulder strain, Stanton has been absent from the Yankees' lineup since March 31.
"Once he gets through the last running phase, and obviously dealing with a calf where he does his arc running, he'll be ready to ramp up and get into live pitching," Boone said. "Then we'll start talking about a rehab assignment. I feel like he is getting close to that."
Comeback trail
Didi Gregorius has not enjoyed much success at the plate so far during his rehab assignment with Triple-A Scranton/Wilkes-Barre, having produced one hit in 16 at-bats (.063) through Sunday's action, but Boone said he still expects the shortstop to rejoin the active roster Friday at Cleveland.
That will create new scenarios for Boone, raising the possibility that DJ LeMahieu could return to the super-sub role for which he was initially envisioned, playing a few days a week at second base and third base while seeing occasional action at first base.
"With Didi initially, it's probably going to be [that he plays] two out of three, three out of four," Boone said. "Then you kind of do the math on it and it's kind of giving a guy a day every five, six, seven, eight days, keeping everyone fresh and playing. I honestly don't think it's going to be much of an issue.
"That's still ahead of us, trying to keep everyone healthy and engaged. I look forward to getting Didi back in that mix. You take first base into the mix and Luke [Voit]. It's easy to envision them all playing basically all the time with a day off here and there to keep them all fresh."
Bombers bits
Frazier was hit on the left elbow by a pitch in Saturday's 5-3 victory over the Red Sox, and Boone said the outfielder "had a little swelling in there." Frazier had precautionary X-rays, which were negative, and said he was not affected by going through hitting drills.
Pitch, Hit & Run winners named
Major League Baseball and the Yankees hosted the annual MLB Pitch, Hit & Run competition at Yankee Stadium on Sunday and honored several youngsters who won their respective divisions.
Pitch, Hit & Run is MLB's "Official Youth Skills Competition." The top 12 baseball and top 12 softball qualifiers from New York, New Jersey and Connecticut competed at Yankee Stadium with hopes to advance to the National Finals during 2019 Major League Baseball All-Star Week in Cleveland.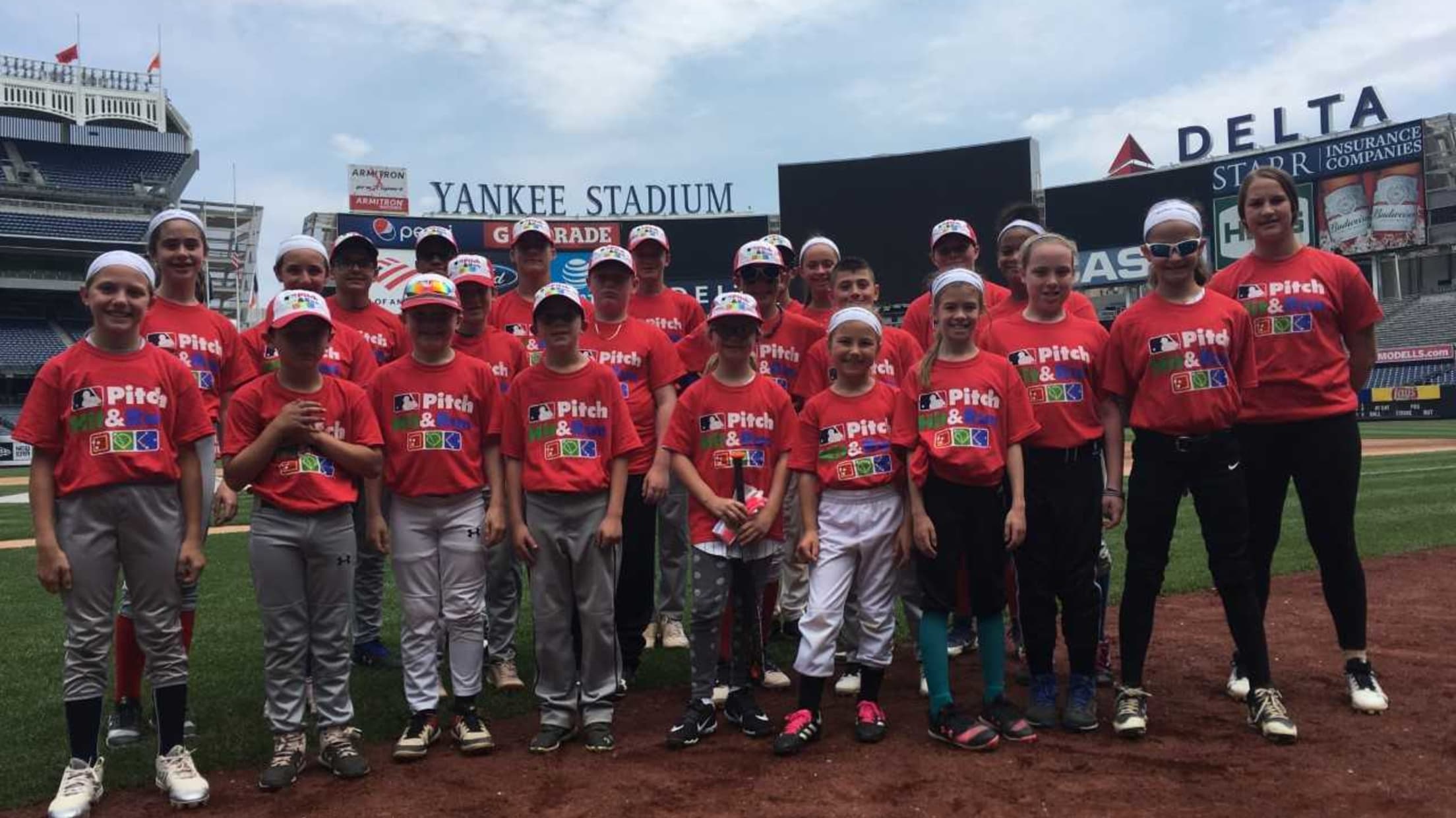 The winners:
The 7- and 8-year-old Softball Division: Esther Harary, Brooklyn, N.Y.
The 7- and 8-year-old Baseball Division: Owen Mulcahy, McGraw, N.Y.
The 9- and 10-year-old Softball Division: Emma O'Donnell, Castleton, N.Y.
The 9- and 10-year-old Baseball Division: Luke Kosoff, Woodcliff Lake, N.J.
The 11- and 12-year-old Softball Division: Katie Crippen, Hartwick, N.Y.
The 11- and 12-year-old Baseball Division: Caden Albright, Cortland, N.Y.
The 13- and 14-year-old Softball Division: Sarah Terry, Owego, N.Y.
The 13- and 14-year-old Baseball Division: Ian Schmid, Highland, N.J.
This date in Yankees history
June 2, 1925: Lou Gehrig got the start at first base over Wally Pipp, going 3-for-5 with a double in the Yankees' 8-5 win over Washington at Yankee Stadium. It marked the second of Gehrig's 2,130 consecutive games played, having pinch-hit in the streak's first game on June 1.