Gardner, Adams power Yankees to victory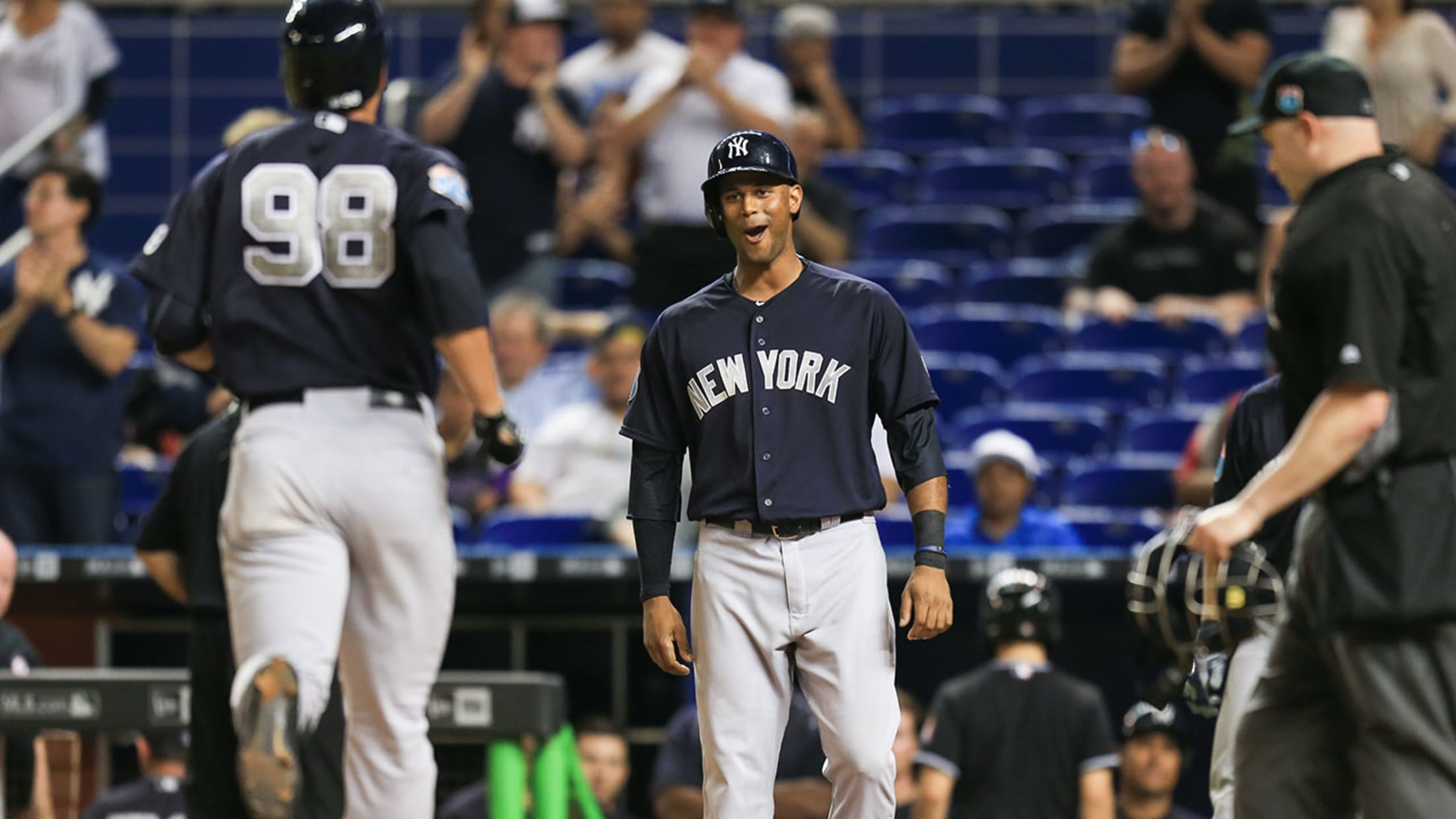 Lane Adams hit a two-run homer off A.J. Ramos in the ninth inning on Friday. (AP)
MIAMI -- Former teammates Jose Fernandez and Nathan Eovaldi were bringing the heat on Friday night, each showcasing explosive fastballs at Marlins Park. But the Yankees were able to rally in the tightly pitched game on Lane Adams' go-ahead two-run homer off A.J. Ramos in the ninth for a 3-2
MIAMI -- Former teammates Jose Fernandez and Nathan Eovaldi were bringing the heat on Friday night, each showcasing explosive fastballs at Marlins Park. But the Yankees were able to rally in the tightly pitched game on Lane Adams' go-ahead two-run homer off A.J. Ramos in the ninth for a 3-2 victory.
"You wanted either to pitch A.J. tonight or tomorrow," Marlins manager Don Mattingly said. "The game didn't really matter to us, but if we had a situation where we could play it regularly, we would. If not, we'd just work him in [Saturday].
"Obviously, we had a lot of traffic out there, a lot of people on the bases. We had some chances to get little add-on runs by just executing, getting guys in from third base, things like that. You'll ask me about A.J., but it's really, to me, the traffic you had early. Not being able to execute those little extra runs."
• Box score
Brett Gardner homered for the Yankees off Fernandez, who struck out seven in four innings. Eovaldi allowed one run in 5 1/3 innings for New York.
After most of the regulars were lifted, the Marlins manufactured a run off Luis Cessa to take the lead in the eighth. Miguel Rojas drew a leadoff walk and Cole Gillespie singled. Don Kelly reached on a bunt single, loading the bases. Chris Johnson then drove the ball deep enough to right field for Rojas to score and give Miami the lead.
Fernandez was cruising through three innings, allowing one hit. But in the fourth, Gardner blasted his home run to right.
"The pitch was a pretty good pitch," Fernandez said. "He put an amazing swing on it. It felt good coming out of my hand, and it was the location that I wanted it. It was just a very good swing. Those guys, from one to nine, you can't cruise."
Eovaldi, who reached 99 mph in the first, worked out of trouble in each of the first three innings, stranding two runners in each frame. But in the sixth, the Marlins were able to tie it at 1 on J.T. Realmuto's RBI single to center. Giancarlo Stanton led off the inning with a single.
Eovaldi was lifted after 88 pitches. Dellin Betances inherited the bases loaded and one out, but he got Derek Dietrich to lift a fly ball to left. Aaron Hicks threw a strike to the plate and doubled up Martin Prado, who was tagging from third.
"[Eovaldi] had to battle tonight," Yankees manager Joe Girardi said. "He was in trouble a lot of innings. But he made big pitches. I thought he did a good job of limiting damage because it seemed like they had two runners on in four or five of the six innings."
Fernandez, a perfect 17-0 at Marlins Park in his career, breezed through the first inning in dominating fashion. The right-hander struck out Jacoby Ellsbury, Gardner and Alex Rodriguez in order on 10 pitches, all strikes. Fernandez topped out at 98 mph in the inning, and all three of his strikeouts came on breaking pitches.
The Yankees' first hit came with two outs in the third inning on Ronald Torreyes' single to center.
Up next: The Marlins and Yankees conclude their two-game exhibition set Saturday at Marlins Park at 1:10 ET (listen on Gameday Audio). New York will start Luis Severino. Miami will utilize an assortment of relievers.