Betances 'in awe' of Sanchez nabbing runners
Set to leave for World Baseball Classic, righty reliever has worked on holding runners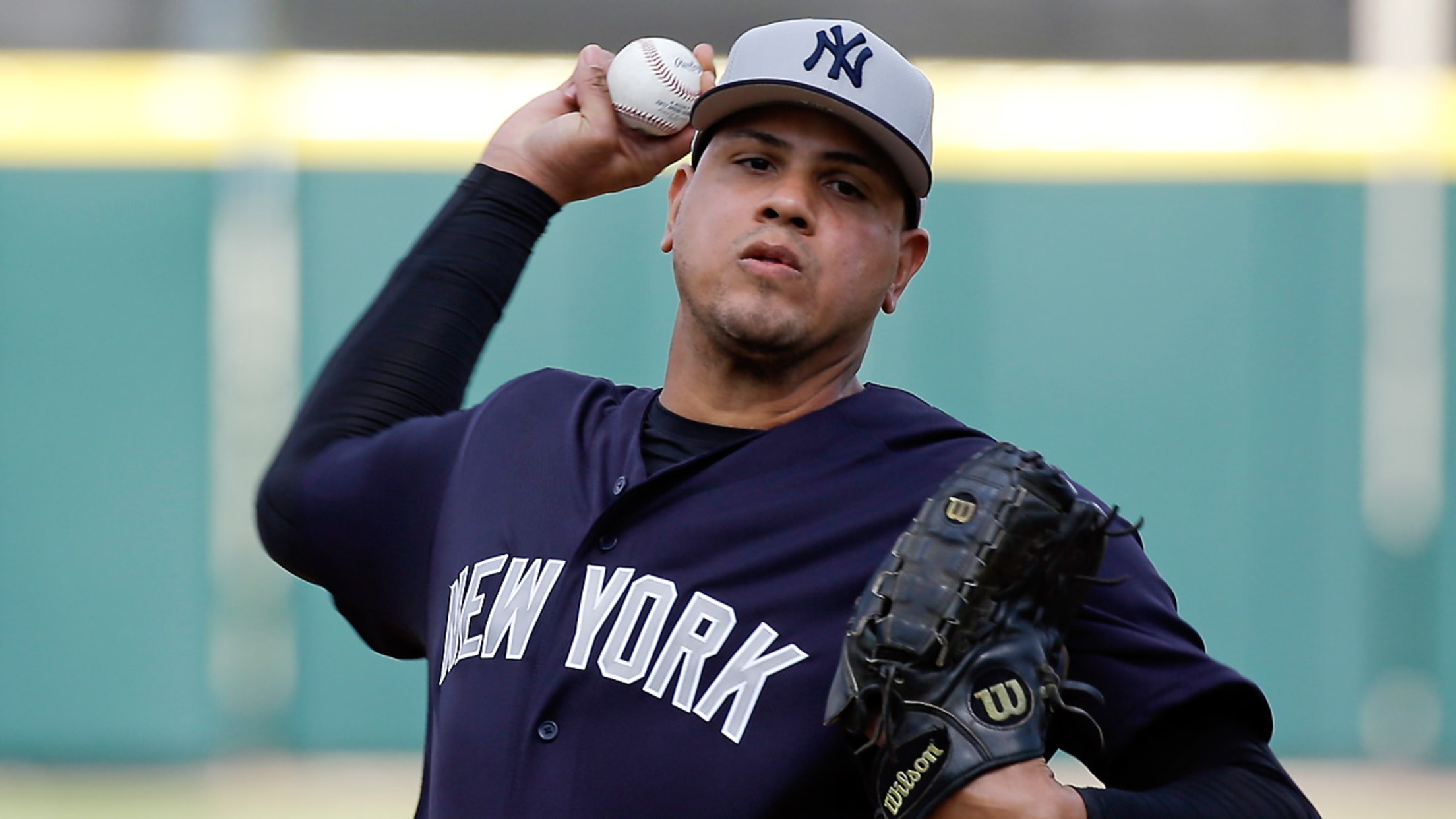 Dellin Betances allowed a bunt single and a walk during his scoreless inning against the Tigers on Saturday. (AP)
LAKELAND, Fla. -- Dellin Betances' time in Yankees camp was brief, and as the All-Star reliever prepares to depart for the World Baseball Classic, he witnessed something that didn't happen once all last year: a runner being caught stealing while he was on the mound.Opponents were 21-for-21 in steal attempts
LAKELAND, Fla. -- Dellin Betances' time in Yankees camp was brief, and as the All-Star reliever prepares to depart for the World Baseball Classic, he witnessed something that didn't happen once all last year: a runner being caught stealing while he was on the mound.
Opponents were 21-for-21 in steal attempts against Betances last season, and though the right-hander has improved at holding runners, he still said that catcher Gary Sanchez deserved all the credit for nailing Anthony Gose at second base with a third-inning rocket from his knees in the Yanks' 11-1 win over the Tigers on Saturday.
"That was fun. That's impressive," Betances said. "I was just in awe, to be honest with you. I've worked on picking, trying to throw to first and certain things -- but that was all him right there. That was nice to see."
Yankees manager Joe Girardi agreed, calling Sanchez's throw "unbelievable."
"I'm not sure I can think of anyone else that makes that throw," Girardi said. "The arm strength is incredible, the quickness is incredible, it's probably the only chance he's got of getting him. Dellin's better holding runners on and he's throwing over to first. It changes a baserunner's thought process."
Betances is leaving camp to join the Dominican Republic squad, having made two spring appearances for New York. Betances worked a scoreless frame on Saturday at Publix Field, permitting a bunt single to Gose and a walk to Ian Kinsler.
He said that he felt stronger as the outing went on, utilizing a slide step with runners on base. Betances said that he also felt comfortable throwing over to first base twice -- something that he did not do all of last season.
"It's something that I never did; I just didn't throw to first," Betances said. "The last couple of years, I don't think I've thrown one throw to first. It's something that helps, keeps them honest and I'll let Gary handle the rest."