Yankees Magazine: The Road
There are countless things that make the journey up the Minor League ladder difficult. Donny Sands' path has had a few extra bumps thrown in.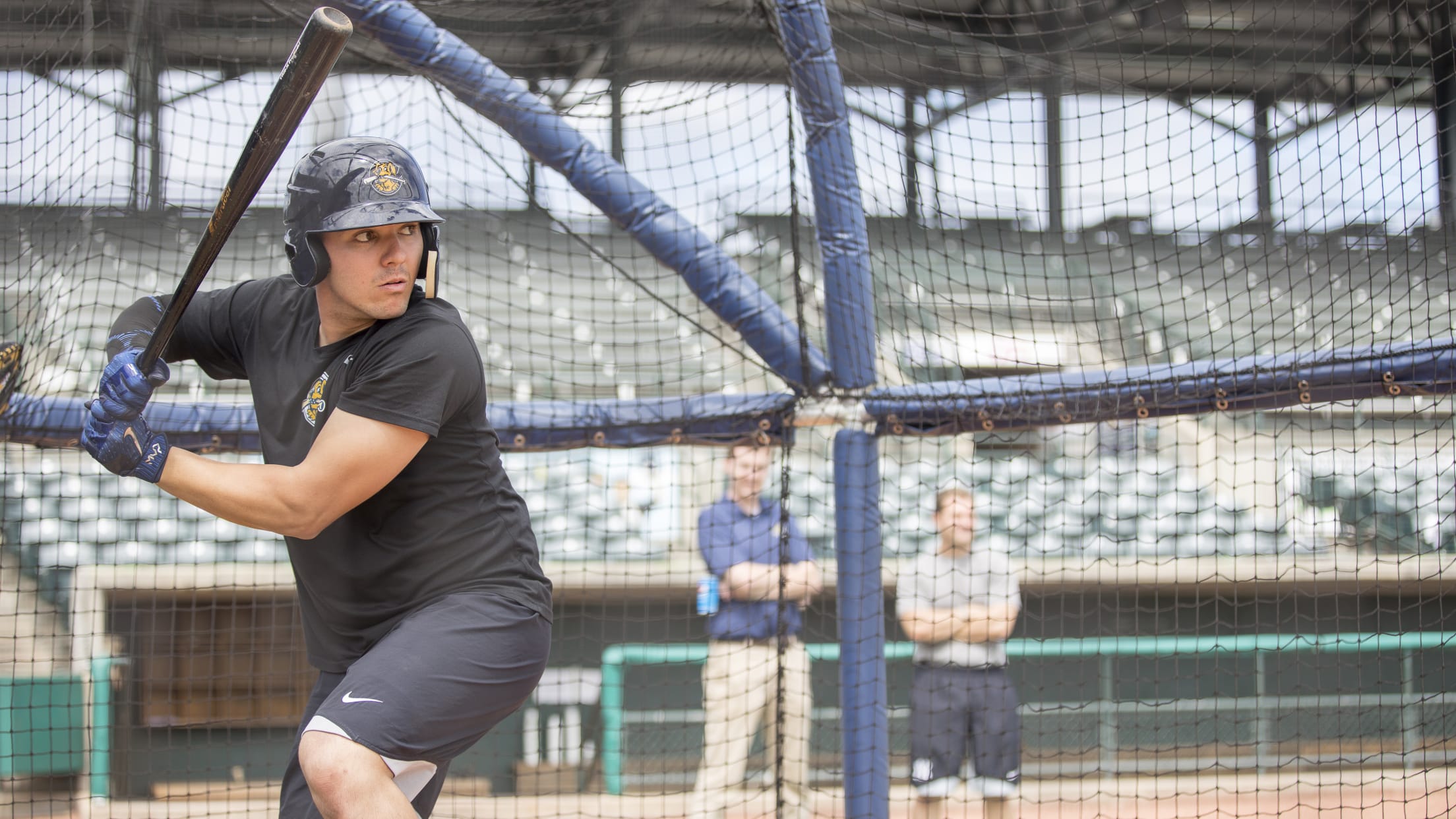 If he becomes the star he believes he can be, Sands' past will make a heck of a movie. Until then, it will continue to push him, as he ambles down long, sleepy highways in the anytowns of the South Atlantic League. (New York Yankees) (James Petrozzello)
Charleston, S.C., to the state capital in Columbia is a pretty straight and simple shot, a north-northwest sprint along I-26. The RiverDogs -- the Yankees' affiliate in the Low-A South Atlantic League -- are on the road to face the Columbia Fireflies, the bus traveling a hair under 75 mph
Charleston, S.C., to the state capital in Columbia is a pretty straight and simple shot, a north-northwest sprint along I-26. The RiverDogs -- the Yankees' affiliate in the Low-A South Atlantic League -- are on the road to face the Columbia Fireflies, the bus traveling a hair under 75 mph in and out of cell phone range.
Charleston is a perfectly Southern city, but this drive could be absolutely anywhere. The Interstate Highway System has a way of neutralizing all surroundings, with its endlessly generic strips of tree-flanked asphalt. And really, it might as well be anywhere. This is Minor League life wherever you find it. Long, straight throughways; random, out-of-nowhere traffic jams; Wi-Fi cutting in and out.


Other than the last one -- and sure, also the headphones and the tablets and the TVs on the bus showing live MLB Network programming -- it's hard to imagine that any part of the experience has changed all that much in the last 50 years. Some of the conversations -- of the strategic, the jocular and also the extraordinarily blue variety -- feel straight out of Bull Durham. This is archetypal.
It's also, mercifully, a short drive, just two easy hours. Nothing like the near-12-hour marathon to Lakewood, N.J. It's a pleasant afternoon ride -- a quick nap before heading to work.
Realistically, none of the players on the bus has any idea what the future holds. A select few will someday fly from city to city in first-class seats, eating fine foods before retiring to their hotel suites on the road. That's still years off, though.
Halfway down the bus's aisle, against the window, Donny Sands shares a seat with the team's biggest name -- 2016 first-round pick Blake Rutherford. The organization's No. 3 prospect according to MLB.com rankings, Rutherford is riding the bus now, but his name is already known around the Bronx. Sands, who was drafted in the eighth round in 2015, is more raw, and he's learning an entirely new position. But these Minor League road trips are a luxurious chariot ride compared to the ordeals that he has already overcome.

*
"Do less," says Josh Paul, the Yankees' roving catching instructor. Paul is in Charleston to work with Sands and Eduardo Navas, the RiverDogs' backup catcher, and he has the backstops crouching on slightly elevated wooden planks, receiving balls from a pitching machine about 40 feet away.
"Less," he repeats, and it's hard to tell if he's purposely mimicking Paul Rudd's surfing instructor from Forgetting Sarah Marshall.
There's a zen and stillness to the catcher position, and Paul is trying to get that message across. It's about small, subtle movements, the slightest drag of a ball back into the zone. It has to be imperceptible, or it's worthless. On the planks, the catchers can't fall back on their heels; they need to stay on the balls of their feet. They have to be still.
"You don't have to pull everything by a foot," he instructs. "It might work on these umpires. They're young. They're new, like you. But when you move up, they won't fall for that." These umpires, Paul adds, "will reward you with strike calls. But I'm not training you guys to be great A-ball players."
It was never supposed to be this way for Sands, who was drafted in 2015 as an infielder out of Tucson, Ariz., where he lived when he wasn't in Albuquerque, N.M., or when he wasn't in Sonora, Mexico's Ciudad Obregon. He grew up all over the Southwest, back and forth and back again.
"Just a kid that ran 100 mph at everything," Sands says over breakfast in Charleston before the drive to Columbia. "Reckless. I would go full speed at everything."
Which is kind of how he ended up in catcher's gear on a muggy morning in South Carolina. He played third base in his first professional campaign, but during the offseason, Paul and Gary Denbo, the organization's vice president of player development, proposed a position switch.
In Sands, they saw a toolsy player with leadership skills, and one who was bilingual, at that.
"We're always looking for good athletes to put behind the plate and develop as future catchers, since you seldom see the best athletes in amateur baseball put in the catcher position," Denbo says.
They told Sands that he could take a week or two to decide. "I'm like, 'No, I'll be a catcher,'" Sands remembers answering.
So someone fetched spare gear out of storage, and the next day, Donny Sands was a catcher. "J.P. is one of the best coaches on the planet," Sands says of Paul, "and he likes to let you figure it out first. So we started blocking balls. And I was like, 'What have I done? These balls are flying everywhere.'"
"This is basically starting from scratch," Paul says. "And it's overwhelming if you don't take it one piece at a time. With our program with him, it's just laying one brick at a time. Teaching him one thing at a time. Right now, we're basically showing him how to throw from the catcher's position."
The Minors are supposed to be about learning, but this is extreme. Who knows what Sands could have done as a professional third baseman, but at least he knew how to play the position; he had never caught, other than maybe a Little League or high school game -- he doesn't even remember for sure. But Sands is hitting a reset button, and he's doing it in public, at the toughest position on the field.
"It's a killer mentally," RiverDogs Manager Patrick Osborn says. "You're playing in front of fans, there are stats on the scoreboard, there are stats on the internet. People are watching you fail, night in and night out. You have to be a special person mentally. You've got to be mentally tough."
Mental toughness is not something that's hard for Sands to summon. It's probably his defining characteristic, honed unfairly by years of struggle. This is a kid who perfected his hitting stroke by swinging a broomstick at pinto beans that his mother, Alma, would toss to him in a garage in Mexico. They had a system; she would set a timer, and any time he missed, the clock would start again. He had to get through five minutes. People wondered if it was a unique and clever strategy. "Not really," Sands would tell them. "That was really all we had."
Friends and coaches offered to give Donny balls that he and his mother could use. But the beans worked, so they stuck with them. "If I'm slumping, she always takes me and says, 'We're going to have to bring out the pinto beans again.'"
Unconventional roads are nothing new. And restarting a baseball journey isn't too terrifying. Sands has started over before.
*
If Donny Sands' life has a before and an after, it doesn't hinge on any professional position shift. It came on Jan. 1, 2012, when a 15-year-old baseball fanatic got the news that his father, Roger, had passed away. He and his mother were visiting family in Mexico over Christmas break, and they were staying in a hotel during the trip back. His father was going to meet them there to bring them home. Instead, Roger Sands had a heart attack and passed away. Everything turned upside down.
Recounting the story five years later, picking at an order of French toast, Sands opens up about that moment when his life separated into distinct chapters, when he and his mother, whom he reveres, were left to fend for themselves.
"I feel like we were both angry," he says. "And we didn't really know how to handle it. It was just us. … That hurt me a lot. I think it drove me every day, seeing what she went through, and as a son, seeing how dedicated she was to get through it. But seeing the toll it took on her was definitely tough."
The upheaval was total. Donny was succeeding in baseball, playing for his high school and a local club team, but Alma could only find work intermittently, whether as a dental assistant one month or at her sister's salon another, or anything else that she could use to pay a landlord or buy food. It got to the point where she was bringing in just $200 a month. With one eviction after another, she felt that her only choice was to go to Mexico for a short period to pick up some work there. She would go for short stretches and then come back, while Donny remained in Tucson, alone. "I was staying in my car for about a year," he says. "That was tough."
Donny didn't tell anyone what was going on; he would sleep in his car, or occasionally at a friend's house, and he was able to keep up the charade whenever Alma was gone. But one time, the 16-year-old Sands ran out of gas, and a coach found him on the side of the freeway. He took a look inside the car, saw all the clothes strewn about, and figured out what was going on. The coach brought Sands to his home and washed the high school sophomore's clothes. "I don't know that I was scared of what people were going to say," Sands says, "but at the time, I felt like people had their own problems. I wanted to get through them myself."
"It's hard to believe some of the things that he had to go through and be successful," says Antonio Fernandez, who coached Sands at Salpointe Catholic High School in Tucson, as well as with the 520 Elite club team. "I thought he was just quiet. Then you get to know Donny, and you see that he's not quiet."
"He's a special, special human being on all kinds of levels," says another coach, Vic Acuña. "His teammates went above and beyond, the parents in the organization went above and beyond, the coaches did the same thing. But again, all of it still comes back to, we did what we could do, but it was all on Donny, man, and he just constantly found a way to wake up every day and go to work. I think baseball kind of became his sanctuary for a lot of those things. … And I think as he started to mature throughout the process, he started talking about it more, being more transparent about his situation and what the realities of it were."
The baseball field was where Donny got to be a star, not a victim of cruel fate. He devoted himself more and more to the sport, even while suffering anxiety attacks during games that caused his vision to go blurry. Baseball, he thought, was the only way he could take care of his mother. "Always, in the back of my head, there's fear," he says, still bruised by the journey. "Because I never want to go back. That's why I work so hard."
The night before the 2015 Draft, after months of working out for teams at showcases and playing on the Yankees' scout team in Tucson, Sands saw the light coming through the tunnel. Hearing his name called wouldn't be the final salvation, but it would mean that all the work had been for something. His life had changed once, in horrible ways. The next day, he had a chance to start over once again. Minutes took hours. The phone buzzed incessantly. He was cooking up a pretty good panic attack.
"I told my mom, 'I need to go outside. I'm going to throw up. I need to go outside,'" he recalls. "I needed to go drive around or something. I remember just walking up and down my street. I was a mess. And then, at like 1:30 in the morning, I told my mom, 'Let's get the beans out.' And at 1:30 in the morning, we started hitting, just to get it off my mind."
The next day, it happened. Pick No. 243, to the Yankees. The team called and asked if he could fly down to Tampa that night. He said he needed a bit of time. Sure, the Yankees' scout responded, and suggested a flight at 7:40 the next morning. He hung up, got in his car, and drove to tell his mother, who was working as a dental assistant. The two shared a cry in the office.
Less than two weeks later, he signed for $100,000 -- below the suggested slot value for the pick. "I just wanted to play," he says. "I thought the rest would take care of itself. People always say, 'You're going to make your money in the Big Leagues.' I knew that would help my mom out, help us out a ton. I said, 'Give me whatever. I want to go prove that I can play.'"
***
Sands breaks from his crouch and fires to second. Then again. And again. And again. He's working on the pop throw, and it's a whole process, one that could take years to perfect. Coaches marvel at Sands' receiving skills, and the way he blocks balls at the plate. Even his game-calling is coming along. But not unexpectedly, the throw to second has been a struggle. Last year, he threw out just 18 percent of base runners. It's a process.
"Gain more ground!" Paul shouts. "Come on out of the chute!" All of a sudden, Sands missiles a perfect strike. "That's the one!" he says. "Found it!" Paul replies.
"That's seriously the first time I felt that. I don't know where that came from."
"I do," Paul says.
After Sands started catching during the 2016 season, he spent the entire offseason with Paul in Tampa, shifting between isometric and plyometric routines every weekday. He wore a 50-pound weighted vest for three months. The goal was to make the conditioning as hard as possible. And the drills were relentless; one time, Paul set the pitching machine at 95 mph and kept moving Sands closer, until he was just 6 feet away. "He wanted to take the fear out of me," Sands laughs.
It worked. Sands completely missed one ball, and it got stuck in his facemask. He pulls up the video on his phone and passes it across the table, laughing at the memory. "It's not an easy position," Sands says, "but I signed up for it. It's like telling a boxer you're not going to get punched in the face."
"You watch him play now, and he's a catcher," says Charleston's catching coach Hector Rabago, who will follow the pop drill by positioning himself a few feet from a crouched Sands and throwing him about four or five different-colored plastic golf balls at a time, instructing Sands which color ball to catch. The exercise helps Sands work on his balance, his fine motor skills and his eyes.
Paul drops in from time to time as he moves about the organization's affiliates, but Rabago is with Sands every day: "He does a lot of things instinctually. He's coming along well. He's working hard on and off the field. He's taking care of the little things. I can say nothing but good things about him."
Sands batted just .212 in April, but from the beginning of May through June 12, he hit .306 with 14 RBI. His power hasn't shown up yet, but coaches are confident that it will. "He has some things that he does really well, that profile at the Big League level," Osborn says. And on June 6, Sands found out that he would be representing the RiverDogs at the South Atlantic League All-Star Game.
He called Alma to tell her the news, to let her know that he would be flying her down to South Carolina to see her son honored as an All-Star catcher. "And she's like, 'That's awesome. Have you eaten today?'" Donny recalls. "She was worried if I'd gotten enough sleep."
***
"Have fun!" Paul shouts. "You've got to enjoy this [stuff] if you're going to be great at it."
Enjoy might be a curious word. But Sands is improving. During his few June days working with Paul, he struggles at the plate, but he blocks every pitch in the dirt and manages to throw a few runners out on the bases. Each individual stride is a big step for the young prospect's chances. "He looks like a catcher," Paul says. "Last year, he didn't look like a catcher."

Being a Sally League All-Star is hardly the ultimate happy ending to any story. For Donny Sands, who sometimes has to sleep on the floor of the moving bus during long postgame rides so that he can stretch out his body, there will hopefully be clearer markers of success in the future. But for once, Sands is taking a beating of his own choosing. He can't blame anyone for the bruises and welts that have become normal; it's the life he chose. So he's attacking it full bore.
"People say, 'I want to get to the Big Leagues,'" he explains, "but really, how hard do you want to work to get there? And how dedicated do you want to be off the field?"
Whatever happens, no one will ever question Sands' heart, his passion, his drive. If he doesn't make it, it will be because most people don't. No shame in giving it a go. "He is willing to work," Denbo says. "He has embraced this difficult challenge of becoming a New York Yankees catcher."
If he becomes the star he believes he can be, Sands' past will make a heck of a movie. Until then, it will continue to push him, as he ambles down long, sleepy highways in the anytowns of the South Atlantic League. "I think there's so much emotion from those past five years that it gets fuzzy," he says. "I try to make that fuel for the journey, not remember the bad parts about it.
"It makes me work harder. It makes me appreciate things."
The toil is evident on this long road; Emerald City is still off in the distance. But Donny Sands isn't stopping. He's not afraid of the journey. He has already overcome.
Jon Schwartz is the deputy editor of Yankees Magazine. This article appears in the July 2017 issue of Yankees Magazine. Get more articles like this delivered to your doorstep by purchasing a subscription to Yankees Magazine at yankees.com/publications.