Yankees Magazine: Prepared for takeoff
Justus Sheffield is a rocket ready to launch. His destination: Yankee Stadium.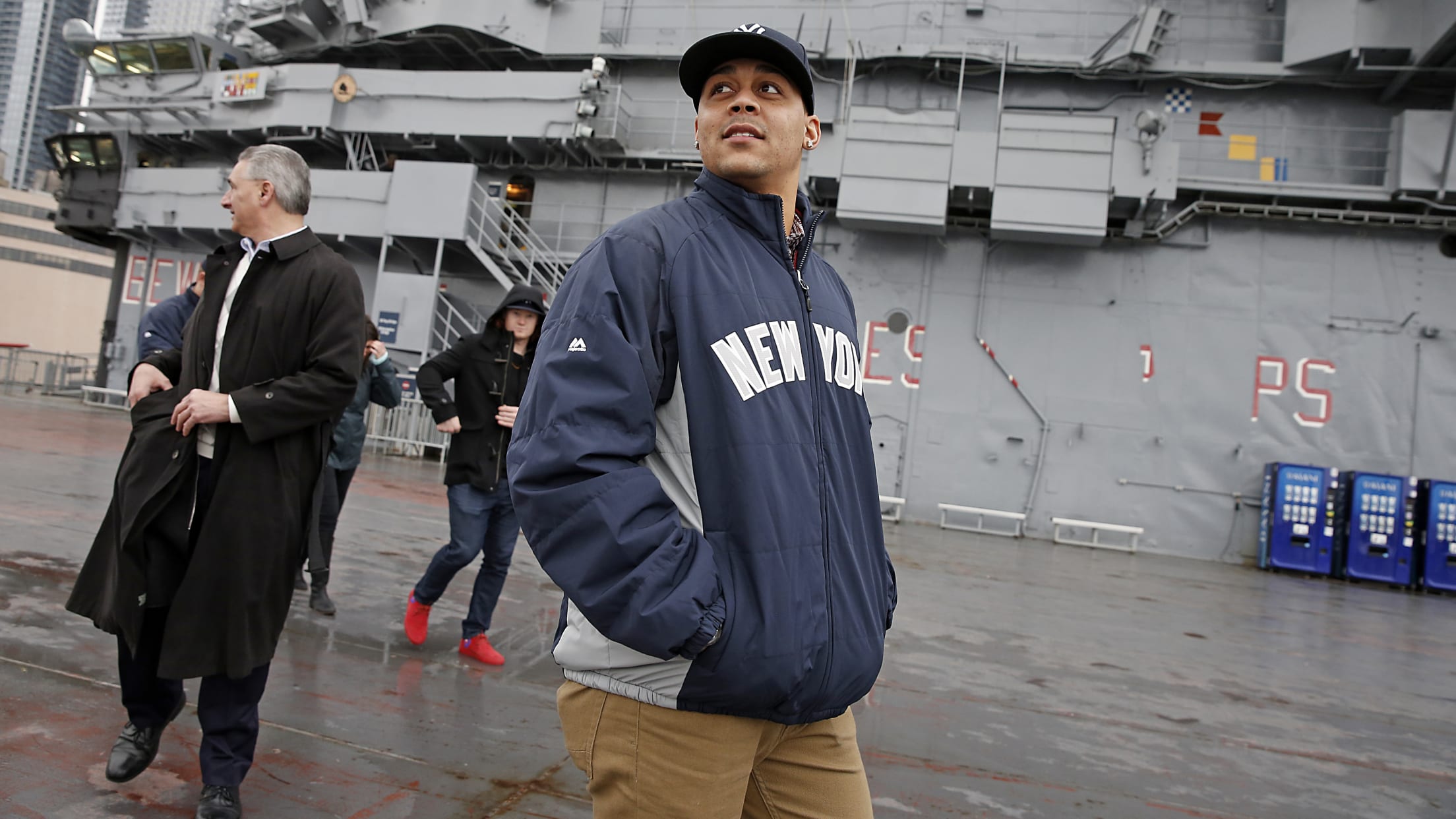 Although there are still aspects of his game he would like to tweak, Justus Sheffield is anxious to make a push toward Yankee Stadium. Once there, he believes there are no limitations to how high he and the club can fly. (New York Yankees)
Tullahoma (pop. 18,655), located in south-central Tennessee, is home to a robust aviation and aeronautics industry. The Arnold Engineering and Development Complex and the University of Tennessee Space Institute are both located within the city's borders, where workers develop and construct NASA rockets and government planes.Upward momentum, forward trajectory, accelerated
Tullahoma (pop. 18,655), located in south-central Tennessee, is home to a robust aviation and aeronautics industry. The Arnold Engineering and Development Complex and the University of Tennessee Space Institute are both located within the city's borders, where workers develop and construct NASA rockets and government planes.
Upward momentum, forward trajectory, accelerated speeds -- these phrases hold special meaning to the people in Tullahoma, which bills itself as "Tennessee's rising star."
The moniker proved true in 2004 when engineers delivered the X-43A, an experimental hypersonic aircraft able to reach Mach 9.6 speeds (which is a leisurely 7,000 mph) as part of NASA's Hyper-X Program. The unmanned plane launched successfully, easily breaking air-speed records during its flight.


But before there was mission success, there was mission failure. The first iteration of the X-43A rocket's booster failed and was destroyed midflight. That version of the plane had to be retooled, and so Tullahoma's rocket scientists (yes, actual rocket scientists) went back to the drawing board, tinkering until, years later, they found the right formula, the perfect design, the ideal circumstances.
Mission failure or mission success? You can't have one without the other.
Countdown to Launch: 3…
In just 20 years of life, Justus Sheffield has already been through quite the journey.
A top-ranked high school pitcher, the left-hander was selected by the Cleveland Indians in the first round of the 2014 MLB Draft following his senior season at Tullahoma High. Sheffield chose the pros over a scholarship to Vanderbilt University, and at 18 years old, he was playing professional ball for a living.
But the transition wasn't always easy. Some poor choices during his first offseason led to legal troubles, and questions arose about his maturity.
Sheffield was able to change course, though, and his 2015 season had people talking for the right reasons. After going 9-4 with a 3.31 ERA in 26 starts, Sheffield was ranked No. 4 in the Indians' farm system by Baseball America. Then in 2016, he went 7-5 in 19 starts with High-A Lynchburg. The Yankees took notice and requested him as part of the deal that sent All-Star reliever Andrew Miller to the Indians in exchange for mega-prospect Clint Frazier.
After the trade, Sheffield was even better than advertised. In his first start with High-A Tampa, he went six innings and struck out 11 batters to earn his first win in the organization. He went 2-1 in his next four starts, ending his time in Tampa with a 3-1 record, a 1.73 ERA, 27 strikeouts and a batting average against of just .157. He was promoted to Double-A Trenton for his final start of the season and left a lasting impression, striking out nine in four innings of work.
In addition to working on his game, he was learning "the Yankees Way." The organization has a different flight path for its young guns, and that took some time and some getting used to.
His coaches and teammates gave him a quick rundown of what was expected of him, but it was more a process of learning as you go. Each day, a teammate would say something like, "Hey Justus, we actually do that this way here." Whether "that" was running out to his position, discovering when it was OK to go to lunch or learning how he was supposed to dress on road trips, Sheffield was picking it up day by day. "I really didn't know anything," he said. "And I didn't know anyone in the organization, so it was pretty new to me coming over."
But in the offseason, the message really began to sink in.
During instructional league play, Sheffield worked with former Yankees hurlers Andy Pettitte and Orlando Hernandez. They spoke to Sheffield about how to become not just a Big League pitcher, but a Yankees pitcher. The weight of the pinstripes, they insisted, is heavier than that of any other organization. Sheffield walked away appreciating that more than ever.
Sitting in front of his locker at George M. Steinbrenner Field -- where he was a non-roster invitee this past spring -- with his No. 98 jersey hanging behind him, Sheffield said, "It means a lot just to be able to put on this uniform and have the Yankees logo on the front of your chest. There's a lot of pride that goes into it. Being such a historic organization, it's a different feeling."
So Sheffield worked on his craft throughout the offseason while also taking part in Yankees activities such as the Winter Warm-Up, during which the organization introduced New York to some of the brightest stars in its system.
The countdown was on. Time to prep for launch.
2…
When February hit and Sheffield had received his first invitation to Big League Spring Training, he headed back to Tampa knowing he would be listed on the same roster as guys such as Carsten Sabathia, Masahiro Tanaka and Dellin Betances, each of whom found, at some point in his life, that magic formula to succeed in Major League Baseball.
"These young guys are here right now mostly to gain experience, get a taste of the competition and what it's like to be around the team," said Yankees pitching coach Larry Rothschild, who was thrilled to be working with young talent such as Sheffield. "He's a really good athlete and he's got a nice arm -- there's a lot there. The breaking ball and change-up have a chance to be really good. He's still young and he hasn't got a lot of experience, but an athlete like him is going to learn pretty quickly. And he's very competitive, which will help him, as well."
Sabathia, whom Sheffield admires greatly, had similar praise.
"I think Sheffield is going to be good," the veteran left-hander said. "He's got a good head on his shoulders, and he knows what he wants to do. He's focused on his goals, and I think he's right there on the cusp of being able to help us."
So with those votes of confidence, all that's left for Sheffield is to prove them right.
At Steinbenner Field, Sheffield is a day removed from his first-ever action against Major League hitters, and he's still buzzing from the experience. It was a successful test launch -- an inning-and-two-thirds of work, one run allowed, one strikeout, a win in the books, and a positive review from Manager Joe Girardi: "He threw the ball well. I thought his fastball was good, I thought he threw some good change-ups. He gave up a home run but he bounced back well and got right after the next hitter, so for a first outing I'll take that. I liked it."
Sheffield liked the performance, too. But there were still things he'd change, most notably the nerves he felt facing some of the players he has been watching on TV for years.
"Since you were a kid, you dream about facing Big Leaguers, and so when I was out there on the mound it was unreal," he said. "Hanley Ramirez stepped in, Jackie Bradley, Pablo Sandoval -- they all stepped in the box. But you can't let that affect you, and you try not to let it affect you. You just always try to play your game."
Closer to his final destination than ever, Sheffield is quick to admit that there are still adjustments he has to make, revised calculations he has to sketch out on his drawing board.
His fastball can touch 96, but is more frequently in the 92-94 mph range, which means he will have to rely on his secondary pitches to consistently get outs. His change-up and slider are becoming more dangerous, but they still need work. And his delivery needs some fine-tuning so that he will be able to repeat his motion. He's young, still in the testing phase.

Once he makes those adjustments, the journey to the Yankee Stadium mound might be a quick one. And while Rothschild is hesitant to put any timeline on Sheffield's arrival to the Bronx, he is willing to concede that if Tullahoma's rising star can get there, he could eventually be a game-changer.
"It could be quick or it could take some time, but either way it's going to be worth it," Rothschild said.
1…
When all the calculations start to add up in Tullahoma -- when the tests have been successful and the eventualities have been worked out -- the rockets are sent to Florida. From there, it's off to destinations unknown.
As the engineers continue to work in Tullahoma to reach new and greater heights, Sheffield is working his tail off to do the same. The Bronx is still a few steps away, but he has reached Florida and he is cleared for launch. Sheffield's upward momentum is strong, and the conditions look favorable. He's unwilling to predict where his journey will end, or what heights he'll eventually reach, but he's not about to limit himself either.
"I can't really rate my game," he said. "I just go out there, try to get outs and do everything I can to try and get my team the W that day. I'm always willing to work harder and to learn and to get better every day. I feel like there's no ceiling to where my game could reach. There's no climax. I'm just going to gradually continue to grow."
Mission control, prepare for liftoff.
Hilary Giorgi is the associate editor of Yankees Magazine. This article appears in the April 2017 issue of Yankees Magazine. Get more articles like this delivered to your doorstep by purchasing a subscription to Yankees Magazine at yankees.com/publications.