Yankees Magazine: Ain't Life Grand
Tino Martinez had weathered the storm of replacing a legend, but he truly made his own name in Game 1 of the 1998 World Series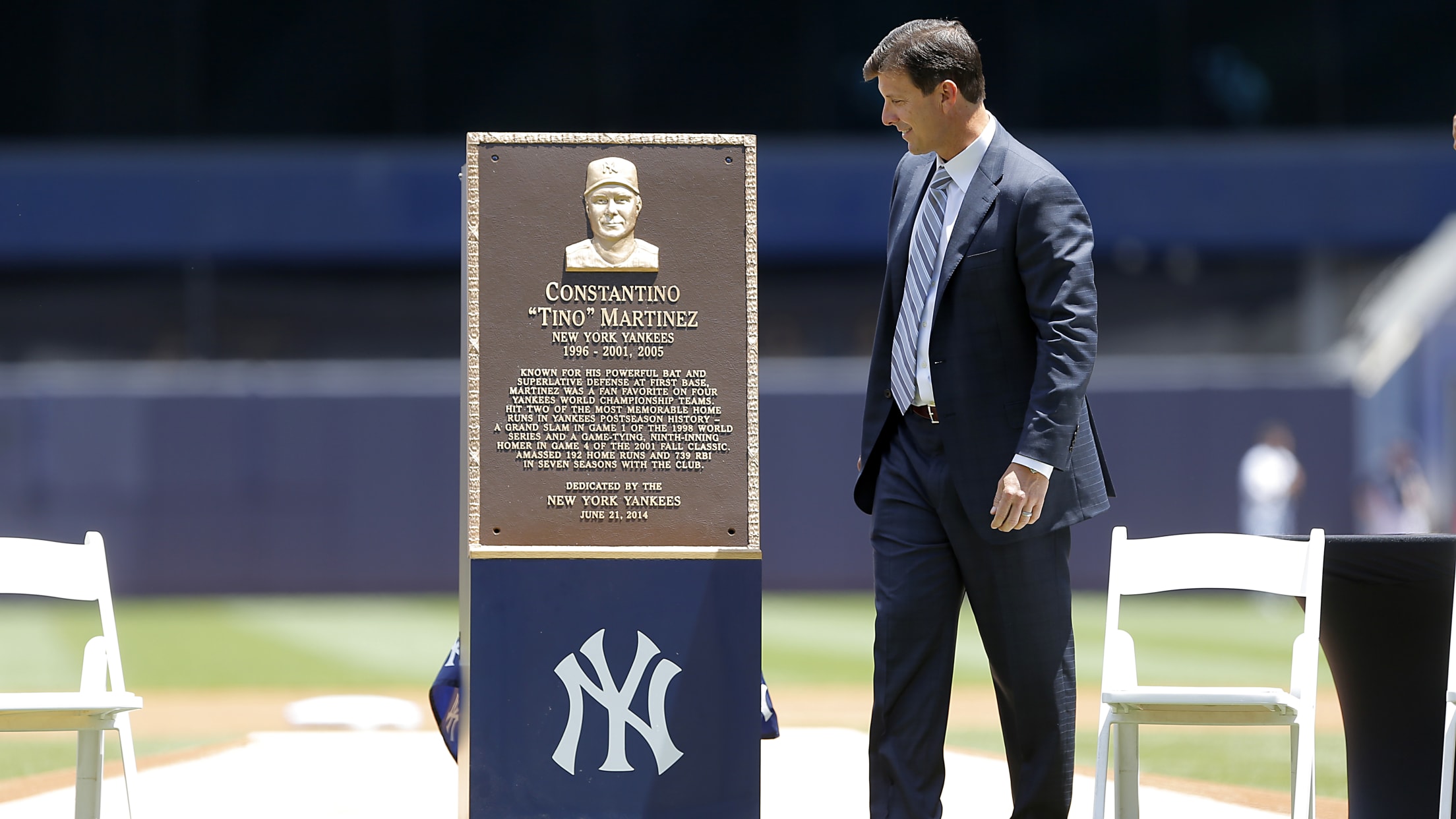 (New York Yankees)
Ten years ago this past February, a New York Giants team shocked New England in the Super Bowl. Had the previously undefeated Patriots won that game, they would probably be remembered now as the greatest team in NFL history. But you've got to play the games.Ten years before that, the
Ten years ago this past February, a New York Giants team shocked New England in the Super Bowl. Had the previously undefeated Patriots won that game, they would probably be remembered now as the greatest team in NFL history. But you've got to play the games.
Ten years before that, the 1998 Yankees won 114 regular season games and rolled through the first two rounds of the postseason, sweeping Texas and beating Cleveland in six to claim a 35th American League pennant. This was clearly one of the greatest teams in baseball -- and certainly in franchise -- history. But none of it would matter if some underdog came along and snatched the 1998 World Series trophy.
Tino Martinez was a big part of the Yankees' run to the title in 1996, his first year taking over for the legendary Don Mattingly at first base. But his bat had been mostly silent in his three New York Octobers as he stepped in against Padres left-hander Mark Langston with two outs and the bases loaded in Game 1 of the '98 World Series. The game was tied at 5-5 thanks to Chuck Knoblauch's three-run homer five batters earlier. Two years prior, Yankees manager Joe Torre had removed Martinez from the starting lineup for the three World Series games in Atlanta, opting instead for Cecil Fielder at first base. So this was something of a moment.


After an oh-so-close 2-2 pitch that was called a ball, Martinez absolutely crushed Langston's next offering into the upper deck in right field.
The Yankees went on to sweep the Padres, with contributions coming from just about everyone on the roster. But in Game 1, after countless frustrating failures, Martinez more than did his part, earning his place in the pantheon of pinstriped October heroes. Twenty years later, he looked back on that '98 team and the events leading up to that monumental grand slam in a conversation with Yankees Magazine deputy editor Jon Schwartz.
How different do you think your life turns out if you don't get traded to the Yankees after the '95 season?
I think I would've still had a long baseball career, a good career like a lot of guys do, but getting traded to the Yankees was life-changing. Completely life-changing as far as winning a World Series, becoming pretty well known all across the country just because you've played for the New York Yankees, the responsibilities that come along with it. I would've never had that.
What do you remember feeling upon hearing that you were going to the Yankees?
I knew that I was going to get traded from Seattle because of the payroll issues they had. I really wanted to go to the Yankees, and I didn't know if that was possible or not. And when I got traded there, I was extremely excited because I had played against them so much the year before and I had seen Paul O'Neill, Bernie Williams, Jorge Posada, Andy Pettitte; these guys that were coming back were not just great baseball players but great people.
What was Spring Training like in '96?
Don Mattingly was one of the greatest and most popular Yankees of all time, so that was nerve-wracking as far as replacing a legend. And media-wise, I had to answer questions every day about my performance because everybody was disappointed Donnie retired. So it was a hard Spring Training to really get comfortable as far as that goes, but my teammates accepted me very well and made the transition a little easier.
When I struggled early on in the season, Don just kept calling saying, "Hey, hang in there. It's the New York media, you know, they're going to be tough on you until you play well." He said, "It's just 10 days at a time. You play bad for 10 days, they'll be on you; you play good for 10 days, you're the best person in the world. So just learn to deal with it."
How much of a relief was that for you, getting Mattingly's blessing?
It was definitely a relief because Donnie was supporting me, saying, "You're the guy for this job, you can do it." He kept reminding me of that, and that was huge because a lot of times when you struggle, people tend to just go away and leave you alone; they don't want to get in your business. So it's nice to have somebody there giving you positive reinforcement, especially a guy like him.
After the Yankees win it all in 1996, do you figure, "Well, we're just going to keep doing this?"
We knew we had a good team in '96, but we didn't know we could win the World Series. But having won the World Series in '96, we had a better team in '97. We went back, traded for some other guys, and we lost. And that was so disappointing because we did expect to win that year. Our expectations after '96 were World Series or bust, and if we didn't win the World Series, it was a bad year. So '98, '99, 2000, we just went right through it like that was our goal.
It can be hard for some folks outside of New York to understand that "World Series or bust" mentality. But when you put on the pinstripes, how does that ethos get etched into your brain?
Well, George Steinbrenner and the Steinbrenner family. Mr. Steinbrenner was all about winning the World Series, and that's all he wanted. He gave you everything possible to succeed. If you needed a pitcher, he'd go out and get you the best pitcher he could possibly get you; a third baseman, he would go get you the best third baseman. We complained about our weight room; we had a brand-new weight room. He wanted guys to have the best facilities and the best chance to win the World Series, and he demanded that and it trickled down from him to the general managers and manager and the players. We just got the ball rolling because of him.
Few would have predicted that Scott Brosius would be named the 1998 World Series MVP when you look at those players around him, but what does it say about that Yankees team that seemingly every last piece contributed in a meaningful way?
Every piece! I mean it wasn't just Derek Jeter and Mariano Rivera and Andy Pettitte -- the Hall of Famers. It was other guys like Scott Brosius and like Luis Sojo. Scott Brosius just came in and played Gold Glove third base and was a clutch hitter. Each individual on that team knew his role, the nine guys starting knew exactly what their roles were in the field, what their role was in the lineup, and the guys on the bench knew what their roles were. It was just a well-oiled machine, and everybody accepted it.
The old baseball adage is that every team will win 54 games, every team will lose 54 games, and it's what you do in the other 54 that matters. But you didn't even lose 54 games! What was that like every night?
No, we didn't lose 54. We didn't like to lose. We started out kind of slow that year, and then we just took off. As April, May, June comes along, July, we're just on fire, and we win on Friday night, Saturday against a team, and on Sunday we show up just saying, "Hey, let's not give this team anything. Let's not give them a gift to go home with; let's keep winning." We would just sweep people and sweep them, and then we'd lose a game here and there, it was like, "Oh, my god." We were so disappointed. We would come up the next day, and we'd start all over again.
Before the at-bat against Langston in the 1998 World Series opener, your Octobers had not been going great. Was there something specific that you found challenging, or is it just that sometimes you're going to hit and sometimes you're not?
I was just tired. I was trying to replace Mattingly, I was working myself to death in the batting cages, and Joe Torre told me to back off. I just couldn't back off. I had a really bad September in 1996, I was tired, my bat was getting heavy and I was dragging, and it carried over to that postseason. Then '97 I did a little better, but we got eliminated quickly. And then '98 it was really just a matter of relaxing. It wasn't like I was nervous in a situation like that, I just wanted to do so well that I was overanxious and I was swinging at bad pitches as opposed to just relaxing and hitting. I was able to hit the grand slam there, and I was able to relax after that and just take off.
That at-bat turned on a pretty legendary 2-2 pitch. I'm sure you must have heard that Padres fans are still convinced that it should have been called a strike.
People say that all the time, but you watch it on TV every day -- every day people get a ball or strike on a pitch like that. Mine was more magnified because it was the World Series. It was one of those pitches that hits right at the knees, and the umpire can call a ball or a strike. Fortunately, he called it a ball. You see the catcher pull his glove up, which helped make it look more like a ball, and that was it.
I thought it was a low pitch at the knees at the time -- I didn't realize how close it was. Then when I saw the replay, it was a lot closer than I thought. I thought when I was hitting that it was a ball low and down in the zone. I just took it like I'd take another ball, you know?
So you respond by hitting a two-out go-ahead grand slam in the World Series. That's the dream, right? What does it feel like to run around the bases?
Surreal. I mean, it all hits you at once -- you see the fans going crazy, beer flying, and then you just start realizing what you did, like, "Oh, I hit a grand slam in the World Series."
When did you calm down?
I couldn't go to bed until about 4 in the morning. My heart was still pounding.
What was your second World Series parade like?
They're all great. That first parade is something you can't even imagine, none of us knew what to expect. I'd seen other parades, other teams -- there's nothing like New York City parades, though. It's crazy. We couldn't wait to do it again -- each one was better than the other. It's just the fans -- you get 3 million people in the streets for your parade. It was just incredible.
How much of your life, and the next 20 years, do you feel is reflected in those four World Series?
Oh, a ton. A ton! I mean I could've had a regular, 16-year baseball career and never won a World Series and made decent money along the way and had fun. I'd probably be another retired guy, doing whatever he's doing. But being a four-time champion with the New York Yankees, it lasts forever. Not just for 20 years, it'll last forever.
This interview is part of a season-long series of Q&A's remembering the 1998 Yankees and has been edited for clarity and length.
*Jon Schwartz is the deputy editor of Yankees Magazine. This article appears in the Spring 2018 issue of Yankees Magazine. Get more articles like this delivered to your doorstep by purchasing a subscription to Yankees Magazine at yankees.com/publications.*