Yankees non-tender lefty Lindgren at deadline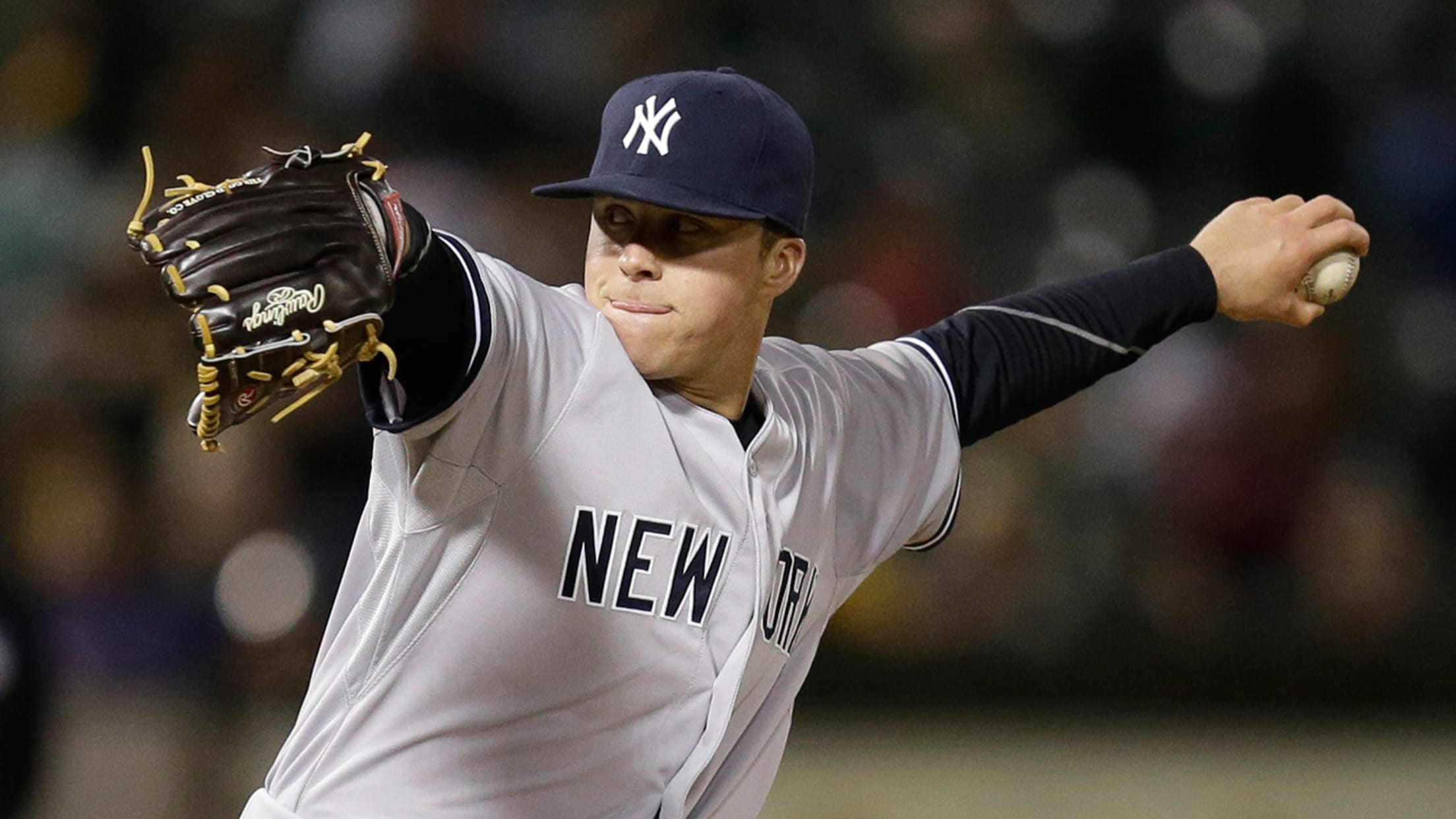 Jacob Lindgren appeared in seven games with the Yankees as a reliever in 2015. (AP)
NEW YORK -- The Yankees resolved two of their potential non-tender situations this week with the outright releases of right-hander Nathan Eovaldi and infielder/outfielder Dustin Ackley, and they settled their business in advance of Friday's 8 p.m. ET deadline to tender contracts to arbitration-eligible players by declining to offer a
NEW YORK -- The Yankees resolved two of their potential non-tender situations this week with the outright releases of right-hander Nathan Eovaldi and infielder/outfielder Dustin Ackley, and they settled their business in advance of Friday's 8 p.m. ET deadline to tender contracts to arbitration-eligible players by declining to offer a deal to left-hander Jacob Lindgren, who appeared in seven games with New York as a reliever in 2015.
Lindgren, who missed all of last season due to injury issues with his pitching elbow, is expected to miss the entire 2017 season after undergoing Tommy John surgery in August. He endured a wild spring that prompted the Yankees to have him begin the year with Class A Advanced Tampa.
• Hot Stove Tracker

Lindgren was 1-0 with a 2.57 ERA in six Florida State League appearances this year, walking nine while throwing six wild pitches.

The 23-year-old Lindgren had been fast-tracked to the Majors after being selected from Mississippi State University in the second round of the 2014 Draft (55th overall).

He had no record with a 5.14 ERA in seven appearances for the Yankees in 2015, permitting four runs and five hits over seven innings while walking four and striking out eight.
Eovaldi and Ackley had been widely floated as non-tender candidates due to their respective injuries, as Eovaldi will miss the entire 2017 season following his second Tommy John procedure and Ackley was limited to just 28 games this past season before undergoing right shoulder surgery.
That left the Yanks with seven arbitration-eligible players heading into Friday's deadline, with right-hander Dellin Betances, shortstop Didi Gregorius, right-hander Michael Pineda and right-hander Adam Warren all receiving contracts.
Catcher Austin Romine had been a possibility to be non-tendered before the Yankees traded catcher Brian McCann to the Astros for two Minor League pitchers on Nov. 17.
Now, the Yanks view Romine as the likely backup to catcher Gary Sánchez, though general manager Brian Cashman has said that Romine will compete with Kyle Higashioka for that job in Spring Training. Romine hit .242/.269/.382 with four homers and 26 RBIs in 62 games in 2016.
Outfielder Aaron Hicks had an underwhelming first season in pinstripes, batting .217/.281/.336 with eight homers and 31 RBIs in 123 games, but he is not viewed as a non-tender candidate.
Managing general partner Hal Steinbrenner recently told the YES Network that Hicks is among the players whom he believes will have better performances in 2017.
That leaves left-hander Tommy Layne, who pitched well in 29 appearances for New York after being released by the Red Sox in early August. He was 2-0 with a 3.38 ERA in 16 innings, permitting 10 hits while walking seven and striking out 13.
The Yankees have said that their priority this offseason is to strengthen their bullpen, but Layne could easily be viewed as part of the solution in that department.