Yankees open to spending big in FA market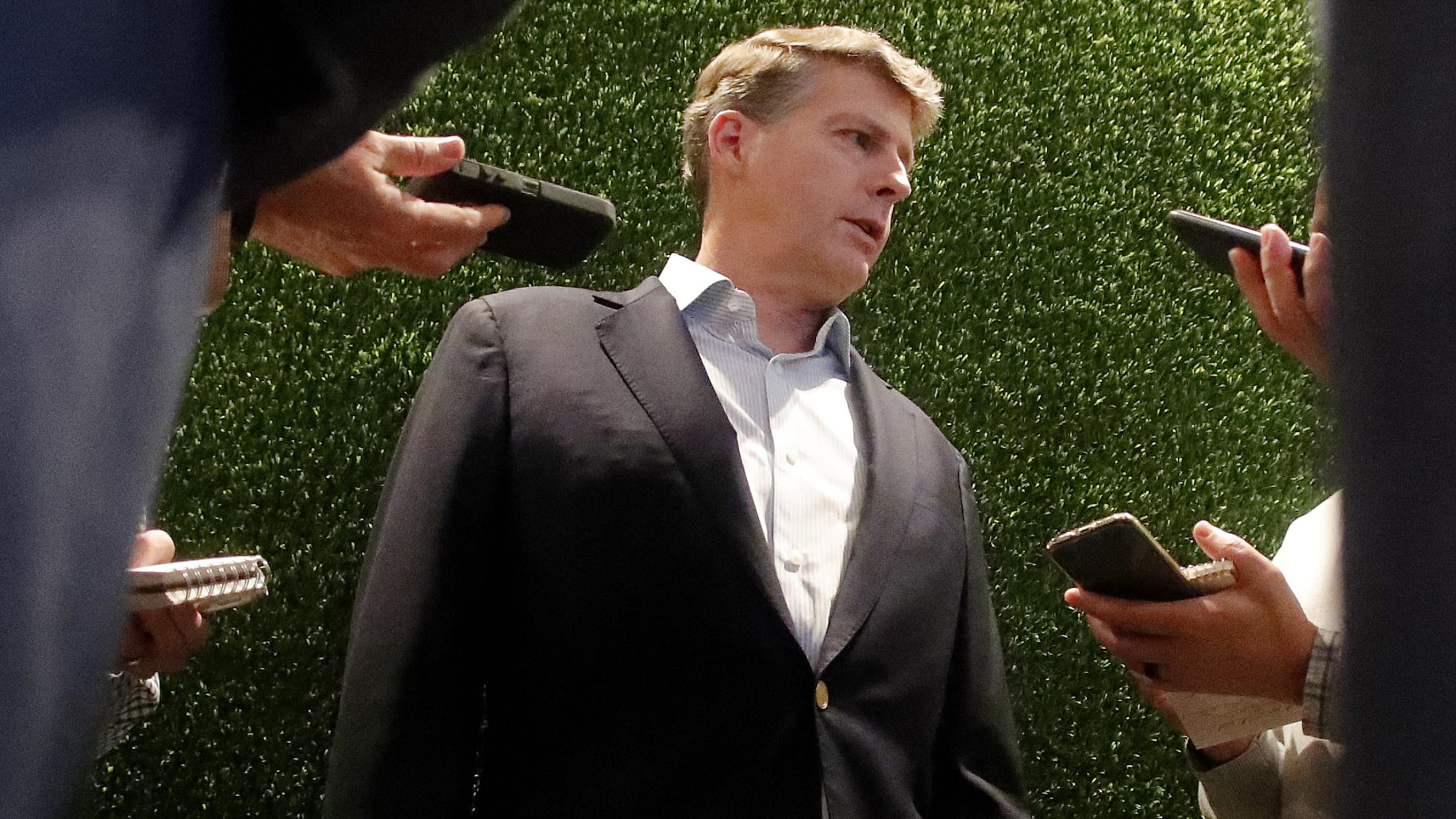 New York Yankees owner Hal Steinbrenner speaks to reporters Wednesday, Nov. 14, 2018, in Atlanta. (AP Photo/John Amis) (John Bazemore/AP)
NEW YORK -- Hal Steinbrenner is on record as stating that a $200 million payroll should not be necessary to field a championship-caliber team, but if the Yankees believe that this winter's free-agent bonanza will put them over the top, team president Randy Levine said that the club's managing general
NEW YORK -- Hal Steinbrenner is on record as stating that a $200 million payroll should not be necessary to field a championship-caliber team, but if the Yankees believe that this winter's free-agent bonanza will put them over the top, team president Randy Levine said that the club's managing general partner is prepared to write those big checks.
While the Yankees have prioritized starting pitching on their wish list, acquiring James Paxton from the Mariners and actively pursuing Patrick Corbin in free agency, general manager Brian Cashman remains engaged with sluggers Bryce Harper and Manny Machado, plus a host of other free-agent and trade candidates.
"The Steinbrenners have demonstrated over many years that they're willing to invest to build a championship team," Levine said on Tuesday. "There's no doubt if [Cashman] and the baseball people come to him and say, 'We need this one piece, and we feel really great about being a championship team,' Hal will give it great consideration -- even if it goes over the [luxury-tax] threshold. That's just the way the Steinbrenners are."
• Latest Hot Stove news, rumors
Levine spoke following a press conference to generate excitement for the upcoming Pinstripe Bowl, which will be played between Miami and Wisconsin at Yankee Stadium on Dec. 27.
The Yankees remained under the competitive balance tax threshold in 2018, ending a streak that dated to '03 and saw the club redistribute more than $316 million to competitors. With the threshold raised from $197 million to $206 million, Levine said that he expects the Yanks to again be listed among baseball's most substantial payrolls.
"I think clearly we have resources," Levine said. "[Cashman] and his people are talking to a lot of different people, a lot of different players. They're figuring out what pieces we need, what is the best way to go. $206 million is a pretty good number. We're about winning championships here."
The Yankees have about $102 million committed to their 2019 payroll, paced by Giancarlo Stanton ($26 million), Masahiro Tanaka ($22 million) and Jacoby Ellsbury ($21.1 million), plus expected raises to their arbitration-eligible players.
Levine declined to say if the Yanks had offered the potential of a six-year contract to Corbin, who is believed to also be entertaining offers from the Phillies and Nationals. Should Corbin sign elsewhere, Cashman has also spoken with representatives for J.A. Happ and Lance Lynn, among others.
The Yankees and Red Sox were separated by eight games in the American League East this past season, but Levine said that he sees little separation between the talented clubs. New York won 100 regular-season games and defeated Oakland in the AL Wild Card Game before Boston ousted it in a four-game AL Division Series.
"I think we're as good as the Red Sox right now," Levine said. "I think they had a better postseason than us. We had a lot of injuries. That Division Series could have gone either way with a couple of innings. They have a great team, and they're going to be a really great team for a long time, but I think we're as good as they are."