Yankees Magazine: Passing the Torch
For some Yankees veterans, leaving a legacy off the field is just as important as on-field success -- and the younger guys are taking notice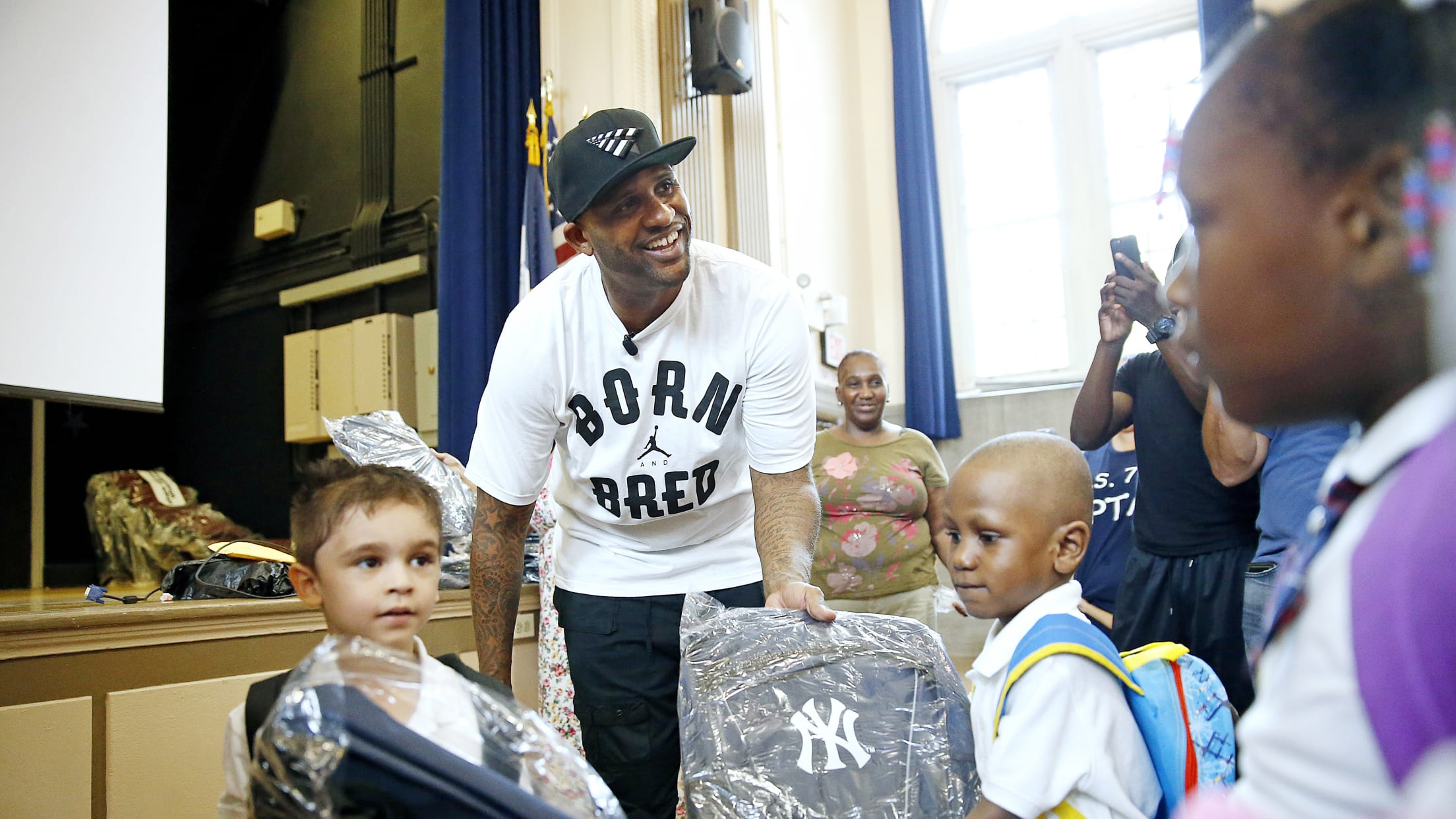 (New York Yankees)
To be an athlete is to live in a bubble, one filled with stats, practice and training. It's about games most every night, as well as chartered flights, hotel rooms and meal allowances. There are hardships, sure -- changing time zones, red-eye flights, time away from family. There are questions
To be an athlete is to live in a bubble, one filled with stats, practice and training. It's about games most every night, as well as chartered flights, hotel rooms and meal allowances. There are hardships, sure -- changing time zones, red-eye flights, time away from family. There are questions that need to be answered, such as how will the pitcher approach the opposing slugger? Will the star break out of his slump? Who will win and who will lose?
It's definitely not easy, and very few people are capable of handling that particular job. But that's life inside one of the world's most exclusive vacuums.
Outside that bubble, though, is the real world. And in the real world, bigger questions loom. How will impoverished kids find a lifeboat? Who will help in the face of a natural disaster? How can we bring aid to those in need?


Those questions find their way into clubhouses more often than you might think. For many Yankees players, there is a need to reach out and do something more. Professional athletes can't be expected to have all the answers to such vexing questions, but because of the success they have inside the bubble, they can do things to help outside of it. Good play can lead to money and notoriety. More than that, though, it allows athletes the chance to do good. They can affect the world in even more significant ways than just having an impressive line on a box score. And many of the guys in the Yankees' orbit have taken that opportunity and done incredible things with it - setting an example that younger players are eager to follow.
*
For Carsten Sabathia, it was obvious from the beginning that there was more to life than baseball. Growing up in Vallejo, California, Sabathia spent much of his youth at the Boys & Girls Club in his hometown. It was a haven for him while his mother worked late shifts, and it was where he met his favorite player, Oakland A's pitcher Dave Stewart.
Sabathia always wanted to make it to the big leagues, but the meeting with Stewart taught him about the importance of prioritizing -- and opened his eyes to a world of possibilities.
"I think I've always wanted to give back," Sabathia says. "I've always had that drive. Meeting Dave Stewart, and the impact that he had on me, was the reason I wanted to start giving back and try to do that for kids."
In 2008, Sabathia and his wife, Amber, founded the PitCCh In Foundation to give back to children in need. The Sabathias wanted to provide kids with school supplies, opportunities, immaculate ball fields and more.
"You want kids to have stuff that you didn't have," the southpaw says. "I was in the same situation where it was tough getting school supplies and getting prepared for school. You want to get kids off on the right foot because I remember how good it felt when you got your backpack and your binders and things like that, and you were just ready for school. We wanted to have kids feel good about going to class."
Through PitCCh In, the Sabathias have renovated Little League fields in New York and California, handed out more than 36,000 backpacks stuffed with school supplies and helped impact the lives of thousands of kids across the country, many of whom reunite with the couple every year at the annual holiday party the Sabathias host at the Madison Square Boys & Girls Club in the Bronx.
"It's great to see the field renovations and see the kids play on the field and make sure we're creating a safe place for kids," says Amber Sabathia, who earned a certificate in fundraising and philanthropy from NYU and serves as PitCCh In's vice president. "But I think what moves me and pushes me to go harder is that interaction with the kids -- watching them grow, seeing them grow into great young adults and knowing that I had something to do with that."
For the Sabathias, the desire to give back stems from life experiences that have helped shape who they are today. And just like Stewart did for him, Sabathia makes sure that he sets an example that younger folks would be wise to follow.
Sabathia was in his eighth year as a big leaguer when he started his foundation. Luis Severino is only in his fourth, but he has been working to create a foundation of his own for nearly two years. Severino grew up in the Dominican Republic, where, according to statistics from the World Bank, 30 percent of the population lived in poverty in 2016. When the young pitcher was just a child, he and his family scraped by. Now that he has found success in baseball, Severino wants to do everything he can to help the kids in his homeland succeed, too.
"My wife and I had the idea of giving back to the community, so we started working on a foundation for education in the Dominican because I think that's an important part of becoming somebody," Severino says. "I've seen a lot of Dominican players and a lot of players who come here but don't know anything about the culture, don't know how to write, don't speak English, and that's important to me."
The pitcher and his wife, Rosmaly, have followed the Sabathias' lead, stockpiling backpacks, school supplies and even toys and delivering them to kids of all ages in the Dominican Republic. The couple hopes to move the operation to the New York area next, helping to impact the community they live in half of the year.
Severino says he draws a lot of inspiration from Sabathia, but also from players such as Pedro Martinez and Carlos Beltran, who have made it a priority to bring opportunities to kids who grew up struggling with the same challenges they had when they entered the professional world.
"For me it was Pedro Martinez," Severino says of his mentor, who has also helped the pitcher hone his mechanics on the mound. "You see him giving back to the community and you think, 'That's great.' I've been through a lot of stuff, you know? I've been to school with only one book. I know how hard it is to be in that situation, and that's why I want to help everybody."
*
Finding where and how you can have the most impact is one of the biggest challenges players face. With so much need in the world, how do you prioritize?
"It's figuring out what areas are really important to you," says Candy Crary, who has been doing nonprofit work for about 15 years and currently serves as the program director of the PitCCh In Foundation. "I think it's easy to say, 'Oh, I want to do a clinic or do something with youth.' But sometimes that's not really something a player might be passionate about. So I think it's understanding that there are so many areas to support and to give back, whether it's hunger issues, youth development, homelessness, advocacy, animal welfare -- the list is endless."
Unfortunately, those calls to action often stem from tragedy, such as in 2011, when a tornado devastated Alabama. Watching the news and seeing how homes throughout the state were leveled, Tuscaloosa native Player Page for David Robertson knew that he had to do something to help out his hometown.
Robertson and his wife, Erin, formed High Socks For Hope with the idea of simply giving back in small ways -- helping charities on the ground here and there. From when the tornado hit in late April through June of that year, the foundation donated money and basic necessities to Alabama families in need. By July, the Robertsons were partially or completely refurnishing homes. And over the next few years, they partnered with Habitat for Humanity to completely rebuild residences.
For those placed back into their homes, the impact the Robertsons have is immediate and personal. But the impact that the pitcher has because he is a professional athlete means that his reach goes even further than just those individual lives.
"I'm a regular person, and I know a good amount of people in Tuscaloosa, but my platform is maybe a few thousand people," says Ellen Potts, the executive director of Habitat for Humanity Tuscaloosa. "When you have somebody with a large platform who can reach hundreds of thousands of people saying, 'Join me in helping these people who have been devastated,' it's a whole other ballgame. People want to be a part of something larger than themselves, and when you have somebody famous who has influence, who is pushing that or inviting people to participate, it speaks to people and resonates more.
"[The Robertsons] have raised the standard of generosity to an amazing degree. We live in a generous community and have wonderful people who live here, but it makes everybody want to step up their game, especially the people who have the capacity to give in a larger way. I hate to say it, but they want to keep up with the Robertsons, and we just love that. It makes people think about generosity on a larger scale and the difference that one person can have."
Today, High Socks For Hope is still helping families in Alabama, but the foundation has also shifted its focus to helping veterans and providing aid to other victims of both personal and natural disasters, such as Hurricanes Harvey and Maria last year.
"I think it's amazing that athletes are using the position that they have because with that position comes the money to be able to do stuff like this and to buy things that people need," says Rachel Saines-Day, whose family received aid from High Socks For Hope when their home in Galveston County, Texas, was damaged by Hurricane Harvey. "Having nothing in the blink of an eye, it's really nice to have people that have the ability and the means to kind of pour that into other people. When athletes turn it around and pour their money into foundations that then pour into the community, people are really helped and helped in a way that they really need."
For Robertson, it is a labor of love -- one that was unexpected but is now forever a part of his family's life.
"When we first got started, we met a family in Tuscaloosa that had lost everything and had fallen on really hard times," he says. "Moving them back in, and seeing tears coming down their eyes when they met us and were thanking us for getting these funds together and getting them a house to live in, it just changed my whole view and it made us work even harder.
"It just brings joy to me, and I am going to continue to do it as long as I can and as long as we have the funds to keep High Socks For Hope going. Even though we're super small and it's just me, my wife, our managing director and the handful of volunteers we get, it's something we're going to continue to do and something we take pride in."
Helping those in need is the main goal for Brett Gardner, too, who tries to remain private about the work he and his wife, Jessica, do for the community where they make their home in South Carolina, as well as in New York.
Gardner's work off the field is extensive, and includes a partnership with New Balance for youth outreach; auctioning off his game-worn gear for Childhood Cancer Awareness Month; working with veterans in Charleston, South Carolina; and being a spokesperson for the Taylor Hooton Foundation, which advocates against the use of performance-enhancing drugs. In recognition of those efforts, Gardner was the Yankees' nominee for the Roberto Clemente Award in 2016 and 2017. The award honors a player from each Major League club who best represents the game of baseball through extraordinary character, community involvement, philanthropy and positive contributions, both on and off the field. And while he prefers to deflect attention away from himself, Gardner nevertheless is adamant about how vital it is to help others.
"I think it's important to use the platform that we've been given to try and give back," the outfielder says. "I think that being with the Yankees for so long, there's a lot of things that you can do to use the platform we've been given, and the image that we have, to try and give back to help people in need that may be less fortunate than us. It's always something that I enjoy doing, putting a smile on somebody's face."

***
In 2007, the University of Colorado released a study stating that the average length of a Major League playing career was 5.6 years. Of course, that means there are many who have played longer than that, and some who ended their careers before that 5.6-year mile marker, but the point remains; professional baseball is a temporary gig.
And so, a playing career in baseball, or any sport really, should only be a drop in the bucket of a person's life. It's a brief window of time in which a person's exploits on the field are thoroughly dissected. Every pitch, every throw, every win, every loss is analyzed as if it's the most important thing that's ever happened - until the next day when it happens again.
Severino is still young, and the burgeoning ace can feel pretty comfortable about his future. Robertson has eclipsed the decade mark in the big-league bubble, and he remains a stalwart in the Yankees' bullpen. Gardner is still setting the table at the top of the Yankees' lineup.
But Sabathia is in his 18th big-league season. The end is near for him, and that's OK, because he has seen and done so much in his career. So what happens when he stops being a baseball player and starts being just a husband and father? That's what he and Amber have discussed, and it's why their foundation is so important to them.
"My biggest fear is when CC retires, the foundation retires," Amber Sabathia says.
To fight against that, the couple has taken their foundation in a new direction - they're bringing things full circle. This year, the PitCCh In Foundation is starting an ambassador program that will partner with many of the names Yankees fans are familiar with - guys who want to give back, but, unlike Severino, may not be ready to start their own foundations.
In May, Dellin Betances worked with PitCCh In to put on a free baseball clinic for kids at his old high school in Brooklyn. It was then announced that Didi Gregorius and Aaron Hicks would be coming on board as the faces of a new backpack program in New York. And on June 28, Giancarlo Stanton will be one of many athletes and famous faces involved in the Sabathias' celebrity softball game at Yankee Stadium, a major PitCCh In Foundation fundraiser. Passing the torch happens naturally in baseball. And the Sabathias are trying to make sure it can be just as natural in philanthropy.
"When I first came to CC last year with this idea, he was more excited than I was," Amber says. "He was like, 'Amber, this is amazing because not only can I sit with Aaron Hicks and Didi [at dinner] and talk to them about on-the-field stuff, I'm now also able to show them what to do off the field.'
"When we were deciding who should be the face of our backpack program in the Bronx, CC said, 'Aaron Hicks. It's time for him to do something in the community.' It gives me chills because CC as a leader, as a veteran, it's not only on the field and in the clubhouse. He's saying, 'Guys, let me show you what you can do outside. Let me help you do this.'"
"Being able to join in on what he's doing with kids is going to be awesome," Hicks says. "CC is a great person, and he has definitely helped me a lot since I've been here, and the fact that he does things off the field shows what a great person he is. It's going to be awesome for me and also for the kids."
How long Sabathia's proteges will play baseball is anyone's guess. Their future could include a Hall of Fame induction or it could be 5.6 years of just putting on a uniform. It'll be fun -- it already has been. Life as a ballplayer is great. But life as a human is greater, and more important. No one will ever be able to take away Sabathia's championship ring, or Robertson's or Gardner's. The glory of those victories will always be sweet. But so much of the pursuit of baseball success is fleeting.
So when the shine of a playing career wears off, when the reporters are no longer peppering you with questions every day about the minutiae of life in the bubble, what remains is the world outside and your contributions to it. Athletes, celebrities, and every other person walking on this planet have the chance to leave an impact. When the choice is made to give back, responsibilities follow - but so does love. And maybe even a legacy that will endure.
"We all do different things," Sabathia says, "but big or small, I think it all makes a difference."
Hilary Giorgi is the senior editor of Yankees Magazine. This article appears in the June 2018 issue of Yankees Magazine. Get more articles like this delivered to your doorstep by purchasing a subscription to Yankees Magazine at yankees.com/publications.