Yanks lose four in Majors phase of Rule 5 Draft
Club selects catcher Saez, righty Brewer in Triple-A phase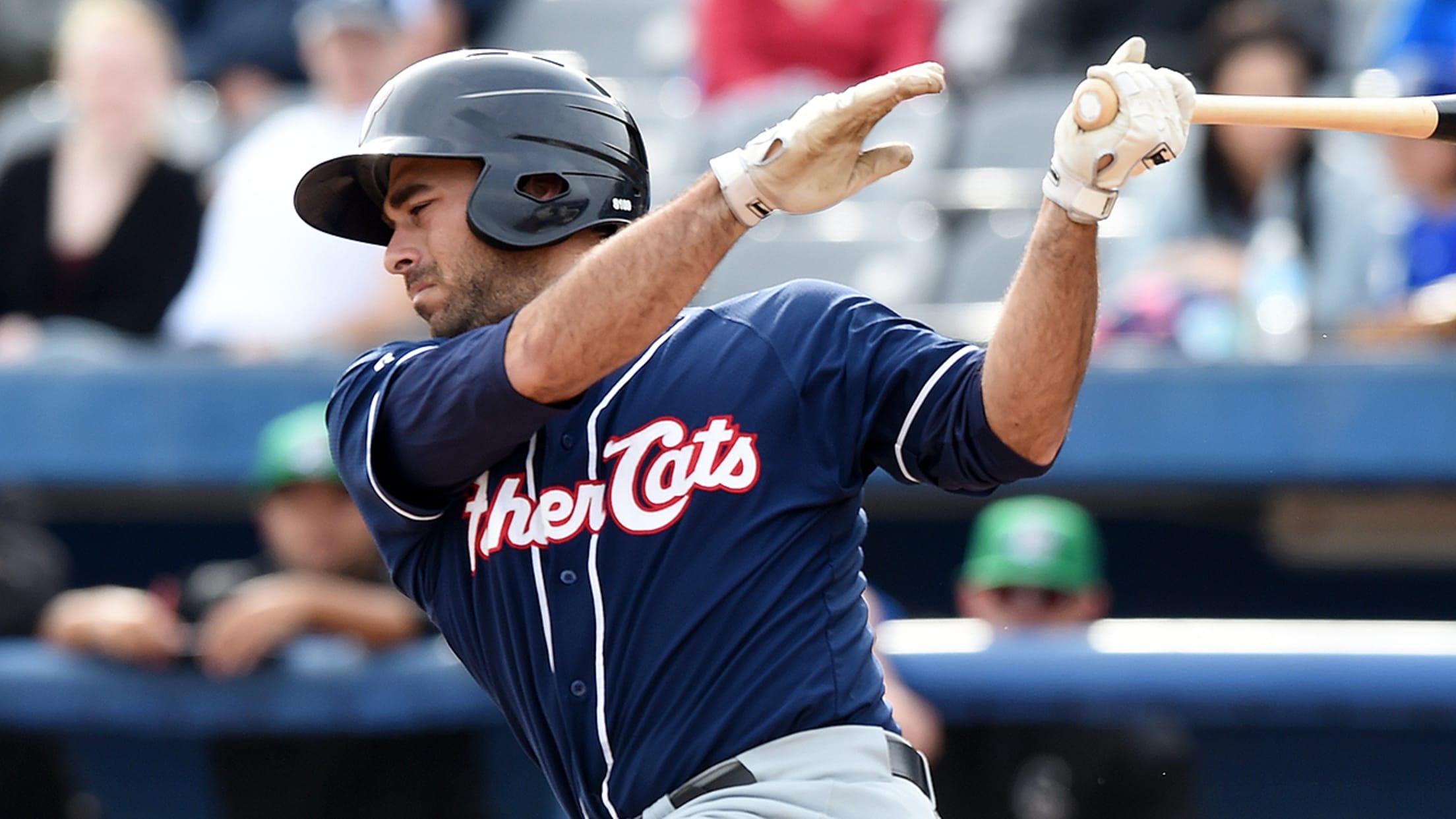 In '16, Jorge Saez hit .260 with 12 homers and 32 RBIs in 58 games at Class A and Double-A. (MiLB.com) ((C) Kevin Pataky Photography )
NATIONAL HARBOR, Md. -- In what general manager Brian Cashman viewed as an indication of the strength of his farm system, the Yankees were hit hard in Thursday's Rule 5 Draft, including the selection of former Top 10 prospect catcher Luis Torrens by the Reds.Torrens was rated as the Yankees'
NATIONAL HARBOR, Md. -- In what general manager Brian Cashman viewed as an indication of the strength of his farm system, the Yankees were hit hard in Thursday's Rule 5 Draft, including the selection of former Top 10 prospect catcher Luis Torrens by the Reds.
Torrens was rated as the Yankees' No. 17 prospect by MLBPipeline.com, but he has not played above Class A ball. Right-hander Tyler Jones (D-backs), left-hander Caleb Smith (Brewers) and left-hander Tyler Webb (Pirates) were also plucked from the Yankees in the Major League phase of the Rule 5 Draft.
• Rule 5 Draft results
"It's just going to get worse moving forward," Cashman said. "Obviously, we have one of the best systems in the game, and the Rule 5 Draft just reflected that. We lose four guys, and for the most part, everybody that got taken off our roster got claimed or signed prior to this.
"I hope to get those guys back, but you only can protect 40 people and you need to keep spots open for anticipated signs like [Matt] Holliday that brought us to 40. And if we do something else, someone else is going to be in position to lose. It's just the way it is."
Additionally, in the first round of the Triple-A phase, right-hander Ty Hensley was selected by the Rays. Hensley was the Yankees' first-round pick (30th overall) in the 2012 MLB Draft, but his development has been derailed by injuries. Others selected in the Triple-A phase included right-hander Kelvin Magallanes (Royals) and infielder Kevin Cornelius (Cubs).
The Yankees made two selections in the Triple-A phase, first taking catcher Jorge Saez, 26, from the Blue Jays. In 2016, Saez hit .260 (50-for-192) with 12 homers and 32 RBIs in 58 games with Class A Dunedin and Double-A New Hampshire. He was originally selected by the Blue Jays in the 32nd round of the 2012 MLB Draft.
In the second round of the Triple-A phase, the Yanks selected right-hander Colten Brewer from the Pirates. Brewer, 24, went 3-7 with 2 saves and a 4.09 ERA in 18 games (13 starts) with Class A Bradenton. He was originally selected by the Pirates in the fourth round of the 2011 MLB Draft.
Under the new CBA, Major League Rule 5 Draft picks will cost the selecting team $100,000, which is double the $50,000 that had previously been the amount. Minor League Rule 5 Draft picks will cost the selecting team $24,000, which is also double the previous amount.
Players selected during the Major League phase must spend the season on the selecting team's 25-man Major League roster, or the team the player was selected from can have the player returned for $50,000.