Girardi, Yanks make 'strange' trip across town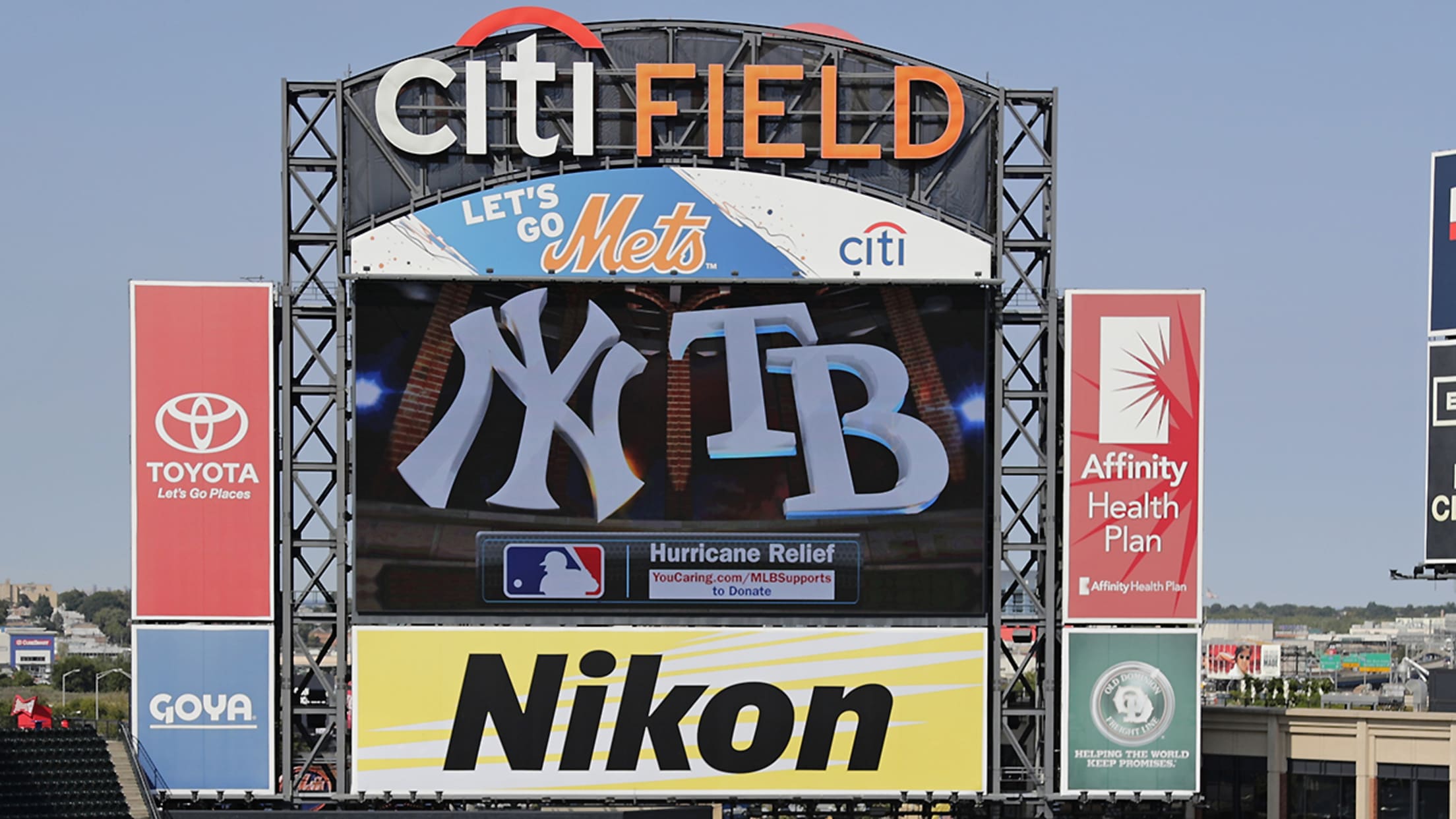 Citi Field was chosen over Camden Yards, Guaranteed Rate Field, PNC Park and Rogers Centre. (AP) (Frank Franklin II/AP)
NEW YORK -- The buses departed from Yankee Stadium early on Monday afternoon, carrying the Yankees across the Robert F. Kennedy Bridge to Citi Field. The 9.7-mile journey at once seemed familiar from their annual visits to Queens and completely foreign in that the Mets would not be there.In the
NEW YORK -- The buses departed from Yankee Stadium early on Monday afternoon, carrying the Yankees across the Robert F. Kennedy Bridge to Citi Field. The 9.7-mile journey at once seemed familiar from their annual visits to Queens and completely foreign in that the Mets would not be there.
In the Mets' place were the Rays, relocated by Hurricane Irma to the home clubhouse, with the Yankees dressing in their road grays for a 5-1 victory. After sweeping the four-game Subway Series from the Mets in August, the Yanks never expected to be back on this side of the city so soon.
"It was different," said Todd Frazier, who slugged a three-run homer as part of a five-run fourth. "Right before the game even started, 'Let's Go Yankees,' they're chanting. We're very happy to have those guys come to the game. The lower levels were packed. I would say [the cheering] was more for our side, which was great, but to be honest with you, the lives and impact that the storm is having are on everybody's mind first."
Monday's attendance was announced at 15,327, with only the lower seating bowl accessible to fans.
Tickets for the rescheduled three-game series are on sale at http://www.mets.com/irma, with field-level reserved seats capped at $25.
"I thought the energy was great in the stadium," Yankees manager Joe Girardi said. "For a bad situation, I give Tampa Bay credit for coming here and making it somewhat easy on everyone, in a sense. I thought the fans were great."
Other venues considered include Baltimore's Camden Yards, Chicago's Guaranteed Rate Field, Pittsburgh's PNC Park and Toronto's Rogers Centre, but there were logistical issues in finding the necessary hotel rooms for two clubs.
"[Citi Field] seemed to be the best idea," Girardi said. "We're still not in our home ballpark; we're built for our home ballpark. We've probably played here a little bit more than the Rays have, but it seemed to be the best for both teams. Neither team had to go too far. They came from Boston. It seemed to work out the best."
Girardi had not been informed of any hurricane damage to George M. Steinbrenner Field or the Yankees' Minor League complex in Tampa, Fla.
"It seems like everyone came out all right," he said. "Obviously, there's still a lot of things that need to be cleaned up, and there's probably a lot of electricity that needs to be turned on, but from a safety standpoint, the people that I know down there came out pretty well."
The last time the Yankees played in a stadium that was neither their regular home venue nor their opponents' was in March 2004, when the Devil Rays hosted the Yankees for "home" games at the Tokyo Dome in Japan.
Prior to that, the Yankees traveled to Flushing on April 15, 1998, wearing their pinstripes for a "home" game against the Anaheim Angels. The City of New York had closed Yankee Stadium for inspections and repairs after an expansion joint fell in the seating bowl two days earlier.
Before that game, the Yankees dressed in the Bronx before taking a bus to Shea, where they used the visitors' clubhouse. The Angels -- then managed by current Mets manager Terry Collins -- used the old New York Jets locker room. Darryl Strawberry homered in the Yankees' 6-3 win, prompting the Home Run Apple to raise halfway in acknowledgement of the former Mets slugger.
"That was strange, not playing a home game in your home stadium and coming over here," Girardi said. "Obviously, we were somewhat familiar with Shea Stadium and we didn't have to go far, but it was strange."
The Yankees also called Shea Stadium home during the 1974-75 season while the original Yankee Stadium was being remodeled.
With the rescheduled series, 17 of the Yankees' final 20 games will be played in New York. Their only remaining trip out of the city limits is a Sept. 26-28 visit to Toronto.
"We have a lot of home games left. You try to take advantage of your home ballpark," Girardi said. "The nice thing is, we really have one road trip left. It's short, it's to Toronto, but these are all important games."