Viewing Navigation and Features
From the MLB.com Media Center menu select a game to view. Navigate to dates by clicking the date header and using the pop-up calendar.
3. Select an available link to launch a feed in the MLB.TV Media Player.
4. If you are unable to view a game and see a message stating that you need to update your account information, go to the Payment Profile section of your account settings on MLB.com and enter the most current information.
5. Once media playback loads, hovering the mouse arrow over the bottom of the video allows the video playback options to appear. From this panel, you can navigate through the video or to live viewing.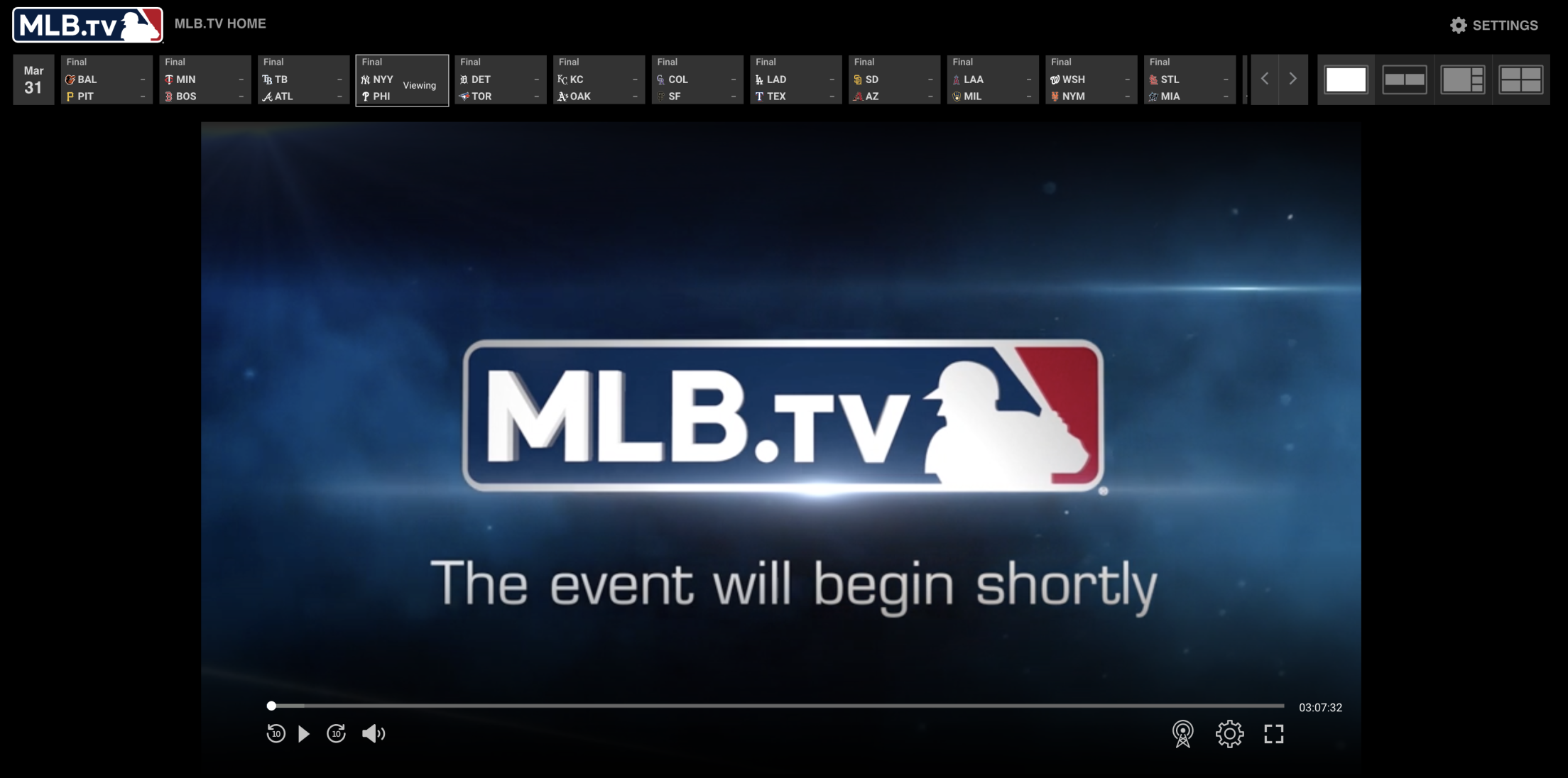 6. At the bottom right, after hovering on the video player, select the "Broadcast" button to switch between available video and audio feeds.
7. The "Games" menu at the top right enables navigation through other game events for that date. Click the date (ex: "Aug 9") to view the calendar menu, and to navigate between different days/months.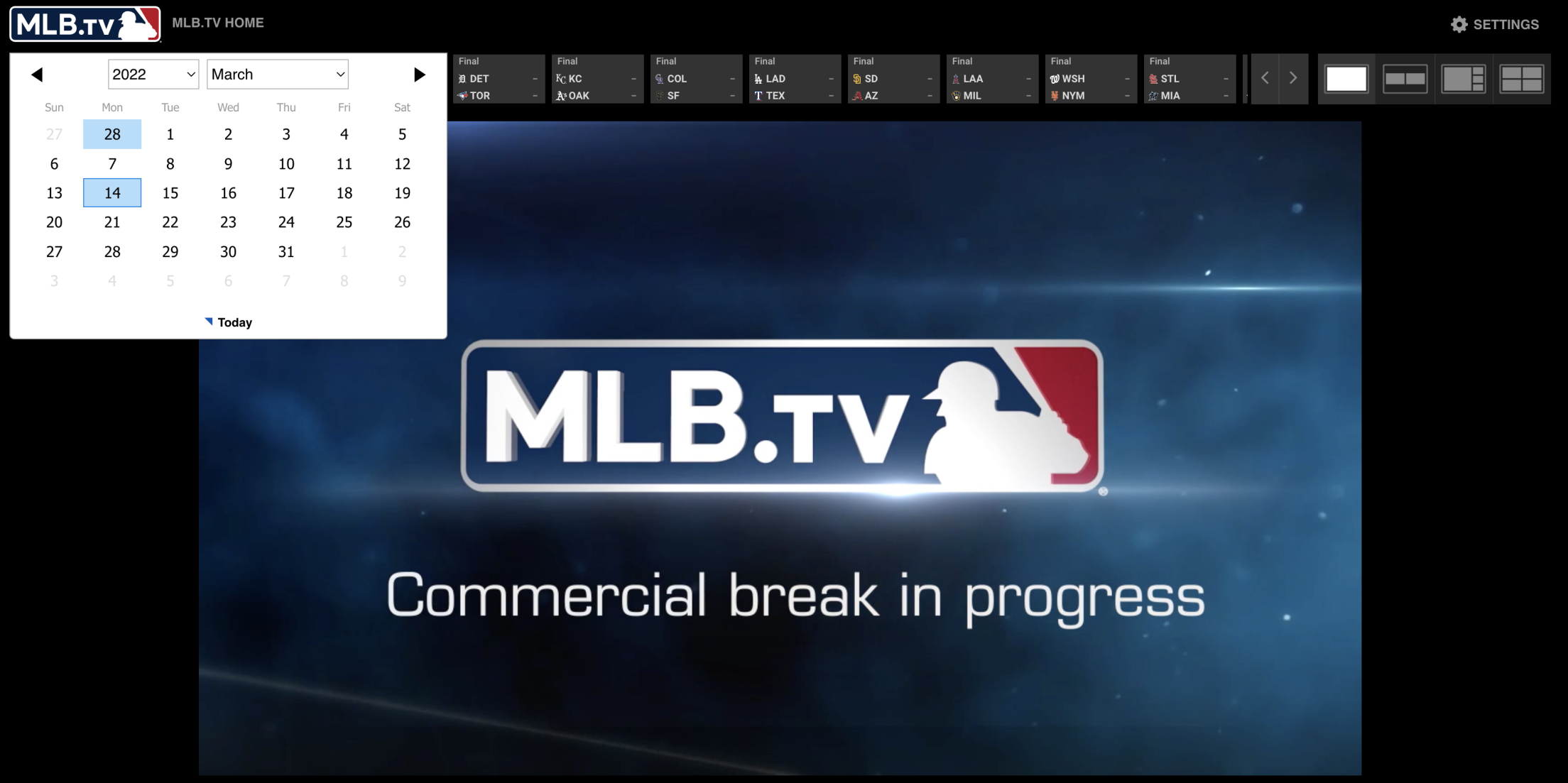 8. Option buttons on the bottom of the media player are as follows:
Pause/Play
Rewind 10 seconds
Volume Control
"Broadcast" - switch between video feeds or audio feeds
Gear icon - change playback quality and toggle closed captioning on/off
Expand Screen - enable full screen viewing
"Live" - jump to live gameplay
9. Selecting the "Gear" (Settings Menu) at the top right makes the "Settings" popup appear. There are two tabs to this window: "General" and "Teams"
Hide Spoilers
Start from beginning,
Closed Captioning
View your selected favorite team(s).
Change your favorite teams by clicking through to your MLB Account preferences.
Hide Scores/Game Selector: Hide the scores and game selector above the player
Hide Stats Panel: Hide the stats panel to the right of the player
Hide Game Matchup: Hide the matchup data under the player
Theater Mode: Toggle the player's theater mode
My Account
Help - clicks through to MLB.TV Help Center
Log Out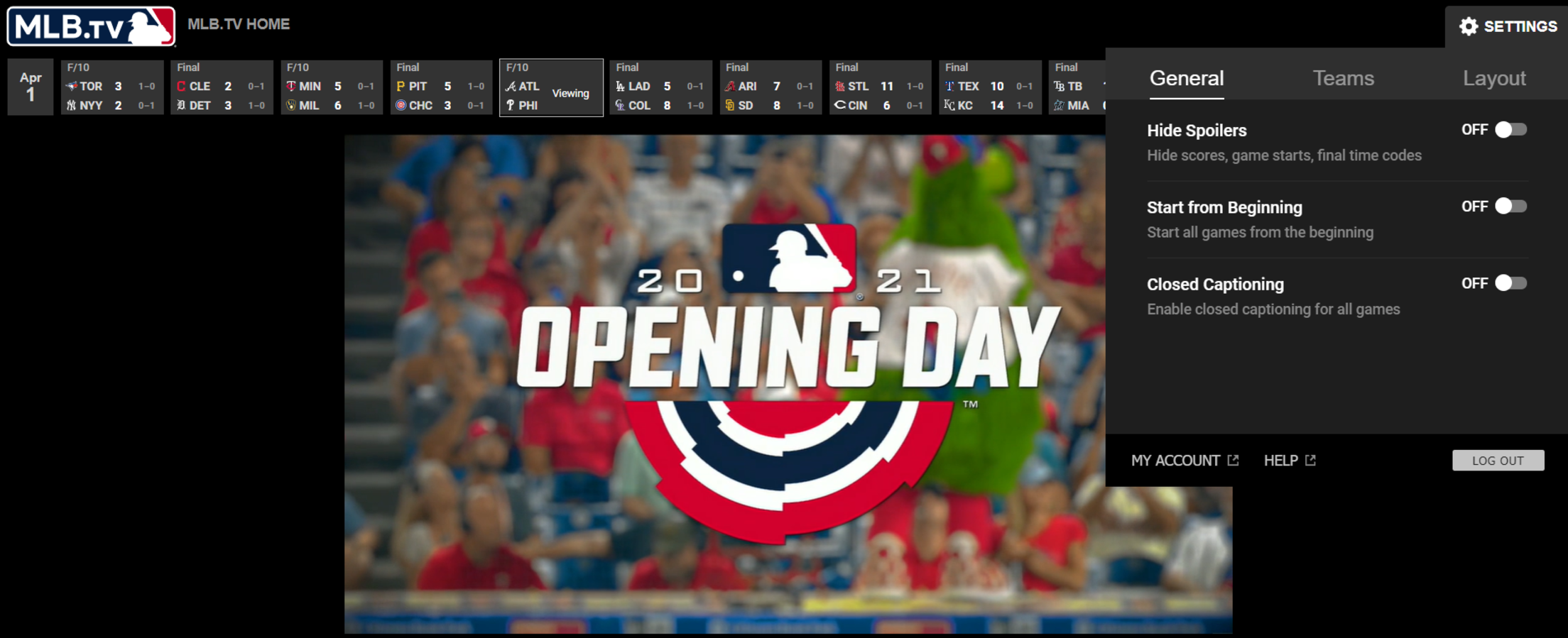 Located below the media player are the Play breakdown, Plays and Box Score, in-game and league-wide video highlights.