Top pick Wells ready to start Yankee career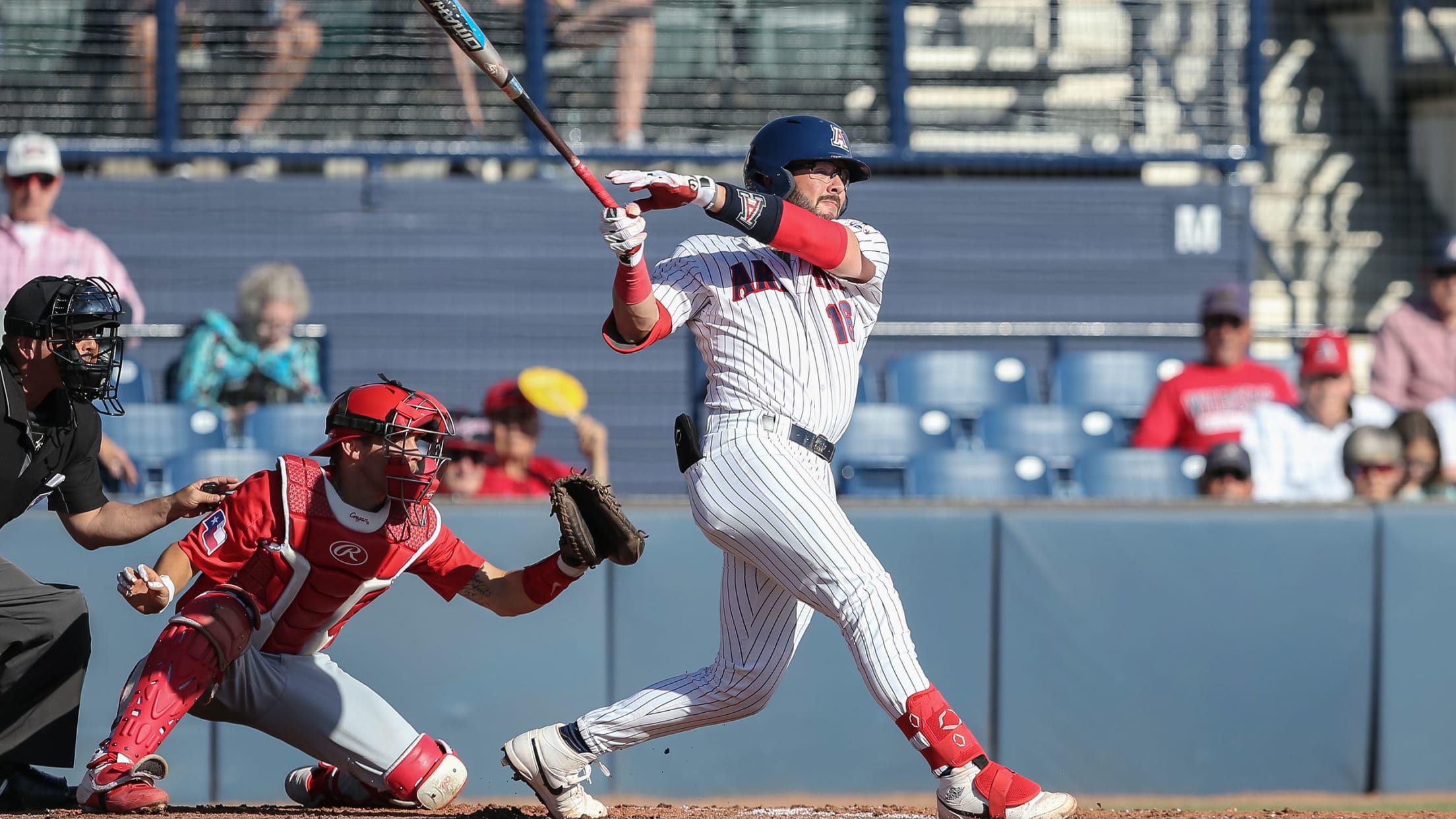 Austin Wells believes that it is only a matter of time before his left-handed stroke powers baseballs over the outfield walls at Yankee Stadium. The slugging catcher announced on Thursday that he has agreed to a contract with the Yankees, who selected him in the first round of the 2020
Austin Wells believes that it is only a matter of time before his left-handed stroke powers baseballs over the outfield walls at Yankee Stadium. The slugging catcher announced on Thursday that he has agreed to a contract with the Yankees, who selected him in the first round of the 2020 MLB Draft. The team followed on Friday with a news release to confirm that Wells has signed a deal.
Regarded as one of the best all-around offensive talents in this year's class, the University of Arizona product agreed to a $2.5 million contract, according to MLB Pipeline's Jim Callis -- slightly above the $2,493,900 slot value assigned to the 28th selection.
Wells had said that he anticipated signing quickly following the Draft. This marked the second time in three years that the Yankees called Wells' name, having tabbed him in the 35th round out of high school in 2018.
"The Yankees and I always had a very good relationship, and leading up to [this year's Draft], we had a lot of great conversations," Wells said. "Going throughout that day, I had a good range of where I felt was going in the back half of that first round. I'm super pumped that it was the Yankees, because of how great our relationship had been before."
On his social media channels, Wells pressed pen to paper and looked the part, donning a pinstriped jersey while having shaved the bushy beard that he'd worn at Arizona.
"It's definitely going to be an adjustment, having had it for the last two years," Wells said. "But in high school, I had to shave it as well, so it won't be that big of an adjustment."
Officially a Yankee! ✔️ #GoYanks pic.twitter.com/7JLtqZ29mr

— Austin Wells (@wellsius16) June 26, 2020
Ranked No. 27 on MLB Pipeline's Top 200 Draft Prospects list, Wells was torching opposing pitching when the pandemic halted play in mid-March. He followed a standout Cape Cod League campaign by batting .375/.527/.589 with 12 runs scored, six doubles, two homers and 14 RBIs in 15 games as a sophomore for the Wildcats, working more walks (17) than strikeouts (14) while earning Second Team All-America honors.
"He's a good athlete and has performed at an elite level, with a really tremendous work ethic and makeup," said Damon Oppenheimer, the Yankees' vice president of domestic amateur scouting. "We think he can be an impactful guy, especially in our stadium. He's a mentally strong kid. I think the weight of the pinstripes aren't going to really affect him like some others."
Honored in 2019 as the Pac-12 Freshman of the Year -- the first in Arizona's history -- and the Cape Cod League's Outstanding Pro Prospect after starring with the Yarmouth-Dennis Red Sox, Wells impresses with all-fields power that earned him a place on the Buster Posey Award watch list alongside some of the nation's top backstops.
Though Wells was identified as a catcher when the Yankees' selection was announced, it is possible that his future could involve a position switch. The 6-foot-2, 220-pound Wells has been compared to the Cubs' Kyle Schwarber, who started his career behind the plate but has played most of his big league career in the outfield.
"I'm a catcher, and I want to be a catcher," Wells said. "I know I'm definitely willing to do whatever it takes to get to the big leagues. If that's at another position, then I'll just hit home runs at Yankee Stadium and play wherever they need me to."
This past season at Arizona, Wells played 12 games at catcher and one in left field, serving as the designated hitter twice. After permitting 10 passed balls in 262 innings as a freshman, Wells maintained a 1.000 fielding percentage while permitting one passed ball in 100 innings this year.
"There's a lot of ceiling for growth because his mental side is so strong," Oppenheimer said. "Even from talking to the guys that have coached him in college, they know that there's more to be done with him defensively. Nothing against the guys that have coached him, but we've got guys that are much better at it and are going to help him move on with the catching at a quick rate."