1 team's '21 comps: Carlton, A-Rod, Gibson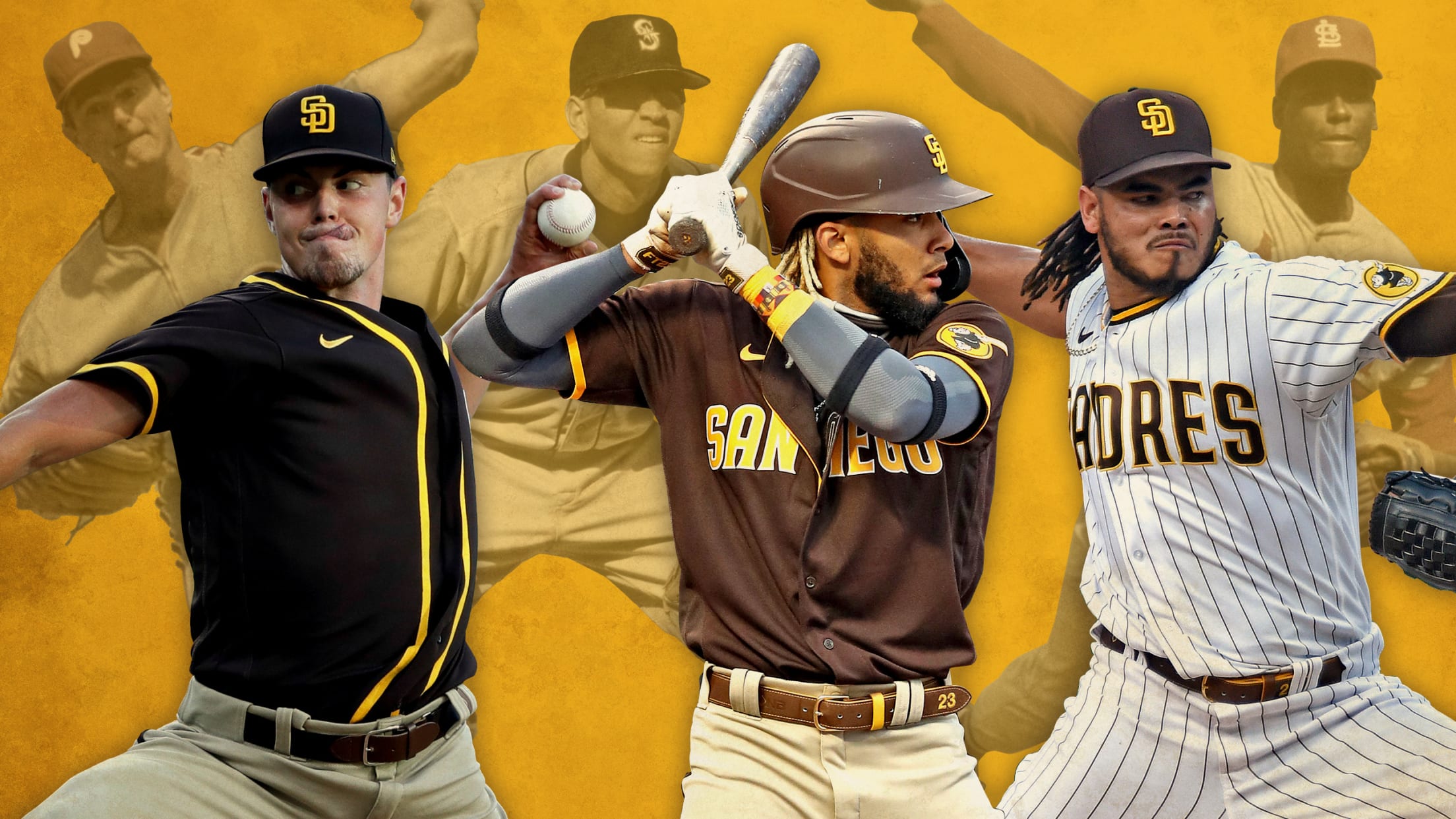 The Padres probably had the most encouraging 2020 season of any team when it came to laying seeds for the future. But just how bright is that future? Well, you might think it's extremely bright by the time you're done reading FanGraphs' Dan Szymborski's 2021 Padres ZiPS projections. For those
The Padres probably had the most encouraging 2020 season of any team when it came to laying seeds for the future. But just how bright is that future?
Well, you might think it's extremely bright by the time you're done reading FanGraphs' Dan Szymborski's 2021 Padres ZiPS projections.
For those unfamiliar, ZiPS is a major projection system built by Szymborski that estimates both baseline expectations for players right now and also estimates what that player could be down the road. Similar to the WARcel system developed by MLB.com's senior data architect Tom Tango, ZiPS uses multiple years from a player's track record and weighs the most recent seasons more heavily. It then estimates a player's future by comparing his baseline to a large pool of similar players (by age, position, handedness, height, weight, etc.). You can read much more about its methodology here.
OK, with all the fine print out of the way, it's time for the good stuff: Some absolutely eye-popping historical comps for some of the Padres' biggest stars.
Fernando Tatis Jr., SS
No. 1 comp: Alex Rodriguez
Remember, these comps line up by age, so ZiPS sees a ton in common with what Tatis has done through his age-21 season as Rodriguez, who had already made two All-Star teams and finished runner-up in the 1996 American League MVP Award vote at that age. Now, those who have followed Tatis' trajectory actually shouldn't be shocked by the A-Rod comparison; we and several other outlets pointed out his similarities to the former three-time MVP back when Tatis was making baseball look easy in early August. Tatis should be a generational superstar, just like A-Rod was.
But that's far from where the brand names stop on ZiPS' comp list. Can we interest you in the pairing of ...
Dinelson Lamet, RHP
No. 1 comp: Bob Gibson
Yes, that Bob Gibson, not the much less famous Brewers reliever from the 1980s (Szymborski made sure to clarify that, noting that it's the first time he remembers any pitcher getting the late, great Gibson as his No. 1 comp). ZiPS is actually linking Lamet to Gibson circa 1963, when he went 18-9 with a 3.39 ERA and struck out 204 hitters, and not to, say, the peak, untouchable Gibson in the summer of '68 -- an important distinction. Still, a comparison to an emerging Hall of Fame pitcher (who was on the verge of some all-time heroics) is one heck of an affirmation for Lamet, who established himself as a future star with a slider that ranked among the sport's most unhittable pitches.
Ok, so that's A-Rod and Hoot Gibson so far, but how about ...
MacKenzie Gore, LHP
No. 1 comp: Steve Carlton
It's true that Gore, baseball's third-ranked prospect overall according to MLB Pipeline, hasn't thrown a Major League pitch, but ZiPS features translations for Minor League statistics and sees similar qualities to the Hall of Fame lefty Carlton, who was 77 innings into his big league career by the time he was Gore's current age. This actually isn't a new development; Szymborski notes that Carlton was Gore's No. 2 following the 2019 season, the most recent time Gore took the mound before the coronavirus pandemic wiped out Minor League play. Gore will likely debut in 2021, meaning we can start evaluating whether his slider is truly Carlton-esque.
Plenty more intrigue lies beyond those three Hall of Fame-caliber comps. Breakout center fielder Trent Grisham is comped with current Hall of Fame candidate Bobby Abreu, suggesting that Grisham could feature his impressive on-base ability for years to come. And even Padres No. 3 prospect Luis Patiño lines up with former Astros flamethrower J.R. Richard, who struck out 300-plus hitters in back-to-back seasons at the end of the 1970s.
This can't be stressed enough: ZiPS is not saying each of these Padres will turn into the superstars they're comped with. It's more likely that Tatis won't come anywhere close to A-Rod's 696 home runs, and obviously no one will ever really be Bob Gibson again. These are simply the most similar historical links to Tatis, Lamet, Gore, etc., out of pools of dozens of comparables for each. But it's very rare that a name like A-Rod, Gibson or Carlton pops up as ZiPS' No. 1 comp for anyone, let alone multiple young stars on the same team.
The Padres aren't a perfect club, and they still have work to do to perennially challenge the Dodgers. But this is just one more reminder that it's a great time to be a Padres fan -- both right now and, potentially, for many years down the road.