Triple Play 5K
Presented by UHealth

Triple Play 5K presented by UHealth: Saturday, December 16
It's time to lace them up and step up to the plate for a family-friendly event benefiting UHealth research for brain health and mental wellness. Experience a unique ballpark race as runners and walkers of all ages make their way through the ballpark for the Triple Play 5K, which features the finish line at home plate on the field of loanDepot park.
The Marlins Triple Play 5K Run/Walk will take place on Saturday, December 16 at loanDepot park. Pre-race activities and race registration will begin at 7:30AM, with the race start time at 9:00AM. The fun continues following the race for all to enjoy.
What cause are you running for? Participants can choose one of the following causes:
Alzheimer's Research
Parkinson's Research
ALS Research
General Brain Health
Mental Health
Stroke Awareness
Register now & pick your team to support!
For more information and sponsorship opportunities email [email protected] or call 305-480-1452.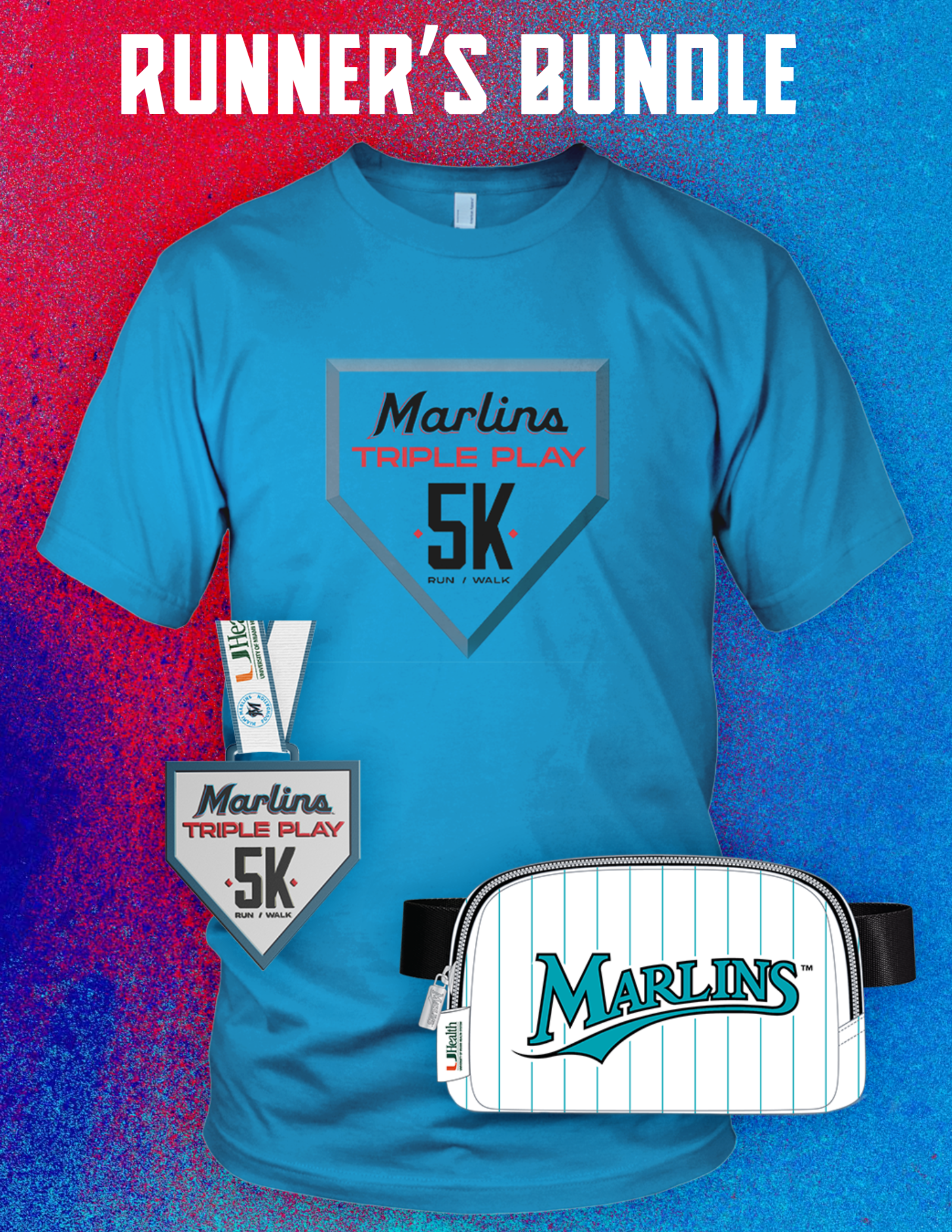 ---
About University of Miami Health System - Department of Neurology
University of Miami Health System Department of Neurology is ranked No. 25 program in the country by US News and World Report (top 2% in the country).It is also ranked #18 in NIH funding. This department continues to strive to be a leader in neurological care, discovery and teaching. They continue to transform lives for many of those suffering with Stroke, Headaches, ALS, Parkinson's, MS, Alzheimer's and Memory Disorders, Epilepsy, Brain Tumor and other neurological disorders.
ALS Research
The UM ALS Center hosts the largest multi-disciplinary clinic in Florida. The ALS Center is known throughout the world for its state-of-the-art patient care and research, including its participation in all the major trials of new experimental medications for ALS. Your support is essential to finding the cure that will end the pain of this disease and makes a critical difference in the ability to provide interdisciplinary patient care and to support crucial research.
Why it's important to help the UM ALS Center.
As a critically important multi-disciplinary center for ALS care and research in South Florida, your support ensures that more people will be able to access the specific type of care that this devastating disease requires. Your support is essential to maintaining and advancing the critical research needed to find the cure. The hope of finding a cure will fade without your help.
Alzheimer's Research
Alzheimer's disease (AD) is the most common type of dementia. It causes a decline in cognitive abilities, and will eventually affect memory, thinking, awareness, and behavior. This is a progressive disease that starts slowly and eventually causes a significant decline of higher mental processes and an individual's ability to function independently.
Why Support Uhealth's Memory program?
Uhealth offers access to the latest research programs in the country. Through the Department of Neurology, they are the first in the U.S. to use mesenchymal stem cells in the treatment of Alzheimer's. Their researchers are also studying the effects of diet and nutrition on brain health and memory. The Center of Excellence is the home to physicians that are experts in the diagnosis, treatment, and research of Alzheimer's and related memory problems, and are devoted to high-quality patient care, education of caregivers and health professionals, and pursuit of clinical research.
Parkinson's
Parkinson's disease (PD) is a slowly progressive, chronic neurological condition that affects a small area of cells in the mid brain known as the substantia nigra. It is estimated that up to 1.5 million Americans are affected by the disease and 40,000 to 60,000 new cases are diagnosed each year. The cause of Parkinson's disease remains a mystery. 15% of patients are diagnosed before age 50 and the disease affects one of every 100 persons over the age of 60.The Parkinson Center's core mission has included patient care, research, education and community outreach.
While there is yet no cure for this condition, progressive treatments allow many patients to maintain a high level of function throughout their lifetimes. The goal of treatment is to maximize independence and quality of life for people who have Parkinson's disease.
Stroke Awareness
The Stroke Division at the Miller School of Medicine Department of Neurology is dedicated to the acute treatment, prevention, and rehabilitation of stroke patients. It is involved in cutting-edge NIH funded research to decrease the significant burden of stroke on patients and family.
The Stroke faculty conducts cutting edge research to address a variety of cerebrovascular diseases. The division is actively enrolling patients in acute stroke treatment, stroke prevention and stroke recovery trials, and has special interest in stroke within minorities. The division is one of the 25 regional stroke centers for the NINDS Stroke Trials Network.
Mental Health
Mental health disorders are conditions that physiologically affect the brain. Uhealth psychiatrists care for children, adolescents, adults, and older adults/seniors in inpatient (hospital stay) and outpatient (clinic) locations throughout South Florida. They're an internationally recognized research and academic medical center, helping families across the globe overcome even the most complex and difficult to treat mental illnesses.
Why support mental health?
Uhealth's exceptional team of faculty, residents, fellows, and staff strive to provide ground-breaking research, clinical, educational, and community engagement programs to further the understanding and treatment of psychiatric and behavioral disorders. They work each and every day to unlock the mysteries of these diseases and improve outcomes for patients.
The Miami Marlins Foundation makes an impact by creating opportunities for youth to stay active, achieve academic success, and build leadership skills. Our wellness programs address barriers that students face in achieving academic success, including food security, healthy eating habits, and fitness. In the area of empowerment, we focus on college scholarships and providing educational resources to students and teachers. Our youth baseball & softball programs promote well-being, proper nutrition, and support social and emotional learning that builds champions on and off the field.
Packet Pick Up
If you did not pick up your race packet prior to race day, pickup will be at the registration table right after you enter through Gate 1 or Gate 2. Gates will open at 7:30AM. We highly encourage you to arrive early in case there are long lines to avoid being delayed for the race.
Parking: Home Plate Garage | 1502 NW 7TH Street, Miami, FL 33125
Please park on the second level or above. There is an elevator on the west end of the garage.
Entrance: Gate 1 & Gate 2
Check in will open at 7:30AM. You will enter through Gate 1 or Gate 2 and will be subject to security screening. Please note, we do not have a designated bag check area so bring only the valuables needed.
Once you have been screened, please proceed to the registration table if you have not picked up your packet or if you have spectators with you.
Spectators:
Spectators are encouraged to join you on race day for all event festivities! There will be no fee for spectators. They will enter through Gate 1 & Gate 2 and will need to go to the registration table to receive a wristband to have access inside loanDepot park. Spectators will have the chance to view runners cross the finish line at home plate from the first baseline seating bowl. Spectators are NOT allowed on the race route or the field.
Race Day Tips!
Pin your bib on your shirt.
Take advantage of the water stations on the course. They're there for you!
Be the tortoise, not the hare. Starting fast may feel good early on but could cost you later.
Bring your support team. Invite your friends and family members to come to cheer you on!
Remember to have fun! Don't put too much pressure on yourself to achieve a fast time, enjoy the experience!
What cause are you running for? Participants can choose one of the following causes:
Alzheimer's Research
Parkinson's Research
ALS Research
General Brain Health
Mental Health
Stroke Awareness
Register now & pick your team to support!
Sponsorship opportunities available. Email [email protected] for more information.