Football at Fenway Through the Years
1912-1939
Almost from the day it opened its doors in 1912, "America's Most Beloved Ballpark" became a football hotbed, hosting high school, college and professional games on a regular basis for over a half-century. Less than a month after the Red Sox had polished off the New York Giants in what still is regarded as one of the greatest World Series ever, the team's owners granted permission to long-time city rivals Boston Latin and English to play their annual Thanksgiving Day football game in Fenway Park. There was some original reluctance, "because of the danger of cutting up the diamond," but those fears were quickly set aside. Just two days after Latin edged English, 7-6, Fenway Park staged a mythical national championship high school game between Oak Park (Il.), a powerhouse from suburban Chicago, and Everett (Mass.), a game that dominated the headlines both here and in the Midwest. Extra elevated trains were added to accommodate a crowd estimated at more than 10,000, with ticket prices for reserved seats scaled at 50 cents, 75 cents, and $1, and additional direct wires were installed to serve the newspapers from Boston to Chicago. Everett and its stalwart captain, George Brickley, were no match for the "Cyclone of Chicago," as the Oak Park team was called in headlines after its 32-14 demolition of the locals. Oak Park's coach, Bob Zuppke, made liberal use of a new innovation called the forward pass, overwhelming the old-fashioned Everett eleven. "Its passing game, which resembled basket ball (sic), consisted of forward, double, triple and even quadruple passes,'' the Boston Globe reported. "…There has never been a better game played in New England.''
A week and a half later, by the way, Zuppke resigned at Oak Park to become coach at the University of Illinois, where he won four national championships and coached the Galloping Ghost, Red Grange.
This was only the beginning. By 1914, there were 10 high school games played at Fenway Park, a number that grew to more than 40 by 1932. Thanksgiving Day games, Columbus Day double-headers, even the occasional triple-header, Fenway became football crazy.
"It was a venue where post office clerks, soda jerks and inspectors for the public works were just as apt to venture as participants as fans,'' sports historian Richard Johnson told the Globe.
The college boys joined in the fun in 1914, when Boston College first made Fenway Park its home away from home with a one-sided 28-6 rout of Norwich (Vt.) University, the first of 76 games the Eagles would play in the Fens.
But Boston College was hardly alone among the local college teams that had a chance to strut their stuff on the same field as Tris Speaker, Harry Hooper, Duffy Lewis and the rest of the "Speed Boys." With a last-minute touchdown in 1915, Dartmouth, coached by Frank "the Iron Major" Cavanaugh, edged Penn, 7-3, and Holy Cross, Tufts, Boston University, Providence and Springfield College were among the local elevens who played on the Fenway Park grounds.
The Boston Park League took its first crack at playing in Fenway Park in 1919, when the St. Alphonsus-Pere Marquette game featured the end of a 10-mile road race at halftime, and soon the pros moved in. George Preston Marshall acquired the rights to a Boston NFL franchise in 1932, when he played his first season as the Boston Braves in Braves Field, then in 1933 moved to Fenway, where he rechristened the team "the Redskins." But the pay-for-play boys had a tough time drawing a crowd. Marshall gave up in 1936, when the Redskins moved their championship game to New York's Polo Grounds, and the following season he relocated to Washington, where the Redskins have played ever since.
But a precedent had been set. Football had a home in Boston, and it was called Fenway Park.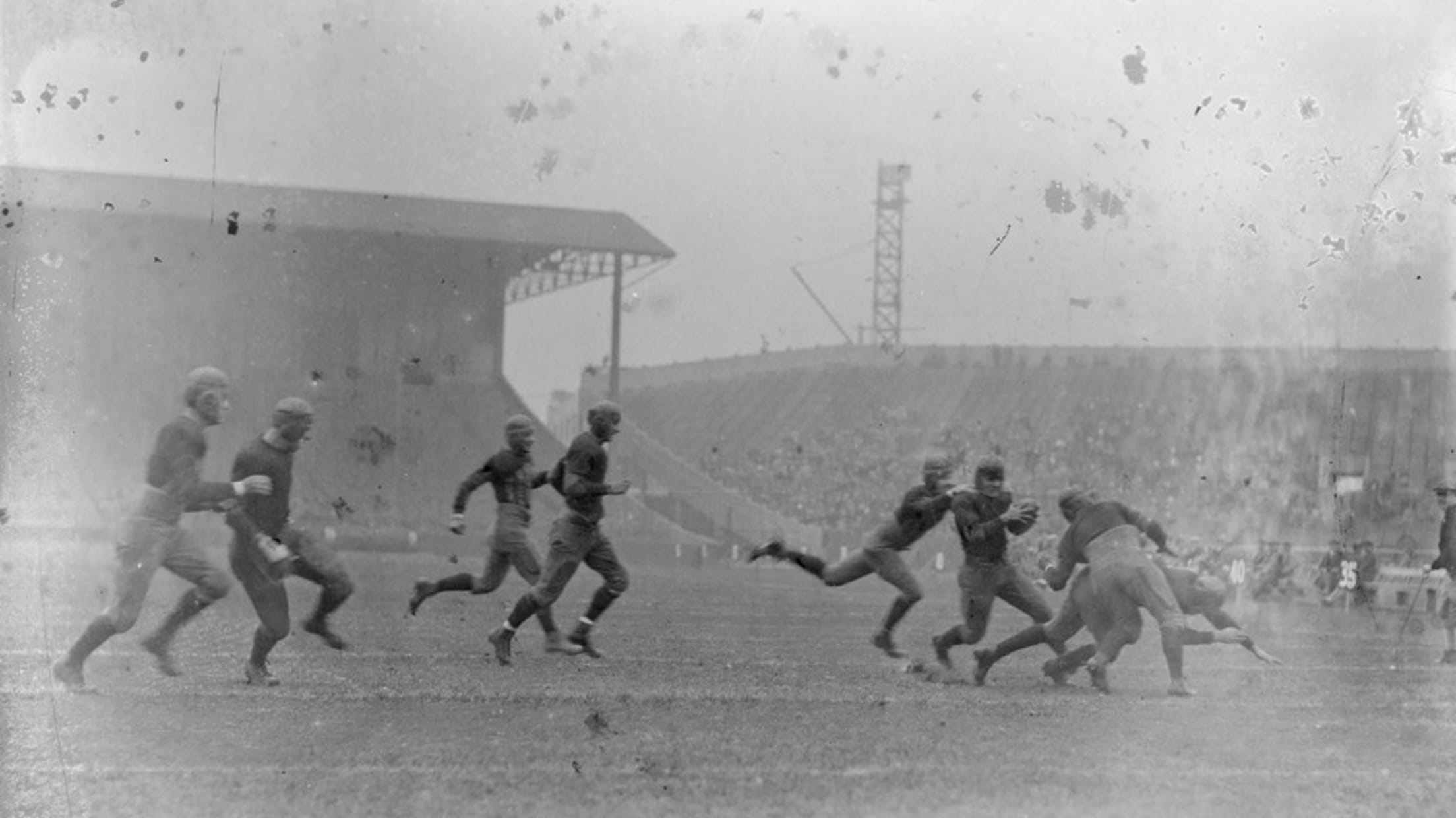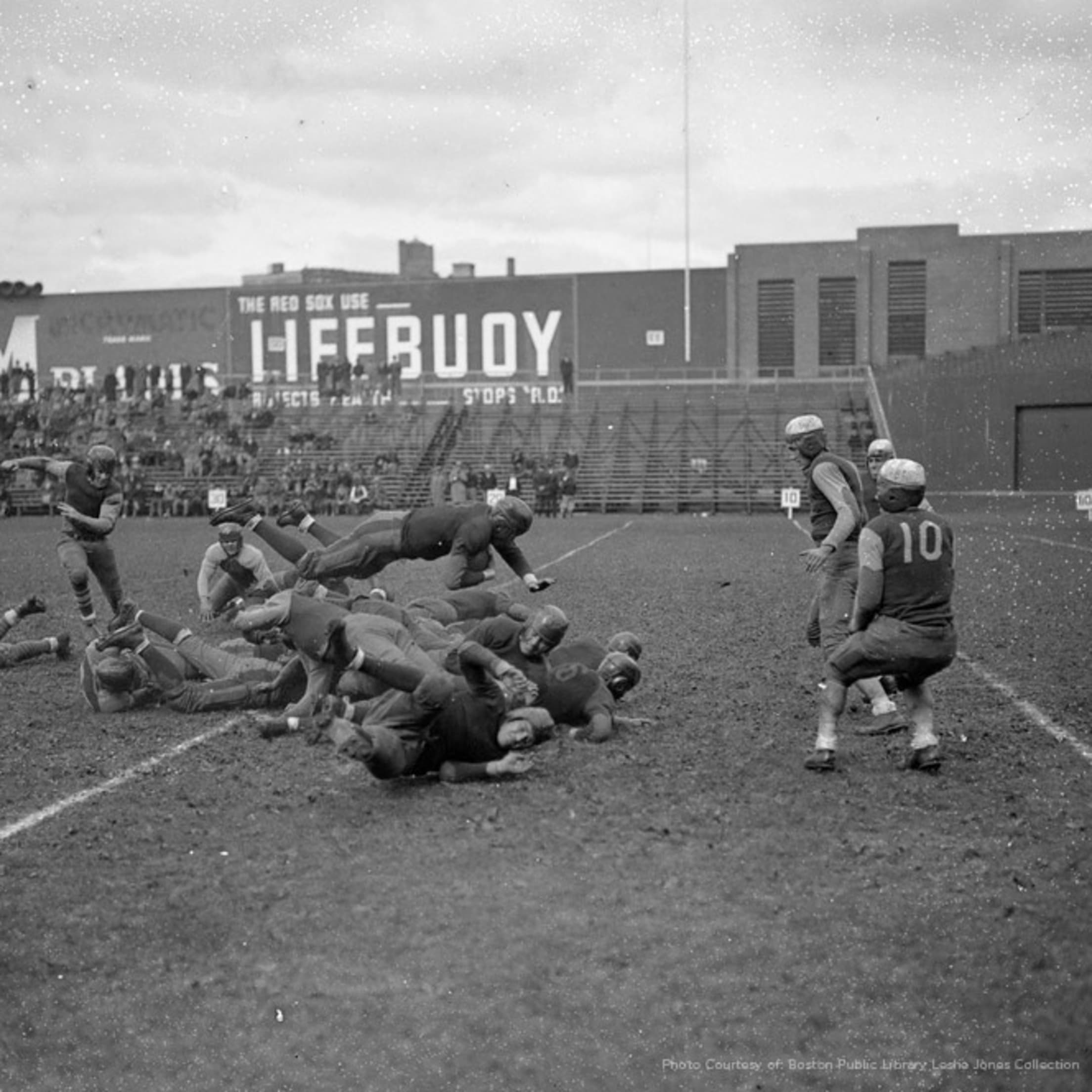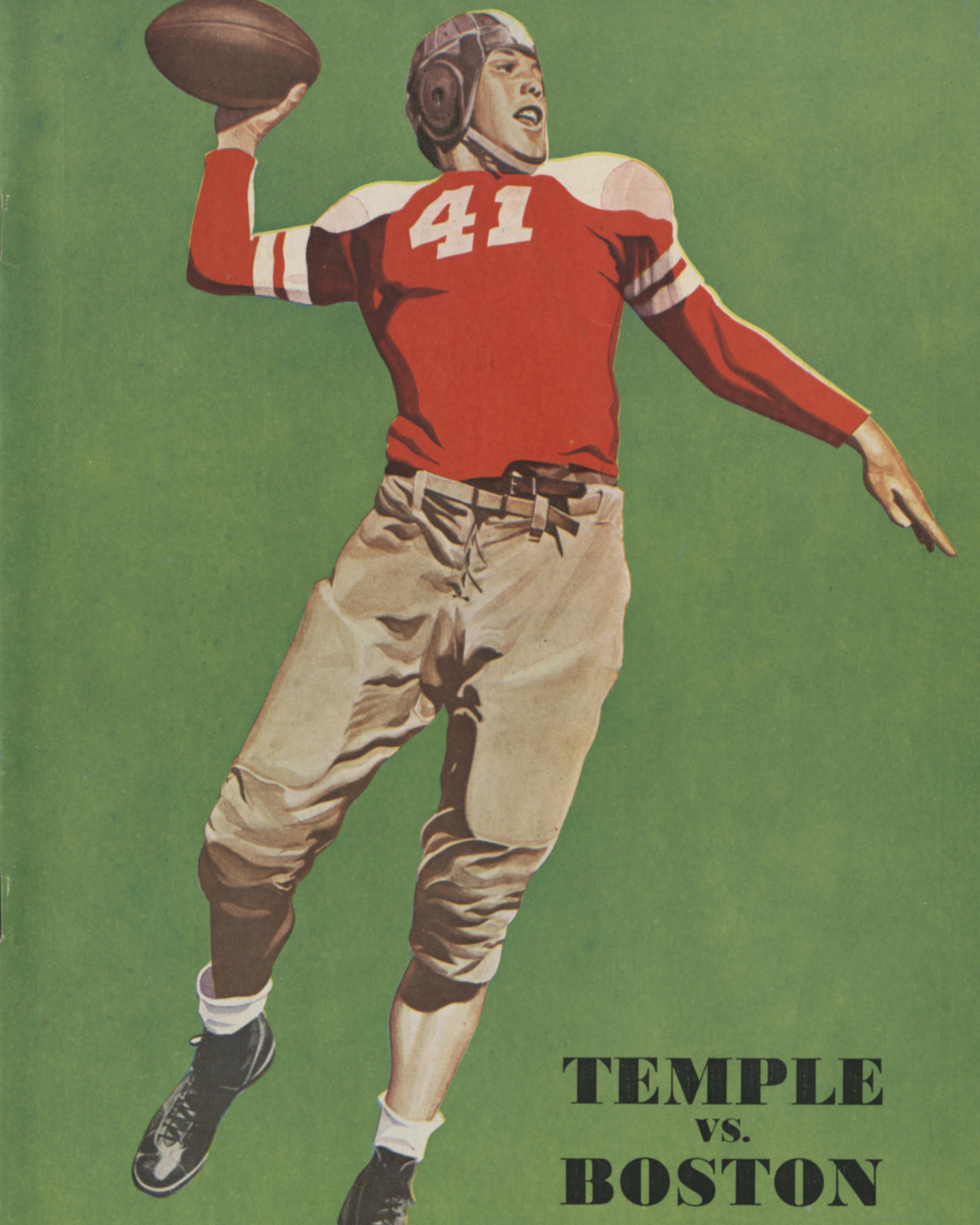 1940-1959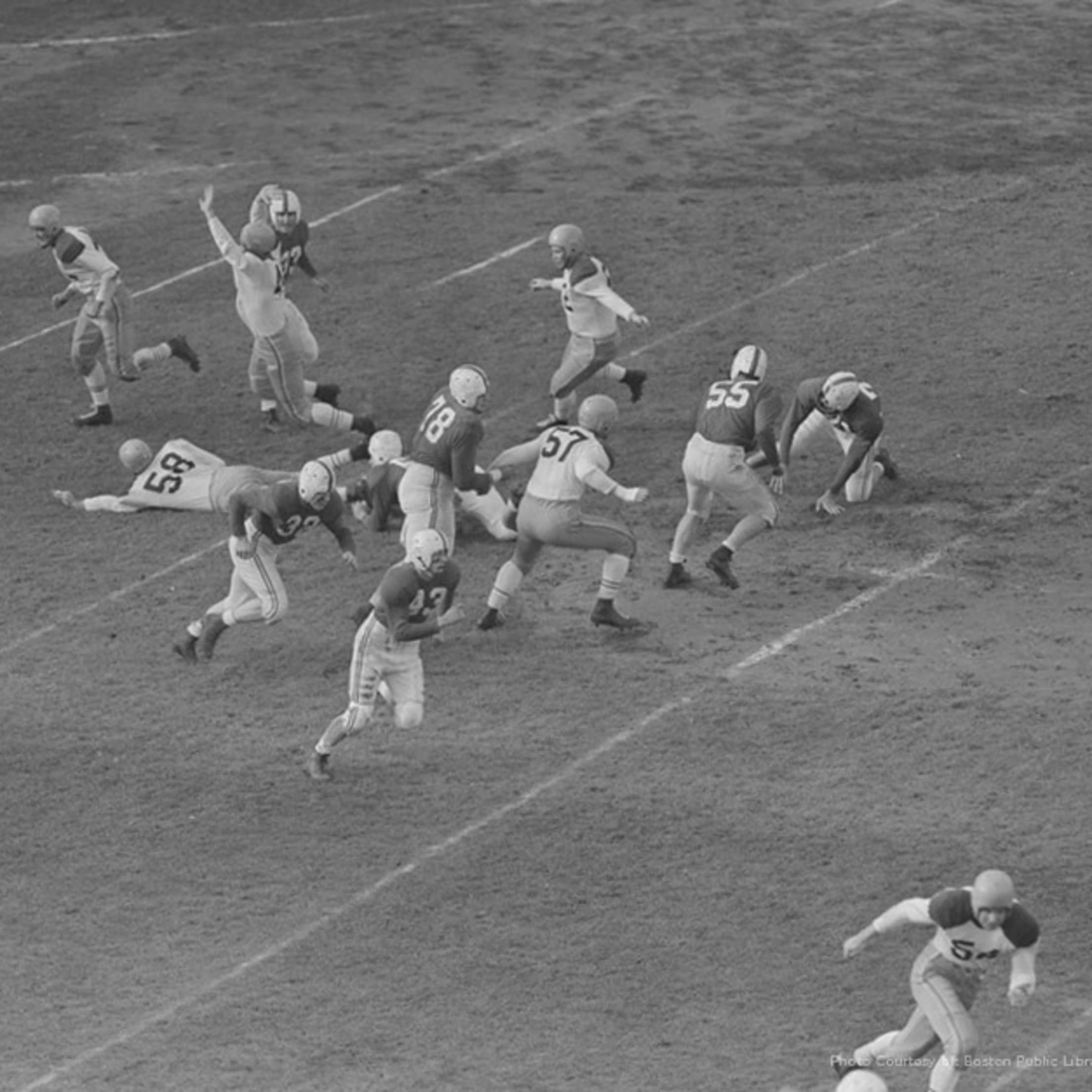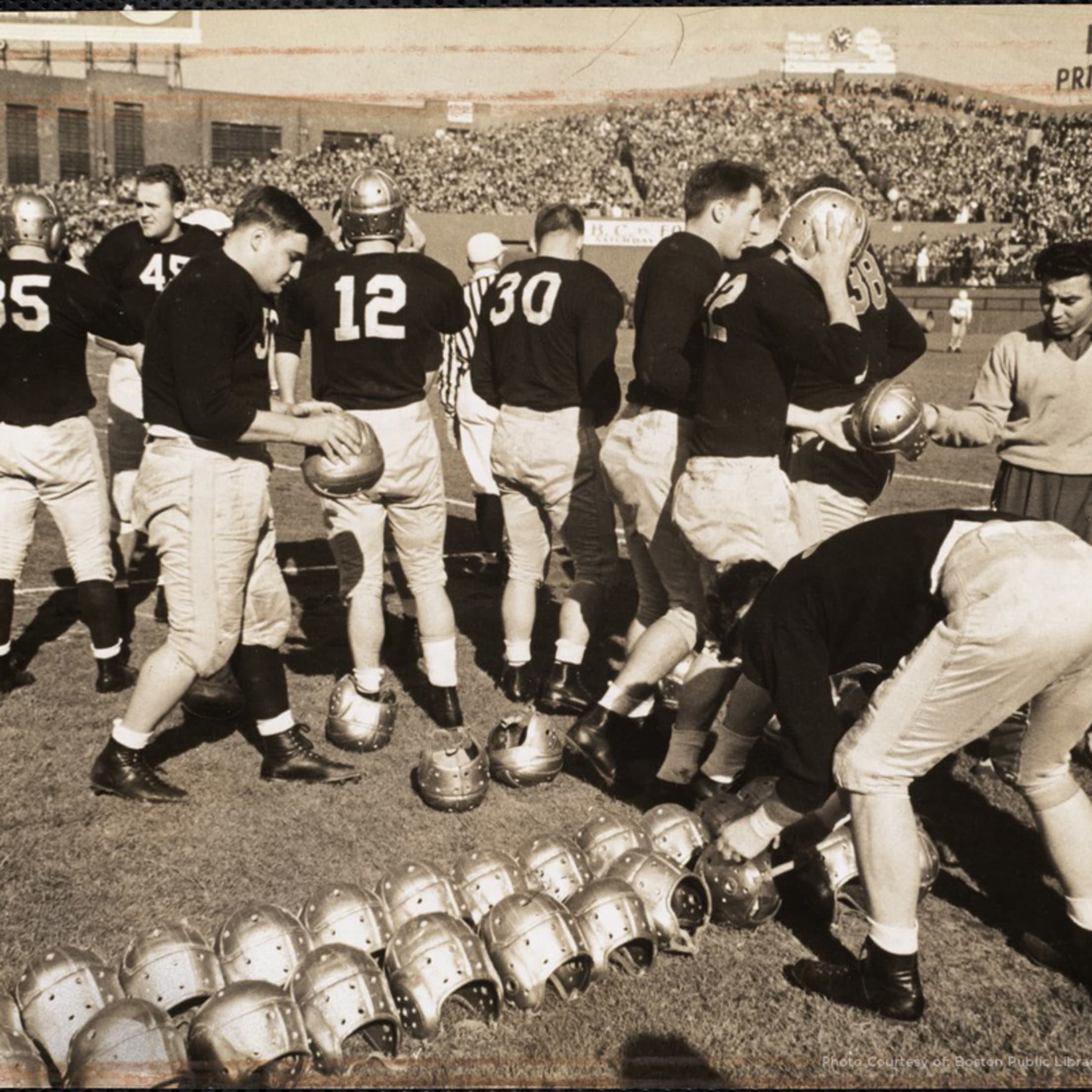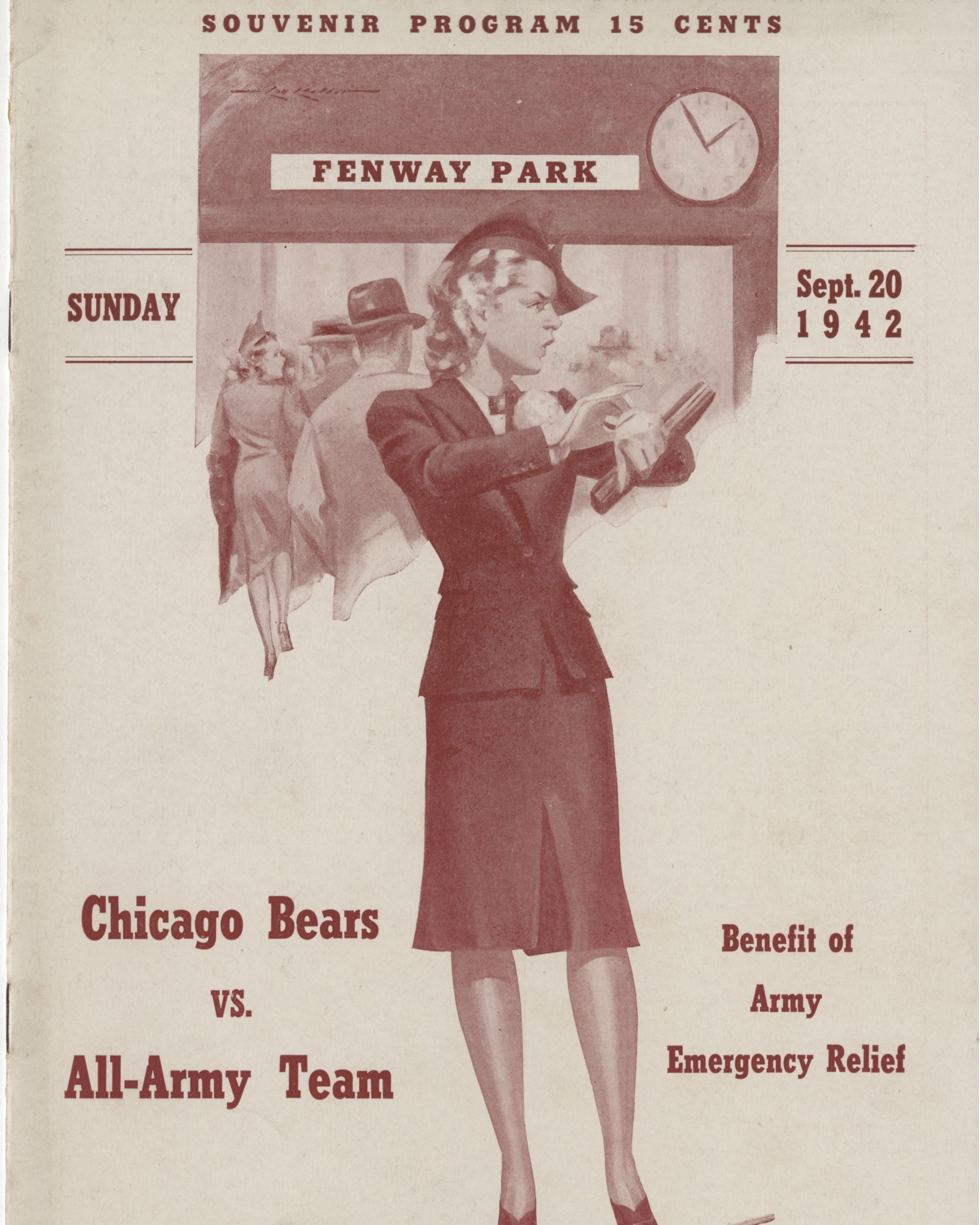 Grantland Rice, America's most famous sportswriter, called it "probably the greatest football game ever played by colleges or the pros." In Fenway Park, no less. This was November 16, 1940, and as dusk fell, making the action on the field all but invisible to the more than 40,000 fans on hand, undefeated Boston College held on to defeat Georgetown, 19-18, ending the Hoyas' 23-game winning streak. Rice, no stranger to purple prose ("Four Horsemen of the Apocalypse") could not contain himself.
"When you look back over the dizzy panorama of this cold, gray afternoon it was something more than the battle of the mastodon and the mammoth," the syndicated columnist wrote. "The mastodons and mammoths were on hand in droves. But so were the Eagles and the Gazelles. There was not only crashing power along the ground as giant frames collided. There was also a dazzling battle through the chilly November air. There was every type of play that football has yet seen. There were double and triple passes. There were double reverses. There were spreads and shifts and fakes and feints that kept the packed stands not only thrilled but completely bewildered.
"It was the greatest all-around exhibition of power, skill, deception and flaming spirit that I have ever seen on a football field for over 40 years. Especially the spirit shown."
This would be one of six games BC would win that fall in Fenway Park, outscoring its opponents, 173-45, on its home field. Led by Hall of Fame coach Frank Leahy and star back "Chuckin' Charlie" O'Rourke, the season would end with a victory in the 1941 Sugar Bowl, the Eagles dispatching previously unbeaten Tennessee as future Hall of Famer O'Rourke scored the winning touchdown late in the game.
This was the golden era of BC football, and crowds packed Fenway Park to see the Eagles rack up victories week after week. BC won six of its eight games at Fenway in 1941, and was on its way to another undefeated season and a return engagement to the Sugar Bowl in 1942, when in blizzard conditions the Eagles fell to Holy Cross, 55-12. Seldom has defeat been more fortuitous-BC cancelled its scheduled celebration that night at the famous Cocoanut Grove nightclub and thus escaped the horrific fire that killed 492 patrons.
Pro football tried and failed in three more permutations. The Boston Shamrocks, Boston Bears and Boston Yanks all came between 1936 and 1948 and like the Redskins before them, were unable to establish a permanent toehold. The only thing the pros succeeded in doing was knocking the high school teams out of the playing rotation. The last high school game at Fenway was held in 1935, South Boston High beating Brighton, and eight decades would pass before the kids would be invited back.
The pros did provide two memorable spectacles. The Monsters of the Midway, George Halas' Chicago Bears, played charity games in both 1941 and 1942, the first against a team of college all-stars, the second against a team of Army all-stars, the United States having entered World War II after Pearl Harbor.
Mighty Notre Dame was the headliner in 1944, the Fighting Irish humbling Dartmouth, 64-0, and by 1947, Boston University had displaced BC as Fenway Park's primary collegiate tenant. The Terriers were the first to play a game under the stadium's new lights, and on Nov. 12, 1949, a 21-year-old broadcaster stood atop a wind-blown Fenway Park roof to give the play-by-play of BU's 14-13 loss to Maryland. The broadcaster's name? Vin Scully, who later became the voice of the Dodgers and arguably the greatest baseball broadcaster ever.
BU charged into the '50s behind the school's first-ever All-American, quarterback Aristotle George "Harry" Agganis. His career there was interrupted by a stint in the Marine Corps, but the "Golden Greek" returned to set school records as a passer and was coveted by both the NFL and Major League Baseball, Tom Yawkey's team persuading the Lynn-born star to stay home and sign with the Red Sox.
The curtain dropped on college football in Fenway Park in 1956. That October, the Red Sox informed BC, which had returned to play at Fenway, that Yawkey intended to resod the entire field for the 1957 season. College football's final act came on Dec. 1, 1956, when Holy Cross QB Billy Smithers threw a 21-yard touchdown pass with 39 seconds left for the only score in the Crusaders' 7-0 win over the Eagles. The colleges would not return for another 59 years.
1960-2015
The fifth time, it turns out, was the charm. After four previous failed attempts, pro football returned to Fenway Park in 1963 with the Boston Patriots, and for six highly entertaining seasons the Patriots made themselves at home. Billy Sullivan, a Boston businessman and sports promoter, had secured the franchise in 1959, and after two seasons of playing at Boston University's Nickerson Field and one in Harvard, the Patriots cut a deal to play at Fenway Park.
"All of us looked at Fenway as pretty much our step into the big leagues," said Gino Cappelletti, the team's wide receiver and kicker, who described how he sought out the location of Ted Williams' old locker in the Red Sox clubhouse.
"It gave us, I think, the first real of feeling of, 'OK, we're really pros now.'"
Playing on a surface in which the end zones ran from in front of the third-base dugout to the bullpens in right field, the Patriots encountered some unique challenges. Instead of being on opposite sides of the field, both teams were on the same side, in front of some newly installed left-field bleachers, which practically abutted the team's benches. Many fans seized the opportunity to offer free advice.
"They would want to know why we weren't throwing the ball more often," Patriots tackle Tom Neville recalled. "We would be trying to have meetings on the bench and they would be leaning over making suggestions."
The proximity between opponents, Cappelletti said, led to accusations of eavesdropping on one another.
"There was a lot of that scuttlebutt," he said. "You know, guys putting on parkas, pulling up their hoods, inching over to see if they could pick up anything from opponents. The two teams had a space between them, but as the game went on, everyone got closer and closer, and you could hear things."
From that first season in Fenway, 1963, one thing that the Patriots heard regularly was cheering. Their 17-7 win over Buffalo on Dec. 1 convinced them they were contenders, and when they won the rematch against the Bills in a playoff game in Buffalo, they were champions of the AFL's Eastern Division. Cappelletti became the all-time leading scorer in AFL history. A future Hall of Famer named Nick Buoniconti roamed from sideline to sideline as middle linebacker. Fullback Jim Nance won back-to-back rushing titles. Quarterback Vito "Babe" Parilli was a three-time All-Star.
The Patriots' days as nomads weren't quite finished. The Pats, who were forced to remain on the road for weeks in 1967 while the Red Sox made their run to the World Series, moved out of Fenway Park after the '68 season, and played a season at BC's Alumni Stadium and one more at Harvard before moving into their own stadium in Foxborough in time for the 1971 season. But a seed had been planted. One of their young fans, a precocious kid from Brookline, daydreamed about what he would do if he owned the Patriots. His name was Bob Kraft, and all he has done since becoming owner of the Patriots is win Super Bowls.
College football, absent since 1956, was scheduled to make a one-game comeback in 1963 with a contest between Boston College and Boston University. But that game was never played; it was cancelled because of the assassination of President Kennedy.
The Patriots went a dismal 4-10 in 1968, their final season in Fenway Park, though they routed Cincinnati, 33-14, in their home finale on Dec. 1. And then they left. There were soccer games played at Fenway Park, and ultimately ice hockey. There were concerts, and presidential rallies, and movie premieres, but no football.
And then, in 2015, a triumphant return: Notre Dame and Boston College met in the Shamrock Series, and just days later, there were back-to-back high school doubleheaders, one on Thanksgiving Eve, the other on Thanksgiving Day.
For Brian Kelly, the Notre Dame coach, this was a homecoming. Kelly, who was born in Everett and grew up in Chelsea, recalled attending a World Series game here in 1975. He made his return a triumphant one as Notre Dame, the designated "home" team, survived five turnovers to beat BC, 19-16.
For a Boston English lineman named Keishawn Guillarme, this was a first.
"I've never been to Fenway Park before. I just have drove by it," Guillarme told the Globe. "A lot of legends are here, I'm just happy that I can say I stepped in the same footsteps as them."
There were over 38,000 fans for BC-Notre Dame, more than 16,000 for the Thanksgiving Eve twinbill, another 11,000-plus on Thanksgiving morning. And there's no counting just how many football-related echoes were awakened in a baseball park that has been so much more.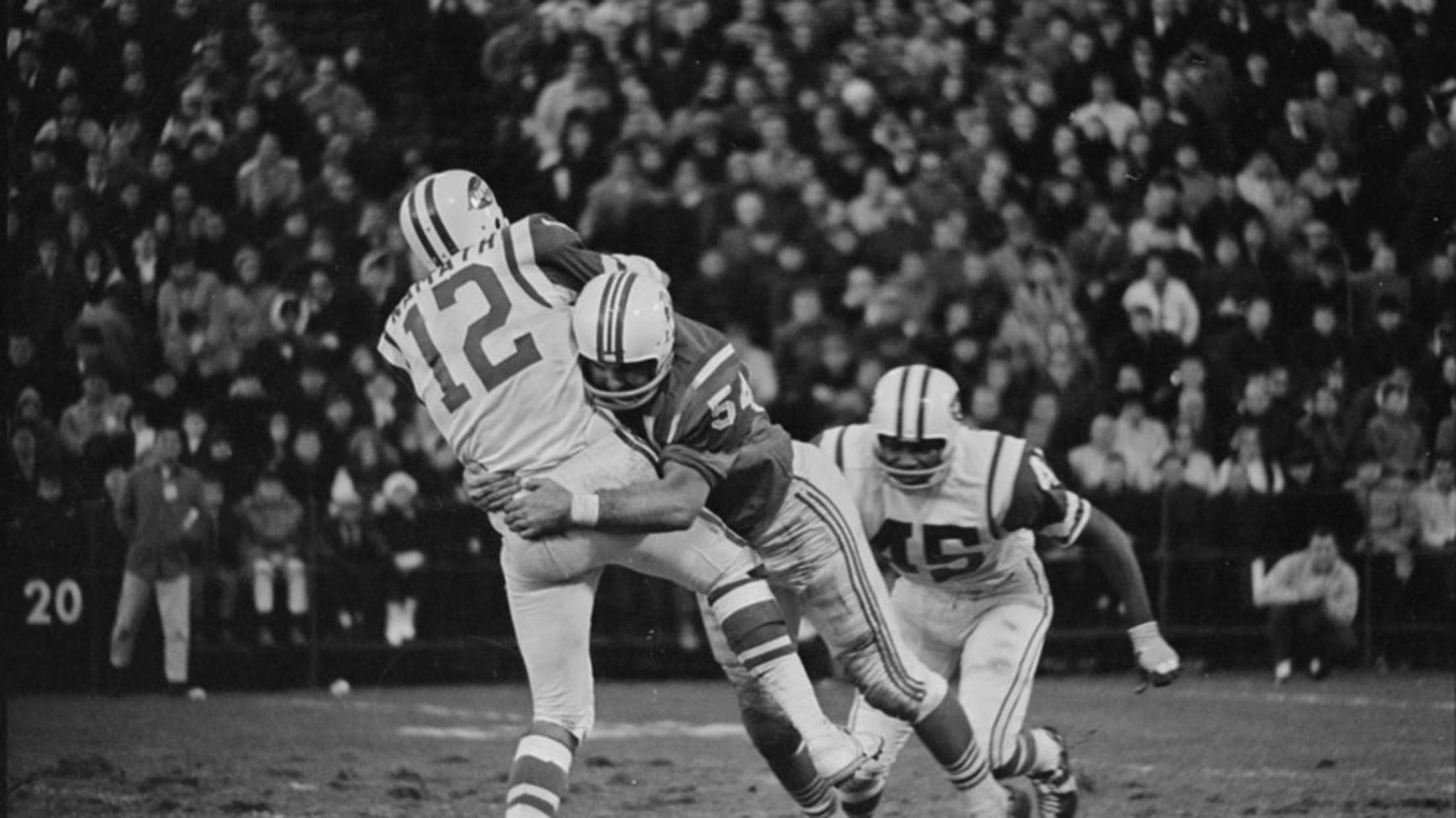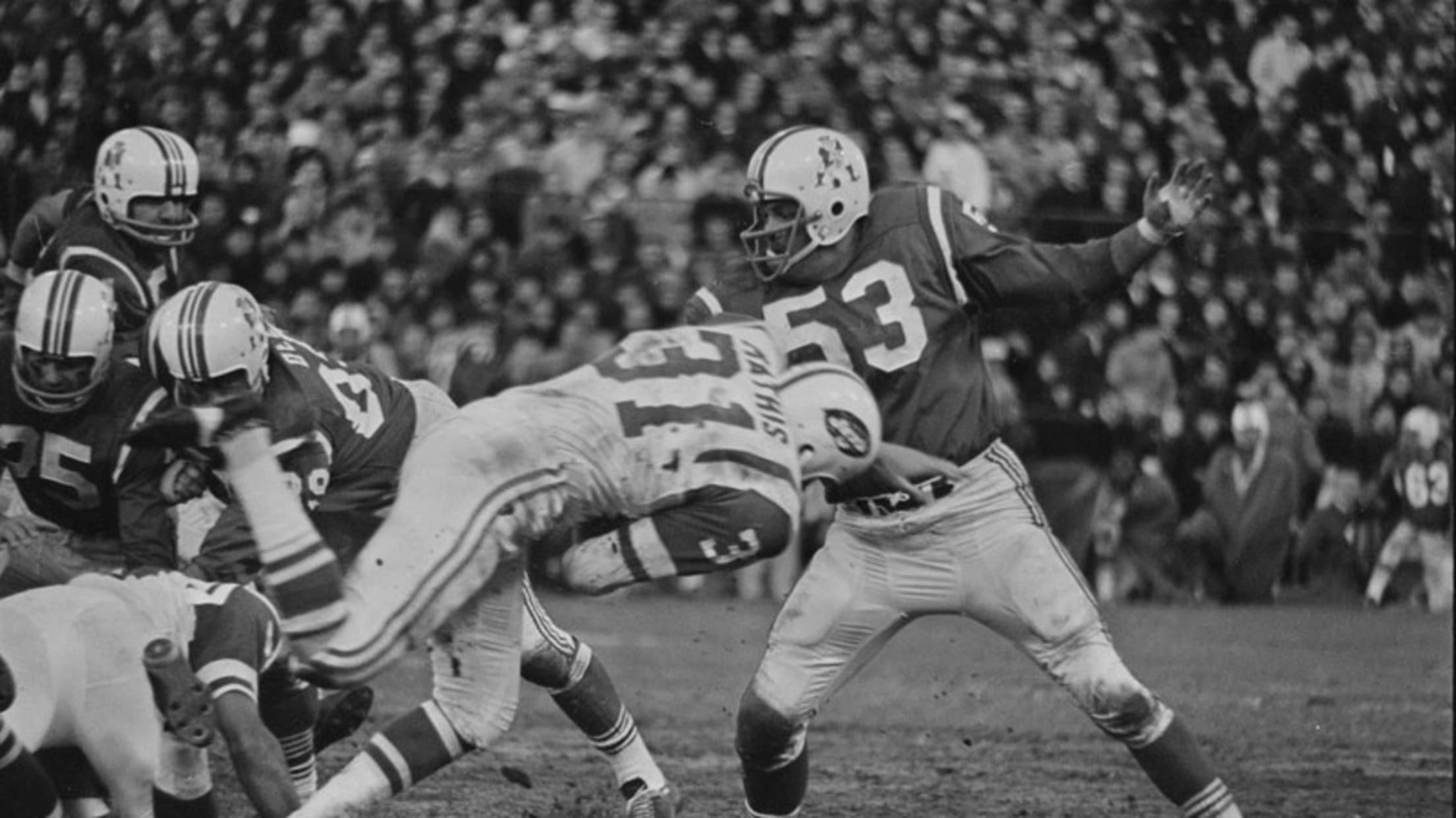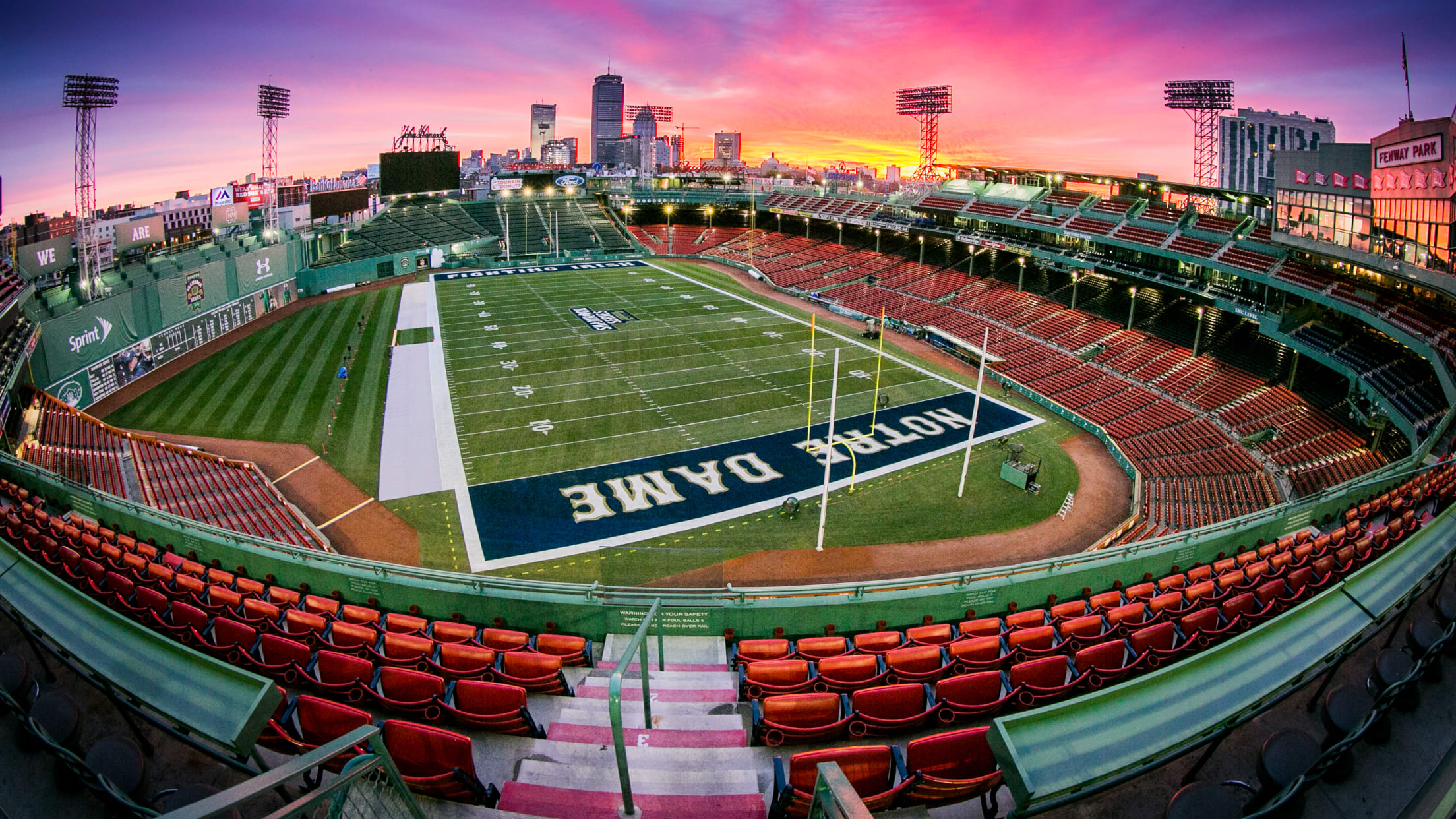 2017-Present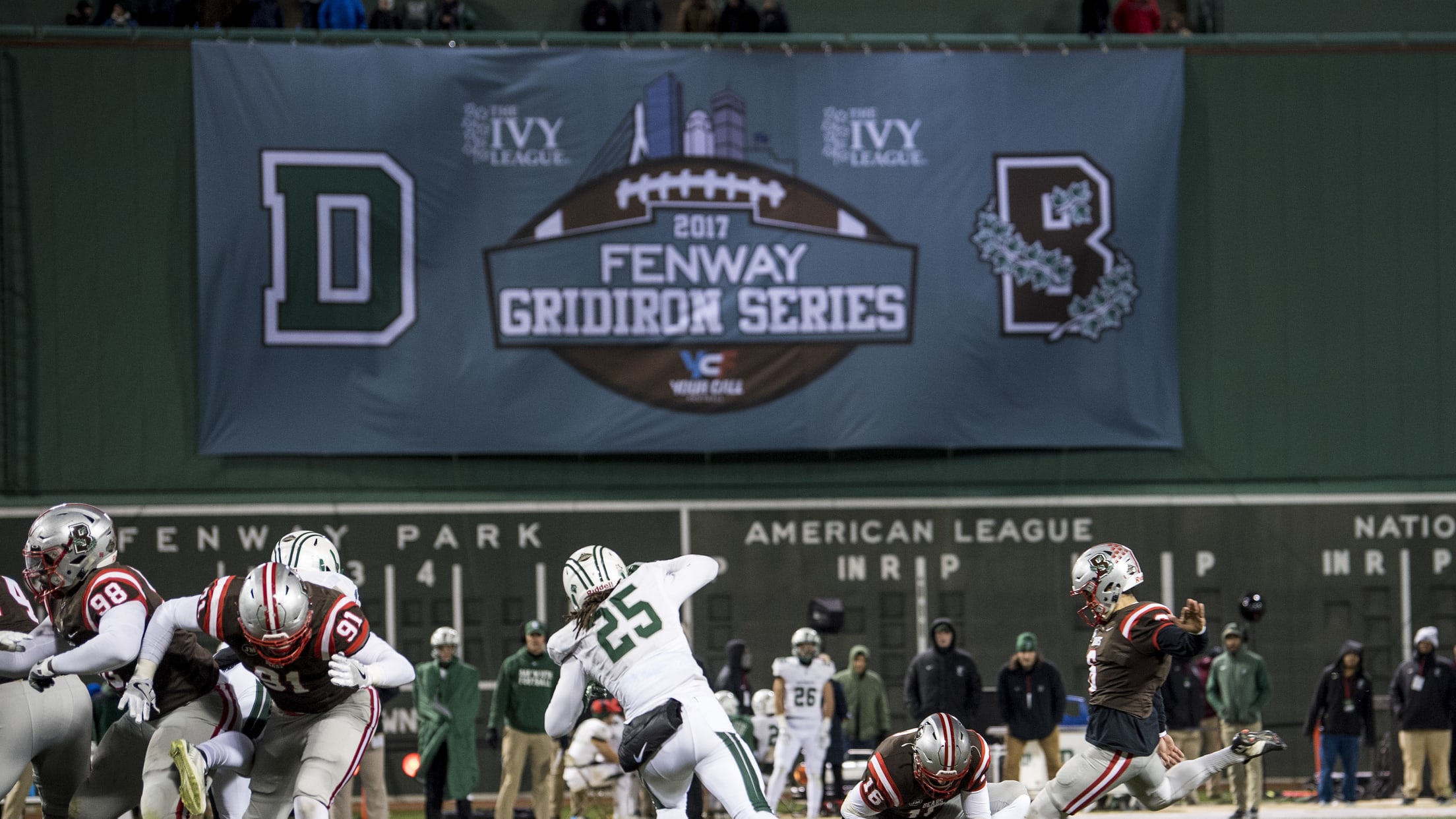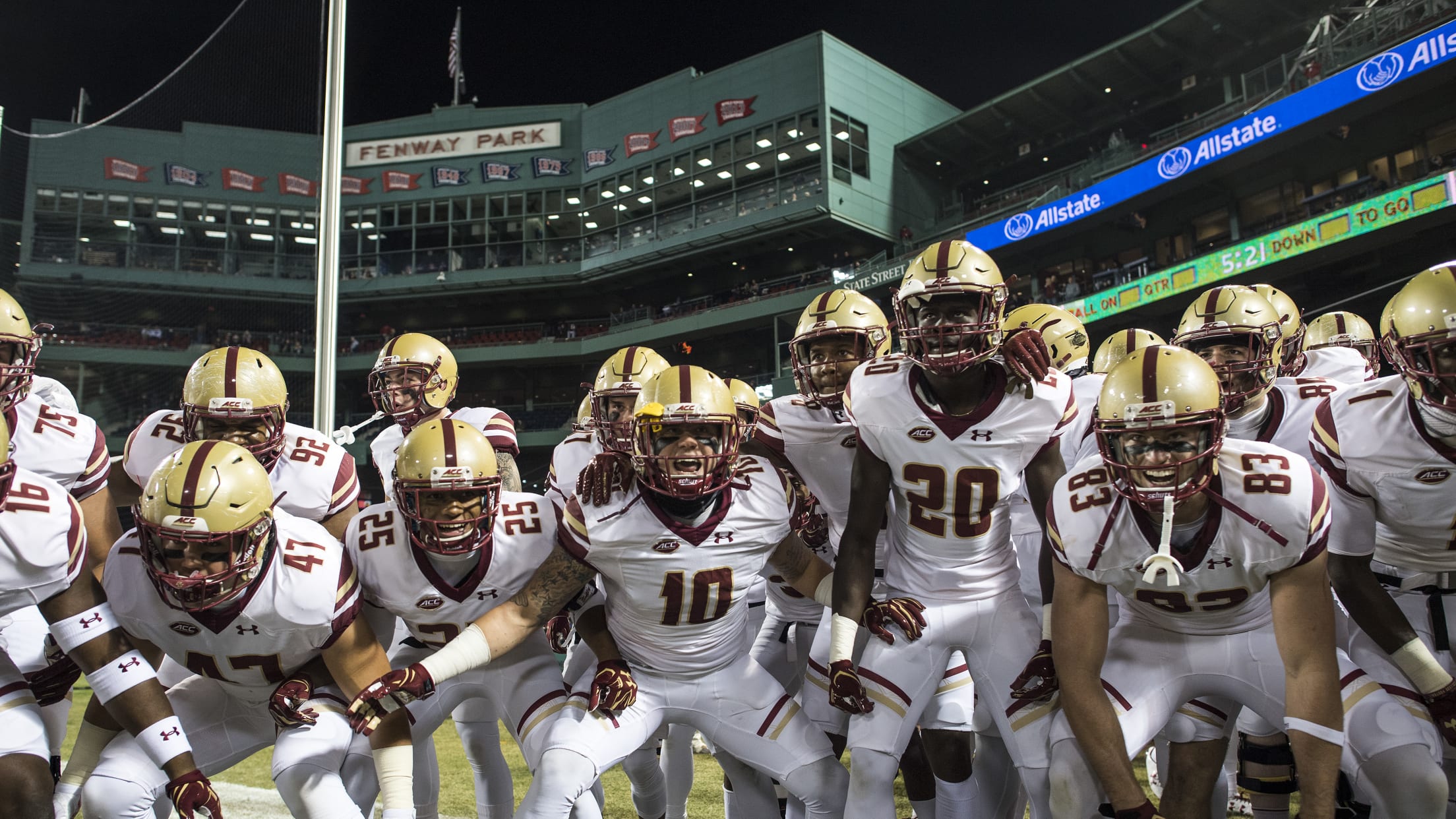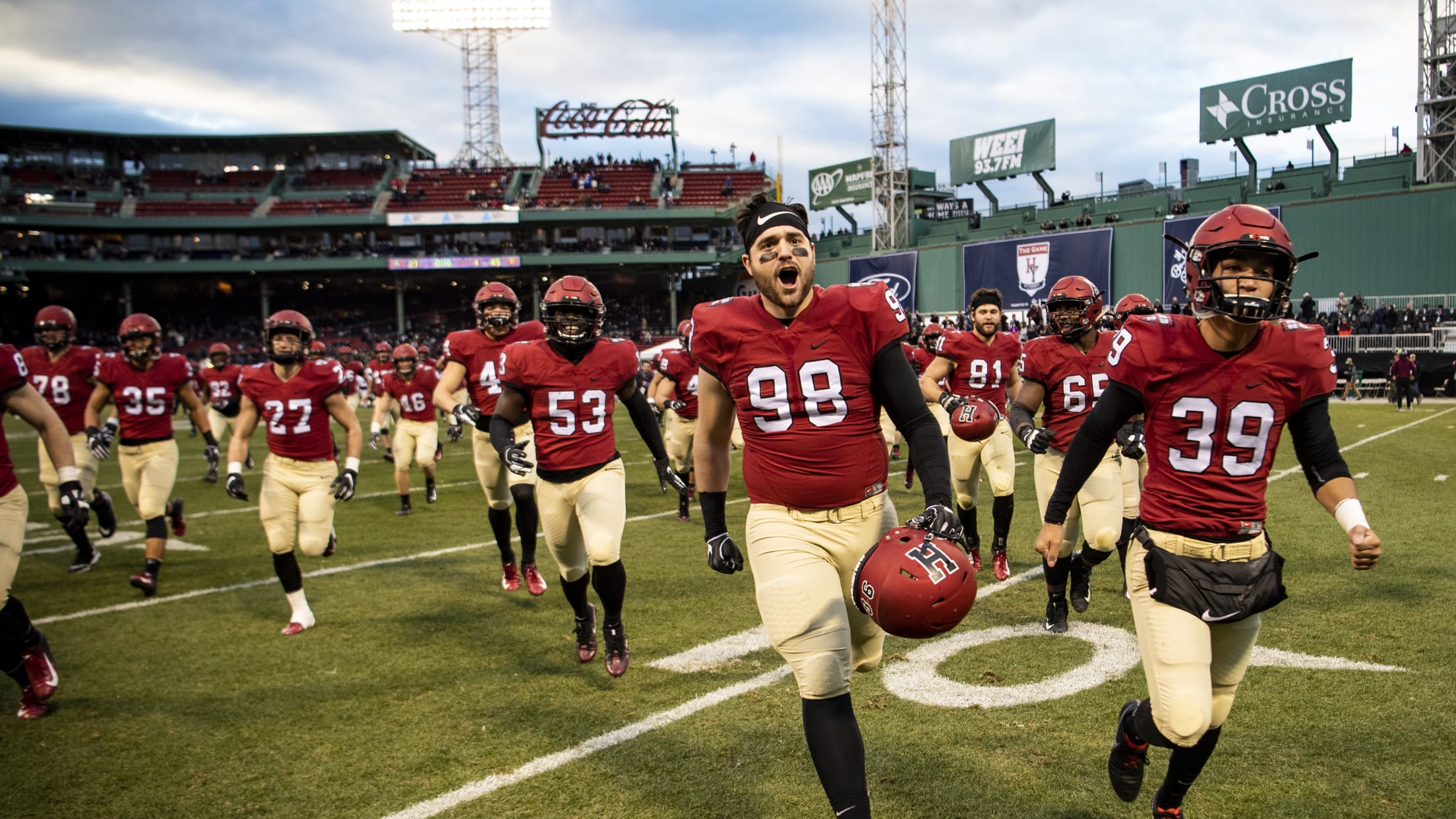 The 2017 Fenway Gridiron Series was an exciting series of college and high school football games feature the following New England and Massachusetts programs:
Dartmouth College vs. Brown University
This was the 95th meeting in the history of this Ivy League rivalry, but the first time in 94 years that the schools had met at Fenway Park, the Big Green posting back-to-back wins in 1922 (7-0) and 1923 (16-14). A chilling rain began to fall just as the teams lined up for the opening coin toss, but the damp conditions did little to slow down the Dartmouth offense, which scored 10 points in the final 56 seconds of the first half to take a 23-3 lead. Brown, which came in winless in the Ivy League, was unable to gain any traction in its ground game, rushing for just 28 yards while being outgained overall, 436 to 264, by the Big Green. Dartmouth quarterback Jack Heneghan threw two touchdown passes to Hunter Hagdorn and was 21 of 31 for 263 yards overall.
The only glitch on the night for Dartmouth came when Brown's Thomas Kutschke blocked an extra-point try by senior kicker David Smith. That ended a streak of 44 PATs in succession by Smith, just seven off the school record held by Nick (The Kick) Lowery, a three-time Pro Bowler in the National Football League.
Big Green coaches and staff members wore the same caps used by the Dartmouth baseball team, which feature an old English "D" on the front. Attendance was announced as 12,297.
University of Maine vs. University of Massachusetts
With both teams playing at Fenway Park for the first time, UMass and Maine began the game at a frenzied pace despite 36-degree temperatures, scoring three touchdowns in the first four minutes, including a 95-yard kickoff return by Earnest Edwards of the Black Bears. With left-handed quarterback Andrew Ford completing his first eight passes for 187 yards, the Minutemen opened a 24-7 lead, with Ford ultimately throwing four touchdown passes, three to wide receiver Andy Isabella. But in the 60th meeting between the teams, Maine did not succumb easily, rallying to tie the score at 24 in the third quarter on Josh Mack's one-yard plunge that ended a 12-play, 80-yard drive. The Minutemen eventually pulled away on Isabella's third touchdown catch and sealed it with a 70-yard interception return for a touchdown by Lee Moses, and a 33-yard touchdown run by Marquis Young with two minutes left to play. Attendance was announced as 12,794.
"Just a really, really cool atmosphere to play a football game at," said Ford, who finished 21 of 39 for 355 yards passing. "I think they did a great job with the venue and it's something that maybe we don't appreciate as much as maybe we will down the line, but really cool opportunity. Glad we were able to come out with a win (so) that way every time you remember it, it's a good feeling."
Boston College vs. University of Connecticut
The Huskies, as the designated "home" team, had the privilege of using the Red Sox clubhouse as their locker room, emerging up the steps of the first-base dugout, and made a point of touring the Green Monster before their first-ever game at Fenway Park. But after scoring the first points of the game on Michael Tarbutt's career-long 50-yard field goal, the Huskies had no answer to the Eagles' ground game, which accounted for 330 yards, the most rushing yards allowed by UConn since West Virginia rolled up an astounding 517 yards in 2007.
Boston College scored 39 unanswered points before two late TDs by the Huskies, much of the damage inflicted by a Connecticut native, BC freshman AJ Dillon (New London), who had 140 yards by halftime and finished with 200 yards on 24 carries, all in the first three quarters.
The victory assured BC of its fourth bowl game in five seasons under Coach Steve Addazio, another Connecticut native (Farmington). A crowd of 20,133 sat through a steady rain to watch BC remain undefeated in its series against UConn, running its record to 12-0-2. And those ties came back in 1908 and 1910.
2018:
Harvard University vs. Yale
For the first time since 1894, Harvard and Yale played their historic, annual rivalry game at a site not named Harvard Stadium or the Yale Bowl. Rest assured, there was virtually no drop off in prestige or historical relevance as the 135th edition of "The Game" was played in the hallowed grounds of Fenway Park. The matchup carried with it extra meaning for both fan bases, as it marked the 50th anniversary of the famed 1968 game wherein Harvard scored 16 points in the final 42 seconds to pull even with Yale as time expired, resulting in a tie. To memorialize the triumphant comeback Harvard's student newspaper, The Harvard Crimson, recapped the game underneath the header, HARVARD BEATS YALE 29-29.
Harvard, designated as the home team, shook off a turnover on their opening drive to engineer a momentum-building 9 play, 84 yard drive that ended with a 22 yard touchdown reception to Henry Taylor from Tom Stewart, putting the crimson up 7-0. Yale would immediately answer with a 78 drive of their own, capped off by a 3 yard Alan Lamar touchdown carry to knot things up at the end of the 1st quarter.
The game's second quarter saw both defenses come to life, leading to four consecutive punts until Harvard's sophomore wide receiver Tyler Adams was able to break through for a 62 yard touchdown scamper at the 9:14 mark, re-establishing Harvard's seven point lead. After a Yale three and out, and a subsequent Tom Stewart interception, Yale managed to put together a scoring drive that culminated in a 16 yard touchdown throw from Yale quarterback Griffin O'Connor to his favorite target, JP Shohfi, evening things up at 14 with 5:26 left in the half. So as not to disappoint the Crimson faithful that made it out to Fenway, Tom Stewart was able to connect with Henry Taylor for a 19 yard scoring strike with only 37 seconds left on the clock. Harvard would return to the confines of the Red Sox Clubhouse for halftime with a narrow 21-14 lead over the Yale Bulldogs.
Yale returned to the freshly-laid Fenway sod determined to answer Harvard's go-ahead score at the end of the first half, which they were able to accomplish in only two short minutes when Yale's Freshman quarterback called his own name and plowed across the goal line to once again tie the game, 21-21. The operator of the famed Green Monster scoreboard in left field, one of two in all of Major League Baseball that are still manually operated, barely had time to settle back in before he had to hang a new number as a result of a 32 yard Alex Galland field goal, inching Yale ahead by a three point margin. Both offenses then traded scoring possessions with Stewart authoring a methodical, 75-yard touchdown scoring drive, only to be answered by another Alex Galland field goal. Heading into the fourth and final quarter, with Harvard holding onto a razor thin 28-27 lead, this game was shaping up to be an all-time great.
Harvard opened up by chewing clock and continuing to move the football down the field. The Yale defense was ultimately able to keep them out of the end zone but the Crimson still came away with three points after a 32-yard field goal sailed through the uprights off of the leg of kicker Jack McIntyre. That kick grew Harvard's lead to four which, at the time, didn't feel like it would be enough to stave off Yale's inspired offensive unit. The tightly-contested game coupled with the bands rendition of "Sweet Caroline" made for one of the more incredible atmospheres in the history of the rivalry. What happened next, however, brought Harvard fans to their feet and sent Yale fans to the exits. Harvard lit up the scoreboard with 14 more unanswered points and sealed the game with an interception by Harvard's senior captain, Zach Miller, bringing to close the 135th playing of "The Game" at historical Fenway Park in an abrupt fashion. Harvard players sprinted across the field to embrace with their fellow students in right field, right by the Pesky Pole. All fans of Harvard that were in attendance had reason to cheer after decisively pulling ahead late in what proved to be the highest-scoring edition in the 143-year history of The Game. Final score: Harvard 45, Yale 27
Harvard's Tom Stewart had an impressive 328 yards through the air to go with three touchdown throws, while Tyler Adams got it done on the ground with an efficient 98 rushing yards and a touchdown on only 4 carries. Yale's Griffin O'Connor was equally as potent as his counterpart from Harvard, throwing for 328 yards and a touchdown, which was caught by junior wide receiver JP Shohfi who also tallied 127 receiving yards on the day. Harvard has now won 15 out of the last 18 matchups. The game was broadcast to a live audience on ESPN2, to complement the announced crowd in attendance of 34,675.