Get ready to Cub Together with your favorite Cub for a good cause! Starting Friday, May 21, the Cubs are offering fans the opportunity to virtually interact with their favorite player or alumni during a "Virtual Dugout Chat." Say hi, ask them questions or share your favorite Cubs story – the one-on-one time is yours to do as you please! As part of the experience, an autograph from that player or alumni will be mailed to you after your Virtual Dugout Chat. All proceeds will benefit Cubs Charities in support of their mission to mobilize the power of sport to champion youth, families and communities.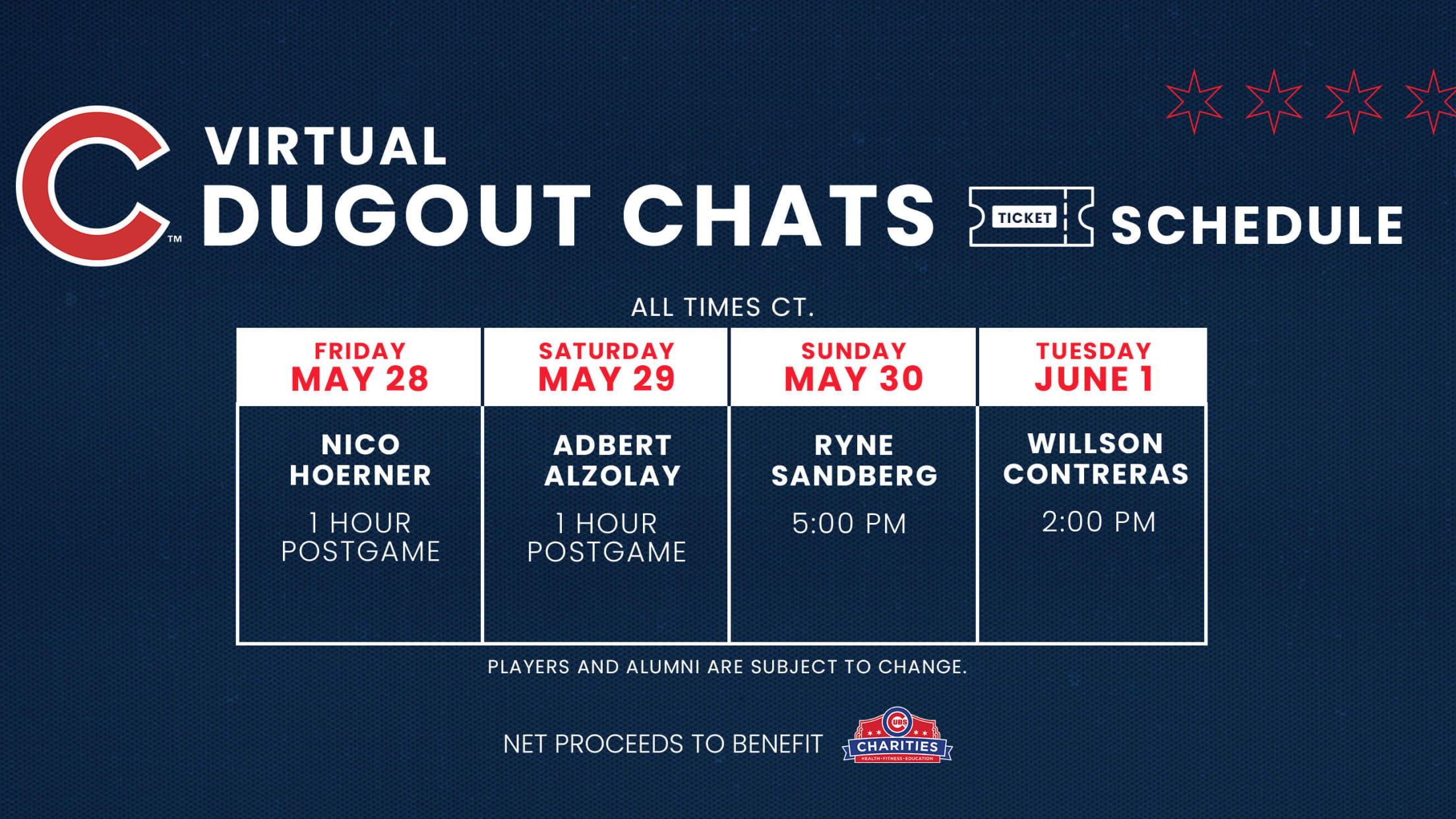 How It Works
Each purchase of a Virtual Dugout Chat includes:
- One 8x10 autographed photo to be mailed after the Virtual Dugout Chat
- One minute to interact with the player or alumni
In order to participate, you must have internet access and a computer or laptop with a camera as well as the Google Chrome internet browser installed. Please note, the Virtual Dugout Chat can only be facilitated through a laptop or desktop computer (no cellphones or tablets).
Each session is a ticketed event and only fans who purchase tickets to the applicable session will be granted access.
The cost of each Virtual Dugout Chat ticket is $200 with proceeds benefiting Cubs Charities. There is a limit of one Virtual Dugout Chat per person.
The autographed 8x10 photo will be shipped between 6-8 weeks after the Virtual Dugout Chat to the address provided at the time of purchase.
Players and alumni are subject to change. If any changes are made, purchasers will be notified of the change via email 24 hours prior to the session.
The Chicago Cubs are not responsible in the event that you are unable to participate in the Virtual Dugout Chat due to internet connectivity issues, issues with your computer or laptop, issues with the web browser or issues with the session platform(s).
Please note that capacity is limited and time slots are available on a first-come, first-served basis per player or alumni noted.
The purchase opportunity for each Virtual Dugout Chat session will close three days prior to the event date.
Information Regarding Purchasing Your Ticket to a Virtual Dugout Chat
Tickets for a Virtual Dugout Chat will be sold on a first-come, first-served basis beginning at 2 p.m. CDT Friday, May 21, until tickets are sold out. There is a limit of one Virtual Dugout Chat per person.
Once you have successfully purchased your ticket to a Virtual Dugout Chat, you will be provided with additional information on how to access the chat via email within 48 hours after your purchase.
Tickets to a Virtual Dugout Chat are intended for use by the initial purchaser and cannot be refunded, exchanged or otherwise transferred. A unique link to access will be provided to the purchaser 24 hours prior to their purchased Virtual Dugout Chat. The link will be invalid if it is forwarded and accessed by any recipient who is not the original purchaser.
Friday, May 28
Nico Hoerner
Saturday, May 29
Adbert Alzolay
Sunday, May 30
Ryne Sandberg
Follow @CubsCharities on social