Se aproxima la fiesta del Players' Weekend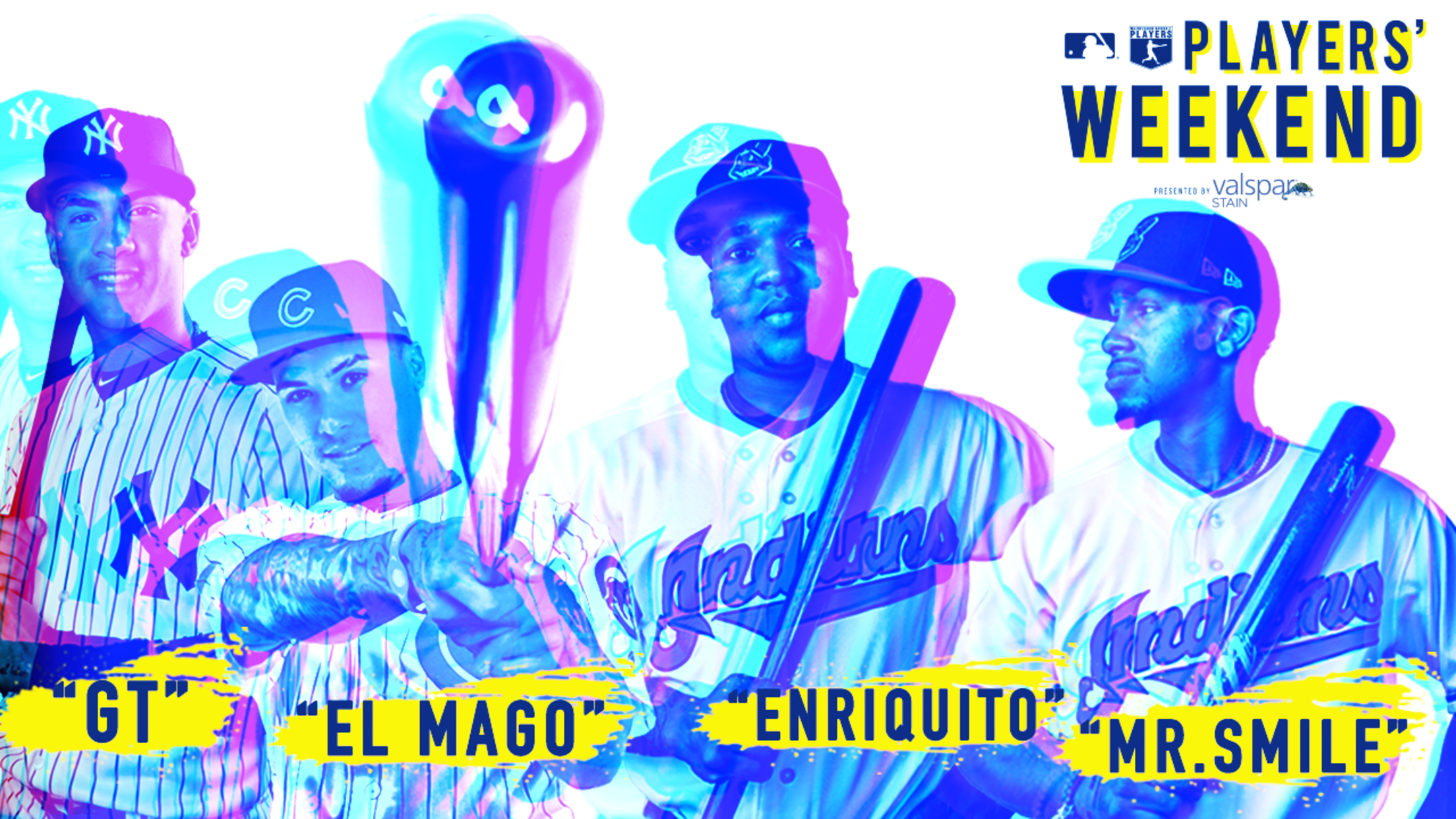 El fin de semana del 24 al 26 de agosto se llevará a cabo el famoso Players' Weekend, en el que habrá diferentes actividades en los parques de las Grandes Ligas. Pero lo que identifica ese fin de semana es que los jugadores utilizarán en las franelas sus apodos y un parcho de agradecimiento en una de las mangas.
Algunos de los embajadores del evento serán Edwin Díaz, José Berríos, Albert Pujols y Didi Gregorius.
Esta será la segunda ocasión que se celebra, pues en el 2017 fue la primera vez que se llevó a cabo este evento.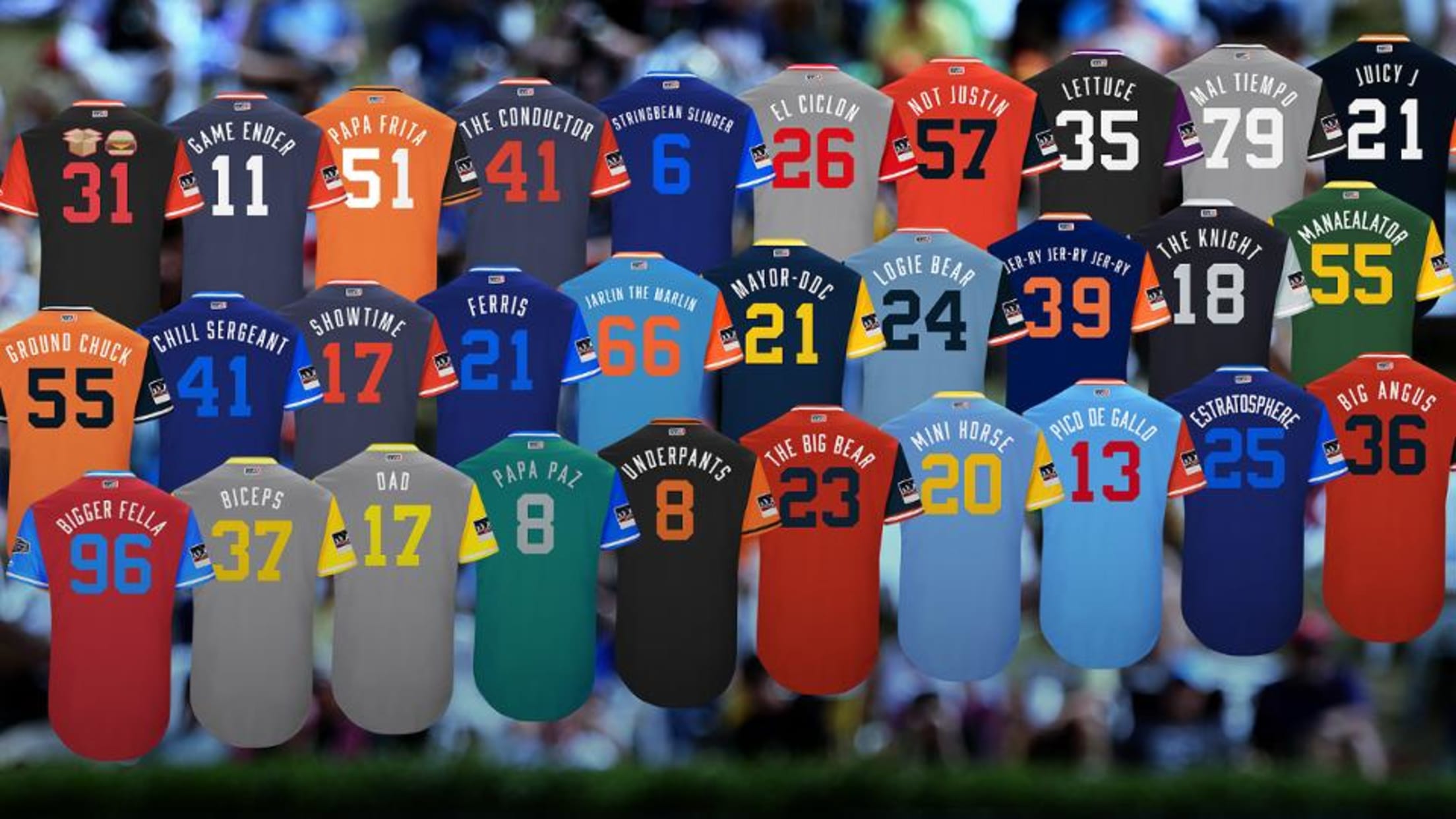 Algunos de los apodos que fueron utilizados el año pasado fueron "El Mago" de Javy Báez, "Mr. Smile" de Francisco Lindor, "Mal Tiempo" de José Abreu y "Tuve" de José Altuve.
Aquí algunos recuerdos del 2017:
Este año José Ramírez estará utilizando "Enriquito", ya que la temporada pasada tuvo que utilizar su apellido en vez del apodo que él quería, "Mini me". La razón de no poder utilizarlo fue por derechos de autor. Por su parte, Gleyber Torres debuta en este evento y tendrá como apodo "GT".
Lista de apodos por equipo:
Angels
Jose Alvarez: "KÍKE"
Justin Anderson: "ANDO"
Francisco Arcia: "FRANKIE"
Jaime Barria: "EL PANA"
Cam Bedrosian: "BEDROCK"
Jose Briceno: "ORE"
Kole Calhoun: "KOLEMAN"
Kaleb Cowart: "PAL"
Zack Cozart: "L.A. COZ"
Jose Fernandez: "JOTAVE"
David Fletcher: "FLETCH"
Andrew Heaney: "HEANDOG"
Jake Jewell: "BOB:
Jim Johnson: "J.J."
Jefry Marte: "EL BLEY"
Alex Meyer: "BUBBA"
Keynan Middleton: "MAJOR KEY"
Shohei Ohtani: "SHOWTIME"
Blake Parker: "B-EASY"
Felix Pena: "LA BEFLA"
Albert Pujols: "THE MACHINE"
JC Ramirez: "J.C. TIME"
Noe Ramirez: "OTTO"
Garrett Richards: "G-RICH"
Rene Rivera: "MONCHO"
Hansel Robles: "EL PEÑACO"
Matt Shoemaker: "SHOE"
Andrelton Simmons: "SIMÓN"
Tyler Skaggs: "SWAGGY"
Nick Tropeano: "NITRO"
Mike Trout: "KIIIIID"
Justin Upton: "J - UP"
Blake Wood: "BLOCK-A"
Chris Young: "C Y"
Eric Young Jr.: "EYJ"
Astros
Jose Altuve: "TUVE"
Alex Bregman: "A-BREG"
Gerrit Cole: "COLE TRAIN"
J.D. Davis: "JD"
Chris Devenski: "THE DRAGON"
Derek Fisher: "FISHER"
Evan Gattis: "BULL"
Marwin Gonzalez: "MARGO"
Yuli Gurriel: "LA PIÑA"
Jandel Gustave: "GUSTAVE"
Will Harris: "BILL"
Tony Kemp: "KEMPY"
Dallas Keuchel: "DAVID BURD"
Jake Marisnick: "BIG FUDGE"
Lance McCullers Jr.: "PERDOMO"
Collin McHugh: "Mu Q"
Martin Maldonado: "VALDEZ"
Brian McCann: "UNO SEIS"
Charlie Morton: "GROUND CHUCK"
Roberto Osuna: "NO PANIC"
Brad Peacock: "P"
Ryan Pressly: "PRESSLY"
Josh Reddick: "RED DAWG"
Hector Rondon: "RONDY"
Tony Sipp: "SIPP"
Joe Smith: "SMITTY"
George Springer: "SPRINGER"
Max Stassi: "STASSINELLI"
Justin Verlander: "J V"
Tyler White: "WHITEY"
Athletics
Brett Anderson: "ANDERSON"
Paul Blackburn: "BLACKIE"
Ryan Buchter: "5 DUECE"
Trevor Cahill: "T.C."
Mark Canha: "TOM ACE"
Matt Chapman: "CHAPPY"
Jharel Cotton: "SQUEAKY"
Khris Davis: "KD"
Jeurys Familia: "LA FAMA"
Mike Fiers: "FIRE"
Daniel Gossett: "GOOSE"
Chris Hatcher: "HATCH"
Edwin Jackson: "SCOOP"
Matt Joyce: "SWEET SWINGIN'"
Shawn Kelley: "KELLEYTIME"
Ramon Laureano: "LAUREANO"
Jonathan Lucroy: "LUC"
Sean Manaea: "MANAEALATOR"
Nick Martini: "TINI"
Matt Olson: "OLY"
Emilio Pagan: "EMILIOOOOO"
Yusmeiro Petit: "YUS"
Josh Phegley: "PTBNL"
Chad Pinder: "CHI"
Stephen Piscotty: "MOMO"
Marcus Semien: "SAUCE"
Jake Smolinski: "SMO $"
Blake Treinen: "TRAIN"
Andrew Triggs: "TRIGGONOMETRY"
Lou Trivino: "SWEET LOU"
Blue Jays
Danny Barnes: "BARNZY"
Joe Biagini: "JOE THE GREAT"
Ryan Borucki: "BORUCKI"
Tyler Clippard: "CLIP"
Aledmys Diaz: "PAPITO"
Josh Donaldson: "BRINGER OF RAIN"
Brandon Drury: "DRU"
Marco Estrada: "ESTRATOSPHERE"
Jaime Garcia: "JAIMITO"
Sam Gaviglio: "GAVIGLIO"
Ken Giles: "100 MILES GILES"
Lourdes Gurriel Jr.: "YUNITO"
Curtis Granderson: "GRANDYMAN"
Randal Grichuk: "GRICH"
Teoscar Hernandez: "OCA"
Luke Maile: "LUKEY BARRELS"
Russell Martin: "LE MUSCLE"
Kendrys Morales: "MONINA"
Jake Petricka: "PETEY"
Kevin Pillar: "KP"
Aaron Sanchez: "SANCHIZE"
Luis Santos: "EL NITO"
Justin Smoak: "MOAKEY"
Yangervis Solarte: "TUTU"
Marcus Stroman: "HDMH"
Ryan Tepera: "TEP"
Devon Travis: "D-TRAV"
Troy Tulowitzki: "TULO"
Richard Urena: "RICHI"
Braves
Ronald Acuna Jr.: "SABANERO SOY"
Ozzie Albies: "PUCHI"
Jesse Biddle: "JB"
Brad Brach: "B-RAD"
Johan Camargo: "JC"
Shane Carle: "SHUGGA"
Rhiner Cruz: "CRUEZY"
Charlie Culberson: "CULBY"
Adam Duvall: "DUVY"
Ryan Flaherty: "FLASH"
Tyler Flowers: "MMBB"
Mike Foltynewicz: "FOLTY"
Freddie Freeman: "ANDREW"
Sam Freeman: "FREEZY"
Max Fried: "MAXIMUS"
Kevin Gausman: "GAUSY"
Ender Inciarte: "GAME ENDER"
Luke Jackson: "SKYWALKER"
Nick Markakis: "TTT"
Brandon McCarthy: "MAC"
A.J. Minter: "MINT"
Sean Newcomb: "NEWK"
Wes Parsons: "PARSONS"
Jose Ramirez: "RAMIREZ"
Anibal Sanchez: "ALEJO"
Mike Soroka: "ROCK"
Kurt Suzuki: "ZUK"
Dansby Swanson: "DANS"
Julio Teheran: "EL CABALLO DE OLAYA"
Jonny Venters: "JV"
Arodys Vizcaino: "ARODYS"
Dan Winkler: "WINK"
Brewers
Jesus Aguilar: "EL CAUSA"
Matt Albers: "ALBIE"
Chase Anderson: "TEXAS"
Orlando Arcia: "EL NIÑO"
Jacob Barnes: "KING COBRA"
Ryan Braun: "OCHO"
Corbin Burnes: "BURNESY"
Lorenzo Cain: "LO CAIN"
Jhoulys Chacin: "LA MAKINA"
Zach Davies: "COUNS"
Nick Franklin: "NICKY"
Junior Guerra: "CABEZON"
Josh Hader: "STRICKEN"
Jeremy Jeffress: "JOTA JOTA"
Dan Jennings: "DJ"
Corey Knebel: "BIRD DOG"
Erik Kratz: "KRATZY"
Jordan Lyles: "JORDY"
Wade Miley: "MILES"
Mike Moustakas: "MOOSE"
Jimmy Nelson: "BIG SWEAT"
Freddy Peralta: "KACIKI"
Hernan Perez: "PEPPER"
Manny Pina: "PINEAPPLE"
Jonathan Schoop: "MAMBA"
Travis Shaw: "MAYOR-DDC"
Joakim Soria: "JUNIOR"
Brent Suter: "THE RAPTOR"
Eric Thames: "MR. TEE"
Stephen Vogt: "I BELIEVE"
Taylor Williams: "T. WILLY"
Christian Yelich: "YELI"
Cardinals
Harrison Bader: "TOTS"
Matt Carpenter: "CARP"
Brett Cecil: "SQUINTS"
Paul DeJong: "PAULY"
Jack Flaherty: "FLARE"
Dexter Fowler: "DEX"
John Gant: "GANT"
Adolis Garcia: "EL BOMBI"
Greg Garcia: "GG"
Austin Gomber: "BIG G"
Luke Gregerson: "DUKE"
Jedd Gyorko: "JERK-OH"
Jordan Hicks: "HICKS"
Dakota Hudson: "DAK"
Dominic Leone: "DOMINATOR"
Carlos Martinez: "TSUNAMI"
Jose Martinez: "CAFÉ"
Mike Mayers: "MAYERS"
Miles Mikolas: "MIK"
Yadier Molina: "YADI"
Yairo Munoz: "PALITO"
Bud Norris: "BUDMAN"
Tyler O'Neill: "O'NEILL"
Marcell Ozuna: "THE BIG BEAR"
Francisco Pena: "PEÑITA"
Daniel Poncedeleon: "PONCEDELEON"
Alex Reyes: "A.REY"
Tyson Ross: "FREEWAY"
Chasen Shreve: "SHA-REEF"
Michael Wacha: "WACHAMOLE"
Adam Wainwright: "WAINO"
Luke Weaver: "DREAM"
Tyler Webb: "WEBBY"
Kolten Wong: "THE PEBBLE"
Cubs
Albert Almora Jr.: "TICO"
Anthony Bass: "FISH"
Javier Baez: "EL MAGO"
David Bote: "BOAT"
Kris Bryant: "KB"
Victor Caratini: "VIC"
Tyler Chatwood: "CHATTY"
Jesse Chavez: "DADO"
Steve Cishek: "SPEEDPASS"
Willson Contreras: "WILLY THE BEAST"
Yu Darvish: "YU-SAN"
Brian Duensing: "DEUCE"
Carl Edwards Jr.: "STRINGBEAN SLINGER"
Cole Hamels: "HOLLYWOOD"
Justin Hancock: "HERBIE"
Ian Happ: "HAPPER"
Kyle Hendricks: "HENDO"
Jason Heyward: "J-HEY"
Brandon Kintzler: "SALT"
Tommy La Stella: "LA STELLA"
Jon Lester: "LEFTHANDER"
Brandon Morrow: "B MO"
Mike Montgomery: "MONTY"
Jose Quintana: "LELO"
Anthony Rizzo: "TONY"
Randy Rosario: "PELO FINO"
Addison Russell: "ADDY"
Kyle Schwarber: "SCHWARBS"
Drew Smyly: "SMILES"
Pedro Strop: "STROPY"
Justin Wilson: "J WILLY"
Ben Zobrist: "ZORILLA"
D-backs
Nick Ahmed: "SLICK NICK"
Matt Andriese: "DREEZY"
Alex Avila: "PARKMAN"
Brad Boxberger: "🎁🍔"
Archie Bradley: "HOLLYWOOD"
Clay Buchholz: "BUCK"
Andrew Chafin: "THE SHERIFF"
Patrick Corbin: "CORBY"
Daniel Descalso: "SCALS"
Jake Diekman: "GUT IT OUT"
Jarrod Dyson: "ZOOMBIYA"
Eduardo Escobar: "EL DE LA PICA"
Zack Godley: "BULL"
Paul Goldschmidt: "GOLDY"
Zack Greinke: "GREINKE"
Yoshihisa Hirano: "YOSHI SAN"
Jon Jay: "305 J"
Jake Lamb: "LAMBO"
Ketel Marte: "PIKE"
Jeff Mathis: "MATTY"
T.J. McFarland: "RETURN OF THE MAC"
Shelby Miller: "MILLZY"
John Ryan Murphy: "CHOIR BOY"
A.J. Pollock: "POLLO"
Robbie Ray: "BOB"
Steven Souza Jr.: "SOUZ"
Taijuan Walker: "TAI WEEZY"
Brad Ziegler: "UNICORN"
Dodgers
Scott Alexander: "SCOTTIE BOY"
John Axford: "AX MAN"
Pedro Baez: "LA MULA"
Austin Barnes: "SAM"
Cody Bellinger: "BELLI"
Walker Buehler: "FERRIS"
JT Chargois: "SHAG"
Tony Cingrani: "GRANI"
Brian Dozier: "BULL"
Josh Fields: "FIELDS"
Dylan Floro: "F LORO"
Erik Goeddel: "GOODY"
Yasmani Grandal: "YAZMANIAN DEVIL"
Enrique Hernandez: "KIKÉ"
Rich Hill: "D. MOUNTAIN"
Daniel Hudson: "HUDDY"
Kenley Jansen: "KENLEYFORNIA"
Matt Kemp: "MATT"
Clayton Kershaw: "KERSH"
Tom Koehler: "TK"
Manny Machado: "EL MINISTRO"
Kenta Maeda: "MAEKEN"
Max Muncy: "MUNCE"
Joc Pederson: "KING"
Yasiel Puig: "WILD HORSE"
Hyun-Jin Ryu: "MONSTER"
Zac Rosscup: "CUP"
Dennis Santana: "ANFERNEE"
Corey Seager: "SEAGS"
Ross Stripling: "CHICKEN STRIP"
Chris Taylor: "CT3"
Justin Turner: "REDTURN2"
Julio Urias: "EL CULICHI"
Chase Utley: "SILVER FOX"
Pat Venditte: "P-VITTY"
Alex Wood: "AWOOD"
Giants
Brandon Belt: "BOB"
Ty Blach: "THE PREACHER"
Ray Black: "BLACKOUT"
Madison Bumgarner: "MAD-BUM"
Brandon Crawford: "DJ BC RAW"
Johnny Cueto: "EL JUCHO"
Chase d'Arnaud: "CHEETAH"
Sam Dyson: "PSSST"
Steven Duggar: "DUGG"
Julian Fernandez: "BILLETE"
Alen Hanson: "EL CHAMAQUITO"
Gorkys Hernandez: "CAZADOR"
Derek Holland: "LAST NAME"
Nick Hundley: "HUNDO"
Pierce Johnson: "P.J."
Derek Law: "D-LAW"
Evan Longoria: "LONGO"
Andrew McCutchen: "ZOOM"
Mark Melancon: "MEL"
Reyes Moronta: "EL TIBU"
Joe Panik: "J.P."
Hunter Pence: "UNDERPANTS"
Buster Posey: "BUSTER"
Dereck Rodriguez: "D-ROD"
Jeff Samardzija: "SHARK"
Pablo Sandoval: "PANDA"
Will Smith: "SMITTY"
Austin Slater: "MAYOR"
Hunter Strickland: "STRICK"
Andrew Suarez: "ANDY"
Tony Watson: "TONE RANGER"
Indians
Cody Allen: "CHICKEN"
Yonder Alonso: "MR. 305"
Cody Anderson: "BIG RIG"
Trevor Bauer: "BAUER OUTAGE"
Shane Bieber: "NOT JUSTIN"
Michael Brantley: "JUNIOR"
Melky Cabrera: "MELK MAN"
Carlos Carrasco: "COOKIE"
Lonnie Chisenhall: "BIGLON"
Adam Cimber: "CIM"
Mike Clevinger: "SUNSHINE"
Rajai Davis: "RAJ"
Edwin Encarnacion: "RIVERA"
Yan Gomes: "GOMER"
Erik Gonzalez: "LA PARITA"
Nick Goody: "GOODS"
Brandon Guyer: "LA PIÑATA"
Brad Hand: "BROTEIN SHAKE"
Jason Kipnis: "DIRTBAG"
Corey Kluber: "KLUBER"
Francisco Lindor: "MR. SMILE"
Leonys Martin: "THE ASERE"
Andrew Miller: "MILLER TIME"
Tyler Naquin: "BILLY"
Dan Otero: "OT"
Oliver Perez: "OLLIE"
Jose Ramirez: "ENRIQUITO"
Roberto Perez: "BEBO"
Neil Ramirez: "RAMMER"
Danny Salazar: "SALLY"
Josh Tomlin: "SCRUBS"
Mariners
Dan Altavilla: "BUZZY"
Chasen Bradford: "BLACK BEAR"
Robinson Cano: "NOLO"
Alex Colome: "THE HORSE"
Nelson Cruz: "BOOMSTICK"
Edwin Diaz: "SUGAR"
Zach Duke: "DUKIE"
Roenis Elias: "CUBICHE"
Marco Gonzales: "GONZO"
Dee Gordon: "VARIS"
Mitch Haniger: "MEETCH"
Ryon Healy: "BUBBA"
Felix Hernandez: "KING FELIX"
Chris Herrmann: "WORM"
Mike Leake: "SPIKE"
Wade LeBlanc: "FRENCHY"
Cameron Maybin: "SLIM"
Juan Nicasio: "ARENOSO"
James Paxton: "BIG MAPLE"
James Pazos: "PAPA PAZ"
Erasmo Ramirez: "MITO"
Andrew Romine: "ROMI"
Kyle Seager: "SEAGER"
Jean Segura: "GORDO"
Denard Span: "D-SPAN"
Sam Tuivailala: "TUI"
Nick Vincent: "HUBBA HUBBA"
Adam Warren: "THE WARDEN"
Mike Zunino: "Z"
Marlins
Brian Anderson: "ANDY"
Kyle Barraclough: "BEAR"
Justin Bour: "JB"
Lewis Brinson: "SWEET LEW"
Starlin Castro: "ALL STARLIN"
Wei-Yin Chen: "WEIGH-IN"
Adam Conley: "ACON"
Garrett Cooper: "COOPALOUP"
Derek Dietrich: "DIETZ"
Isaac Galloway: "GALLO"
Jarlin Garcia: "JARLIN THE MARLIN"
Brett Graves: "BUMP"
Javy Guerra: "JAVY"
Tayron Guerrero: "EL DE BOCACHICA"
Elieser Hernandez: "LILO"
Bryan Holaday: "HOLLY"
Pablo Lopez: "PACHÉ"
Chris O'Grady: "GRIZZ"
Martin Prado: "PRATT"
J.T. Realmuto: "REAL"
Trevor Richards: "RICHIE"
JT Riddle: "T"
Yadiel Rivera: "TIZNAO"
Miguel Rojas: "MIGGY RO"
Drew Rucinski: "RUSINSKI"
Magneuris Sierra: "MIYAGUI"
Caleb Smith: "SMITTY"
Drew Steckenrider: "STECKASAURUS"
Dan Straily: "THUNDER"
Jose Urena: "EL NUEVE"
Mets
Tyler Bashlor: "BASH"
Jose Bautista: "JOEYBATS"
Jerry Blevins: "JER-RY JER-RY JER-RY"
Jay Bruce: "BRUUUCE"
Yoenis Cespedes: "LA POTENCIA"
Michael Conforto: "SCOOTER"
Travis d'Arnaud: "LIL d"
Jacob deGrom: "deGROM"
Phillip Evans: "BARREL"
Wilmer Flores: "CATIRE"
Todd Frazier: "TODDFATHER"
Robert Gsellman: "G-MAN"
Luis Guillorme: "LUISMI"
Austin Jackson: "A-JAX"
Juan Lagares: "ANGELO"
Seth Lugo: "QUARTERRICAN"
Steven Matz: "MATZY"
Jeff McNeil: "JT"
Devin Mesoraco: "ROCKO"
Rafael Montero: "MONTERO"
Brandon Nimmo: "NIMMS"
Corey Oswalt: "OZ"
Kevin Plawecki: "PLAW DAWG"
AJ Ramos: "JUNIOR"
Jose Reyes: "LA MELAZA"
Jacob Rhame: "RHAMROD"
T.J. Rivera: "T-BUTTA"
Amed Rosario: "EL NIÑO"
Paul Sewald: "PAULIE"
Drew Smith: "SMITTY"
Anthony Swarzak: "T-SWEEZY"
Noah Syndergaard: "THOR"
Jason Vargas: "VARGY"
Bobby Wahl: "PEANUT"
Zack Wheeler: "WHEELS"
David Wright: "D-DUB"
Nationals
Matt Adams: "BIG CITY"
Joaquin Benoit: "JACK"
Wilmer Difo: "EL DE"
Sean Doolittle: "DOC"
Adam Eaton: "SPANKY"
Erik Fedde: "FEDDECCINI"
Koda Glover: "BEAR"
Gio Gonzalez: "DOUBLE G"
Matt Grace: "GRACEY"
Bryce Harper: "MONDO"
Jeremy Hellickson: "HELLY"
Kelvin Herrera: "K 40"
Greg Holland: "HOLLY"
Howie Kendrick: "TRUCK"
Spencer Kieboom: "BOOMER"
Ryan Madson: "BLEST"
Justin Miller: "J. MILLZ"
Tommy Milone: "TOMASO"
Daniel Murphy: "MURPH"
Anthony Rendon: "ANT"
Mark Reynolds: "SHERIFF"
Tanner Roark: "T-RO"
Joe Ross: "JR"
Max Scherzer: "BLUE EYE"
Jhonatan Solano: "TATAN"
Sammy Solis: "BIG ANGUS"
Juan Soto: "JUANJO"
Wander Suero: "THE ANIMAL"
Stephen Strasburg: "STRAS"
Michael A. Taylor: "MIGGY"
Trea Turner: "TRIPLE TREA"
Matt Wieters: "MAUI"
Ryan Zimmerman: "ZIM"
Orioles
Pedro Araujo: "EL MONTRO"
Tim Beckham: "SWAGGY"
Richard Bleier: "DICKIE B."
Dylan Bundy: "DILLY"
Cody Carroll: "CC"
Andrew Cashner: "CASH"
Miguel Castro: "VILLA HERMOSA"
Alex Cobb: "COBB"
Chris Davis: "CRUSH"
Paul Fry: "PAPA FRITA"
Craig Gentry: "GENT"
Mychal Givens: "TONY"
Donnie Hart: "D. HART"
David Hess: "HESSER"
Adam Jones: "LA GENTE"
Caleb Joseph: "CALE"
Trey Mancini: "BOOMER"
Jhan Marinez: "LA ELECTRICIDAD"
Renato Nunez: "TATO"
Jace Peterson: "PETEY"
Evan Phillips: "PHILLY"
Yefry Ramirez: "EL VARÓN"
Joey Rickard: "J-RICK"
Tanner Scott: "SCOTTIE"
Mark Trumbo: "TRUM"
Danny Valencia: "SLUGGER"
Jonathan Villar: "VILLI"
Steve Wilkerson: "BREEZE"
Mike Wright Jr.: "BIRD"
Austin Wynns "WINNIE"
Gabriel Ynoa: "EL TIGUERE"
Padres
Carlos Asuaje: "CARL"
Colten Brewer: "BREWSKI"
Jose Castillo: "BIG DUDE"
Franchy Cordero: "CORDY"
Alex Dickerson: "DICKERSON"
A.J. Ellis: "DAD"
Robbie Erlin: "BOB"
Freddy Galvis: "TOCO"
Austin Hedges: "HEDGEY"
Eric Hosmer: "HOSMER"
Phil Hughes: "PEEJ"
Travis Jankowski: "FRED"
Brett Kennedy: "KENNEDY"
Dinelson Lamet: "EL FLACO"
Eric Lauer: "GOMER"
Walker Lockett: "LOCKETT"
Joey Lucchesi" "LUCCHESI"
Manuel Margot: "YOANDRY"
Phil Maton: "SPIN RATE"
Wil Myers: "WIL"
Bryan Mitchell: "MITCH"
Luis Perdomo: "EL CHAMAQUITO"
Jose Pirela: "AGUILA NEGRA"
Hunter Renfroe: "FROE"
Franmil Reyes: "LA MOLE"
Clayton Richard: "CLAY CLAY"
Cory Spangenberg: "SPANGY"
Craig Stammen: "TRIG"
Robert Stock: "CRETCH"
Matt Strahm: "STRAHMY"
Christian Villanueva: "VILLA"
Trey Wingenter: "WINGENTER"
Kirby Yates: "KIRBS"
Phillies
Jorge Alfaro: "EL OSO"
Victor Arano: "EL WEY"
Jake Arrieta: "SNAKE"
Asdrubal Cabrera: "CHIQUITÍN"
J.P. Crawford: "CRAW"
Austin Davis: "BIG FUDGE"
Enyel De Los Santos: "DE LOS SANTOS"
Seranthony Dominguez: "SIR ANTHONY"
Jerad Eickhoff: "EICK"
Zach Eflin: "EF"
Pedro Florimon: "DON RAMÓN"
Maikel Franco: "COMPA F"
Luis Garcia: "COMPA G"
Cesar Hernandez: "CESITA"
Odubel Herrera: "TORITO"
Rhys Hoskins: "BIG FELLA"
Tommy Hunter: "BIGGER FELLA"
Scott Kingery: "JETPAX"
Andrew Knapp: "KNAPP TIME"
Aaron Loup: "WOLF"
Adam Morgan: "A-MO"
Pat Neshek: "NESHEK"
Aaron Nola: "NOLS"
Roman Quinn: "ROME"
Nick Pivetta: "PIVETTA"
Wilson Ramos: "BUFFALO"
Carlos Santana: "SLAMTANA"
Vince Velasquez: "VICENTE"
Nick Williams: "NICKY DUBS"
Pirates
Chris Archer: "FLACO FUERTE"
Josh Bell: "JB"
Francisco Cervelli: "CISCO"
Kyle Crick: "CRICKY"
Elias Diaz: "EL MARACUCHO"
Corey Dickerson: "C-DIZZLE"
Adam Frazier: "FRAZ"
David Freese: "DAVEHUMAN"
Josh Harrison: "J HAY"
Adeiny Hechavarria: "LA PANTERA UUFF"
Keone Kela: "KEY"
Chad Kuhl: "CHET"
Jordan Luplow: "LUPLOW"
Starling Marte: "TATO"
Jordy Mercer: "THE ROOK"
Colin Moran: "REDBEARD"
Joe Musgrove: "MOOSE"
Dovydas Neverauskas: "LITHUANIAN"
Ivan Nova: "SUPER NOVA"
Gregory Polanco: "EL COFFEE"
Richard Rodriguez: "PERRO FLACO"
Sean Rodriguez: "CHICH"
Casey Sadler: "SADS"
Edgar Santana: "BICEPS"
A.J. Schugel: "SCHUG"
Jameson Taillon: "JAMO"
Felipe Vazquez: "NIGHTMARE"
Trevor Williams: "PROJECT"
Rangers
Elvis Andrus: "MERULO JR"
Tony Barnette: "BARNITEZ"
Adrian Beltre: "EL KOJA"
Matt Bush: "MATTY ICE"
Eddie Butler: "SPAGHETTI"
Willie Calhoun: "JUNE"
Robinson Chirinos: "PELO BUCHE"
Shin-Soo Choo: "추신수"
Alex Claudio: "AC"
Bartolo Colon: "MORALES"
Delino DeShields: "LIL BOP"
Doug Fister: "FIST"
Yovani Gallardo: "YO"
Joey Gallo: "PICO DE GALLO"
Cory Gearrin: "CEEGEE"
Ronald Guzman: "CEPEDA"
Ronald Herrera: "HERRERA"
Drew Hutchison: "HUTCH"
Isiah Kiner-Falefa: "IZZY"
Ariel Jurado: "BARTOLITO"
Jose Leclerc: "PICO"
Chris Martin: "C-MART"
Nomar Mazara: "BIG CHILL"
Mike Minor: "SPYKEZYLLA"
Matt Moore: "MATT MAN"
Rougned Odor: "EL TIPO"
Martin Perez: "EL DE LAS MATAS"
Jurickson Profar: "EL PATRON"
Ryan Rua: "RYNO"
Drew Robinson: "PETEY"
Carlos Tocci: "EL MUSIU"
Rays
Willy Adames: "THE KID"
Jose Alvarado: "EL POCHO"
Jake Bauers: "JB"
Jalen Beeks: "BEEKER"
Diego Castillo: "SAMANA"
Yonny Chirinos: "YONITO"
Ji-Man Choi: "JI"
C.J. Cron: "BIG FELLA"
Jose De Leon: "PULPITO"
Matt Duffy: "DUFFMAN"
Jake Faria: "FUH-REE-UH"
Wilmer Font: "FONKY"
Tyler Glasnow: "MINI HORSE"
Carlos Gomez: "EL FINAL"
Kevin Kiermaier: "OUTLAW"
Adam Kolarek: "AK"
Vidal Nuno: "SLEEPY"
Michael Perez: "MYKII"
Tommy Pham: "PHAMTASTIC"
Daniel Robertson: "D-ROB"
Chaz Roe: "RANCH"
Sergio Romo: "EL MECHÓN"
Jaime Schultz: "SCHULTZY"
Mallex Smith: "M EFFECT"
Blake Snell: "ZILLA"
Ryne Stanek: "STANNY"
Jesus Sucre: "SOOKY"
Joey Wendle: "MENDLE"
Hunter Wood: "WOODY"
Ryan Yarbrough: "YARBITRON"
Red Sox
Matt Barnes: "BARNACLES"
Andrew Benintendi: "BENNY"
Mookie Betts: "MOOKIE"
Xander Bogaerts: "BOGIE"
Jackie Bradley Jr.: "JBJ"
Dan Butler: "BUTLER"
Rafael Devers: "CARITA"
Nathan Eovaldi: "EVO"
Heath Hembree: "HEATER HERE"
Marco Hernandez: "MARKITO"
Brock Holt: "BROCKSTAR"
Brian Johnson: "BJ"
Joe Kelly: "JIMMY B"
Ian Kinsler: "BOOTSIE"
Craig Kimbrel: "DIRTY CRAIG"
Sandy Leon: "NOAH"
Austin Maddox: "MADD DAWG"
J.D. Martinez: "FLACO"
Mitch Moreland: "2 - BAGS"
Eduardo Nunez: "NUNIE"
Steve Pearce: "LATE LIGHTNING"
Dustin Pedroia: "PEDEY"
Drew Pomeranz: "BIG SMOOTH"
Rick Porcello: "VEINTIDÓS"
David Price: "SLIM DUNKIN"
Eduardo Rodriguez: "EL GUALO"
Chris Sale: "THE CONDUCTOR"
Carson Smith: "SMITTY"
Blake Swihart: "SWI"
Tyler Thornburg: "THORN"
Christian Vazquez: "COLO"
Hector Velazquez: "CABEZON"
Brandon Workman: "WORK"
Steven Wright: "KNUCKSIE"
Reds
Homer Bailey: "HOMER"
Tucker Barnhart: "BARNEY"
Alex Blandino: "BLANDY"
Curt Casali: "CAS"
Luis Castillo: "LA PIEDRA"
Rookie Davis: "BILL"
Anthony DeSclafani: "DISCO"
Brandon Dixon: "B DIX"
Phillip Ervin: "MAGIC"
Amir Garrett: "AG"
Scooter Gennett: "DAL3"
Billy Hamilton: "BONE"
Matt Harvey: "HARV"
David Hernandez: "D HERN"
Dilson Herrera: "DILLY"
Jared Hughes: "ROBOT"
Raisel Iglesias: "EL CICLON"
Michael Lorenzen: "ZEN MASTER"
Keury Mella: "MANINI"
Wandy Peralta: "LA GRASA"
Jose Peraza: "EL LLANERO"
Sal Romano: "BIG SALLY"
Scott Schebler: "SHEB"
Jackson Stephens: "JACKO"
Robert Stephenson: "BOB"
Eugenio Suarez: "NICOLLE"
Preston Tucker: "TUCK"
Joey Votto: "IN FLANDERS FIELDS"
Mason Williams: "MASE"
Jesse Winker: "WINK"
Rockies
Yency Almonte: "SHOWTIME"
Tyler Anderson: "MR. DUCK"
Nolan Arenado: "NADO"
Chad Bettis: "LETTUCE"
Charlie Blackmon: "CHUCK NAZTY"
David Dahl: "BABY DAHL"
Wade Davis: "WADER"
Ian Desmond: "DEZ"
Mike Dunn: "DUNNER"
Kyle Freeland: "TWO ONE"
Carlos Gonzalez: "CARGO"
Jon Gray: "GRAY WOLF"
Chris Iannetta: "C I"
DJ LeMahieu: "DJ"
German Marquez: "MARQUEE"
Jake McGee: "MACCHEEZ"
Ryan McMahon: "McDOOGLE"
Harrison Musgrave: "MUSKY"
Scott Oberg: "OBIE"
Seunghwan Oh: "오승환"
Adam Ottavino: "AO"
Gerardo Parra: "EL YOLO"
Chris Rusin: "RUSS"
Antonio Senzatela: "SENZE"
Bryan Shaw: "GEEK"
Trevor Story: "TREV"
Pat Valaika: "BARRELS"
Tony Wolters: "T-DUB"
Royals
Jorge Bonifacio: "EL BONI"
Blaine Boyer: "BLAZER"
Drew Butera: "VITO"
Hunter Dozier: "DOZ"
Lucas Duda: "DUDE"
Danny Duffy: "CHILL SERGEANT"
Alcides Escobar: "MAGIC"
Heath Fillmyer: "FILLY"
Brian Flynn: "FLYNNY"
Jesse Hahn: "J HOOD"
Jason Hammel: "HAMMER"
Alex Gordon: "GORDO"
Rosell Herrera: "VARON"
Tim Hill: "HILL"
Jakob Junis: "JUNE BUG"
Nate Karns: "NATE DOGG"
Brad Keller: "B. K."
Ian Kennedy: "BUDDA"
Brandon Maurer: "MAURER POWER"
Kevin McCarthy: "MAC"
Whit Merrifield: "WHITLEY"
Adalberto Mondesi: "LA GUINEA"
Ryan O'Hearn: "BROHEARN"
Wily Peralta: "BIG WILY"
Salvador Perez: "EL NIÑO"
Brett Phillips: "MAVERICK"
Eric Skoglund: "SKOGS:
Burch Smith: "SMITTY"
Glenn Sparkman: "SPARKY"
Tigers
Jim Adduci: "DEUCE"
Victor Alcantara: "V"
Matthew Boyd: "MATTY B"
Jeimer Candelario: "CANDY"
Miguel Cabrera: "MIGGY"
Nicholas Castellanos: "NICK"
Louis Coleman: "HAROLD"
Buck Farmer: "GEORGE"
Michael Fulmer: "THE PLUMBER"
Mike Gerber: "GERBS"
Niko Goodrum: "J.J MUMFORD"
Shane Greene: "SHANER"
Grayson Greiner: "GARY"
Blaine Hardy: "HARDY BOY"
John Hicks: "JAZZ"
Jose Iglesias: "CANDELITA"
Joe Jimenez: "JO JO"
JaCoby Jones: "JUICY J"
Artie Lewicki: :"LOU"
Francisco Liriano: "LIRI"
Victor Martinez: "PAPICHO"
James McCann: "McCANNON"
Daniel Norris: "D. NO"
Victor Reyes: "VIC"
Ronny Rodriguez: "EL FELINO"
Jacob Turner: "JET"
Drew VerHagen: "VERGY"
Alex Wilson: "WILLY"
Jordan Zimmermann: "J Z"
Twins
Ehire Adrianza: "GUARENERO"
Matt Belisle: "BELISLE"
Jose Berrios: "LA MAKINA"
Jason Castro: "STRO"
Oliver Drake: "BUCKO"
Johnny Field: "J. FIELD"
Logan Forsythe: "LOGIE BEAR"
Mitch Garver: "GARV SAUCE"
Kyle Gibson: "GIBBY"
Robbie Grossman: "GROSSMAN"
Trevor Hildenberger: "HILDY"
Max Kepler: "ROZ̈YCKI"
Matt Magill: "GOOSE"
Joe Mauer: "MAUER"
Trevor May: "LURCH"
Adalberto Mejia: "VOLADOR"
Logan Morrison: "LOMO"
Gabriel Moya: "LITTLE GUARDADO"
Jake Odorizzi: "ODO"
Michael Pineda: "BIG MIKE"
Jorge Polanco: "CHULO"
Addison Reed: "REEDER"
Fernando Rodney: "UIYA CLARA"
Eddie Rosario: "EDISITO"
Taylor Rogers: "M. ROGERS"
Miguel Sano: "BOQUETON"
Ervin Santana: "MAGIC"
Aaron Slegers: "SLEGS"
Bobby Wilson: "BEEDUB"
White Sox
Jose Abreu: "MAL TIEMPO"
Tim Anderson: "TA7"
Luis Avilan: "AVI"
Xavier Cedeno: "X"
Dylan Covey: "COVE"
Tyler Danish: "DANISH"
Matt Davidson: "MATTY D"
Nicky Delmonico: "PUP"
Adam Engel: "MAN OF STEAL"
Danny Farquhar: "D-FARK"
Jace Fry: "FOO"
Avisail Garcia: "AVI"
Leury Garcia: "LEO"
Lucas Giolito: "BIG FOOT"
Jeanmar Gomez: "JANKO"
Miguel Gonzalez: "EL MARIACHI"
Nate Jones: "NATE'S NATION"
Ryan LaMarre: "LaMARRE"
Reynaldo Lopez: "REY"
Juan Minaya: "JUANITO"
Yoan Moncada: "YOYO"
Omar Narvaez: "NARVY"
Daniel Palka: "DP"
Carlos Rodon: "LOS"
Yolmer Sanchez: "EL DE PIÑONAL"
Hector Santiago: "BULLDOG"
James Shields: "JUEGO G"
Kevan Smith: "WEBBY"
Thyago Vieira: "NÉGS"
Yankees
Miguel Andujar: "PAPÁ"
Dellin Betances: "EL ACIDO"
Greg Bird: "BIRD"
Zach Britton: "ANGLADA"
Aroldis Chapman: "THE MISSILE"
A.J. Cole: "AJ"
Jacoby Ellsbury: "ELLSBURY"
Clint Frazier: "EL ROJO"
Brett Gardner: "GARDNER"
Sonny Gray: "PICKLES"
Didi Gregorius: "THE KNIGHT"
Chad Green: "GREENY"
J.A. Happ: "HAPPER"
Ben Heller: "HELLER"
Aaron Hicks: "HICKSIE"
Jonathan Holder: "HOLDY"
Aaron Judge: "JUDGE"
Lance Lynn: "MIA"
Jordan Montgomery: "MONTY"
David Robertson: "D-ROB"
Austin Romine: "RO"
CC Sabathia: "DUB"
Gary Sanchez: "KRAKEN"
Luis Severino: "SEVY"
Giancarlo Stanton: "G"
Masahiro Tanaka: "TANAKA TIME"
Gleyber Torres: "GT"
Luke Voit: "LOUIS"
Neil Walker: "WALKIE"
Este año José Ramírez estará utilizando "Enriquito", ya que la temporada pasada tuvo que utilizar su apellido en vez del apodo que él quería, "Mini me". La razón de no poder utilizarlo fue por derechos de autor. Por su parte, Gleyber Torres debuta en este evento y tendrá como apodo "GT".
Así que todos a celebrar esta fiesta de apodos.