Join us in raising money for the Twins Community Fund with the annual Twins Broadcast Auction! Held in conjunction with FOX Sports North and the Twins Radio Network, the Broadcast Auction is your chance to bid on one-of-a-kind Twins memorabilia and support a great cause.
The 2020 Broadcast Auction will be held on Tuesday, August 25, with bidding closing at 8:30 p.m. central. Check out more details about the items up for bid below.
In addition to the items below, 400 limited edition powder blue Twins drawstring backpacks will be available for purchase for $150 each. Each backpack includes an autographed baseball by a current or former Twin, a "Bringer of Rain" umbrella hat, and a 2020 Opening Day Quarter-Zip. Randomly-selected backpacks will also include bonus Twins items! Limit 2 per person. Backpacks are sold out.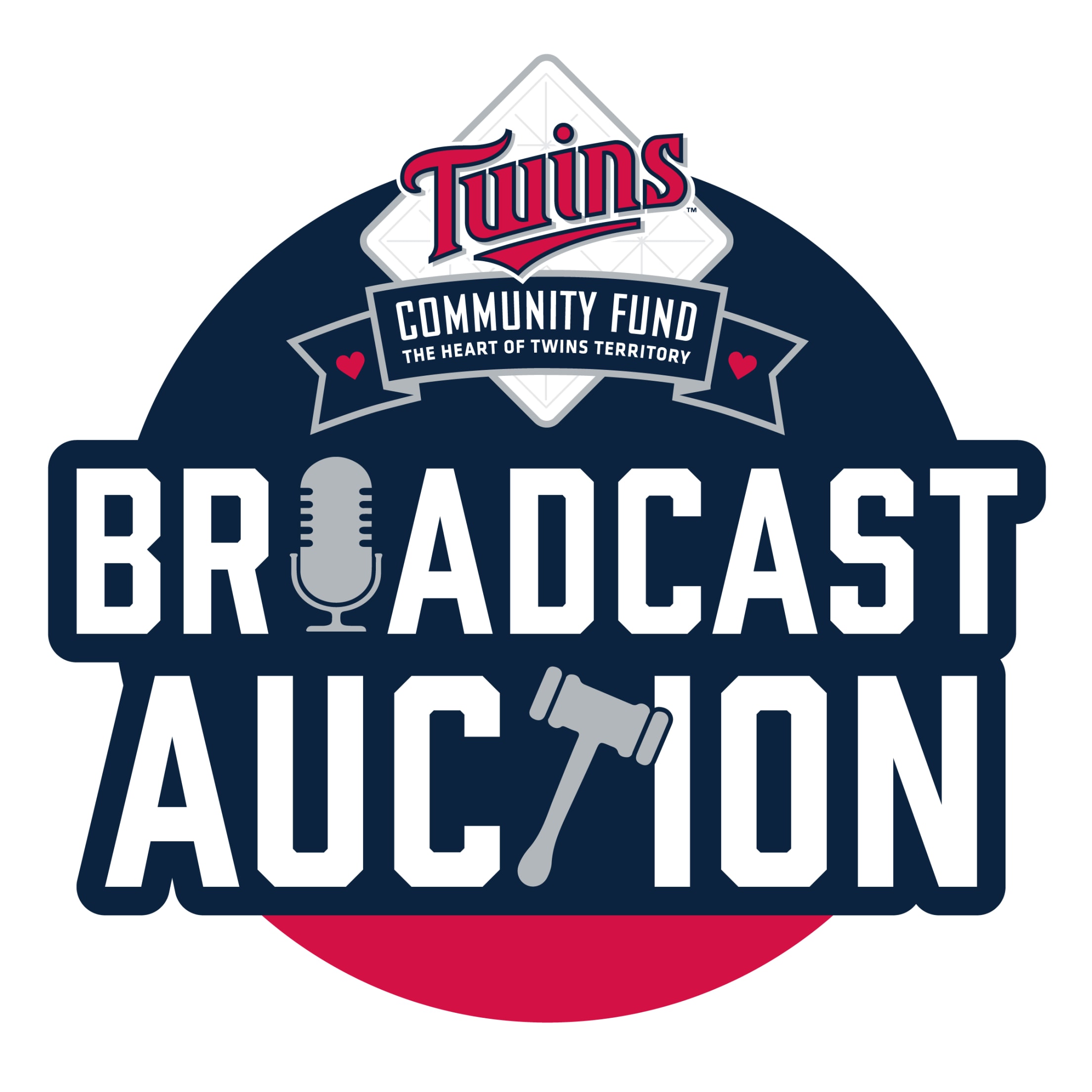 2020 Broadcast Auction Directory
Bidding opens August 21 and closes August 25, 2020 at 8:30 p.m. central
1. 2020 Twins Home Opener Base and Baseball
Baseball was finally played at Target Field in 2020 on July 28, and this base and baseball were used in that game as the Twins took on the St. Louis Cardinals. Base was first base in innings 7-9, and the baseball was fouled off by Josh Donaldson in the bottom of the 2nd inning.
---
2. Giant Number 7 Bundle
In 2019, Joe Mauer became the most recent member of the Minnesota Twins to have his number retired. This number seven, standing seven feet tall, served as the backdrop to Joe's poignant speech during the retirement ceremony on June 15, 2019. Mauer will personalize a message to the winner of this item on the five foot by five foot base of the number following the auction. Also included is a "Mauer: A Twin for the Ages" book, an autographed Joe Mauer baseball, and a Joe Mauer bobblehead commemorating his 2009 American League MVP season. Pick-up of the item from Target Field must be arranged; pandemic protocols will be followed.
---
3. Twins Taxi Squad Poster
The Minor Leagues may not have a season this year, but that hasn't stopped the top prospects on the Twins Taxi Squad! Own this one-of-a-kind poster autographed by members of the 2020 Taxi Squad in St. Paul.
---
4. Twins Wives "My Favorite Things" Basket #1
This basket features favorite items from your favorite Minnesota Twins players, curated by the Twins Wives Organization. Items include German goodies hand-selected by Twins outfielder Max Kepler; autographs from Eddie Rosario, Luis Arraez, Jake Odorizzi, Matt Wisler, and Tyler Clippard; and a selection of snacks, giftcards, and more.
---
5. Josh Donaldson Bundle
The newest member of the Twins Bomba Squad has contributed an autographed baseball, bat, and replica jersey (size L) to this package.
---
6. T.C. Bear Birthday Package
The coolest bear around is ready to make an appearance at your kids' next birthday! This experience includes a 30-minute visit from T.C. (social distance protocols will be followed), Twins swag for the birthday kid, and more. Birthday kid must be aged 14 or under; party must be within a 30-mile radius from Target Field. Party to be scheduled on a mutually-agreed upon date.
---
7. Twins 60th Season Bundle
The Twins are celebrating sixty seasons in Minnesota this summer. This bundle of items will walk you down memory lane with an autographed baseball from a player from each decade of Twins history – Tony Oliva (1960s), Rod Carew (1970s), Kent Hrbek (1980s), Rick Aguilera (1990s), Torii Hunter (2000s), and Joe Mauer (2010s) – and an authentic powder blue Twins jersey (size 44) signed by members of the 2020 team.
---
8. Twins Wives "My Favorite Things" Basket #2
This basket features favorite items from several Minnesota Twins players, curated by the Twins Wives Organization. Items include autographs from Randy Dobnak, Jorge Polanco, Jose Berrios, Mitch Garver, Taylor Rogers, and Sergio Romo; a Bluetooth portable speaker hand-selected by Jake Cave; and a selection of snacks, coffee, and more.
---
9. 2019 ALDS Game-Used Base and Postseason Poster
The Minnesota Twins returned to the postseason last year for the first time in nearly a decade. Commemorate the moment with the third base used during innings 7-9 during Game 3 of the 2019 ALDS, on October 7, 2019, along with a "Bomba SZN" poster featuring members of the 2019 team.
---
10. Boomstick Bundle
Baseball and bat autographed by the Boomstick himself, Twins designated hitter Nelson Cruz