Top 10 first basemen of the decade (so far)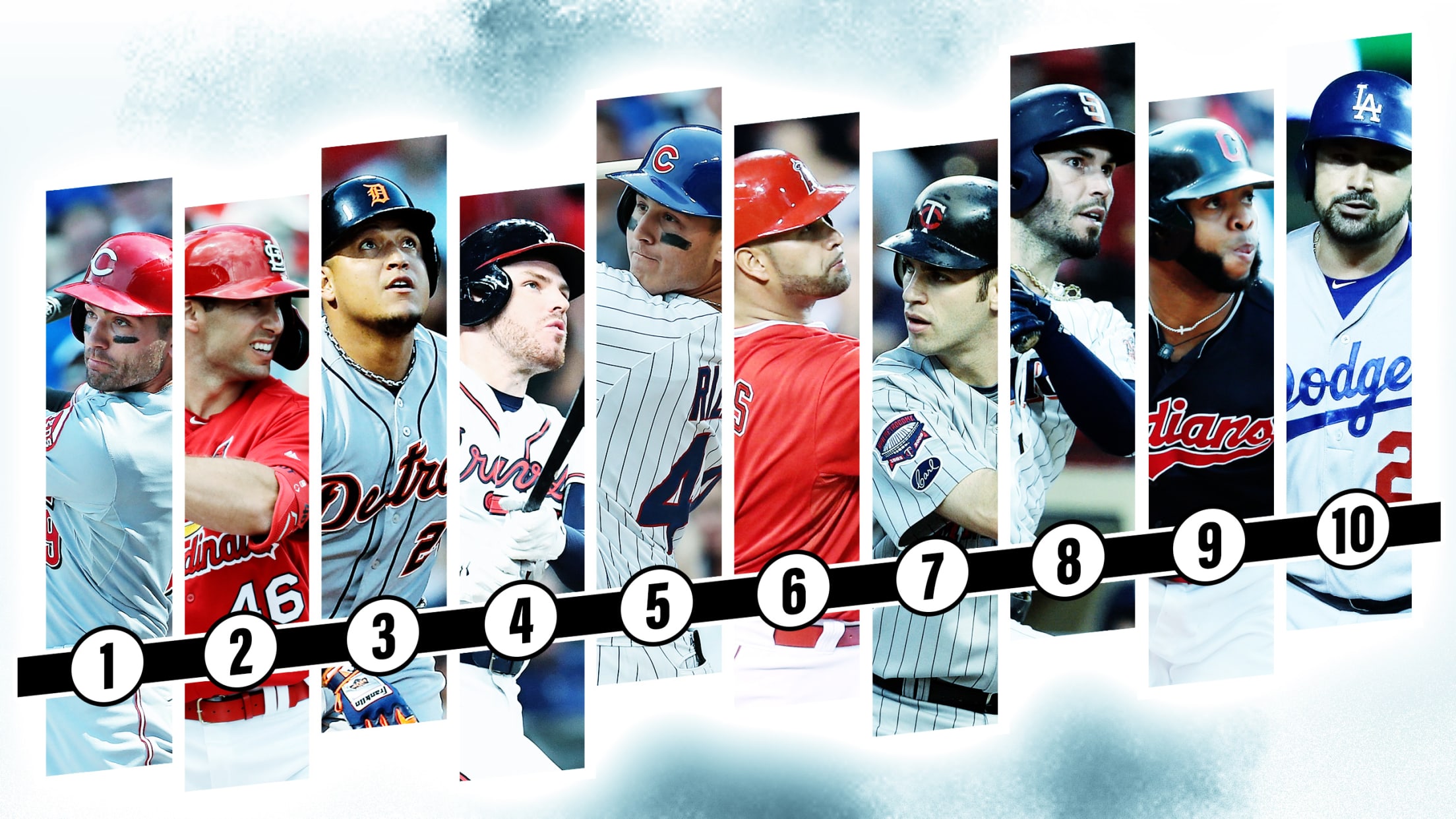 MLB.com columnist Will Leitch's series on the Data Decade, closing out this remarkable decade of baseball, runs every other Wednesday. Today, we look at the 10 best first basemen of the decade. • Previous stories in this series: Best 10 catchers In many ways, the first baseman has lost some
MLB.com columnist Will Leitch's series on the Data Decade, closing out this remarkable decade of baseball, runs every other Wednesday. Today, we look at the 10 best first basemen of the decade.
• Previous stories in this series: Best 10 catchers
In many ways, the first baseman has lost some cultural cache in the last decade. There was a time when the first baseman was every team's big bopper, with the position the place you put your best slugger to hide him: John Kruk really didn't look like anything but a first baseman.
But it's more complicated than that. Your big massive home-run hitting -- but not much else -- first basemen don't have the value they used to. You're looking for positional flexibility at first base; it's a place where you can put all sorts of players. Finding players who are exclusively first basemen isn't easy anymore. You don't just put a guy there for a whole decade anymore and forget about him.
It is still as vital as any position on the diamond, though, and often the centerpiece of what every team needs. Even in a world where there are more strikeouts than ever, you still need someone who can hit the long ball, and you still need someone who can pick it over. After all, the one position on the infield you can't really shift is first base. Somebody has to catch the ball for the out.
Thus, today, we look at the 10 best first basemen of this decade. Because first base can be a catch-all position where you can still somewhat hide guys, many players play first and other positions, most notably corner outfield or designated hitter. For the sake of clarity, we looked at players who played at least 50 percent of their games at first base over the decade, according to Baseball Reference's Play Index.
1) Joey Votto (Reds, 2010-19)
He might not wow you in the traditional metrics, though he's pretty great in them as well, but there has never been anything traditional about Votto. Last year is widely considered one of the worst years of Votto's career … and he still led the National League in on-base percentage. In fact, if you consider OBP the most defining statistic of the decade, the one that came first in the minds of many of the game's decision makers, there's no one like Votto: He has led the NL in OBP seven times, as well as walks five times, OPS twice and doubles once. He also won a Gold Glove Award. Votto may still have a little bit of work to do to polish his Hall of Fame case, but this decade has belonged to him.
2) Paul Goldschmidt (D-backs, 2011-18; Cardinals, '19)
Goldschmidt was 23 when he finally reached the Majors and 24 before he ever had a regular starting job. He has only played seven full seasons in baseball, yet he has finished in the top 11 of MVP voting five times, made six All-Star teams and been remarkably consistent from start to finish. His best season was 2013, when he led the NL in homers, RBIs, slugging, OPS and total bases, but he's great every year. Since '13, he's never hit below .290, never had an OBP below .389 and never missed an All-Star Game. He has only missed more than seven games in a season once. He is all you want out of a player, and he's still only 31.
3) Miguel Cabrera (Tigers, 2010-19)
Two years ago, Miggy would have been a slam-dunk No. 1 choice on this list, and I certainly understand arguments that he should still be now. He won the Triple Crown in 2012 and yet was probably even better in 2013 (he won the MVP both years), and he hit 38 homers as recently as '16. But the cliff he's fallen off the last two years drops him down a slot: He was a below-average hitter in '17 and only played 38 games in '18. He's still going to end up with 500 homers and sail into the Hall of Fame. And maybe he has a bounceback year in '19 that makes everyone reconsider all of it.
4) Freddie Freeman (Braves, 2010-19)
At the beginning of the decade, Freeman was thought in many circles to almost be a Mark Grace-type: A slick-fielding, line-drive hitter whose power was likely never going to develop. But then he went out and hit 34 homers in 2016 while batting .302 and has never looked back. He finished higher in NL MVP Award voting in '18 (fourth) than he ever has before, and he is the linchpin of a team that is now in its second cycle of contention with Freeman in the middle of the order. For a while, you wondered if the Braves were going to trade him. Now it's impossible to imagine the team without him.
5) Anthony Rizzo (Cubs, 2011-18)
Their fans would rather not be reminded, but Rizzo began his career not with the Cubs, but with the Padres. He played poorly in San Diego, by the way, hitting .141 in 153 plate appearances, a start so wretched that the Padres felt comfortable sending him to the Cubs for Andrew Cashner. It suffices to say that the Cubs turned out rather pleased with the deal. Rizzo was the building block for the Cubs' rebuild, the guy who was there from the very beginning, playing for a 101-loss Cubs team in 2012 that wound up winning 103 games just four years later. Rizzo was a primary reason for the success. He was a lineup mainstay who ended up finishing fourth in MVP voting in '15 and '16, a season he would end by putting the Cubs World Series-clinching baseball in his back pocket.
6) Albert Pujols (Cardinals 2010-11; Angels, 2012-19)
Because the massive contract the Angels signed Pujols to after the 2011 season hasn't turned out the way Pujols, the Angels or their fans might have hoped, there is a sense among some that he has been somehow sub-par in Anaheim. But he's had a much better decade than you might realize: His .270/.333/.480 slash line this decade is far from vintage Pujols, but it's roughly the season, say, J.T. Realmuto, Stephen Piscotty, or Yasiel Puig put up last season, but for a whole decade. He also leads all qualifying first basemen in homers this decade, and he's second in RBIs, third in hits and, amusingly, sixth in steals. He'll always be remembered for his halcyon days in St. Louis, but it's not like he forgot how to hit when he got to Anaheim. Far from it.
7) Joe Mauer (Twins, 2010-18)
Mauer will always be considered a catcher first -- and it's certainly the best position from which to make his Hall of Fame case -- but he played more games at first base this decade, so that's why he's here. Mauer's true monster year came right before this decade began, that 2009 AL MVP Award-winning season in which he hit .365 with 28 homers, a total he'd never approach again. But he was still a mainstay of the Twins' lineup the rest of the decade and made the All-Star team three times in the span. He led the AL in OBP in '12 with a .416 mark, and he was an on-base machine until he retired, even if the power never entirely came back. He's also the face of a proud franchise that will never forget its hometown hero.
8) Eric Hosmer (Royals 2011-17; Padres 2018-19)
Hosmer's place in Kansas City lore is secure as one of the primary leaders of that World Series-winning team in 2015, and he's always been thought of as one of the players for whom defensive metrics never quite do justice at first base. But his contributions are hardly intangible: He was key in the middle of the order for that '15 Royals squad, and he may have had his best season in '17, in which he played every game and put up a career-high .385 OBP. Things haven't quite settled in in San Diego, but he's going to be surrounded by talent in the coming years and will have plenty of opportunities for grand October moments again.
9) Carlos Santana (Indians, 2010-17 and '19; Phillies, '18)
It will always be strange to think of Santana in a Phillies uniform. After a 10-day "stint" with the Mariners this winter, he's an Indian again, back where he probably belonged the whole time. Santana has had some huge home-run years (34 in 2016, 27 in '14), but his skill has always been in getting on base: He's had more than 100 walks three times, and more than 88 eight times. He's second in walks for the decade in all positions, not just first base. He's always been a better fielder than you might think, and a little younger than you might think, too, as he'll be only 32 years old on Opening Day. (He didn't get a starting job until he was 25.) Every team that has Santana on it is a little better than it seems at first glance.
10) Adrian Gonzalez (Padres, 2010; Red Sox, 2011-12; Dodgers, 2012-17; Mets, '18)
It's a tough fight for the last spot between El Titan, Brandon Belt and even Chris Davis, but we'll go with Gonzalez because he finished in the top 10 in MVP Award voting three different times (twice in the NL, once in the AL) and led the Majors in RBIs in 2014. He loses points for essentially not being a regular player since '16 and being retired now, but before Gonzalez fell off, he was the prototypical first baseman. And he was still probably at his best in San Diego last decade.
(Honorable mentions: Brandon Belt, Chris Davis, Prince Fielder, Justin Morneau, Will Myers, Mike Napoli, Mark Teixeira.)
In two weeks: Best second basemen of the decade