10 best players still seeking an MVP nod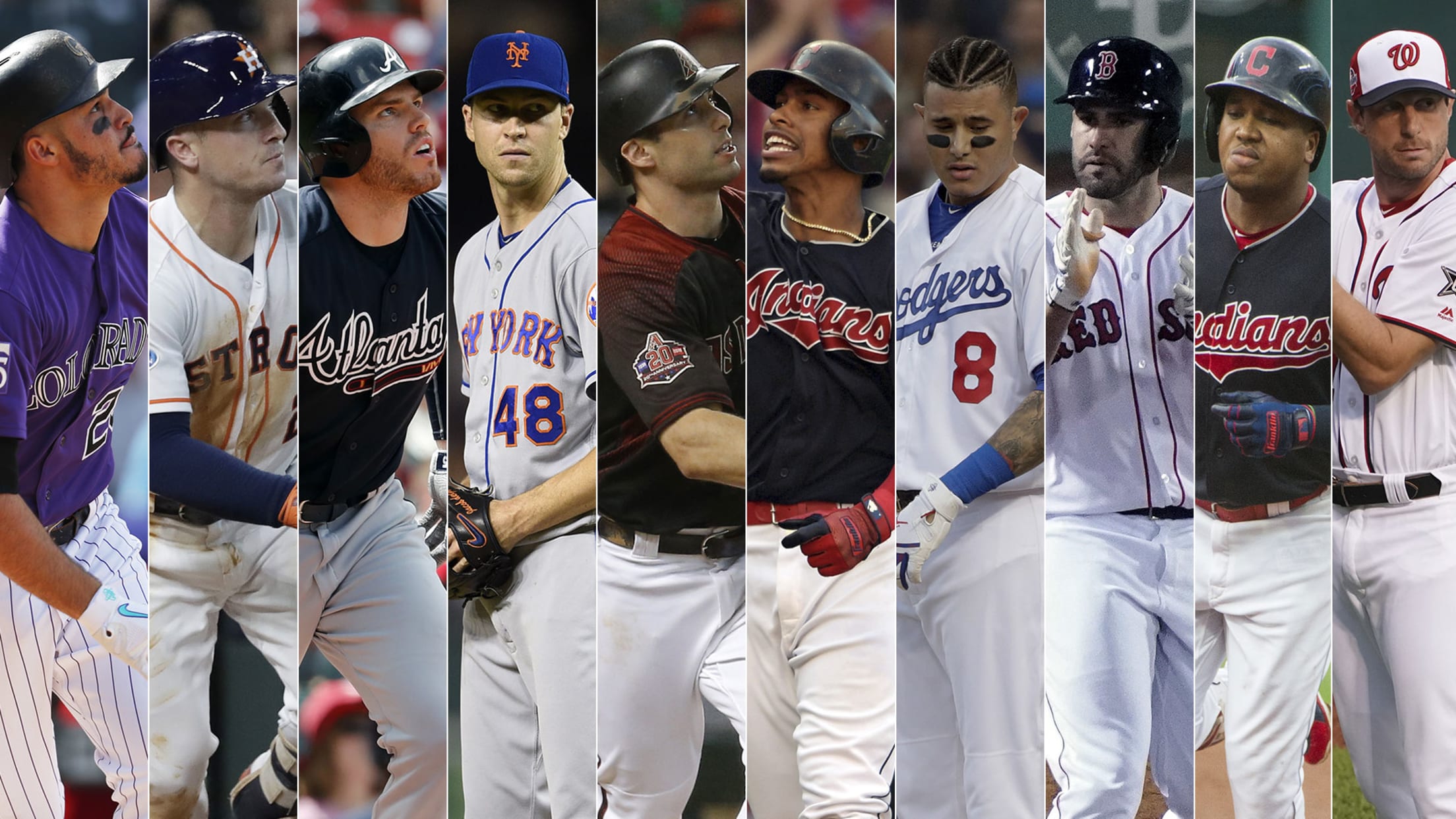 Mookie Betts and Christian Yelich won the 176th and 177th MVP Awards on Thursday. (And believe me, I know exactly how many there have been.) It was the first MVP for each player, assuring them that their already-accomplished careers will not pass by unrewarded. They will not join the list
Mookie Betts and Christian Yelich won the 176th and 177th MVP Awards on Thursday. (And believe me, I know exactly how many there have been.) It was the first MVP for each player, assuring them that their already-accomplished careers will not pass by unrewarded. They will not join the list of outstanding players who never quite grabbed the big trophy, a group that includes legends Eddie Murray, Eddie Mathews, Mike Piazza, Paul Molitor and Derek Jeter.
So with Betts and Yelich now on the other side of the velvet rope, here are the 10 best players who are still looking for an MVP nod, how close they've come and whether they're likely to get one someday.
1. Nolan Arenado, Colorado Rockies
Best Finish: Third place, 2018
Arenado is always going to face the voters' tendency to discount Rockies players -- only one has been MVP, Larry Walker in 1997 -- though it's always worth remembering Arenado will be a free agent after next season. His OPS+ has risen every season since he joined the league, and somehow, he's just now entering his prime.
2. Alex Bregman, Houston Astros
Best Finish: Fifth place, 2018
Bregman received plenty of votes after a monster 2018 in which he led the Majors in doubles and was the best player on a 103-win team. He won't turn 25 until next season's Opening Weekend, and he's well positioned to remain the star on a perpetual contender for the next half-decade.
3. Freddie Freeman, Atlanta Braves
Best Finish: Fourth place, 2018
It wasn't long ago that Freeman was thought of as an above-average, but not spectacular first baseman. He has since crafted himself into an undeniable superstar, and perhaps even an underappreciated one. As the young Braves rise around him, he remains the leader and the steadiest force on a team we're going to be seeing in a lot of Octobers. He led the NL in hits and doubles last season, and he won't turn 30 until next September.
4. Jacob deGrom
Best Finish: Fifth place, 2018 (1 first-place vote)
It has been four years since a pitcher won an MVP Award -- Clayton Kershaw in 2014. deGrom was arguably better in 2018 than Kershaw was that year, but he was no doubt hurt by the Mets' fourth-place finish.
5. Paul Goldschmidt
Best Finish: Second place, 2013, '15
Goldschmidt's last three seasons haven't been quite as incredible as that stretch of 2013-15, but he's still been fantastic, and after a slow start to 2018, he was his old self for the final few months. His best season, 2015, happened to be the same year Bryce Harper had his monster season, and 2013 was the year Andrew McCutchen and the Pirates broke out. The real question: Does Goldschmidt make another MVP run in Arizona, or somewhere else?
6. Francisco Lindor
Best Finish: Fifth place, 2017
If the Indians ever put together a season where they catch fire and win the AL Central by 30 games or something, it'll be the ideal season to honor Lindor, who is their spiritual leader and a transcendent player. Adding power to his game -- he has gone from 15 homers in 2016 to 38 last season -- hasn't cost him any of his other skills, and he has the added advantage of health and durability. He led the Majors in plate appearances (and runs, for that matter) in 2018. All that talent and he's only 25 years old.
7. Manny Machado
Best Finish: Fourth place, 2015
It's obviously still up in the air where Machado will be peddling his wares in 2019 and beyond, but after the season he had in 2018, it's clear he'll be at the center of every conversation for years to come. He picked a terrific time to have the best year of his career, though his antics in the postseason have opened him up to scrutiny that could cost him votes. But it is obvious that Machado is one of the best players in baseball, and should be for the foreseeable future.
8. J.D. Martinez
Best Finish: Fourth place, 2018
Martinez is unlikely to ever win an MVP -- no primary DH has since Juan Gonzalez in 1996 -- but we simply cannot deny a hitter of this caliber. Martinez just keeps getting better. For what it's worth, he did play 57 games in the field last season.
9. Jose Ramirez
Best Finish: Third place, 2017, '18
We've all known about Lindor for years, but far fewer people saw Ramirez coming. He has put together three magnificent years in a row, culminating in a 39-homer 2018. He went 2-for-31 in the last two postseasons -- but the postseason isn't a part of the MVP vote. Will he and Lindor take votes away from each other for years to come?
10. Max Scherzer
Best Finish: 10th place, 2016, '17, '18
Scherzer has won three Cy Young Awards, he finished second this year and he hasn't finished lower than fifth since 2012. But he has never made much of a dent in MVP voting despite having won as many Cy Young Awards as Kershaw and more than Justin Verlander, both of whom have won MVPs. Scherzer may have to content himself with those Cy Youngs. If he wins one more, he'll be just the fifth pitcher in MLB history to have four: Roger Clemens (seven), Randy Johnson (five), Steve Carlton (four) and Greg Maddux (four) are the others.
Will Leitch is a columnist for MLB.com.