10 players whose names you learned in 2018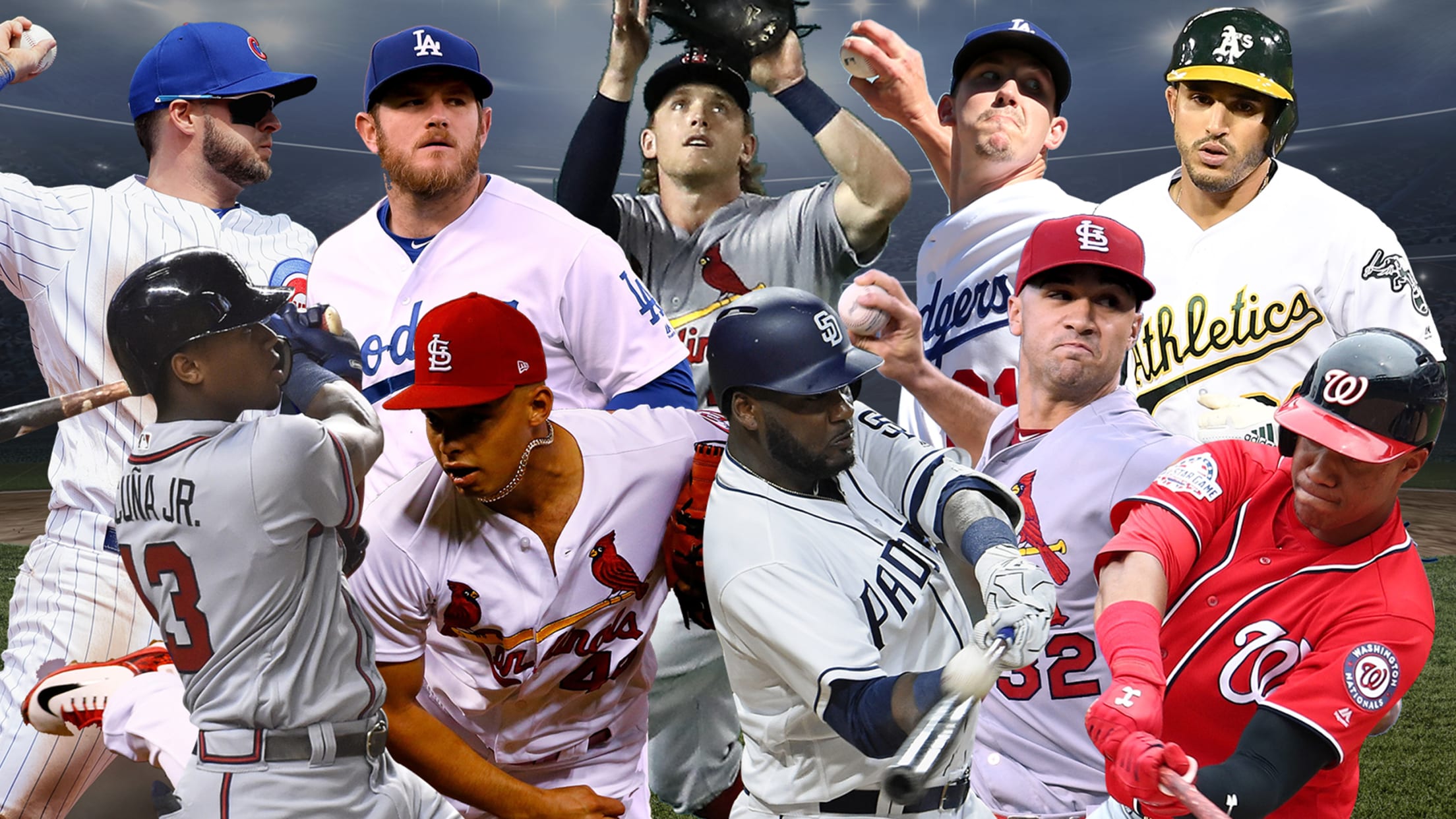 Remember that, at one point, you had no idea how to pronounce "Cespedes," or "Goldschmidt," or "Andrelton," or "Yelich." At one brief moment in your life, you actually thought, "There's a baseball player named Trout? Is he related to Steve?" Our baseball stars are household names now, but they weren't
Remember that, at one point, you had no idea how to pronounce "Cespedes," or "Goldschmidt," or "Andrelton," or "Yelich." At one brief moment in your life, you actually thought, "There's a baseball player named Trout? Is he related to Steve?" Our baseball stars are household names now, but they weren't always. One year, they just emerged.
As we look back at 2018 during the final days of the year, we thought it might be fun and instructive to look back at the 10 players who, at this time last year, few but the most die-hard of baseball fans knew the names of … and now are a part of our baseball history forever. All it takes is one year to etch their names in our minds forever. Here are 10 players who did that etching in 2018.
(And sorry, even though he was a rookie, we're not counting Shohei Ohtani. We all knew who he was a year ago.)
Ronald Acuna Jr.
Sure, Acuna was one of the top prospects in baseball heading into 2018, but much of the discussion revolved around when, exactly, the average baseball fan would get to see him. (There were even a few games in which he was Gwinnett Stripers teammates with Jose Bautista in Triple-A, which is worth the money for a Minor League ticket if I've ever seen it.) It took Acuna a while to get going, but by August, he was one of the best hitters in baseball, and by October, he was the National League Rookie of the Year and smashing postseason grand slams. Now one of baseball's best young teams is building its entire roster around him.
Harrison Bader
Back in Spring Training, Bader was considered, at best, a defensive-oriented fifth-outfield prospect on a team that already had more outfielders than it knew what to do with. But once he got the big league call, he established himself immediately as one of the fastest players in baseball and perhaps the best young defensive center fielder in the game. The Cardinals had so much confidence in him that they traded away Tommy Pham at the Deadline, handing the center field job to Bader. He has also instantly become a fan favorite at Busch Stadium, with his relentless speed and, of course, that flowing, "lax-bro" mane.
David Bote
The 2018 season was in many ways frustrating for the Cubs -- as frustrating as a season in which you win 95 games can be -- but a consistent bright spot was Bote, a utility man who had bounced around the Cubs system since 2012 before finally breaking through last season. His bat slowed down as the season progressed, but he was an invaluable jack-of-all-trades for the Cubs, playing every infield position, as well as making a start in left field. And it helps that he was responsible for the single-best moment of the 2018 Cubs season.
Walker Buehler
As if the Dodgers didn't have enough of everything else, now they might have the most exciting young pitcher in baseball. Dodger brass didn't necessarily plan on counting on Buehler as much as they did in 2018, but with injuries to Clayton Kershaw and others, they were left with little choice. Buehler responded splendidly every time, solving his control issues of the year before and becoming the team's most reliable playoff pitcher. Kershaw is still the ace on this team, but Buehler is the type of pitcher you build around for the next half-decade.
Jack Flaherty
Here's a little nightmare fuel for Blue Jays fans:
The greatest thing to happen to the #Stlcards was the #Bluejays' rejection of the Cards' trade proposal this winter for Josh Donaldson. They offered two players, a Jays official said, that included rookie of year candidate Jack Flaherty. The Jays turned it down.

— Bob Nightengale (@BNightengale) September 14, 2018
Suffice it to say: Now, the Cardinals aren't letting Flaherty go anywhere for a long time. The bulldog right-hander faded a bit late, but for most of the season, he was the Cardinals' top starter, pitching as a 22-year-old with a 10.8 K/9 ratio and a 1.10 WHIP. The Cardinals are packed with young pitching -- they have 10 legitimate candidates for rotation positions this spring -- but Flaherty might enter the season as the team's ace.
Jordan Hicks
Sorry about all the Cardinals, but, really, how do you not include the guy who throws harder pitches than anyone Statcast™ has ever recorded? Hicks dethroned Albertin Chapman atop the velocity leaderboard, something we wondered if would ever be possible. 105!
Ramon Laureano
Speaking of incredible feats with one's right arm, the A's outfielder made one of the best throws you will ever see, a 321-foot strike to finish off a double play. It was during his very first week in the Majors, a week in which he began his career with a walk-off single, which was also his first MLB hit. He ended up with a .288/.358/.474 slash line in his first 48 big league games, and he's likely to be the A's starting center fielder on Opening Day. And seriously, watch that throw again:
Player Page for Max Muncy
Here is how the 2018 Baseball Prospectus described Muncy last year: "Max Muncy munched on Triple-A pitching, but that's about where his bat maxes out."
Enjoyable wordplay aside … not quite. Muncy established himself as one of the top power bats in baseball last season, and a terrifying weapon for the Dodgers to have. And for all the talk of how he slowed in July, he slugged .574 in September and October during the regular season and hit three homers in the postseason … including a particularly memorable one in the World Series.
Franmil Reyes
The Padres have a ton of young talent working its way toward the Majors, but one of their more intriguing players is one of their most pleasant to watch, the massive slab of humanity that is Reyes. He showed off some truly monstrous power in 2018, hitting the ball as far as any in the game, and he's only 23 years old: Wait until he really grows into his body. He missed the end of the year with a knee injury, but he will be healthy in time for Spring Training. Petco Park isn't the best place to hit homers, but no park can contain this guy.
Juan Soto
Soto does everything. He has a terrific batting eye. He hits for average. He has opposite field power. He plays an outstanding left field. He can steal a base or two if he has to. Heck, he even has a terrific smile. Also, he didn't turn 20 until the season was over. Add in a wonderful nickname ("Childish Bambino") that really needs to stick … and you have yet another young superstar in the making in D.C.
Will Leitch is a columnist for MLB.com.