After busy week, 10 more who could be traded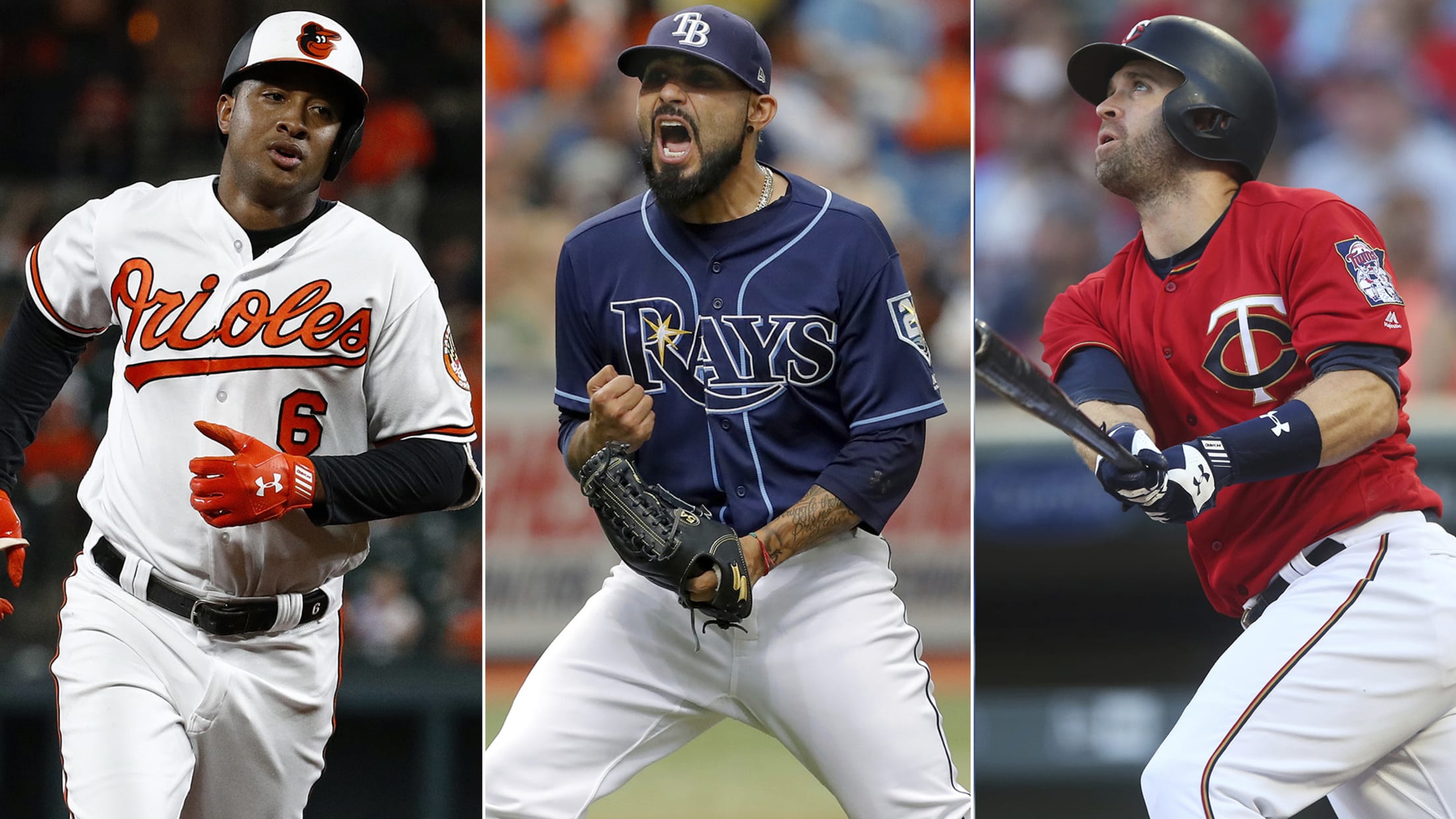 It's been a busy week on the trade front, with Zach Britton, J.A. Happ, Cole Hamels, Nathan Eovaldi, Jeurys Familia, Joakim Soria and Seunghwan Oh among the players who were dealt to contenders days in advance of the non-waiver Trade Deadline on Tuesday.Despite the high-profile deals that have already been
It's been a busy week on the trade front, with Zach Britton, J.A. Happ, Cole Hamels, Nathan Eovaldi, Jeurys Familia, Joakim Soria and Seunghwan Oh among the players who were dealt to contenders days in advance of the non-waiver Trade Deadline on Tuesday.
Despite the high-profile deals that have already been completed, plenty of talent remains up for grabs. From All-Stars to up-and-comers, a number of players will have new homes by Tuesday afternoon.
We've been examining 10 players each week whose trade stock is on the rise. Last week's list saw three of those players get moved in the following days. How many of this week's 10 will soon be wearing new uniforms?
Thomas Pressly, Twins right-hander
The 29-year-old righty has been tremendous for the past month, pitching to a 1.38 ERA (two earned runs in 13 innings) with 18 strikeouts in his last 14 appearances. Pressly is one of several available Twins relievers (Fernando Rodney, Zach Duke, Addison Reed) but his price tag -- he's owed about $650,000 for the remainder of 2018 and will be eligible for his final year of arbitration this winter -- makes him the most appealing and should net the best return for Minnesota.
Potential fits: Pirates, Braves.
James Dozier, Twins second baseman
The Twins are shopping more than just relievers. infielder Eduardo Escobar is reportedly on the way to Arizona, and starter Lance Lynnand first baseman Logan Morrison are also on the trade block. Dozier, who has an .851 OPS with five home runs and 20 RBIs in 22 July games, has drawn interest from multiple teams looking for middle infield help. The Twins owe Dozier -- a free agent this winter -- $3.6 million over the final two-plus months of the season.
Potential fits: Brewers, Red Sox.
Wilson Ramos, Rays catcher
It seemed unlikely that Ramos would be moved before the Deadline when he landed on the disabled list with a left hamstring injury in mid-July, but his rehab is reportedly ahead of schedule. Contenders in need of catching help might be willing to roll the dice on the free-agent-to-be, who is owed a little more than $4 million this season.
Potential fits: Nationals, Red Sox.
Brad Ziegler, Marlins right-hander
The 38-year-old continues to get outs, allowing three runs over his past 27 appearances and posting an 0.98 ERA in the process. He's owed about $3.6 million for the rest of this season, after which he'll be a free agent. It's hard to believe the Marlins would ask for a lot if a team would take on the salary.
Potential fits: Mariners, Dodgers.
Richard Parker, Angels right-hander
Parker is having a second straight strong season for the Angels, providing steady late-inning work in the bullpen. He had a slight hiccup in mid-June, but has been more effective (3.18 ERA) over his last 12 appearances since June 22. The 33-year-old is owed less than $1 million this season and is arbitration-eligible for two more years. The Angels don't appear to be in full-on sell mode, but they could take advantage of a hot relief market.
Potential fits: Braves, Red Sox.
Jonathan Schoop, Orioles second baseman
An All-Star last season, Schoop has been a disappointment for most of 2018. But the 26-year-old has looked like his old self in July, hitting .369 with seven homers and a 1.067 OPS in 21 games, piquing the interest of clubs seeking infield help. Schoop is owed about $3.4 million for the rest of this season and will be arbitration-eligible for his third and final time this winter. The Orioles don't need to trade him the way they did with Manny Machado and Britton, but the rebuild is clearly underway, making it a realistic option.
Potential fits: Brewers, Braves.
Matt Harvey, Reds right-hander
Hamels, Happ and Eovaldi were all traded this week, leaving a thin crop of starters remaining on the market. Harvey has had a tumultuous season, to say the least, but he's posted respectable numbers (5-4, 4.50 ERA in 13 starts) with the Reds, giving pitching-starved contenders something to consider. His last start was a disaster (eight earned runs in 3 2/3 innings), but he had a 2.38 ERA over his previous six starts. A free agent after the season, Harvey is owed about $2.25 million for the rest of 2018.
Potential fits: Mariners, Brewers.
Keone Kela, Rangers right-hander
Relievers have been popular on this year's trade market, with Britton, Hand, Familia, Soria, Kelvin Herrera and Alex Colome headlining a deep group of traded arms. Kela is 23-for-24 in save opportunities this season and has a 1.83 ERA in 20 appearances since May 22, while his price tag -- he's owed about $500,000 this season and is arbitration-eligible for three more years -- should bring back a strong return if Texas moves him. Now that Texas has traded Hamels, general manager Jon Daniels can work to move his bullpen pieces.
Potential fits: Phillies, Pirates.
Zack Wheeler, Mets right-hander
The Jacob deGrom rumors have mostly disappeared as the Mets don't appear inclined to move their ace. But Wheeler has drawn significant interest on this weak starting-pitching market, with as many as a dozen teams scouting his recent starts, during which he's pitched well (3.40 ERA over his past six outings). Wheeler, 28, is owed only $750,000 through the end of the season and is arbitration-eligible for another year, making him an appealing option for virtually any club, contender or not.
Potential fits: Mariners, Brewers.
Sergio Romo, Rays right-hander
The 35-year-old reliever made headlines earlier this season after he made back-to-back "starts" for Tampa Bay, but this week, he proved to be even more versatile, making an appearance at third base. In all seriousness, Romo has been superb on the mound since becoming the closer in early June. He's posted a 1.52 ERA over his last 24 appearances. He's owed $1 million this season and will be a free agent this winter, making him an obvious trade candidate for the Rays.
Potential fits: Phillies, Braves.
Mark Feinsand, executive reporter for MLB.com, has covered the Yankees and MLB since 2001 for the New York Daily News and MLB.com.