Your MLB guide to Memorial Day Weekend
From honor to leisure, next 3 days have it all for fans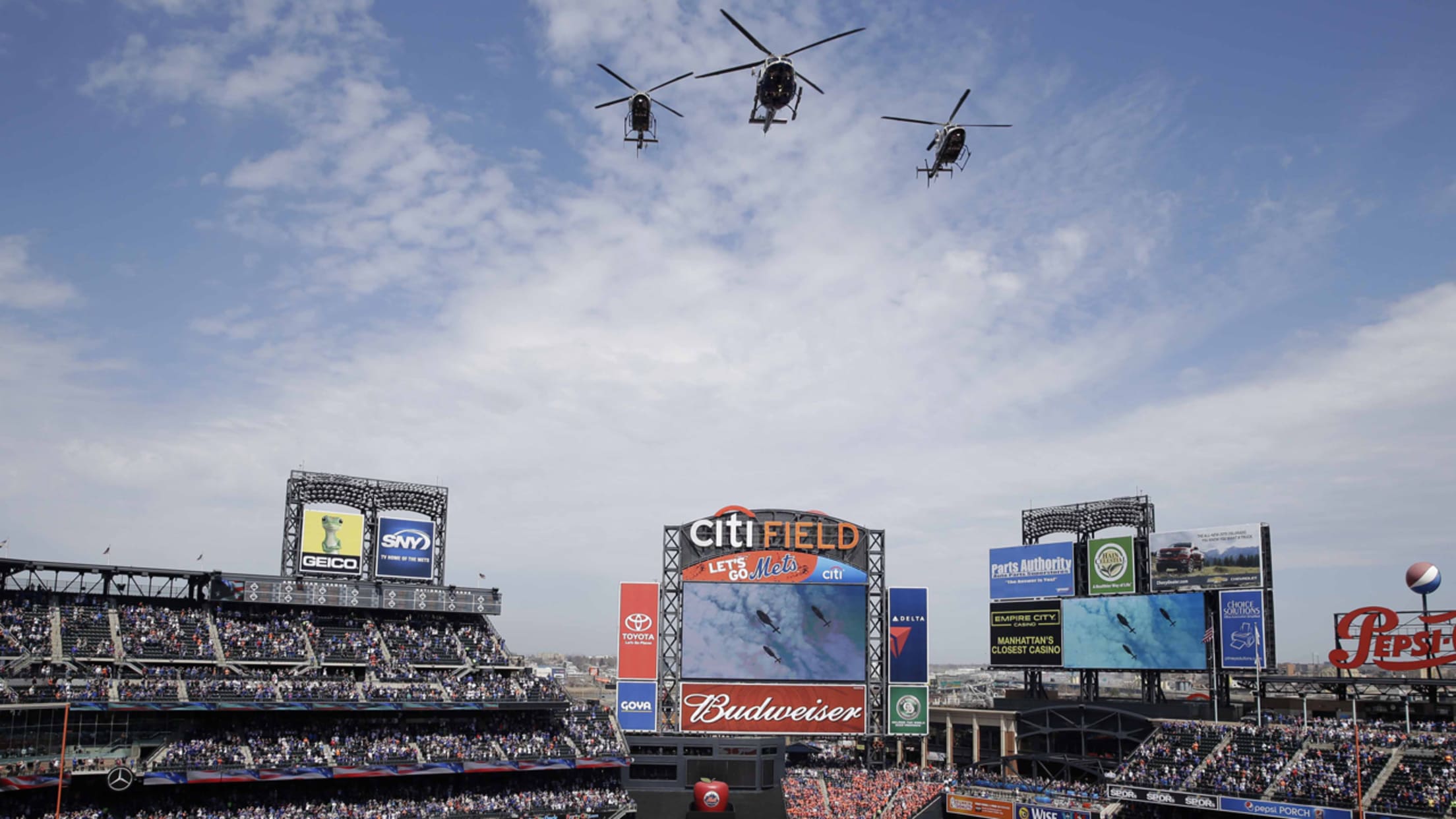 Citi Field is among the 15 home ballparks set to host a Memorial Day flyover this year. (AP) (Seth Wenig/AP)
Happy Memorial Day Weekend. Here are 10 things to know as you eagerly venture out with family and friends to enjoy backyard barbecues, beach outings, pool parties, park picnics and a full slate of Major League Baseball games in person or via your MLB.com At Bat app:1. This is first
Happy Memorial Day Weekend. Here are 10 things to know as you eagerly venture out with family and friends to enjoy backyard barbecues, beach outings, pool parties, park picnics and a full slate of Major League Baseball games in person or via your MLB.com At Bat app:
1. This is first and foremost a time to remember the military veterans who paid the ultimate sacrifice for our freedom. Welcome Back Veterans was created to help servicemen and women make a successful transition back to civilian life while serving their greatest needs, and MLB and its 30 clubs join in the Memorial Day and Fourth of July observations of this campaign.
Since the inception of the initiative, operated in conjunction with the McCormick Foundation while focusing on treatment and research of post-traumatic stress disorder (PTSD) and traumatic brain injuries (TBI), MLB has donated more than $30 million to welcomebackveterans.org. It includes funds raised from auctions and the sale of licensed products.
2. On-field recognition will include special military-themed apparel to be worn by on-field personnel, with authentic versions from each club available now at the MLB.com/Shop. There's even a new batch of those just-announced official player socks from Stance featuring special camo for Memorial Day.
It is the eighth consecutive year that MLB and New Era have created a special cap for teams to wear during Memorial Day games, while Majestic Athletic has designed a special matching jersey for the fourth year in a row. This year's uniforms utilize a new woodland camouflage design licensed by the U.S. Marine Corps. The Toronto Blue Jays uniform will feature the distinctive Canadian Forces CADPAT design.
MLB will again donate its licensed uniform royalties earned from sales of the specially designed jerseys to this charitable initiative. Proceeds will benefit Welcome Back Veterans (Memorial Day and Independence Day) and the Canadian Forces Morale and Welfare Services' "Soldier On Fund" (Blue Jays' Memorial Day uniforms).
3. Fans at all ballparks hosting Memorial Day games will see a flyover, color-guard performances, a special rendition of the national anthem, special Memorial Day messaging on the scoreboard, special lineup cards, base jewels for the event and a first-pitch ceremony with returning veterans or military personnel.
4. For games on Saturday, Sunday and Monday (Monday late-afternoon or night games only), clubs will observe moments of silence prior to the national anthem. On Memorial Day, clubs with home games in progress or about to begin at about 3 p.m. local time will pause in a moment of silence in observance of the National Moment of Remembrance.
5. Recent history suggests that division leads at the end of Memorial Day are not especially safe, something to keep in mind as you look at the standings now. The Cubs and Giants each lead their divisions by 4 1/2 games, the largest leads in MLB. Of the six division winners last season, only the Cardinals finished Memorial Day with a lead that large (it was also 4 1/2).
6. Three of last year's six division winners were at least 2 1/2 games down on Memorial Day. The Rangers trailed Oakland by 6 1/2 after that holiday on their way to an American League West title. The Blue Jays were a lackluster 22-26 and three games out through Memorial Day 2015, and they subsequently acquired David Price, Troy Tulowitzki and other key pieces on their way to the AL East crown. The Mets trailed Washington by 1 1/2 games after the last Memorial Day games on their way to the National League East title.
7. MLB.com looked back at the entire Wild Card era to examine where eventual postseason participants stood after those season's Memorial Day slates. We threw out the first year, 1995, because of the late start as labor issues carried over. Holiday dates obviously vary, but just for the sake of this discussion we kept it to Memorial Day. So that's a 20-year run (1996-2015), and we found that 72 of the 120 division winners led their divisions after Memorial Day.
8. However, here's a telling stat that further demonstrates today's competitive balance: Of those 72 instances, only 29 occurred in the past 10 years. As for those 43 times from 1996-2005, you can chalk up most of that to the dominance of the Braves and Yankees in particular, and the Indians to a lesser degree.
The two best records after Memorial Day in the Wild Card era were each posted in 1998 -- by the vaunted world champion Yankees (34-10, .773, seven games ahead) and followed by the Braves (37-14, .725, 8 1/2 games ahead). Incidentally, that 1998 season also marked the only time in the Wild Card era that all six division champions led after Memorial Day.
9. If you're eyeballing the red-hot Giants on top of the current NL West standings and wondering how they fared through Memorial Day in those recent even-numbered years in which they won the World Series, it just doesn't seem to matter. They were 27-23 and 3 1/2 games back in 2010, 26-23 and 6 1/2 games back in '12 and a much-improved 33-19 and five games ahead in '14.
10. Memorial Day Weekend ushered in an important milestone for fans in regard to the 2016 Esurance MLB All-Star Game Ballot. Friday marked the first day that a fan can cast a ballot every day until the close of voting and use up all 35 allotted ballot submissions. You can vote once per each 24-hour period or you can vote up to five times in any 24-hour period for a maximum of 35 times, and Friday means we are 35 days away from that end to the process of choosing starters for the 87th All-Star Game presented by MasterCard. So while you are out there enjoying one of the most-welcomed times of year for many people, remember to use all this spare time to help deserving players be recognized.
Oh, and don't forget the sunscreen.