20 questions that will define the NL West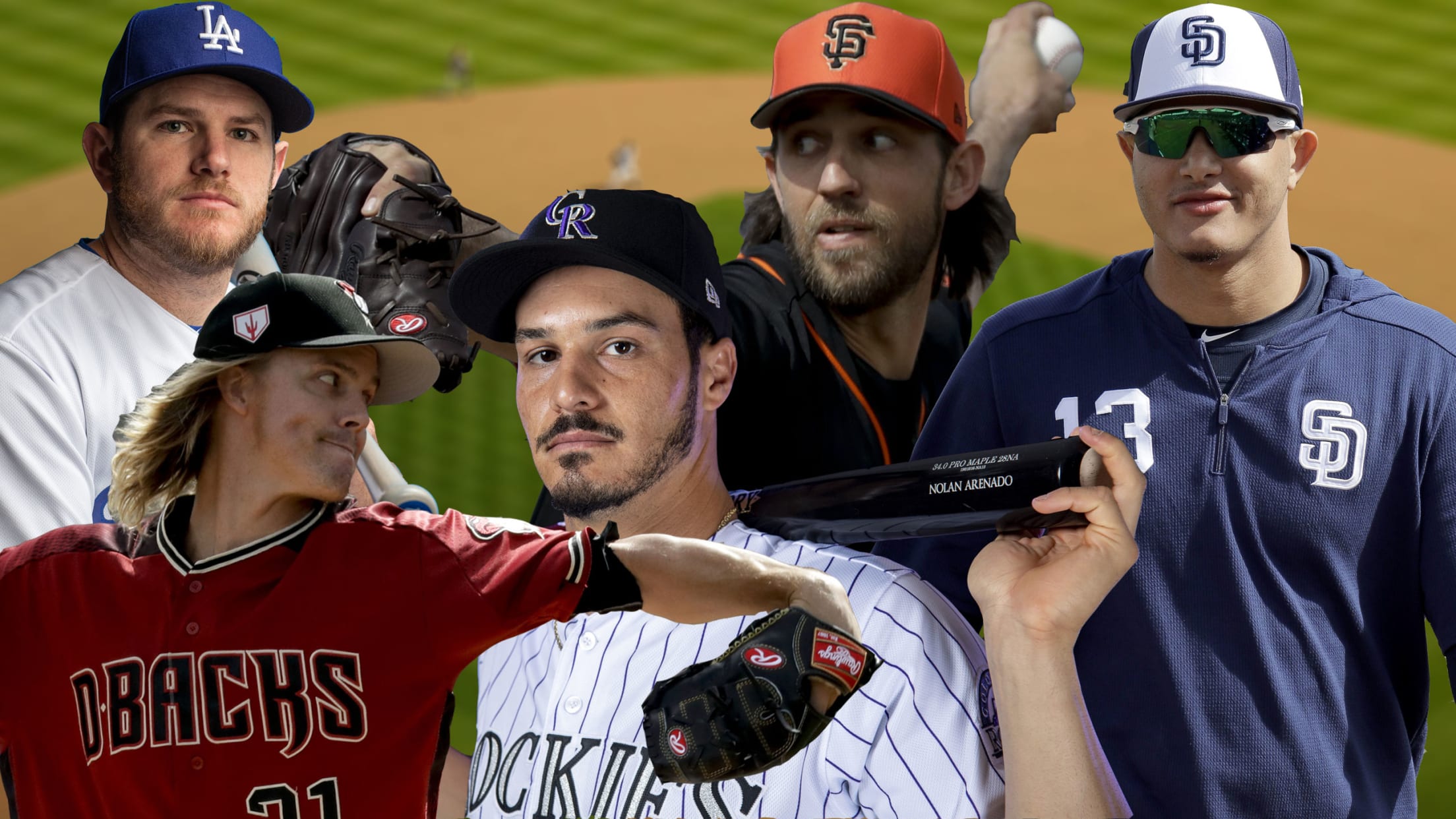 It is unlikely that the National League West got all that more competitive in 2019 with San Diego's signing of Manny Machado to a 10-year contract. The Dodgers have still won six division titles in a row and have roughly the same team that has been to two straight World
It is unlikely that the National League West got all that more competitive in 2019 with San Diego's signing of Manny Machado to a 10-year contract. The Dodgers have still won six division titles in a row and have roughly the same team that has been to two straight World Series. The D-backs are taking a step back, the Giants are in transition, the Rockies had just about everything go right for them in '18 and still weren't able to unseat the Dodgers. The Padres, Machado excitement aside, still lost 96 games last year. Los Angeles is still the overwhelming favorite.
But what the Machado signing did was raise the bar. Now the Padres, with Machado and their incredible batch of Minor Leaguers nearing the Majors, have declared that they are on their way. The Dodgers were the rabbit the greyhounds were chasing; now the Padres have stepped up to meet the challenge. The rest of the division has some questions it needs to figure out in the next few years -- though the Rockies just answered a big one this week with the extension of Nolan Arenado -- but they have hardly been doormats during the Dodgers' reign. In the last three years, four NL West teams have reached the postseason. And the fifth just signed Machado.
Thus: Today, our weekly series previewing each of baseball's six divisions continues this week with the NL West. Like every other week, our previews will be extended games of 20 Questions, in which we look at four pressing questions for each team heading into the 2019 season, and at the end, we will make some actual predictions on the final standings, predictions that are unassailable and so obviously iron-clad correct that we're a little worried you won't even bother to watch the actual games once we read them. We are willing to assume such a risk.
Division previews: AL East | AL West | NL Central
Let's take a team-by-team look at the biggest questions:
D-backs
1) Who is the best player on this team right now?
This has been the easiest question to answer the past few years: Paul Goldschmidt, obviously. But now Goldschmidt's wearing Cardinal red and the D-backs have turned the page toward the future … and they are, for the first time in nearly a decade, star-less. Zack Greinke's probably the highest-ceiling player, but he's a pitcher a bit past his prime. Offensively, the offense, with Goldschmidt and A.J. Pollock gone, maybe revolves around … David Peralta? Jake Lamb? These are solid players. But you don't build a lineup around them. The D-backs have had the "Goldschmidt Identity" since 2012. What are they now?
2) Can they find a taker for Greinke?
Greinke is still owed nearly $105 million over the next three years, not exactly the sort of salary the D-backs look willing to pay when they're waving goodbye to Pollock and Patrick Corbin, and trading Goldschmidt.
What would a Greinke trade look like? Well, think about when the Astros traded for Justin Verlander in August 2017. He had $56 million and two years remaining on his deal (plus an option that kicks in for '20 if he finishes in the top five of American League Cy Young Award voting this year), which is $14 million less than Greinke is owed. The Astros had to give up three prospects -- none of whom have reached the Majors yet, though there's plenty of potential for all three -- and the Tigers had to pay $8 million to the Astros. If the D-backs can get anything close to that, they'd have to be thrilled. But they need Greinke to be the old Greinke, which, despite how good he was last year and could be again, is asking a lot of a 35-year-old.
3) How will those two Cardinals work out?
Somewhat lost in the sadness of the Goldschmidt trade was that the D-backs brought in two cost-controlled, Major League-ready starters in catcher Carson Kelly and right-hander Luke Weaver. Kelly had been stuck behind Yadier Molina for a few years, raking in Triple-A but never able to establish himself in the Majors. Weaver was terrific at times in 2017 and looked like maybe the Cardinals' best starter in Spring Training last year, but a rough '18 knocked him out of the Cards' plans. But these are two young players with experience and still tons of room to grow. If they can establish themselves -- and they'll open the season in the lineup and the rotation -- they could be a solid foundation for the next great D-backs team.
4) Can the fans keep the faith?
It's a tough time for D-backs fans, who have only made it out of the NL Division Series once in the last 18 years, had to say goodbye to one of their most beloved players ever and now seem to be starting over again. That's a lot to ask, for a team to rebuild after never really accomplishing much when they were full-tilt, and they haven't even traded Greinke yet. The future looks bright in Arizona: There are smart people in charge. But 2019 might be about figuring out how the new turf works.
Dodgers
5) Corey Seager's ready to go, yes?
It's important to remember that, for all the early-season struggles the Dodgers had last year, the only time anyone ever thought they were really done was when Seager went out for the season. They recovered -- trading for Machado always helps -- but this team is built in large part around Seager, who still isn't even 25 years old. Along with Justin Turner, Seager is the leader of this team, the fulcrum around which everything else pivots. He was a top-20 NL Most Valuable Player Award vote-getter each of his first two seasons, and if he's healthy, he provides that star power that everyone thought the Dodgers would bring in through free agency in the offseason.
6) Can Max Muncy do it again?
We mentioned this already, but it is worth remembering: Here is how the 2018 Baseball Prospectus Annual described Muncy last year: "Max Muncy munched on Triple-A pitching, but that's about where his bat maxes out."
It turned out that Muncy maxed out a bit farther than that: 35 homers in 396 plate appearances in the Majors. His platoon splits aren't too bad -- he still got on base at a .361 clip against lefties -- but he's such a monster against righties that you almost want to platoon him anyway. (David Freese's return as lefty-masher gives the Dodgers some room to play with here.) Muncy was the sort of dropped-from-the-sky star in 2018 that every team dreams of. That the Dodgers, who were already so good, ended up getting him almost seemed unfair. But a repeat would seem even more so.
7) Is Walker Buehler the ace now?
Clayton Kershaw's arm troubles this spring have everyone in Dodgerland most concerned. But even before that happened, Buehler looked like the better pitcher in the 2018 postseason, and enters '19 looking primed and ready to establish himself as one of the best young hurlers in the sport. Buehler was already gaining on him. But now, with all the Kershaw questions, Buehler's continued ascension looks absolutely critical.
8) Is this the breakthrough year?
The Dodgers waited nearly 30 years to reach the World Series before losing two of them in a row. Their Octobers keep finding new ways to be painful, and they're in danger of turning into Bobby Cox Braves West. These opportunities to break their fans' hearts are a result of six consecutive postseason appearances, of course, but you can't count on those happening forever, particularly with the Padres establishing themselves as a looming division power. The Dodgers eventually aren't going to make the postseason. So they better win one of these World Series when they do make the playoffs.
Giants
9) This can't really be their outfield, can it?
It's actually starting to get a little unnerving to look at the Giants' outfield. Seriously: Mac Williamson, Steven Duggar and Gerardo Parra? Really? Parra is the big addition! There are still a few handy free-agent outfielders out there that the Giants should probably just bring in out of self-respect at this point. They missed out on Bryce Harper, and there are no obvious outfielders coming up from the Minors, what's the plan here? Outfielders usually aren't this hard to find, you know?
10) How long can the vets hang on?
The Giants have all sorts of aging players who look like the holdovers of a previous regime: Buster Posey, Brandon Belt, Evan Longoria, Brandon Crawford, Jeff Samardzija, Derek Holland … all over 30 and girded up for a postseason run that looks increasingly unlikely to come. New president of baseball operations Farhan Zaidi has a ton of work to do to get the Giants back to where they've grown accustomed to being, and the first steps in that project might be to ship some of these veterans to teams who could use an extra bat or arm for the NL pennant chase. You know, like the Giants used to do.
11) So what happens with Madison Bumgarner now?
We all spent most of the offseason wondering where the Giants might trade Bumgarner, but it turns out that he's staying right where he is. But for how long? On one hand, there's no better time to trade him, as he's a free agent after the season and has never really cashed in the way many of his peers did. What team wouldn't want Madison freaking Bumgarner in the postseason? On the other hand, it's Madison freaking Bumgarner, the guy who won three World Series nearly by himself. How do you trade that guy? The Giants still haven't extended him, and if you don't have any plans on extending, and are unlikely to contend this year, how do you not trade him?
12) Do they have one last "one last run" left?
The Giants have spent every year of essentially the last five trying to rally the troops and squeeze one more title out of the Bumgarner/Posey/manager Bruce Bochy crew. Well, this is Bochy's final season, and with Bumgarner a free agent after this year and a new sheriff in the front office, this is all there probably is left. Zaidi didn't dismantle the team in the offseason, so he's giving them one last chance. If the Giants get off to a slow start, the dismantling might begin early. But if they can hang around the postseason chase, maybe Zaidi decides to add rather than subtract. It'd sure be nice to send Bochy out a winner.
Padres
13) Did you hear that Manny Machado is here now?
The Padres might not contend for a postseason spot this season, they might not even finish over .500, but already, 2019 is the most exciting Padres season in more than a decade. Machado instantly becomes the guy this whole franchise is focused on, which is particularly useful because there are a ton of future stars about to hit the MLB roster who now will be allowed to progress and grow without having to be The Next Big Thing. Because that person is now, and will remain, Machado.
14) What are they going to do with all those outfielders?
The Padres have more intriguing young outfielders than they know what to do with. Look at all these outfielders, all 27 or younger; Hunter Renfroe (27), Travis Jankowski (27), Franchy Cordero (24), Manuel Margot (24) and Franmil Reyes (23). And that's not even including Wil Myers, who is only 28 himself. Only Cordero and Margot are center fielders, which makes finding spots for this crew even more difficult. Might we see a couple of these guys packaged for a starter?
15) Are any of these starting pitchers going to still be here in 2020?
Next year is the target year for the Padres to make another big move, particularly with the trove of starting pitching they have in the Minors starting to make their way up, from MacKenzie Gore to Chris Paddack to Adrian Morejon to Michael Baez to, jeez, how many of these guys are there? (Seriously, the Padres have seven pitchers in the MLB Pipeline Top 100.) So when you look at the Padres' 2019 rotation, it's tough to blame any of these guys for looking over their shoulders. Luis Perdomo is the most fascinating talent, but 25-year-old Joey Lucchesi was the best starter in '18 … which, frankly, isn't saying much.
16) When do we see Fernando Tatis Jr.?
With all the young pitchers down in the Minors, the most exciting talent is still Tatis, the No. 2 prospect in the game and the guy who presumably will be manning the right side of the infield in San Diego with Machado for the next decade. We'll surely see him at some point in 2019, and with any luck, we'll already be used to seeing him in the lineup by Memorial Day. Signing Machado was a sign that the Padres knew the future was going to be bright. But when Tatis comes up and those two are out there together, the future will feel as if it has already arrived.
Rockies
17) Is Nolan Arenado about to establish himself as the best player in team history?
It's Todd Helton now, obviously, but if Arenado doesn't opt out of his new deal after three years -- a possibility, particularly if the Rox can't take advantage of this current window with this current team -- you're looking at the definitive Rockies franchise icon for decades to come. The eight-year, $260 million extension he just signed establishes him as the fulcrum around which Colorado will pivot moving forward: The Rox are committed to contending as far into the future as you can see. The biggest question of the Rockies' season, frankly, has already been answered, in the best possible way any Colorado fan could have hoped for.
18) Is this the best Rockies rotation ever? It has to be, right?
It might not even be close. Kyle Freeland could be the Rockies' top starter in franchise history, and he's backed up by German Marquez (who may have better all-around stuff than Freeland), Tyler Anderson and Jon Gray. There aren't many teams in baseball that can put up a better top four than those guys, even if Coors Field warps their statistics. The reason the Rockies nearly won the NL West title last season was actually because of their rotation. Not a single returning pitcher is over 30. They might be able to do this again.
19) Does Brendan Rodgers ever get to play?
Rodgers is the No. 9 prospect in baseball according to MLB Pipeline, but he'll also be 23 in August, which makes him a little older than your average top-10 infield prospect. His shoulder appears to be healthy, and he didn't spend much time in Triple-A in 2018, so he still has something to prove. But, frankly, not a lot. If Rodgers has a massive spring, he could win the second-base job, but considering he's not on the 40-man roster yet, it's likely an Albuquerque beginning. But if he can break through this year and take over the starting role at second base, Rodgers gives the lineup another bat that it clearly needs.
20) Was last year the peak?
The Rockies haven't had many seasons like 2018. They reached the NLDS -- they took out the Cubs in the NL Wild Card Game! -- and they won 91 games, the second-most in franchise history. (More than they won the year they went to the World Series, actually.) But can they expect that again in '19? The offense looks almost exactly like it was in 2018, except older, and they were fortunate to have their starting pitchers stay as healthy as they did in '18. This team loves veterans, perhaps as much as any team in the game. The Rockies need them to do what they did in 2018 all over again.
PROJECTED STANDINGS
1) Los Angeles Dodgers: 95-67
2) Colorado Rockies: 88-74
3) San Diego Padres: 78-84
4) San Francisco Giants: 75-87
5) Arizona Diamondbacks: 72-90