Hours to Trade Deadline, we have predictions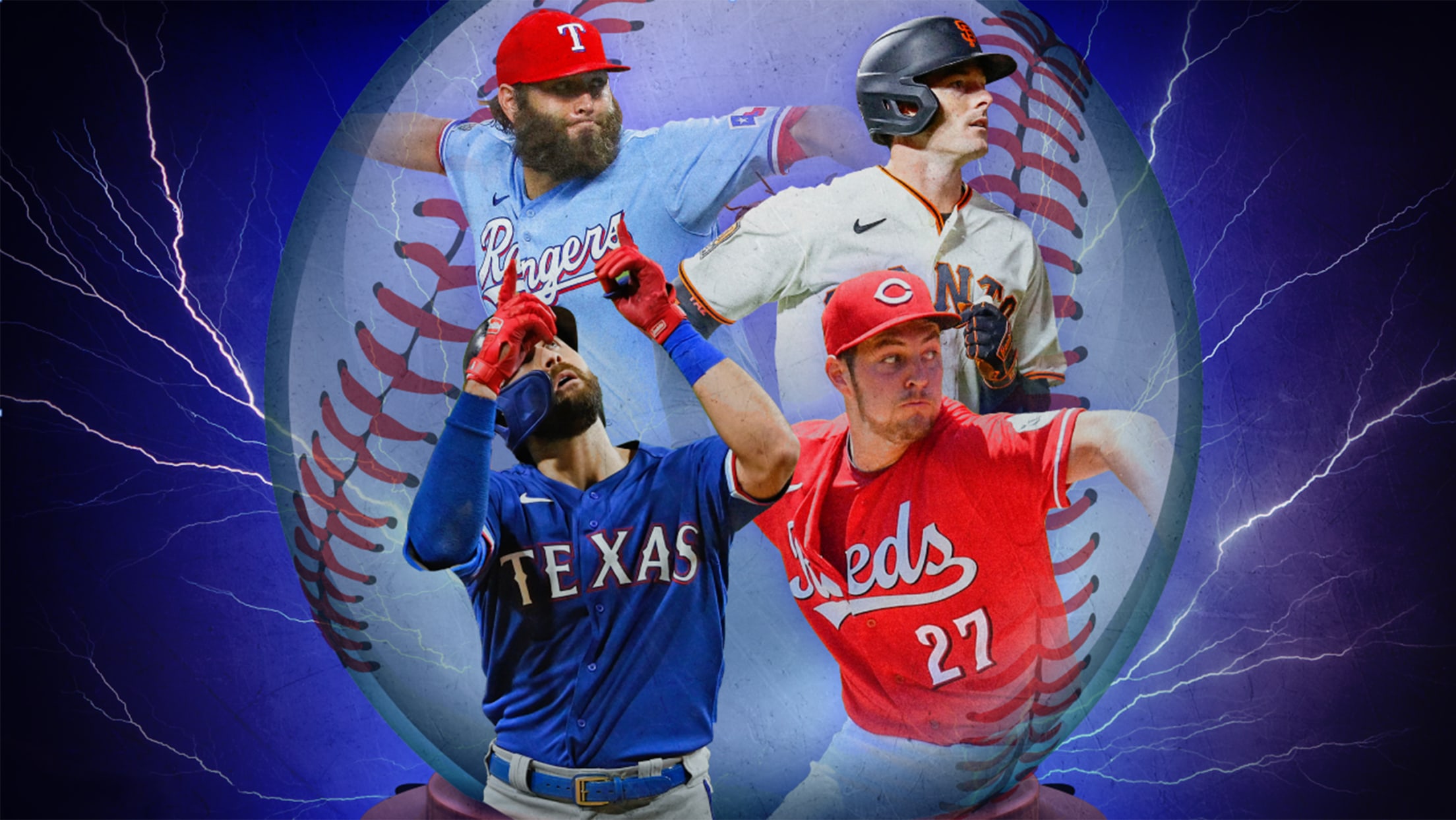 With the Trade Deadline fast approaching (4 p.m. ET on Monday), we asked nine of our reporters to make a prediction of a trade they think we might see before then. Here is what they came up with.
With the Trade Deadline fast approaching (4 p.m. ET on Monday), we asked nine of our reporters to make a prediction of a trade they think we might see before then. Here is what they came up with.
The Rays will trade for Joey Gallo
Tampa Bay owns the best record in the American League, and given the Yankees' injury woes, the Rays have an opportunity to seize control of the AL East. Gallo's first-year arbitration salary was $4.4 million, and with two more years of club control, he could hit in the middle of Tampa Bay's lineup next year -- and then be a potential trade chip before 2022. The Rays may have to part with top pitching prospect Shane Baz as part of a package, but if GM Erik Neander believes Gallo can help propel them to a championship, it would be worth it. -- Mark Feinsand
Kevin Gausman will return to the Braves
You might remember Gausman from such Braves tenures as … mid-2018 to mid-2019. He was an Atlanta acquisition (alongside then-Baltimore teammate Darren O'Day) at the 2018 Trade Deadline, but aside from his starring role in "Ballpark Alone," it wasn't a particularly distinguished stay. Last year, he bottomed out with a 6.19 ERA in 16 starts, and the Braves let him go on waivers to the Reds. But that was a different Gausman.
With the Giants this year, his fastball velocity is up, he's generating more whiffs with all his pitches and his walk rate has tumbled. The Giants have won more games than projected, but they're not going to miss out on the opportunity to move a rental starter in a market starved for starting help. The Braves need that help as much or more than anybody. I can almost see Alex Anthopoulos, a la Kate McCallister, snapping to life and realizing someone important is missing from his rotation: "KEVIN!" -- Anthony Castrovince
The Red Sox will trade Xander Bogaerts for Jorge Polanco
With the Red Sox mired in last place in the AL East and having already moved Mookie Betts' contract, Boston sends Bogaerts to the Twins for Polanco and their No. 1 prospect, shortstop Royce Lewis. Minnesota goes for it with Bogaerts this year and has him under club control for at least two more years at $20 million per season before his opt-out option. Why would Boston trade Bogaerts now? He has a no-trade clause that activates in September, and he can opt out after 2022, which means that he may never have more trade value than right now. Polanco has a modest long-term deal that keeps him locked up through 2025, making him a relative bargain for Boston. -- David Venn
The Blue Jays will trade for Lance Lynn
Look, the Blue Jays have an opportunity they haven't had in years, and they look primed to take advantage of it. They're the clear favorites in the "AL Middle," and it won't take much for them to stay ahead of the Orioles, Tigers, Royals and Mariners. (Or whatever is left of the Angels and Red Sox.) They could clearly pass the White Sox for the No. 7 spot, and hey, if all the Yankees keep getting hurt, who's to say they couldn't get even higher? They need another starting pitcher, and you couldn't do better than Lynn, one of the 10 best in baseball right now. Plus, you get him for next year, and for a bargain rate at that.
You've got to talk the Rangers into the deal, but there are prospects here who could get it done, if Texas makes the plunge. The Blue Jays have been waiting for the right time for their young talent to coalesce and make a run. They can nail down a playoff spot right now and force a higher seed to face Hyun Jin Ryu and Lynn 1-2 in a three-game series, which is scary. Get aggressive, Jays. Buffalo demands it! -- Will Leitch
• Best fits for Lynn at Deadline
The Padres will trade for Lance Lynn
Like Will, I also think Lynn will be traded, but I'm predicting he'll go to San Diego. If there was ever a year to "go for it," it's this one, and the Padres are well-stocked to make a run at a World Series berth, even if they were to stand pat. But imagine what they could do with one more starter. Lynn is a perfect fit -- a veteran workhorse who is signed through next year, and his payout in '21 is a very affordable $8 million. He's among the most durable pitchers in baseball -- he hasn't logged fewer than 150 innings since his rookie season in 2011. Imagine how strong he'd be in late October, without having put in a full six-month load of innings. Do it, Padres! -- Alyson Footer
The Reds will give in and trade Trevor Bauer
With October still technically within their reach thanks to an expanded postseason field, the Reds are reportedly reluctant to trade Bauer. Nonetheless, they are in the midst of a disappointing season and by the time 4 p.m. rolls around on Monday, they could look to get something in return for the 29-year-old starter before he can depart as a free agent at season's end. Bauer is having a terrific year, and with so many contenders in both leagues hungry for starting pitching, there would be no shortage of suitors for the right-hander, including the A's, Braves and White Sox. -- Nathalie Alonso
The Dodgers trade for Rockies reliever Daniel Bard in exchange for catching prospect Diego Cartaya
The Dodgers could use another starter, but extra relief always helps, especially in the postseason. Bard, a former member of the D-backs' mental skills department, has the makeup and more importantly, he has the type of arm that can make a difference down the stretch in the postseason.
He's already a front-runner for the Comeback Player of the Year Award, and a trade to a team expected to compete for the World Series title would complete his incredible story. The Rockies acquired Mychal Givens on Sunday, giving them the opportunity to deal from bullpen depth.
Cartaya, 18, is the Dodgers' No. 7 prospect and was ranked as the top international prospect when he signed in 2018. He has all of the tools to be a big league catcher one day, and the Rockies don't have tons of depth at the position in the Minors. -- Jesse Sanchez
Mike Yastrzemski to the Twins for shortstop Royce Lewis and other prospects
This trade only makes sense if a team is in a full go-for-it mode, and that's where the Twins are. Lewis, No. 10 on MLB Pipeline's Top 100 Prospects list, has been untouchable. What's that someone said about desperate times? The Twins badly need offense, which is the one thing almost no one thought would happen this season. That offense could come from a variety of positions, but the outfield is the easiest place to make a change. Because the Giants have control of Yastrzemski for five more seasons and because they're very much in contention, the Twins are going to have to throw at least one more elite prospect into the mix. They have the Minor League depth to make it happen, with right-hander Jordan Balazovic a possibility. -- Richard Justice
The Blue Jays make a second major rental acquisition -- shortstop Andrelton Simmons -- despite holding only the eighth seed in the AL
As the AL postseason picture evolves, the Blue Jays appear to be in a one-on-one battle with the Tigers for the final playoff spot. With Bo Bichette on the injured list, Toronto needs a shortstop -- as well as a veteran leader to mentor the team's young core during the pressure-packed weeks ahead. Simmons will satisfy both needs for Toronto, which has sufficient prospect depth to facilitate the trade. And with Simmons eligible for free agency this winter, he shouldn't cost a ton.
The Blue Jays and Angels also could get together on a larger trade that includes other veterans like Brian Goodwin, in addition to Simmons. With Taijuan Walker already in the fold after the trade with Seattle, the Blue Jays would enter the first-round series with a reasonable chance at upsetting the AL's No. 1 seed, if Ryu delivers a strong performance in Game 1. -- Jon Paul Morosi