5 AL West players poised for turnarounds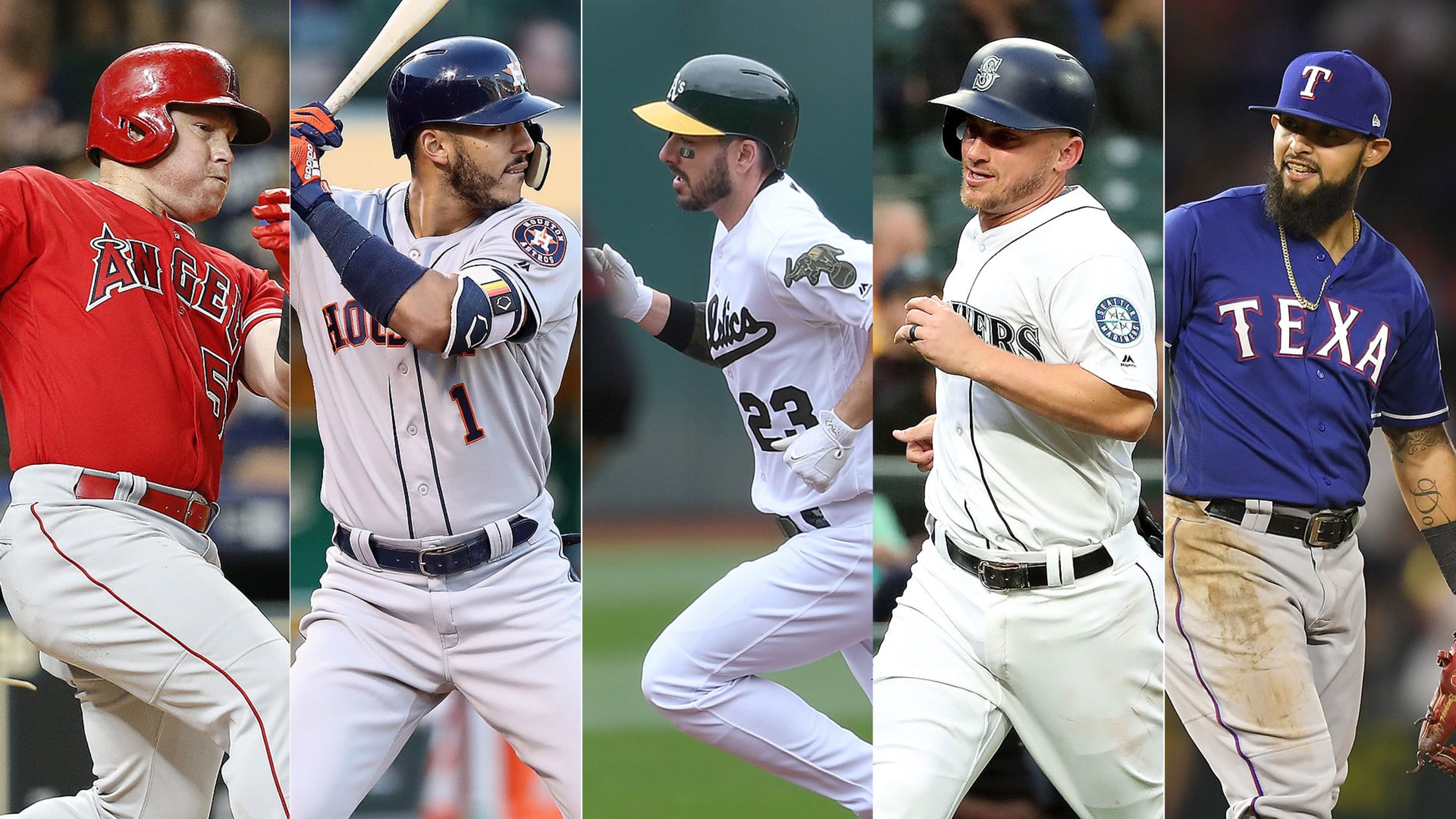 Is the West the best? In the American League, perhaps so. The defending World Series-champion Astros remain the team to beat, but the Mariners are on a magic-carpet ride, while the Angels hang tough and the A's straddle .500.At this point, at least four of the five teams have a
Is the West the best? In the American League, perhaps so. The defending World Series-champion Astros remain the team to beat, but the Mariners are on a magic-carpet ride, while the Angels hang tough and the A's straddle .500.
At this point, at least four of the five teams have a reasonable chance at being on top by season's end. A Wild Card spot is also likely inevitable for one of them, adding that much more intrigue to an already appealing race.
The weeks that precede the July 31 Trade Deadline will be crucial for all involved. Some of the game's best talent resides in the AL West, but supporting casts could be the difference-maker, bringing attention to a handful of players who have unexpectedly been mired in slow starts.
A look around the division at one player from each team who should be expected to turn things around as the season progresses:
Angels: Kole Calhoun
Calhoun has been a key part of the Angels' core since becoming an everyday player in 2014, but the 30-year-old endured an uncharacteristically slow start to the season, batting just .145 with a .374 OPS and one home run over 50 games before landing on the disabled list with a right oblique strain on June 2.
Calhoun began a rehab assignment with Triple-A Salt Lake on Wednesday, and his offensive track record suggests he's due for a turnaround. Between 2012-17, the left-handed-hitting Calhoun batted .261 with a .755 OPS and averaged 15 homers per season. The Angels have badly missed Calhoun's usual production, as their .434 OPS in right field is the lowest mark in the Majors.
Astros: Carlos Correa
The All-Star shortstop got off to a quick start by hitting .315 in April, but trudged through a rough May, during which he hit .192 with 29 strikeouts in 99 at-bats. He was hitting .208 with five homers and 14 RBIs in 101 at-bats before missing four games from June 7-10 with a side injury.
Correa helped the Astros to the World Series title last year by batting .315/.391/.550, hitting a career-high 24 homers with 84 RBIs in his second full season in the big leagues. He started for the AL in the All-Star Game.
Athletics: Matt Joyce
Joyce entered his 10th big league season riding a career .243 average and .340 on-base percentage, but he has not performed up to the standard he maintained for much of his first nine years. Before the veteran outfielder hit the disabled list with a lumbar injury on June 3, he was hitting .196/.308/.369 with seven homers. He totaled a career-high 25 home runs in 2017 after signing a two-year deal with the A's.
Though his overall numbers are well below his career averages, Joyce was contributing off the bench before he hit the DL, picking up five hits in 13 at-bats for a .385 average in such situations. Joyce could remain in a bench role once healthy.
Mariners: Kyle Seager
Seattle has gotten off to a hot start despite the 80-game suspension of Robinson Cano and some early struggles from Nelson Cruz and Seager, their biggest and best-paid hitters. Cruz has gotten back on track in the past few weeks and Seager -- one of the more consistent performers in baseball over his seven-year career -- figures to heat up before long.
The 30-year-old is running well below his career batting average of .261, dropping as low as .220 on Seattle's most recent road trip, though his power production has been good; he's on pace to hit about 30 homers and drive in 100 runs. Seager has been playing outstanding defense, and look for the average to climb soon as he traditionally warms with the weather. His best month average-wise is July, in which he's posted a career line of .299/.369/.482.
Rangers: Rougned Odor
Odor can get turned around after his slow start. The Rangers have a lot at stake here because he is signed for four more years at $40.5 million beyond this season. Odor has shown some good signs lately. He is hitting .268 with a .359 on-base percentage in his last 16 games. Overall he was hitting .218 with a .303 slugging percentage. He also has just one home run in 42 games and was sidelined from April 10 to May 11 with a strained left hamstring.
Odor's best season was 2016, when he hit .271 with 33 home runs, 88 RBIs and a .502 slugging percentage. Last year he hit .204 with 30 home runs, 75 RBIs and a .397 slugging percentage. The Rangers also have shortstop Elvis Andrus coming off the disabled list on Monday, and Jurickson Profar has played well in his place. So did Isiah Kiner-Falefa when he filled in for Odor at second base and at third for Adrian Beltre. The Rangers are going to be looking for playing time for both Profar and Kiner-Falefa. This is going to be an interesting situation to watch given the Rangers' long-term commitment to Odor.