5 surprise teams and their Deadline strategies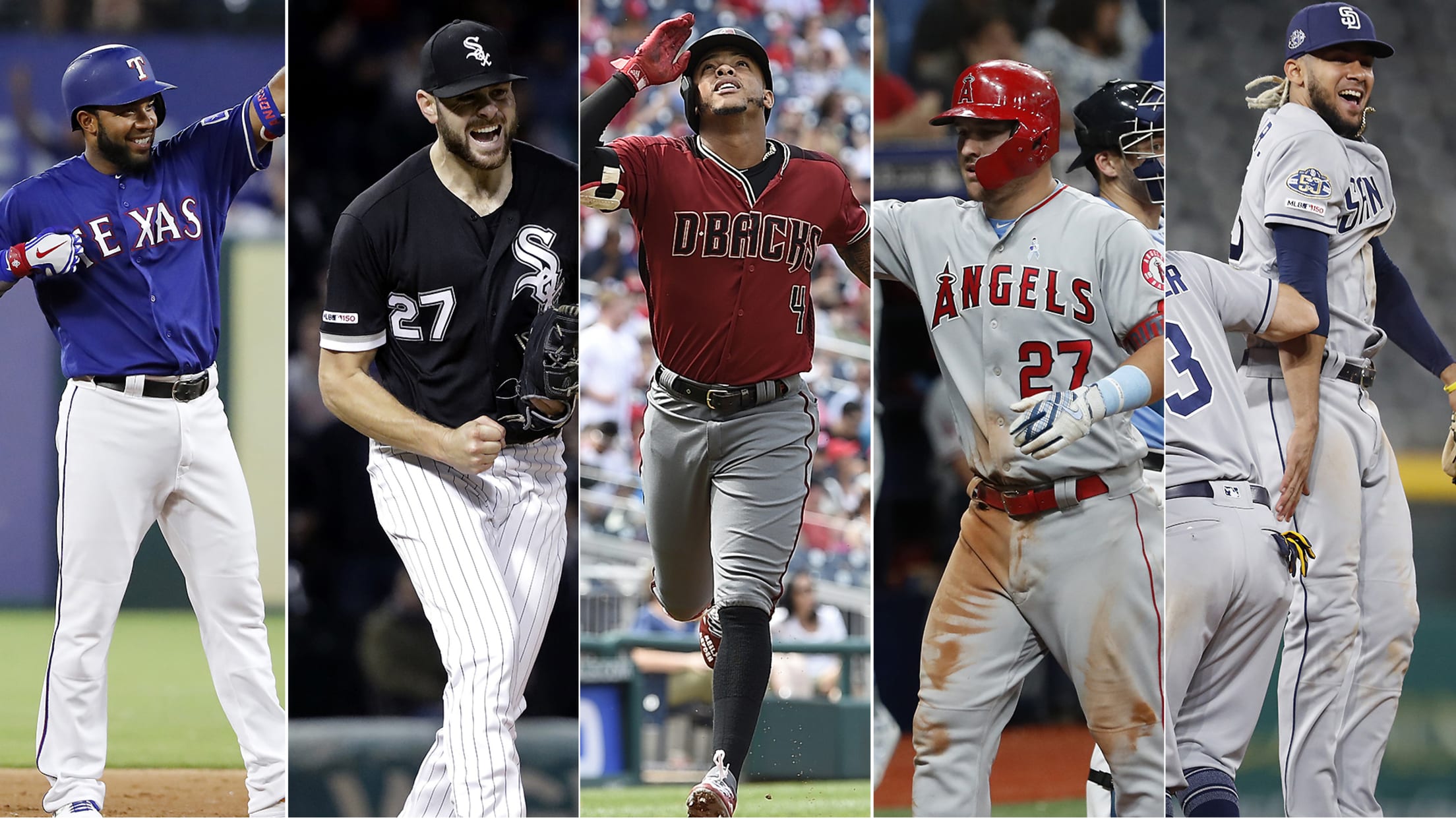 The White Sox are one kind of surprise. Pretty much everyone in the game knew they were headed in the right direction. Once the decision was made to accumulate young talent and start a new chapter, general manager Rick Hahn got so much done so quickly he may have surprised
The White Sox are one kind of surprise. Pretty much everyone in the game knew they were headed in the right direction. Once the decision was made to accumulate young talent and start a new chapter, general manager Rick Hahn got so much done so quickly he may have surprised even himself.
What no one could have known is how quickly it would happen. We still don't know. But in the last few weeks, the White Sox have looked like a team capable of turning a huge corner in 2019.
The D-backs aren't that kind of surprise. When a team says goodbye to three of its best players -- first baseman Paul Goldschmidt, center fielder A.J. Pollock and left-hander Patrick Corbin -- it's nearly impossible to predict the immediate future.
Few teams have been a more pleasant surprise than Arizona, and in a crowded National League playoff race, the D-backs have to be asking themselves, "Why not?"
Somewhere between teams like the Astros and Dodgers and way above the all-in rebuilds, let's look at five teams in terms of their staying powering and how they may approach the July 31 Trade Deadline:
1) Rangers (39-33): No team has surprised itself more than this one. First-year manager Chris Woodward has been excellent, and center fielder Joey Gallo has emerged as one of baseball's best players. Now having won 22 of 33 and in a virtual tie with the Red Sox for the second American League Wild Card berth, does Rangers general manager Jon Daniels attempt to acquire more pitching and go for it? The Rangers have continued to play well even with Gallo on the injured list and enduring bumps in the road with the bullpen.
Deadline strategy: Daniels is committed to adding to the organization's pitching depth, and if he can add to his current team without straying from that focus, the Rangers will be buyers.
2) White Sox (34-36): They've won 11 of 18 as right-hander Lucas Giolito and outfielder Eloy Jiménez have emerged as cornerstones. First baseman José Abreu is as good as ever. There are still holes to fill, especially in the bullpen, but the White Sox are getting better by the day.
Deadline strategy: Abreu is a free agent after the season, and the White Sox will listen to offers. Trading him is unlikely if the White Sox are close. Hahn will not trade from his young talent stockpile to add veteran talent unless the White Sox believe a playoff spot is a reasonable possibility.
3) D-backs (38-35): Only the Braves and Rockies have scored more runs in the NL, and Ketel Marte has the fifth-highest fWAR (2.8) in NL, despite splitting time between second base and center field. Third baseman Eduardo Escobar has been excellent, and right-hander Merrill Kelly, who made his Major League debut at 30 earlier this season, has given the D-backs' rotation depth. Their run differential of plus-58 is the NL's third best. And their road record of 24-19 is another surprise.
Deadline strategy: The D-backs are going to stay the course, which means no short-term trades. More interesting is whether they would attempt to trade right-hander Zack Greinke, a deal that would be complicated by his contract and no-trade protection.
4) Angels (36-37): The Angels have won 14 of 23 despite a bullpen that is a work in progress. But that lineup has hit 38 home runs in its last 23 games and is scoring six runs a game. Mike Trout is still Mike Trout, and Shohei Ohtani has added another impact bat to the lineup. Justin Upton's return makes a solid lineup even better.
Deadline strategy: Pitching, pitching, pitching.
5) Padres (35-37): Shortstop Fernando Tatis Jr. is every bit as good as advertised. So there's that. The Padres have lost 10 of 15 despite scoring almost six runs per game. Few teams have as much organizational pitching depth, but the growing pains can be tough. San Diego's rotation has a 7.62 ERA this month.
Deadline strategy: The Padres are nicely positioned for the future, so they're unlikely to add a veteran starter if it means surrendering one of their young arms. They're more likely to follow the Atlanta model of 2018 and keep rotating the young pitchers to manage the workload and hope they start to figure things out.