Griffin may have inside track on rotation spot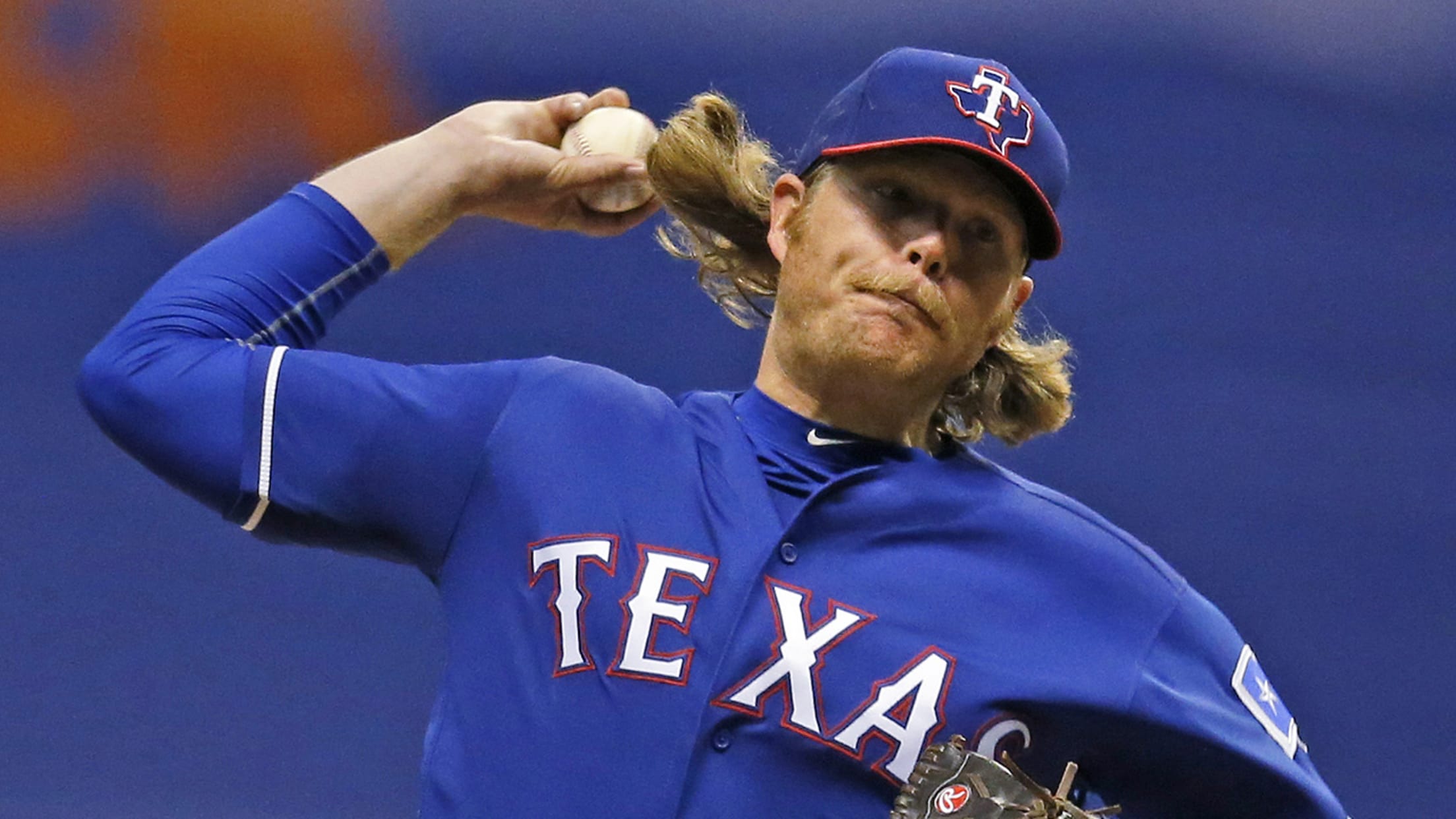 A.J. Griffin's next Cactus League start lines up with the Rangers' fifth starter slot. (AP)
SURPRISE, Ariz. -- The Rangers have scheduled right-hander A.J. Griffin to pitch in Tuesday's Cactus League game against the White Sox. The start falls in line with the slot for the club's fifth starter.Veteran right-hander Jeremy Guthrie, in camp on a Minor League contract, expects to hear on Monday whether
SURPRISE, Ariz. -- The Rangers have scheduled right-hander A.J. Griffin to pitch in Tuesday's Cactus League game against the White Sox. The start falls in line with the slot for the club's fifth starter.
Veteran right-hander Jeremy Guthrie, in camp on a Minor League contract, expects to hear on Monday whether he'll make the team. Based on being asked to pitch in a Minor League game on Sunday, Guthrie doesn't come across as being too optimistic.
"That may be some kind of an indication which way they are leaning," said Guthrie, who can become a free agent if he is not added to the Major League roster.
Guthrie was asked to pitch for Triple-A Round Rock against El Paso instead of against the D-backs in the Cactus League game on Sunday. He went five innings and allowed three runs -- all on solo homers. He gave up six hits, did not walk a batter and struck out six on 61 pitches.
"Similar to what we have seen previously," manager Jeff Banister said. "Have to locate very well to be effective, gave up three home runs, velocity is very similar to what we've seen: 91-92 [mph]. His command was probably not what he is accustomed to."
Guthrie was signed to compete for the fifth spot in the rotation. The Rangers wanted a veteran with a proven track record in a competition that included Griffin -- who has missed two years with arm issues -- and their own young pitchers.
After dealing with lower back stiffness early in camp, Guthrie has pitched in five games this spring. Three of them have been Cactus League games, and he has a 5.14 ERA. He has allowed eight hits, did not walk a batter and struck out five in seven innings. The other two starts were in Minor League games.
"I have years of experience with no question marks," Guthrie said. "If they want to know who I am, look at the track record. Maybe what I did show was I could be a part of the team and mesh well with my teammates. I feel I've put a good foot forward in that regard. In my heart, I really enjoyed being with the guys and making the transition to a new organization."
Griffin, who is also in camp on a Minor League contract, has a 4.40 ERA in five Cactus League games. In 14 1/3 innings, he has allowed 13 hits, including five home runs, walked two and struck out 13. The biggest concern with Griffin is he has pitched just 14 innings -- all on a rehab assignment -- over the past two years as he recovered from Tommy John surgery and ancillary shoulder soreness.
Griffin could also become a free agent this week if he's not on the 40-man roster. The Rangers don't want to lose both Griffin and Guthrie.
"Roster implications are always challenging," Banister said. "It affects your depth. As we all know, depth is a big part of the roster. You've got to have depth in all areas."
The first four spots in the Rangers' rotation belong to Cole Hamels, Martin Perez, Colby Lewis and Derek Holland, with Yu Darvish not expected to return from Tommy John surgery until mid-May or early June. Two other prime contenders for the fifth spot were Chi Chi Gonzalez and Nick Martinez. Both are on the 40-man roster, but Gonzalez was sent back to Minor League camp. Cesar Ramos and Phil Klein are also being considered but are getting less prime-time innings than Guthrie.
Martinez is still in Major League camp and could make the Opening Day roster as a temporary long reliever for the first four games before either Guthrie or Griffin are needed as the fifth starter.
Right now, the fifth starter spot appears to be between Griffin and Guthrie. Griffin is the one that is pitching on Tuesday in the Cactus League game.
Worth noting
• Reliever Tom Wilhelmsen pitched two scoreless innings on Sunday morning in a Minor League game. He allowed one hit, walked two and struck out one.
• Banister on infielder Hanser Alberto: "There are not enough superlatives to talk about what Alberto has accomplished this spring. He has been very very good."
• Rangers pitchers came into camp with orders from Banister to pitch inside.
Said Banister, "We are getting there. We're not there yet. Needs improvement. You have to pitch inside to open the outer half. When Major League hitters start eliminating things, they become predators and they know how to hunt. You've got to pitch to both sides of the plate."