One question for each National League club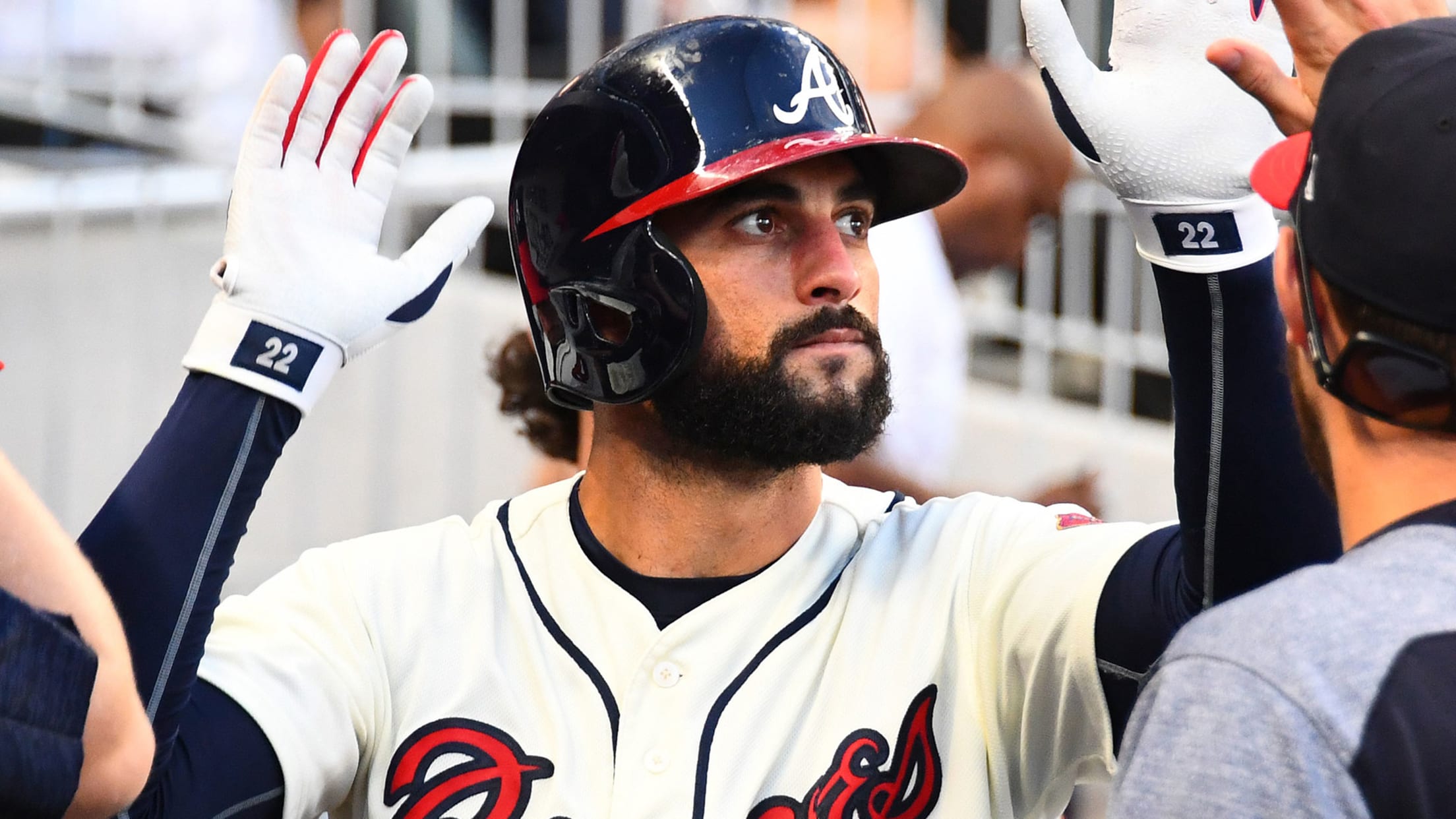 Braves: After Markakis deal, what's next?Based on the type of deal Nick Markakis got, it makes me think Alex Anthopoulos is working on something. Do you think it will be a starting pitcher? A relief pitcher? J.T. Realmuto? You are the general manager for the day. What's your move?
Braves: After Markakis deal, what's next?
Based on the type of deal Nick Markakis got, it makes me think Alex Anthopoulos is working on something. Do you think it will be a starting pitcher? A relief pitcher? J.T. Realmuto? You are the general manager for the day. What's your move?
-- @giles412
Mark Bowman, Braves reporter: When Anthopoulos responded to a question about Markakis agreeing to a $4 million salary by saying, "This deal had to come in the right price," he provided further indication he does have something in mind. My expectation is he'll do whatever necessary to upgrade his starting rotation.
Look, I get that you're gambling on a number of pieces within the projected bullpen. But when you have a plethora of talented arms and you have had a chance to see what A.J. Minter, Chad Sobotka and others can do, I'm willing to roll the dice on Dan Winkler, Jesse Biddle and Shane Carle proving more productive over a longer stretch this season.
Count me among the many who have said and written that Madison Bumgarner is no longer the pitcher we once knew. But until we see where the young prospects are in their development, I think you can also say Bumgarner could still prove more valuable than everybody not named Mike Foltynewicz in the projected rotation. The market changes, but needs remain constant until they're addressed. Right now, the most significant need is a potential front-line starter.
As for Realmuto, my understanding is the Marlins are still insisting the Braves include one of their current position players. As long as this demand remains the same, there's little reason to believe Anthopoulos will eventually bite. More >
Brewers: Who will be the closer?
Could the Brewers avoid naming one specific "closer" next season and just play matchups? CC usually keeps roles very fluid, but he still seems to like having one specific guy designated for the ninth.

— Jack Stern (@baseball7310) January 25, 2019
Adam McCalvy, Brewers reporter: Prediction No. 1: Manager Craig Counsell will say early in Spring Training something along the lines of, "there's no rule that we have to 'anoint' one pitcher for save situations" and suggest that he will use any number of players in the role. I think last summer, Counsell said he was not required to "knight" anyone. And he's right.
But here's another prediction: A few weeks into the season, someone effectively will have been knighted. I don't know if that is Jeremy Jeffress or Corey Knebel or Josh Hader (Hader is less likely because of the well-treaded topic of his usage pattern), but I do know that almost every time a team talks about doing it by committee, someone steps forward and seizes the role. It shouldn't be -- and perhaps someone can point me to data disputing this -- but bullpens tend to operate better when there is a set closer. I know the players themselves prefer it.
Outside of that one job, however, I do expect fluidity of roles. The "anybody, anywhere, anytime" mantra of departed bullpen coach Lee Tunnell served the unit well last season. More >
Cardinals: Hicks the closer in 2019 and beyond?
Is Jordan Hicks being seriously considered as the Cardinals closer of the future, or are the Cards still looking for a strong arm in the bullpen?
-- @BaseballShack
Jenifer Langosch, Cardinals reporter: Yes and yes. Hicks is being considered as a closer candidate for the present and the future. And the Cardinals haven't ruled out adding another arm to their bullpen before the start of the season. If the Cards stand pat, Hicks will get some closing opportunities, as will Andrew Miller. How manager Mike Shildt deploys the two will largely depend on when he needs Miller. Miller is projected to be the team's top lefty reliever, and the Cardinals want to maintain some flexibility in how they use him so he's available to come in earlier in games if the situation necessitates that. But certainly, for the long term, Hicks is positioned as the long-term answer at closer. More >
Cubs: Will Almora Jr. play full time?
Do you think Albert Almora Jr. should get the most playing time in center? I think he should play all the time. I don't think he should be losing time to Ian Happ, who struck out 36 percent of the time last year and isn't nearly as good in center field. How can Almora get better against righties if he's on the pine?
-- John L., Colorado Springs, Colo.
Jordan Bastian, Cubs reporter: I do think Almora should get the bulk of the innings in center, just as he did last year. His defense is too valuable, and if he can even be league-average offensively, that's a great combination. However, if Almora looks lost like he did in the second half last year (47 wRC+ after the break), then it makes sense to try to maximize the run production. Happ hit righties to the tune of an .816 OPS and 118 wRC+. Finding strategic days to get Happ in there is not the worst idea, as long as he is not costing runs defensively.
So, I'd expect Almora to open the year as the regular in center, but with the possibility of playing time shifting some as manager Joe Maddon and the team's evaluators get a gauge on how the hitters are performing. Often, you'll hear teams cite the 40-game mark or so as a period for making some adjustments along those lines. More >
D-backs: What's next this offseason?
Do you think any new/big trade or free-agent acquisitions are coming to the D-backs soon?
-- Tim, Phoenix
Steve Gilbert, D-backs reporter: I don't think there will be any "big" moves per se before the start of camp. I do expect the club may add a bullpen piece or two before that, but the D-backs appear to be done when it comes to position players and starting pitchers. More >
Dodgers: Will LA shop Verdugo?
Does [Alex] Verdugo or [Andrew] Toles have a chance to play as an everyday player for the club? If not, should they continue to shop Verdugo for a Realmuto or [Corey] Kluber?
-- Edward @edware32
Ken Gurnick, Dodgers reporter:Corey Seager was called up in September of 2015, started immediately and continued through the postseason. That's how management handles players considered to be imminent starters. Neither Verdugo nor Toles was a factor down the stretch or through the postseason last year. Dodgers management hasn't demonstrated that it considers either a likely everyday player to start the season. Verdugo is more tradeable than Toles. More >
Giants: Which prospects will be promoted?
Who will likely get a call to the big league club first, Heliot Ramos or Joey Bart? And is any other prospect being considered for making it to the Majors soon?
-- Mike V., Tucson, Ariz.
Maria Guardado, Giants reporter: If I had to guess, I think Bart will debut with the Giants before Ramos, as highly touted college picks tend to move quickly through the Minors. Ramos and Bart have yet to play above Class A ball, so I wouldn't expect either of them to break into the Majors until 2020 at the earliest. One prospect who appears likely to contribute to the Giants this year is right-hander Shaun Anderson, who logged a 3.69 ERA over 141 1/3 innings between Double-A Richmond and Triple-A Sacramento in 2018. Anderson, 24, is ranked the Giants' No. 3 prospect by MLB Pipeline and he could develop into a rotation option at some point this season. More >
Marlins: Could Marlins swap J.T. for Joc?
Do you think Joc Pederson would be in [a] trade with the Dodgers for J.T. Realmuto?
-- @josecuba305
Joe Frisaro, Marlins reporter: As I reported a couple of days ago, the Marlins remain in on-going discussions with the Dodgers for Realmuto. A centerpiece player that is being considered is catcher Keibert Ruiz, ranked by MLB Pipeline as the 39th overall prospect in baseball. A high priority for Miami in any Realmuto deal is getting a catcher in return, and Ruiz is a switch-hitter with tremendous upside, and he is close to being big league ready.
Does this rule out Pederson being part of a deal? I think Pederson could be another piece in a potential trade. Los Angeles now has a surplus of outfielders, especially with free agent A.J. Pollock reportedly coming to terms. Miami covets a left-handed hitter with power potential, and Pederson fits the description. More >
Mets: Will Frazier be dealt?
Any chance Todd Frazier is traded and most, if not all, of his salary is attached? Prospect return wouldn't be an issue; it's all about getting that $9 million off the books.
-- @jimmy_p257 via Twitter
Anthony DiComo, Mets reporter: Almost no chance at all. To rid themselves of that entire salary, the Mets would have to attach a pretty nice prospect to the deal, which would be counterproductive. They could deal him for nothing, but the club would have to eat most of the salary in that scenario. So their best course of action is probably the status quo: use Frazier at first and third base, hoping for a bounce-back season. General manager Brodie Van Wagenen has made it clear that's the route he intends to take. If Frazier is struggling in June, the Mets can always change course at that time. More >
Nationals: Does club's activity entice Bryce?
With all the additions they have made, can that help in keeping Harper in Washington or is that a negative factor?
-- Rod K.
Jamal Collier, Nationals reporter: Without a window directly into Bryce Harper's thoughts, I'd assume this is a positive. Harper wants to win and would ideally sign long-term this offseason to a franchise that has shown a commitment to winning. And I think Harper would take it as a positive to see how the Nationals have approached this offseason, not just counting on a rebound after a disappointing 2018 season, but going and investing to improve their team.
The only negative I could see here is if the spending on the rest of the club precluded them from signing Harper or from extending a competitive offer, but considering the Nats are still in the running for Harper, I think that negates that worry. No matter who is playing right field next season, the Nationals might be the favorites in the National League East. If they add Harper, it's time to start talking about World Series aspirations again. I think this should work in the club's favor. More >
Padres: Who is Padres' 3B on Opening Day?
Who is the most likely Opening Day third baseman -- Ty France, Jesus Quiroz or Nick Senzel?
-- Sean T.
AJ Cassavell, Padres reporter: You take those three, I'll take the field.
I don't think anyone from that trio is particularly likely. But among that group, it's France at No. 1, with Quiroz close behind. Then there's a huge gap before the Reds' Senzel, who's ranked as the sport's No. 2 >third-base prospect by MLB Pipeline.
General manager A.J. Preller is clearly looking for a long-term third baseman, but Cincinnati probably isn't giving up Senzel. Yes, the Padres have interest (because of course they do). But their best chance of matching up might be by involving Cleveland. Three-team trades are notoriously difficult to pull off, and there's no indication this rumor has any legs.
In any case, it's far likelier that the Padres use free agency to add a third baseman. Marwin Gonzalez and Mike Moustakas remain available (as does Manny Machado, of course). Utility options like Yangervis Solarte and Adeiny Hechavarria would come cheap. I'd say there's a 50 percent chance that the Opening Day starter isn't on the roster yet. (And it isn't going to be Senzel either.) More >
Phillies: Will Phils sign Manny or Bryce?
Do you honestly think the Phillies have a chance of signing Manny or Bryce? I don't.
-- Jim G., Collegeville, Pa.
Todd Zolecki, Phillies reporter: Yes, I do. No team is better positioned to sign Manny Machado or Bryce Harper than the Phillies. I just cannot see a scenario in which two different teams outbid the Phillies for both players. The only potential scenario I see is Machado signing with the White Sox or a mystery team, then Harper taking a lesser deal to re-sign with the Nationals. But if both players are looking for record contracts, the Phils can make it happen. More >
Pirates: Who will bat leadoff?
If you had to guess right now, who would be the Pirates' leadoff man and cleanup hitter? I thought those were weak spots for us last year, and I'm desperate for reasons to be optimistic about this year.
--Molly D., Pittsburgh
Adam Berry, Pirates reporter: I'm sure manager Clint Hurdle would love to see us speculating about lineup decisions here in January, a full month before he has to fill out so much as a Grapefruit League lineup card. But I want to address your second point first, because it's a good one.
Last season, Pirates leadoff hitters slashed .257/.301/.400 with a .701 OPS that ranked 22nd in the Majors. Their cleanup hitters slashed .254/.321/.375 with a .695 OPS that ranked 27th in the Majors. Would you believe that their OPS in every other spot in the order ranked in the top half of the league?
As for your actual question ...
If Jungho Kang can recapture his 2015-16 form -- a big "if" -- he might be their best cleanup hitter. Corey Dickerson was great atop the order last season, but I'd imagine he'll at least begin the year in the middle of the lineup. So if I had to project an Opening Day lineup today, three months out, I would put Adam Frazier in the leadoff spot and Josh Bell batting cleanup. More >
Reds: Who will play center field?
Since the addition of [Sonny] Gray, are the Reds done adding to the roster this offseason? Rotation looks set, but center field?
-- @hunterbivens14, on Twitter
Mark Sheldon, Reds reporter: President of baseball operations Dick Williams said the Reds are not done trying to add. Williams and Nick Krall remain in contact with agents and clubs, he said. A familiar buzzword he used was "opportunistic" when it comes to looking for more moves. Now that Pollock has agreed to a contract with the Dodgers, most of the free-agent options left for center field would appear to be shorter-term solutions. Someone like Denard Span could hold down the fort until Senzel or Jose Siri were ready to do it full time. The club could also just turn to Senzel immediately or give Scott Schebler or Yasiel Puig time there even if they're better as corner outfielders. More >
Rockies: Are Rox interested in Realmuto?
Are the Rockies still "checking in" on Realmuto? Apparently the Dodgers are now offering a prospect not as good as Brendan Rodgers. If the Marlins are willing to take that, would the Rockies offer up Rodgers to outbid them?

— Mónica (@moni_vette) January 24, 2019
Thomas Harding, Rockies reporter: There is no deal at this point, but MLB.com reported that the name of top Dodgers catching prospect Keibert Ruiz -- ranked as the club's No. 2 top prospect and No. 39 overall -- has been discussed. The key word in that sentence is "catching."
The reason the Marlins' asking price is so high is the same reason the Rockies have yet to jump at the free-agent catching market: there aren't enough catchers to go around. So the prospect of replenishing their catching in such a deal may be attractive to the Marlins.
Rodgers, the Rockies' No. 9 overall prospect and baseball's third-rated shortstop, actually has a chance at second base -- a position where the Rockies have competition -- with Ryan McMahon, Garrett Hampson and (don't forget) Pat Valaika (who is trying to bounce back from 2018 struggles) for the season-opening job.
If Realmuto isn't dealt before the season, expect the Rockies to include see what the Marlins' price will be at the non-waiver Trade Deadline. The Rockies obtained Jonathan Lucroy from the Rangers at the 2017 deadline. More >