Graveman flashes full repertoire to shut down KC
Right-hander hits 94 with improving changeup in 7-inning start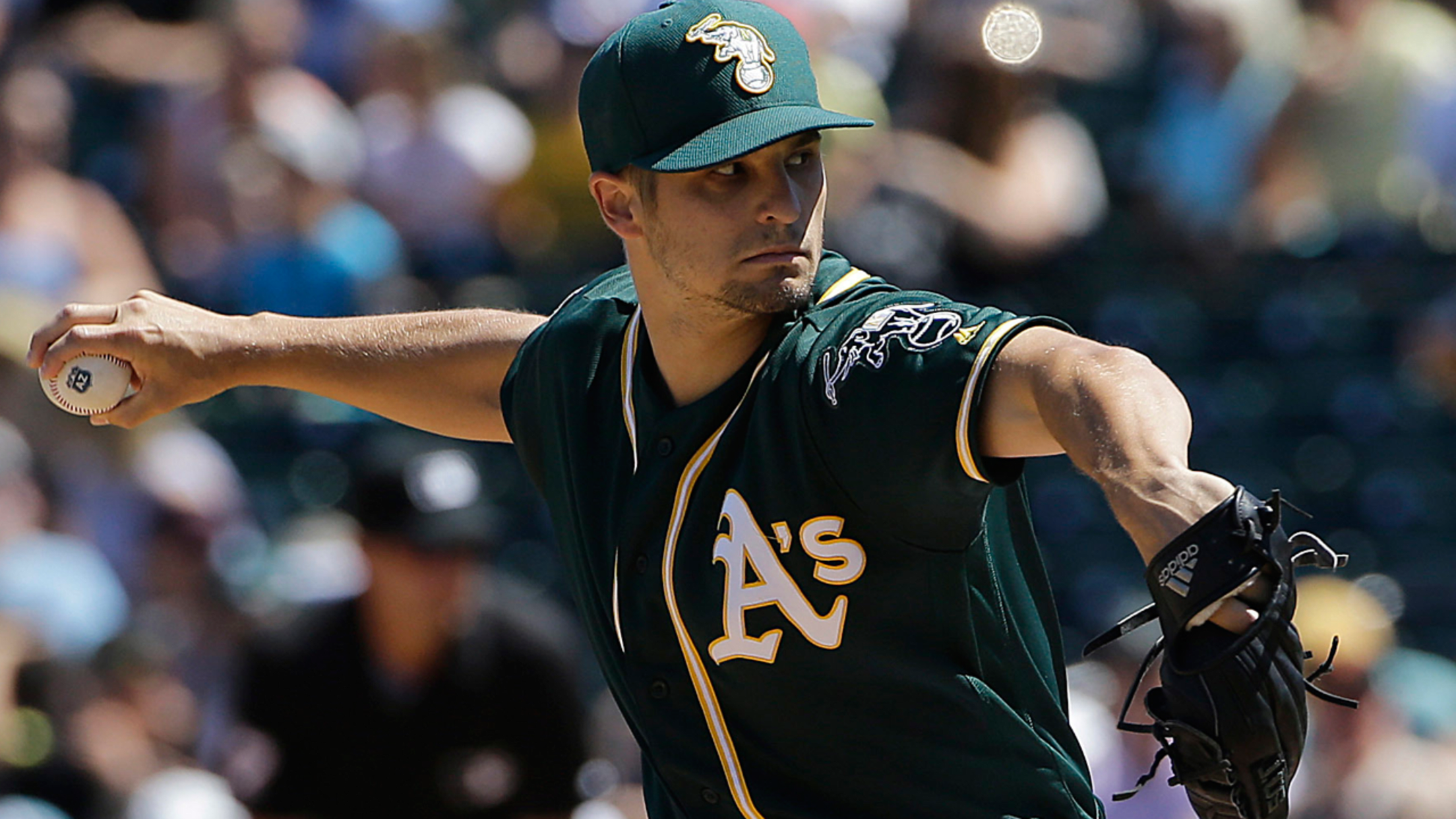 Kendall Graveman allowed one run over seven innings vs. the Royals on Sunday in Mesa, Ariz. (AP) (AP)
MESA, Ariz. -- A's right-hander Kendall Graveman delivered the kind of results on Sunday this team has been waiting to see from its starting staff all spring.Graveman stifled the defending World Series champion Royals, limiting them to one run and four hits while becoming the first A's pitcher this spring
MESA, Ariz. -- A's right-hander Kendall Graveman delivered the kind of results on Sunday this team has been waiting to see from its starting staff all spring.
Graveman stifled the defending World Series champion Royals, limiting them to one run and four hits while becoming the first A's pitcher this spring to complete seven innings in a 10-1 Cactus League victory. He walked only one batter and struck out six.
"I've seen him pitch that game before, but I don't know that I've seen him with a better pitch complement," A's manager Bob Melvin said.
• Spring:Tickets | Ballpark | 40-man roster | NRIs
Graveman's encouraging performance was also timely. The A's are nearing decision time on several roster spots, and pitchers haven't been making it easy on them; they entered Sunday with a combined 6.42 ERA, second-highest in the Cactus League.
"I think he knew this is the time we need to see some results, and he did exactly that," Melvin said.
"I knew it was big," said Graveman, a likely Opening Day rotation member. "I've been getting incrementally better."
The righty put it all together on this day, touching 94 mph with his fastball and slowing his changeup to 80 mph, throwing it effectively not only to left-handers but right-handers, which will be paramount to his success this year.
He also threw his curveball and slider effectively to both sides of the plate.
"I feel like the fastball's been coming out well this spring, velocity and movement," Graveman said, "so for me to have a changeup that gets the hitter out in front a little bit, maybe gets a groundball or a weak fly ball, that's huge for me. I've got to be able to throw that to both righties and lefties, and it's something I worked hard at this offseason.
"I threw all four pitches for strikes today, and I threw them where I wanted to."
"You're always trying to get better, and certainly with the mix of pitches today, I think he takes a lot of confidence out of it," Melvin said.
Smolinski, Blair sent down
• The A's optioned outfielder Jake Smolinski to Triple-A Nashville and reassigned catcher Carson Blair to Minor League camp following Sunday's game.
Smolinski hit .316 with one home run in 38 at-bats this spring, but was seemingly always on the outside of a crowded outfield. Blair hit .222 in 18 at-bats.
The A's have 37 players left in camp.